Are you thinking about reinvigorating the looks and appearance of your tobacco website? Well, then you can use a theme for your purpose.
If you do opt for them, then you will not have to make any changes to the front or the backend of your website. The plugin will take care of everything.
However, if you do look at the market, then you will come across a lot of options. So, while looking through them, you might get a little bit bedazzled and opt for something that does not meet your requirements.
Hence, to help you out in this aspect, we will be providing a listicle of the best tobacco WordPress themes in the market.
So, let's jump right into it!
Premium Quality Tobacco and Cigars WordPress Themes
When talking about the best tobacco or dispensary-related themes, the first name that comes to the mind is Medical Marijuana. It comes with a minimalistic outlook with a touch of green, which makes it an ideal option for your sole purpose.
Additionally, Medical Marijuana is highly customizable as well. So, if you want to, then you can always change its appearance as per your requirements.
The theme comprises of a wide variety of editable sections. Here, you can add some details about your offerings and make everything look a little bit more informative and engaging.
There is also a booking plugin integrated with the system. So, to buy your products, your client will only have to click on it.
Lastly, you can also include several WooCommerce plugins with the theme collect all of your earning quickly and efficiently.
Key Features
Has a live chat plugin option for talking with the clients directly
Compatible with several WooCommerce plugins
The admin interface can be used for making the products look more engaging
One-click installation procedure
The premium version of the theme gets regular updates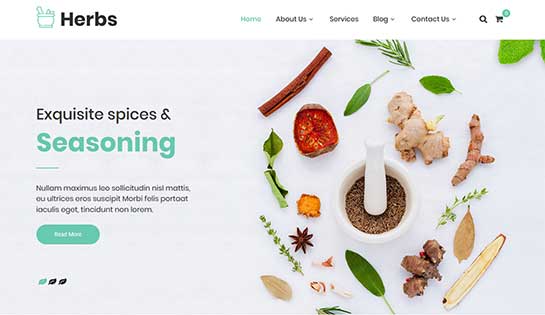 Unlike the previous option in the list, SKT Herbal-Pro does not really offer the vibe of minimalism. In a way, it is quite vibrant and can make your product advertisements looks amazing. Moreover, your tobacco website, too, has an aroma of robust professionalism.
The best thing about SKT Herbal Pro is that the theme is highly responsive. Hence, even if your users are using a smartphone, they will still be able to open your site quickly.
Moreover, it also comes with the coveted cross-browser capability, which makes it even more flexible.
Another factor, which prompts everyone to consider it as one of the tobacco WordPress themes, is its compatibility with WooCommerce plugins.
Also, if you want to, you can use customized widgets throughout the website and add CTAs with them.
Key Features
The theme is Gutenberg optimized
Has a one-click import option
Features over 800 fonts and color palettes
It is functional with a lot of other plugins
Helps in finding broken and disabled links through a broken link checker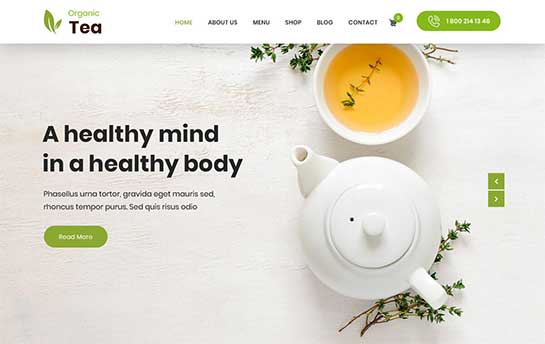 Unlike a few other options on this list, Tea Shop is actually quite easy to use. With it, you can edit your homepage almost in a jiffy.
Additionally, the plugin comes with a plethora of typography options. So, you can rewrite everything in your own way. Because being low-sized, the theme also does stutter in any way. So, it, in a way, is mobile responsive.
Tea Shop does come with a lot of page builder options. However, if you think that it is missing something, then you can also add the extras from elsewhere.
It also comes with a lot of shortcodes, which, in turn, can be used for including CTAs throughout your website. Also, there are a few cache collection tools, too, available in it to aid you in generating more leads.
Key Features
Comes with six different sliders for a better functionality
It is WooCommerce compatible
Features a translation-ready
The theme is compatible with several SEO-based plugins
Has a separate section for keeping downloaded images and widgets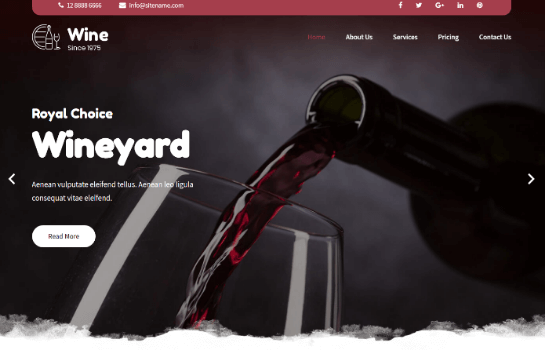 If you are looking for a colorful thematic design for your tobacco website, then Wine Pro can be yet another decent option for you. Like the previous option, this one, too, is cross-browser compatible.
If you want to, then you can also add some WooCommerce plugins on it to accept payments from your client directly.
Additionally, as Wine Pro was created with SEO-friendly codes, it is quite responsive as well. The best thing about Wine Pro is that it is multilingual ready.
Therefore, you can cater to tobacco users from foreign countries too. It also comes with several different widget options to aid your customers in choosing their favorite item in a jiffy.
Key Features
The theme is compatible with a lot of plugins
Widget-friendly
Has more than eight blog and page templates
There is a default gallery available as well
Features over 580 font-based social icons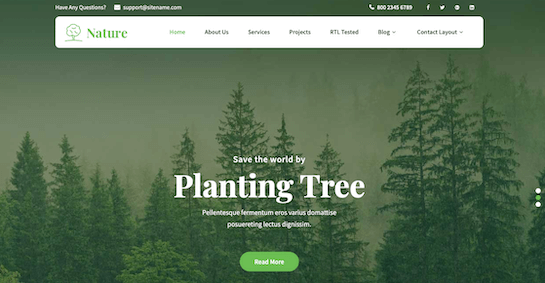 If you want to make your clients get immersed with the exemplary outlook of your website, then Nature One Pro should be the one for you. The theme comes with a glorious green color, which would be pretty relevant to your tobacco-based website.
Additionally, the theme is quite lightweight as well. Hence, your clients can open your website without any lags and stutters.
Like a few other tobacco WordPress themes on this list, there are several fancy CSS 3-based animations available in this one as well. You can customize and integrate them with your website.
To turn the website into a full-fledged shop, you can also add some WooCommerce-based plugins in it. Lastly, the main slider of the theme comes with 12 different transitions, which improves its overall versatility by a mile.
Key Features
Made with SOE-friendly coding
Comes with a lot of quirky animations
Highly versatile services' section
Easy to manage through Custom CSS options
One-click installation procedure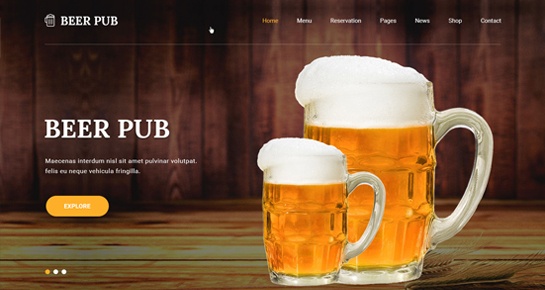 Do you want to make your tobacco website look more eye-catching and enthralling than ever? Well, then the Beer & Pub theme should be your go-to option!
It is colorful, vibrant, and can provide an uncanny decorated feel to the website's whole outlook. But, that's not all. The theme is both SEO and SMO-friendly.
Therefore, with it, you can make your website both responsive and add as many social media sharing options as possible.
The theme is also multilingual-ready and can translate English to any other language. It is WooCommerce compatible as well. So, you can turn your tobacco website into a shop and sell your products from it.
Key Features
Comes with a variety of page builder templates
Has a lot of typography options
It is easy to use and highly responsive
The theme is customizable
Compatible with all the WooCommerce plugins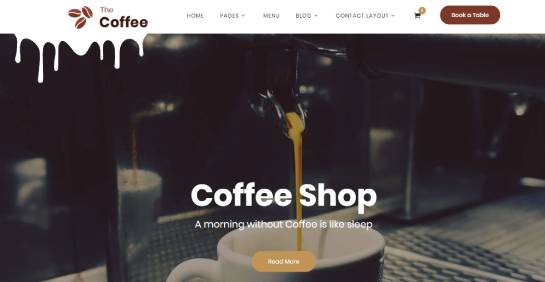 Have you only started your business a few days ago and, thus, are looking for an affordable theme? Well, then, treat your eyes with the free SKT Coffee plugin.
No, don't be prejudiced, as the theme does come with a lot of features. For starters, unlike a few other tobacco WordPress themes, it is integrated with several social media sharing options/.
Besides, you can also post some tobacco-related blogs on it for your own purpose. If you want to, then you change the color of the link as well.
There is a customizer available in the theme, which can help you to check out the changes while you are making them. It can also be integrated with e-commerce plugins for earning money through online platforms!
Key Features
It is compatible with Nextgen Gallery systems
Has a default slider with three different slides
Comes with a separate blogging section
One of the best multipurpose themes
Features a lot of social media icons
Just like its name suggests, Charm can convert your bland tobacco website into an absolute brilliance. It is one of those tobacco WordPress themes that come with the coveted color changing option.
Also, Charm is fully translation-ready. So, if you can include some multilingual plugins in it and you will ready for catering to the international clients.
Next, the plugin comes with more than 580 different fonts for making everything look more quirky and unique. It also features several different blog layouts, which, in turn, can aid you in creating a better outlook for your website.
There are several gallery plugins, too, available in it where you can keep the pictures of your tobacco-made products or some other things as well
Key Features
Has several blog layouts
Compatible with a lot different gallery plugins
You can easily update with the control panel
Comes with more than 600 fonts
Features a dedicated blog area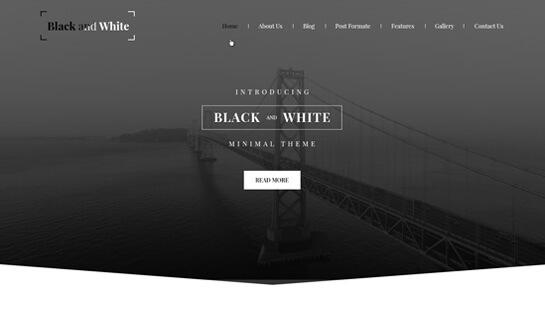 Widely known as one of the best themes for creating a tobacco website, Black & White comes with a wide variety of font styles and options.
Moreover, there are several SEO-based plugins and CTA sections available as well. Hence, it can improve the user experience of your website quite massively.
In essence, the theme is quite easy to use. So, if you want to, then you can use it without encountering any issues at all. Moreover, the theme is also retina-ready.
So, even if the user uses your website for a prolonged period, his or her eyes still will not get affected! Lastly, there is a quaint blog section available as well, where you can write some tobacco-related articles as well.
Key Features
Several different plugins, such as analytics, gallery, bbpress, etc can be used on it
It is quite minimalistic but looks pretty decent
Has a readymade contract form for registering your clients
The theme is completely widget-ready
Retina and HD resolution readiness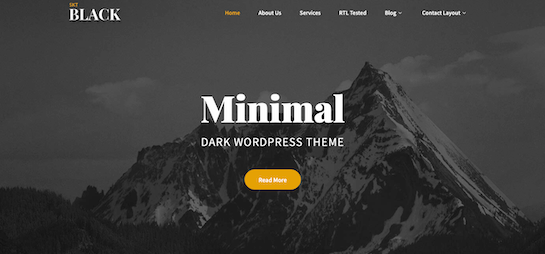 Is dark your favorite color? If your answer is yes, then you can use SKT Black Pro for recreating your tobacco website.
But why should you choose this one over the other tobacco WordPress themes that we have mentioned here? Well, for starters, it is both HD ready and comes with retina protective capabilities!
Secondly, the images and buttons of the theme are integrated with animation, which makes everything look cooler. If you want to, then you can also install a captcha form on your website with it to save it from the bots.
There is also an icon pack available with the model where you will find a lot of tobacco-related emblems.
Key Features
Has more than five different templates
It is compatible with the latest WordPress version
There are around 100 shortcodes available it
Changing colors, text colors, font options are quite easy on it
Has a variety of animated buttons
In essence, Farming does look a little bit of organic. However, as it is customizable, you can always change it as per your requirements and mane it tobacco look-a-like. You can also change the fonts and colors of the theme in a jiffy.
Also, Farming comes with a lot of shortcodes options. Hence, if you want to, then you can use them and add them as CTAs. Also, as it is compatible with the page builder plugins, you can improve its functionality even more.
Key Features
Has a separate event and gallery section
Comes with various page layout options
It is compatible with both SMO and SEO plugins
Has a responsive and mobile-friendly design
It is a translation-ready theme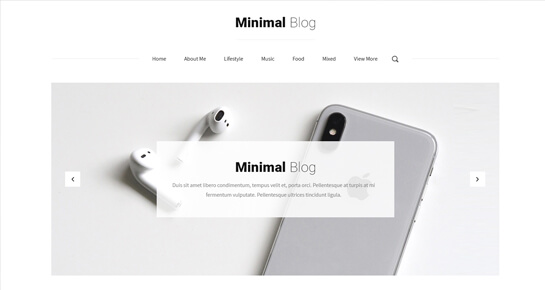 If you are thinking about making a website with a more minimalistic approach, then Minimal Blog should be ideal for you. There is a gallery option available in it.
So, you can include the pictures of your tobacco-related pictures on it and make your site look more embellished. Unlike a few other tobacco WordPress themes, this one is quite easy to use as well.
However, if you still need some help, then you can find everything on the documentation in it. The theme comes with five different layout variations.
Thus, with it, you will be able to customize the site in your own way. Also, as there is a separate blog section available in it, you can write something about your offerings there as well.
Key Features
It can be integrated with several page builder plugins
You can add WooCommerce tools with it
Comes with more than 2000 social media icons
Its minimalistic design looks pretty decent
It is cross-browser compatible
So, these are some of the best WordPress themes that you can use for your tobacco website!