For 2021, there are about 18 leading social Internet communities. Collectively, the average number of monthly active users exceeds 16,1 billion. Facebook has been the leader for several years now, with more than 2.8 billion of them.
A social community site is a platform on which any interested user can create a personal profile and interact with other users. For many, these sites are limited to social media like Facebook or Instagram.
In fact, there are thousands of them, and most of them are for business, with their help employees can communicate with each other and with customers. They help to increase customer loyalty and resolve internal company issues.
One of the most popular community portal platforms is WordPress. Use it to shape a comfortable tool.
After implementing a community site, you will definitely need a unique and stylish design. We have created a selection of the 8 best themes to make your choice easier.
Top 8 Social Communities WordPress Themes for Community Portal
In our selection, we have collected the most popular SKT Themes of 2021, which will remain relevant in 2022. On the theme sites, you will see a standard demo version of the community, both the home page and internal ones. This will allow you to immediately understand if the design is right for you.
You will be able to evaluate how the user profile, activity sections, instant messengers, discussion areas, etc. will look like.
There are free themes with the option of additional add-ons for a subscription and paid ones. The average cost of the latter is $59.
Most of the themes are easy to customize and adapt to your business needs. Many are available as a free version with limited features. They are often enough for most standard functions. They also have premium versions for expanding functionality.
Convenient SKT Themes are adapted for mobile devices, have more than 100 ready-made solutions for your portal and are distinguished by friendly customer support, which is available without restrictions throughout the year. To integrate the demo version into your site, just make a couple of clicks.
A simple constructor allows you to quickly customize all page blocks in a convenient way. You always have the option to change the color, font, or adapt the header / footer. Thanks to the integration with WooCommerce, you can start selling right away. The theme is suitable for SEO work.
The service offers to use of one downloaded theme an unlimited number of times on different sites.
The basic set of features will cost you at least $ 39 per year, and you will have to pay $ 99 to expand the capabilities. Let's take a look at the best WordPress Themes.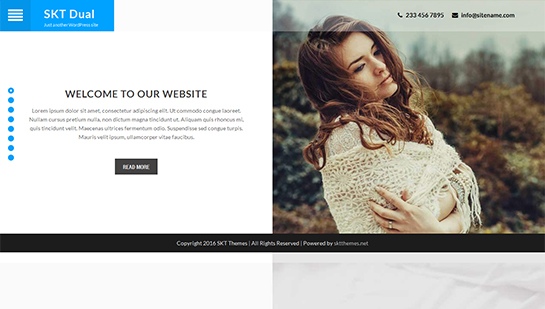 SKT Dual is an optimized and structured theme that allows you to fulfill any marketing and commercial tasks. Great design and thoughtful functionality are suitable for any industry from commerce to personal presentation.
The theme allows you not only to run your online business but also to keep in touch with your customers. Even in the demo version of the site, you can already choose the option that suits you.
If you want to modify something, open the administrator's office and implement the appropriate changes. SKT Dual has been designed to be as responsive as possible, so it can be used on any mobile device.
Integration with WooCommerce and other plugins is available to implement any eCommerce project.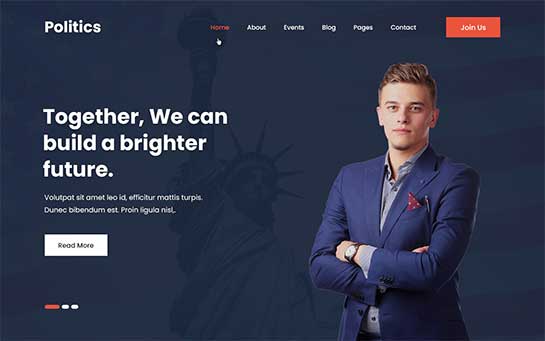 For politicians and specialists who are part of a political team, the topic is ideal –Political Candidate. It has a clear adaptive structure in which it is easy to store everything you need. For example, data about each candidate, information about upcoming meetings, future companies, etc.
Additionally, a smart layout is available with control of each page of the site and integration with WooCommerce. It offers ready-made layouts with thoughtful details: design color, headers, widgets, Google font packs, controls, image sliders, and more.
Accurate visualization of ready-made social communities WordPress themes with the ability to adapt them or create new designs will allow you to set the optimal environment for any type of political activity. In addition, Political Candidate theme is compatible with various plugins, has easy navigation and is SEO and SMO optimized.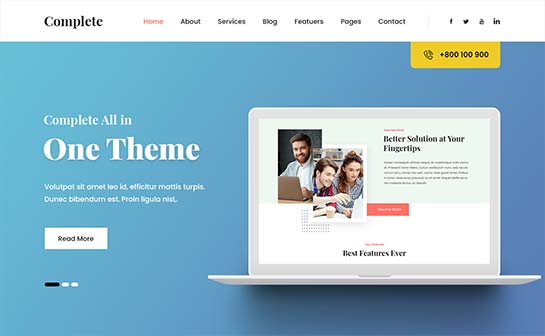 Complete Pro is one of the best social communities WordPress themes of 2021. She achieved her popularity thanks to the unique code, functionality, completeness of the picture and stable work.
The theme is suitable for any mobile device, supports basic builders, and also integrates with WooCommerce, SEO and SMO. Complete Pro theme will make the site more competitive in any area of business.
Ready-made solutions have a complete look of a full-fledged site. The demo version is enough to make the necessary settings. Even beginners can handle it.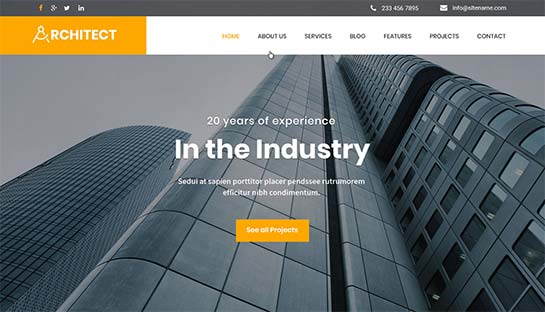 The perfect premium theme SKT Architect Pro has conquered the market in 2021. The templates are targeted at various business areas.
You will find hundreds of ready-made layouts adapted for online shops, seminars, personal pages, etc. The theme is compatible with various mobile devices. At any stage of creating a website with SKT Architect Pro, you can evaluate how it will look on the device.
The turnkey solutions are packed full of parallax landing pages, bonus add-ons and unique features. Integration with WooCommerce, email services, email marketing tools and more is available.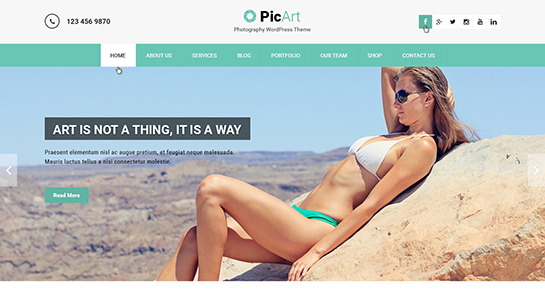 PicArt is the perfect theme specially designed for photographers. It is loved by all specialists in the creative professions, where high-quality high-resolution images take place.
The WordPress theme has no problems with integration, functional and technical aspects. Choose the perfect solution from a library of highly focused designs, or create your own.
PicArt theme is filled with possibilities with which you can expand the functionality of the design. It is compatible with various shortcodes, portfolios, and add-ons.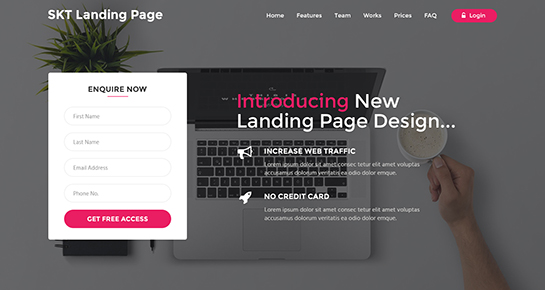 SKT Landing Page is a multipurpose theme packed with all the features you need for a multi-faceted company presentation. It is compatible with various marketing channels and adapted to new strategies.
SKT Landing Page theme will allow you to create both minimalistic design projects and more fulfilling ones. The theme library has hundreds of ready-made templates and layouts.
In addition, you can create your own unique design with it, thanks to the built-in designer with the drag and drop function. All templates you create are saved in a common database.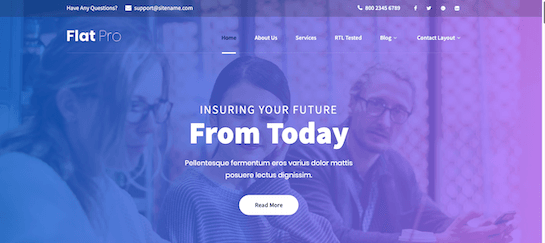 Flat Pro is the most simple and minimalistic design, wide functionality and professional support. All of this earned the theme a well-deserved spot as one of the best-selling in 2021.
It is packed with everything you need to build a community portal, supports a variety of plugins, and has many ready-made layouts that make it easy to find the right one for your community.
Ease of use and customization allows you to tailor the theme as you see fit. For those who want to make a unique look from scratch – Flat Pro will also be useful. It offers convenient drag-and-drop tools and the ability to integrate with other social communities WordPress themes. The theme is SEO-friendly and integrates with WooCommerce.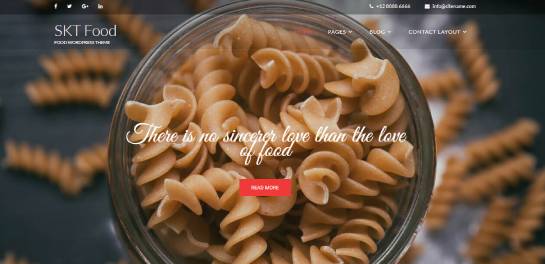 For owners of restaurants, cafes, or other catering establishments, SKT Food will be an ideal theme. It contains everything you need for a delicious presentation. With the help of it, you will achieve incredible popularity and get a whole army of interested target audiences.
SKT Food has structured sections with which you can convey absolutely any information to your customers. For example, talk about upcoming menu updates, events, concerts, etc.
Embed a slide presentation with the best gastronomic photos of your dishes on your landing page and captivate your customers from the first seconds of interaction with the site. The theme integrates with WooCommerce and SEO and is also suitable for any mobile device.
Conclusion
There are over 10,000 social communities WordPress themes available today, so finding the one that works best out of this abundance is not easy. We have selected the most popular ones to make your searches easier.
Choose one of them and embed it into your portal. In return, you will receive a huge number of opportunities for the development of all components of the company.
Don't be afraid to make mistakes, you can always change the theme to a new, more appropriate one. The main thing is to start somewhere to understand how it works and what you need.