What is a simple website?
A website consisting of minimal elements can be defined as a simple website. Such websites are capable of conveying their info or message to the audience without the use of extraordinary or over-the-top elements.
Coming with a sleek and minimal outlook, these websites are incredibly easy to interpret and do not contain anything clumsy or disorganized. Building such sites can effectively boost the sale rates of any commercial site due to the convenience of the customers.
The customers can effortlessly understand the services, products, deals, and all other info related to the website as it lacks all sorts of unnecessary distractions such as details or functionalities.
Hence, it becomes difficult for the audience to move away from the conversion point of the website, thereby giving a considerable boost to the website sales. Also, these websites are usually swiftly paced due to the lack of multiple unnecessary elements; hence, they tend to load quickly.
Whether you are looking to easily set up your business website or to set up an online eCommerce store, you would definitely want to check out these simple themes.
These simple WordPress themes come with all the advanced functionality rolled in, along with compatibility to other plugins.
This should enable you to provide your users with a more enriching user experience and as a result, your traffic is bound to shoot up.
This is why it is essential that you check out some of the latest simple WordPress themes and see which one suits your current requirement best.
It comes simple WordPress themes with prebuilt inner pages as well as sections which you can customize for your website.
And as it happens to be compatible to external plugins, you can add several plugins like social media plugins which should enable you to leverage your content across various social media platforms. And this in turn, should enable you to increase the functionality of your website.
Best Simple WordPress Themes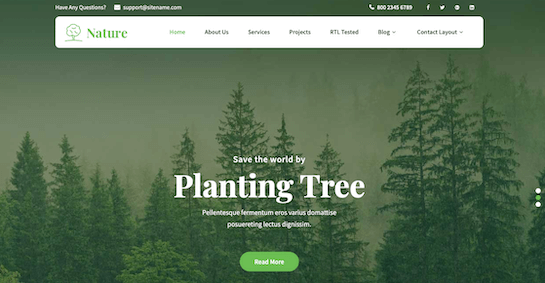 Nature One Pro is a completely responsive and browser compatible simple WordPress themes. It allows you to create a blog if you feel close to nature or would like to aware people of environmental stuff etc.
special sections can be created to thank people who raised their hands by donating some amount for your nonprofit organizations. Shortcodes are compatible with the homepage and other website pages.
Video tutorials can be added to give more detailed information on nature. It supports all third-party plugins to extend its website or blog functionality. Green business website or recycling website can be created with Nature One Pro.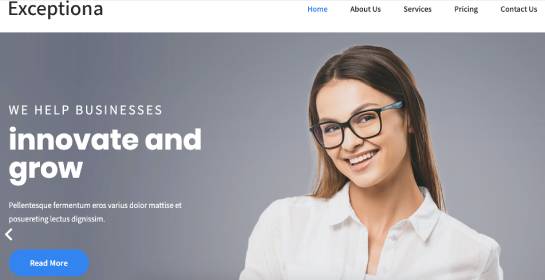 Exceptiona is a clean and simple WordPress theme which you can also employ for creating a corporate, and different professional websites.
It has a simple web design that can be completely customized to display your content in an impressive way. In a separate service page, you can display your business services in a more informative way.
Adding content to every page will be easier with elementor page builder. Without knowing the line of code you can present yourself on the web world in an outstanding way.
Lots of shortcodes, fonts, and colors can be used to take your brand to the next level. Thus, the template is a complete mobile optimized.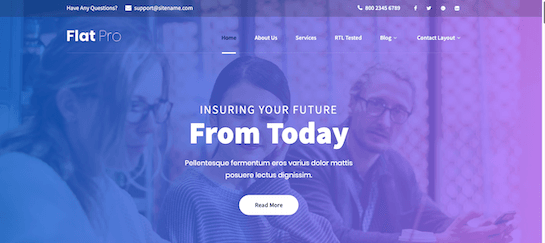 Flat Pro is a high performing WordPress theme that can is crafted for exhibiting your professional and corporate business services. It is loaded with predefined layouts, shortcodes, sliders, parallax effects, and Google maps.
The compatibility feature of premium plugins will save you lots of time and money. We have made use of the revolution slider to grab user attention as much as you can.
A separate blog page is created to market your content in a unique way. Very easy to import the complete demo in a single click. What more needed when you are supposed to access complete documentation and future updates.
SKT White Pro will take your business to the long path as it has all the features and functionality that are needed by any successful business.
Without taking efforts and without disturbing your saving you can achieve your goal. SKT White Pro has a very simple demo without messy stuff so that you will be able to target your customers in an effective way.
The template was created for a corporate business firm but individuals can also look forward to making their passion into running incomes with one and only SKT White Pro. To set up the complete demo you just need one click from your mouse.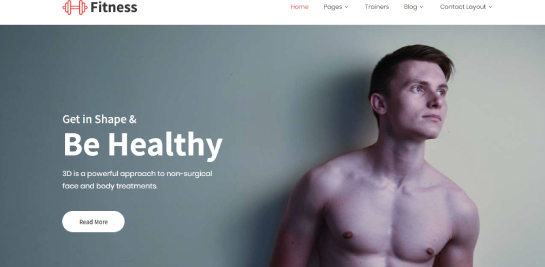 SKT Fitness Pro is a striking simple WordPress themes that has a minimalistic collection of features and functionality.
If you want to shine in the web world without investing much money and time then SKT Fitness Pro is the best alternative solution for you. With this template, you can start your health and diet project and make your services available all over the world.
SKT Fitness Pro comes with readymade more than 5-page templates that are super flexible in nature. Four different header styles can help you to stand out in the crowd.
The editing process is very simple with elementor page builder. you do not need to write any type of code to customize the website.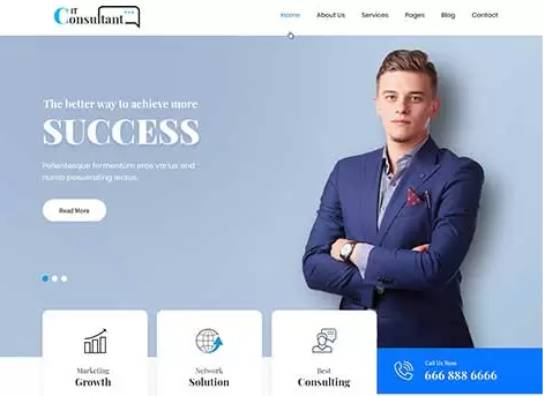 IT Consultant Pro has similar functions like others such as options for color and layout change, Google font's access, color picker access, access to elementor page builder, live customizer option, 1-year support, detailed documentation, and more.
Without customizing your website can look and function as same as IT Consultant Pro does. Smooth and nice transition effects have been given to the website.
You can feel the animation effects while scrolling the homepage. Some inbuilt options help you to maintain the professional look of your business website.
Professional services such as Management skills, technical skills, business skills, business and advisory skills, communications skills, etc can be added to the service section or a separate service page.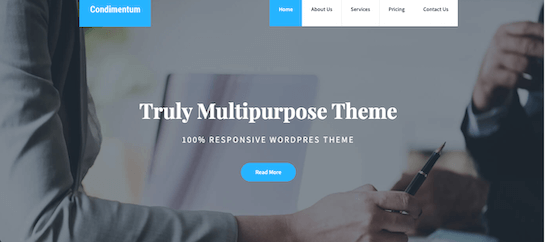 Condimentum is a highly functional but one of the simple WordPress themes that is useful for avail your professional business services such as IT services, geoscientist services, engineering services, architect services,.
Accountant services, project management services, and can be used by any corporation, partnerships or sole proprietor. Tons of options are integrated with this theme to provide you an excellent platform to make your dream into reality.
The complete data can be important in a single mouse click. Along with the page builder compatibility feature it comes with WooCommerce support, WPML support, Revolution slider, cross browsers support, and third party support.
Contact form 7 has been integrated to the template. It would enable your visitors to connect with you without hassling more.
Thanks to page builder compatibility features that allow you to edit the website with any of the builder pages of your choice.
Toothy is a simple WordPress themes that is included with demo content and 4 styling header options. You get complete access to different fonts, color, shortcodes, blocks, sections, pages, and more.
If you would like to show you content through the world then you can download SEO plugins on your WordPress dashboard in just a single click option.
The structure of Toothy is created in such a way that your website content will look 100% responsive and will support cross browsers.
With Babysitter, you can build any type of website related to baby care, child care, daycare, nursery school, kindergarten, preschool, nursery, and other old age home-related organizations.
The minimalistic features will help you to create an attractive website that looks perfect on every mobile device and browsers. It provides you so much functionality to build a unique website to appeal to your thoughts.
With content focusing demo you can create a website that gives high-quality experience to your users. There are many more features that would be required to set up an attractive organization website.
When it comes to setting up a website for your business, you may want to first check out simple WordPress themes for the simple reason that they are quite easy to handle, especially this theme in particular.
The 'simple' theme is not just simple and easy to use but it packs in a lot of advanced functionality and what's more, it happens to be completely responsive as well, which should help make your website stand out.
Other users should now be able to access your website from any device, including smart phones without loss of functionality or resolution.
The theme itself comes with a simple and elegant design along with compatibility to third party plugins, as well as Woo Commerce.
Essentially, this theme comes packed with all the functionality you need and more; given that it comes with 100+ short codes, you can integrate essential user centric features, such as Gallery, sliders, Maps and more on to your website and make it stand out for the right reasons.
What makes the theme interesting is that it happens to come with a lot of white space which you can utilize strategically to both make your content stand out as well as to direct user's attention to important parts of your website. You can go ahead and do a demo, and give it a test drive.
When it comes to simple WordPress themes, this particular theme stands out for the right reasons. The 'Complete pro' comes with a simple, and yet elegantly designed theme, which also happens to be both responsive as well as dynamic.
It also happens to come with a customizer and you can change any aspect of your theme with ease. The theme comes with prebuilt sections, several inner page layouts, header and footer options and more.
It is certainly eye catching and that's all the more reason that you would want to take a closer look at this theme.
Incidentally, this theme happens to be compatible to external plugins as well as Woo Commerce, so you should be able to use the same to set up online shop without much hassle.
What's more, the theme comes with 100+ short codes, and it also happens to be multilingual as well as translation ready.
And it comes with the required MO and PO file, which should help facilitate easy translation. The theme as a whole, is interesting and packs in a lot of advanced functionality as well, so check it out.
The SKT biz pro is a simple, elegant, multipurpose theme that you can reutilize for any niche with ease. What makes this theme stand out is the fact that it is quite easy to use this to set up your website, so much so that even complete beginners should be able to handle it with ease.
It comes loaded with state of the art page builder and what's more, it happens to be responsive as well as compatible to 3rd party plugins.
And given the fact that it is easy to widgetize this theme, and add them to the sidebar as well as footer, you can provide your users with more features and a better user experience as well. Check it out,
Of all the simple WordPress themes, this particular theme stands out for the right reasons. The theme is simplistic enough and it comes with an elegant and trendy layout.
It also happens to come with quite a few built in sections, which you can customize for your website. The theme is highly responsive, dynamic and comes with 100+ short codes with which you can increase the functionality of your website.
In the process, help make it stand out as well. On the whole, the theme comes loaded with all the functionality that you need and more; check it out,
The home decor theme is a responsive and simple theme, one that you can use easily to set up your website. And of course, the theme also happens to be responsive, dynamic and compatible to external plugins as well as Woo Commerce.
What makes this theme stand out is that it happens to come with 40+ prebuilt page layouts and you can select the preferred one.
It also happens to come to simple WordPress themes with 30+ page demos as well as SKT page builder, so you should be able to manage all your pages with ease. You may want to check it out at the earliest.
The kitchen design pro is a simple, and yet professional design that comes with a minimalist look. It also happens to come with drop down sections which should enable easy navigation across your website.
The theme also comes loaded with several user centric features, thanks to its short codes as well as the fact that this responsive theme also happens to be compatible to external plugins. Check it out to know more,
This theme is a multipurpose theme with a clean and professional look – you should be able to use this theme with multiple industries without much of a hassle.