This roundup of templates refers to the best showcase WordPress themes to be sleek solutions for every creative artist, portfolio owner, photographer, IT specialist, app and product showcasing agencies and companies and the like.
With ever – growing competition in every single field, visualization – based undertakings have also exercised certain gateways to a broader client conversion and enhanced reputation along the digital way.
One of such primary portal is for sure the modern and refined, accomplished and stabilized website with a primary checklist of essentials, every image or portfolio item, artwork or photography – based topic will ever need to be fully revealed.
In this article we have collected the best templates for such niches.
All of them have been developed with all the contemporary trends and compulsory norms in the developers'
And as "the devil is in the details", let's delve into the characteristic features of each of the proposed showcase WordPress themes in their whole integrity.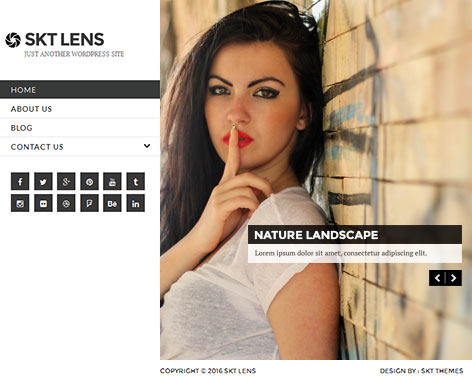 Based on general – purpose and multi usage structure, SKT Lens Pro is the first candidate in our list of the most effectual showcase WordPress themes to strike the eye of each and every website visitors both with its image – centric and other content, as well the whole visual reflection around it.
This awe – inspiring template has passed the probation period successfully and now can be proudly used no matter what kind of website you are going to build on it.
All the norms of responsiveness and mobile adaptability, full color changing options, multilingual readiness for having the content generated in all the target languages and yet much more are strictly followed.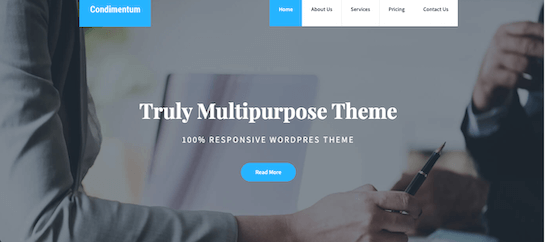 The next in our compilation is Condimentum, which is flexible and smart enough to accomplish a feat and accommodate the available powerful potential to any forced conditions.
This will inevitably result in the accolades of all your website viewers that will be able to enjoy the whole elegant appearance and high – quality content in the form of images and texts.
This responsive and admin – directed, SEO integrated and modernly coded template is truly dependable web solution for all those individuals or agents who want to keep the focus on the visitors exactly on this or that website point free of any distractions.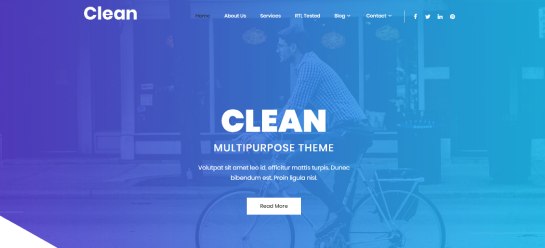 Needless to say, that all your portfolio items and masterpieces of your works, successfully completed projects, new apps and programs need sophisticated and breathtaking exposure to survive and to appear at the fingertips of your supporters or consumers.
Clean Pro will be ideal for all those masters and artists, who want clean and simple layout on the foundation, so that the contrast between that layout and bright examples of his portfolio will strictly outline all the professionalism and top – class character of the latter.
Homepage full – width slider, gallery section and more are the parts custom – built to show off whatever is so relevant to your activities.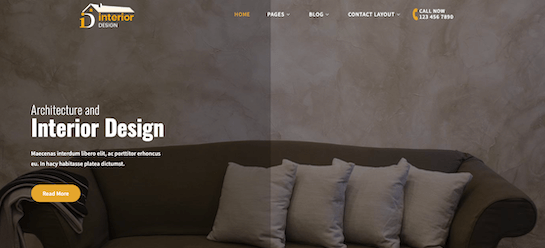 Let all your users navigate through your website easily and find whatever they are looking for in a matter of seconds with Furnish.
This is one of the top – rated and error – free showcase WordPress themes with advanced technological shades and eye – catchy design and graphical touches to make a strong impact on everyone.
Preloaded sections, areas and blocks of the theme, like home, about us, services, blog, team, testimonials, etc, nicely – formatted gallery section for displaying your patterns and much more will deliberately compliment all your business or individual purposes.
From dynamic and creative lookout to impeccable functionality, that can be extended, Design Agency Pro will easily reach the degree of visual and operational coverage you are striving for your web pages.
By the application of this conceptually well – crafted and minutely work – out, shortcode – based and widget – friendly ecosystem, you will be creative and original with more than your budget allows you, since the theme celebrates totally cost – conscious nature to be affordable with every single portfolio owner or freelancer with limited funds.
SKT Parallax Me Pro utterly owns the runway when it comes to building a significant and perspective website of any size with pretty little efforts and time spent on the inner processes of activation, customization and management.
Any single line of the theme can be effortlessly managed from the theme convenient backend and modified as per the website admin's needs and visions.
This clearly – coded and user – friendly template comes generated with parallax web design effects for brighter look and feel of your content, changeable backgrounds and colors, lots of neatly – arranged theme sections, columns and areas available, filterable portfolio controls, etc.
One more type – driven theme in the list of showcase WordPress themes is called SKT Black Pro functioning at a near – polish level.
This surprisingly stable and durable theme incorporates all the options required to give rise to super-fast – loading and smoothly navigable responsive web pages with ultimately positive user experiences.
Show off all your talent in the shape of your works of art in comfort – zones and sections of the theme, feature all your services, works and images in the most engaging way to convert your website traffic into paying clients and customers easily with SKT Black Pro.
Meet the wonderful theme of your intentions in the form of The App Pro, specifically suitable for all the IT companies and digital agencies, which want to establish their challenging existence throughout the online environment and let the clients follow their updates and to – be – launched digital products both from their PCs and portable devices such as mobiles, smartphones, tablets, ipads or any other gadget.
Preloaded portfolio gallery, social media integration, inner pages and controllable background, SEO – friendliness and standard pages inclusion generalize the power of The APP Pro.