They ever wondered how technology helped to shift shopping from the traditional scene to an automated platform. Not so long ago clothes were chosen in-person today and we have them on screen.
E-commerce shopping platforms have turned tables and jumped in the market by becoming very advantageous to small shop owners and big shopping brands.
They have made their presence on an online platform to increase brand awareness and reach a broad customer base.
Small sellers might not be able to hire excellent developers to build awe-struck shop-able websites to stand out from the crowd.
Here's where WordPress fills the niche compiled with favorite shopping WordPress themes. You're going to get something here that will meet your online selling needs.
How To Get Started With Shopping WordPress Themes?
All webmasters continuously lookout for strategies to monetize and stand out from the other existing e-commerce shopping sites.
Discovering shoppable themes available on WordPress can be quite overwhelming, with their numbers. Choosing from millions of templates available to make your site perfect!
And finding the right one might drive you crazy! Well, worry no more; we've got you covered with listing down 12 best Shoppable WordPress themes to make your hunt less stressful.
Shopping WordPress Themes To Use In 2023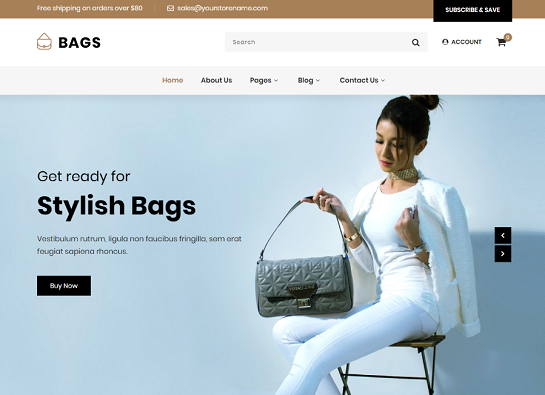 Shopzee is a multi-purpose yet responsive WordPress theme which can be used by giant industries to small-scale industries used for multiple purposes.
With having the ability to include animations, images, portfolio, any business blogging and changing links, colors, modify plugins to modify your website. It's very flexible and easy to use with social icon availabilities and other elements.
People without HTML knowledge can use these templates to build any business, using different editing widgets and icons to handle the site effectively. There are so many stores flooding the online market where online shopping has become a craze.
Its features:
1. One can design their websites very quickly for online shops and stores.
2. This shopping WordPress theme is responsive, fits in all types of electronic devices like mobile, tablets, laptops.
3. This template incorporates security plugins which tighten the security of shopping websites.
4. Very compatible with 100+ short codes and people can add and modify sites with adding shortcodes to make places more workable and exciting.
5. It's been tested with different sliders as crelly, cyclone and accordion.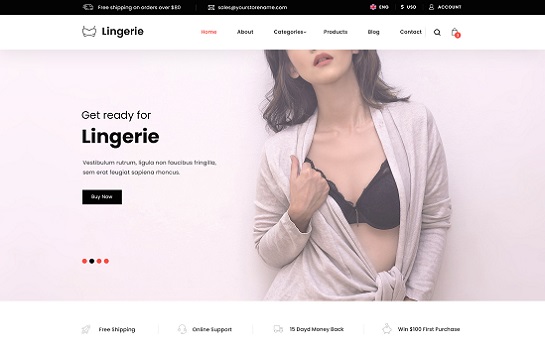 SKT Lingerie Pro is a clothing template where maximum people can shop their choices via mobile and hand other handheld devices.
Nowadays, it's imperative and crucial for your brands and site items to become viewable and accessible on any screen device.
This established site has a different product page, beach wears, and lingerie wearing swimming costumes, nightgowns and shorts.
You can flexibly add on the Google maps for putting our locations and change colors, texts and other styling options. You can put all the items in galleries and enhance functionalities.
Its features:
1. You can have an easy setup of the site with free compatible plugins.
2. Has a potent panel in admin.
3. This template comes with different language accessibilities.
4. Google fonts more than 1000.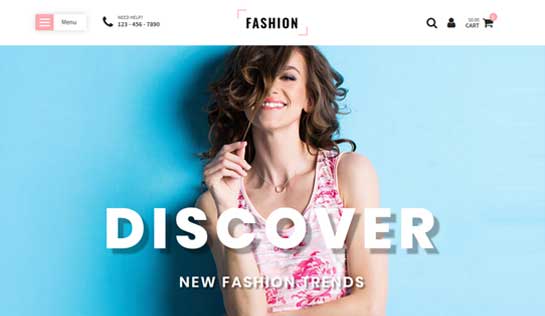 A world where fashion is used for individual identity and culture, clothes characterize essential things. But more than illustrating it's an integral part of an economy.
Ele fashion is an SEO friendly, optimized with speed and is very user-friendly. It helps to connect to the audience more functionally and integrated with other social media icons.
This theme supports both mobile and larger screen devices fully compatible with all types of browsers.
It's a shopping WordPress themes with the latest updates and is 100% responsive in nature. This theme can be carefully designed with links, buttons and add ones and still look attractive for clients.
It's sure to make users feel more engaged through blogs and different clothes. The support of search bars is given for the convenience of users.
Its features:
1. The theme setup is supported by Third Party plugin.
2. it's regarded as the best website listed in Google search.
3. These shopping WordPress themes are always in demand for listing products and exploring services.
4. This WordPress is very compatible with the template.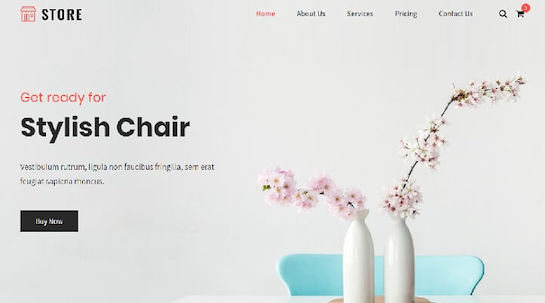 This template very well suits all kinds of e-commerce trades and industries. Things like fashion, furniture, utensils and all other types of products are available in the single place itself.
Very customizable and coded with advanced coding languages. This is the best theme to use when you have more than one product to sell.
Its features:
1. Call to Action widgets are added to the sidebar
2. Easy appearances on web search results
3. SEO compatible and friendly
4. Easy payment gateways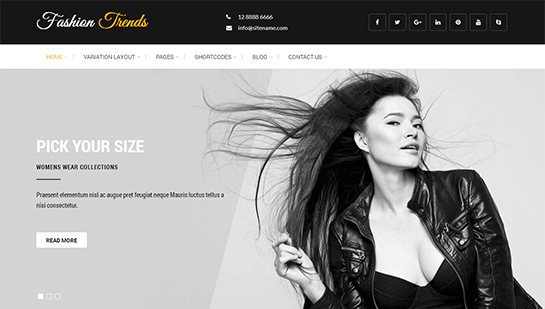 Fashionista run fashion blogs, especially for women and young girls today with interactive blogs and attractive appearance of the site.
Fashion trend WordPress site is coded and designed to be responsive and very responsive to the users. They are tested all the time and updated with the latest tools and plugins with changing trends.
Considering that fashion is changing now and then, a website to keep up with the changing trends becomes more mandatory. The site also incorporates different language facilities and translation readiness to keep it user-friendly.
Its features:
1. Fashion trend WordPress themes can be modified with the addition of animation and other curvy visuals to interact.
2. It is very compatible with OS, Windows, Android, iOS and Mac
3. This shopping WordPress themes is incorporated with Google plug-in like Google maps, analytics, forms and AAP
4. Its drop-downs include five levels ensuring free navigations for users.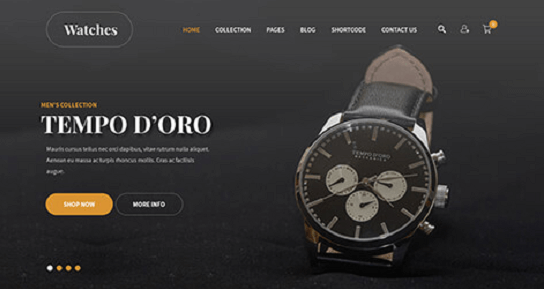 This shopping WordPress themes is very compatible with existing IOS and Android software, extensively created to focus on interface and easy to use options.
It is inbuilt with 100 short codes like the gallery, contact form and other sections for designing portfolios.
There are several short codes for content set up for shop areas, toggle, animated boxes and others. It also consists of SEO plugins that ensure compatibility with 580+ social icons with adjusting font sizes.
Its features:
1. Has transnational friendly and multilingual compatibility.
2. Compatible with all other plugins for selling online merchandise and hosting luxury items.
3. Widget close for all fonts and side, front bars
4. Using themes makes the homepage very compatible.
5. Several layout options with adding posts and pages.
This WordPress shopping theme template is based on Elementor used to create a website for household chores appliances, electronics, domestic appliances, consumer electronics, white goods, and household garage appliances, types of equipment and kitchen appliances.
This template comes with e-commerce functionality helping users to sell their kitchen equipment and machines online right away.
Compatible with cross borrowers and provide knowledgeable documentation. It's customizable as per user's needs and requirements with which they help brands increase visibility.
Starting an online e-commerce business mainly related to household items with SKT appliance PRO WordPress template will put you down the success road.
Its features:
1. Its developer-friendly, foot and heard friendly, social media icon friendly, Front and sidebar friendly website template.
2. The template is compatible on mobile phones, so users can quickly look things up on their phones itself.
3. There are two layouts of this website template; Wide and Boxed layout.
4. For different pages and posts, different layouts in sidebars are included to post templates.
5. It has a beautiful setup, plug-ins and anybody can make a user-friendly site with this website template.
If you're searching for a romantic and professional e-commerce theme template for your brand, then Flower Shop shopping WordPress themes works best.
It's built with absolutely intuitive, icon-rich designing and generates a unique and impressive user-interface. Like the homepage, you can highlight the beautiful flowers and the template gives the users flexibility to build a store with matching expectations.
It has a pre-equipped switchable module of tab category, which allows the users to browse their desirable items and buy them. You can make changes within a few mouse clicks and allow your customers to view the gallery section, social media section and all other hot layouts.
Its features:
1. Built with advanced technology and user-friendly interface
2. Very easily installable and requires no extra effort, configurationally and customizable.
3. Multilingual friendly helps users with WPML, Poly lang plug-in.
4. Flat and material approach to the design with an elegant storefront.
5. Optimized SEO tools are available and convenient transactions and payments.
Gold WordPress themes the best suited for those who want to customize their jewellery websites by jewellery owners.
Dealing with all types of ornaments sales, gems and stones, they would love to have their site customized in a way which is approachable and offers a single interface for retailers and sellers.
This template gives a slightly elegant touch to the websites and makes them very functional with various plugins.
Designed with HTML and CSS3 with compatibility-tested for cross-browser, the theme is mobile-friendly and other browsers friendly. You can also add short codes to add extra plugins
Its features:
1. Compatible with Woo-commerce plugin so the website using the template can be worked as an online store, shop and provide fully loaded features.
2. It is a multi-purpose theme used for multiple purposes like changing fonts, extending layouts and increasing functionality.
3. This theme has high-security plugins.
4. The homepage is very functional, consisting of different configurations and menu options.
5. It's designed as SMO friendly as social media today is very prominent and valuable.
There are many themes for watch e-commerce websites, and the best one yet is the Sunglasses template. It offers a classy touch to users approach, and if you need a template for your sophistical business based website, then this one is the best.
Though you might want to purchase additional plugin to increase the functionality of your site, these templates stand still stand out in the crowd. Nowadays, everybody wants to own and sell luxury like branded products.
If you're going to do business related to fashion sunglasses templates, suit the best. These templates have numerous short codes. One of its crucial features is its instant responsiveness.
Its features:
1. There is no such requirement of document persuasiveness, so you need not be from a technical background to develop sites using these templates.
2. This site lets numerous sliders work effortlessly.
3. This template is very versatile and works with all luxury brand items like Bags, watches, spectacles and all.
4. You can set the color of your website as per the color of your glasses.
5. The template is very compatible with the SEO plugin and is responsive to SEO Google searches quite effectively.
Supermarket WordPress theme with its modifying features add more plugins to make your grocery site look greener and health, how you like your vegetables. This template is straightforward, says what it sells to make it easier for customers to buy.
So many themes are available in the market, but this one is a go-to when it comes to powerful customization options for the site.
We all would once in every two months want to modify, customize and enhance sites functionality, and SKT Supermarket template has it all. It's very responsive and has a retina ready display, and literally, any scaled businesses can use the template.
Its features:
1. Incredible user experience with the entire plug in the template has to offer.
2. Unlimited colors for designing the website
3. It has real-time editing option with a portfolio plug in integrated into the website
4. The multi-vendor plugin helps in making multi-vendor websites where it becomes a whole e-commerce business.
5. Both buyers and sellers on a single interface, more handy and compatible with all browsers
Creating a health-related blog is very common by health specialists today offering pieces of advice, blogs, tips and tricks on a website.
Building a website with SKT nutria shore template is useful for some nutrition-related publication and for providing health-related services.
The template allows spreading helpful health tips and wellness tips by supporting appointment booking, online appointment scheduling. This template encourages the products as healthy and portrays them in different layouts to support user interaction.
Its features:
1. So much flexibility in offering customizable options
2. Countless support by adding products
3. Complete guidance
4. Incorporation of third-party plugins.
5. Responsive and contact support plugin.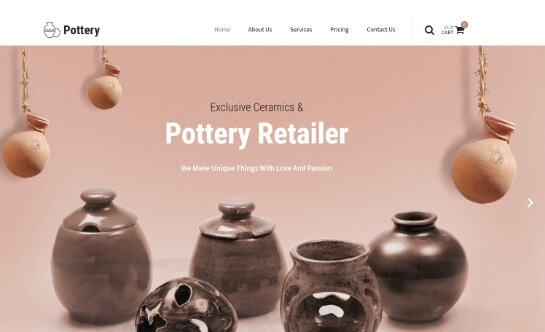 As the name suggests, these templates suit well with a website showcasing or catering to organic products and healthy lifestyle.
There is always a quest for organic food, organic products, organic remedies and organic DIYs for skincare and much more.
This template is designed in such a hassle-free way such that one can find everything they're searching for. Coded with many efforts, and by experts, this template will ramp up the game.
Its features:
1. Tested in Chrome, Firefox and opera can be found in any of the browsers.
2. RTL languages work well
3. Mobile-friendly Google test passed.
4. SEO friendly and compatible
5. Customizable