A round up of the best sewing WordPress themes for dressmakers and seamstresses, tailors and designers, handmade business owners, ateliers and parlors, fashion studios and sewing houses, as well as other threading workers.
Sewing is one of the ancient forms of handiwork. The ability to sew has always been admired by people, regardless of culture, era, social condition, standard of living, etc. Anyone who is lucky enough to be your friend or relative or acquaintance will be happy to witness your talent and get from you a present sewn by your own hands.
When you manage to create something beautiful, stylish and useful, it always brings a sense of satisfaction and pride for your work. And when you see that things made by you bring joy to people, you get more inspiration.
As for now, any person with due diligence and desire, can master sewing in a fairly short time and make it one of the sources of his or her profit.
And naturally, one of the essential steps to make more people know about your handmade business, small store or atelier is a properly managed and showcased website.
We have already surfed the Internet for the best sewing WordPress themes so that you don't need to do that.
Each of these templates is already well taken care of and comes with all the needed ingredients to activate your website. However, any of these sewing WordPress themes can become more unique and presentable if you not only invest your time, but also exercise your imagination and innovations.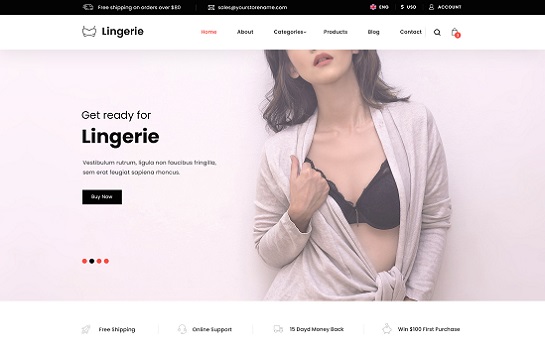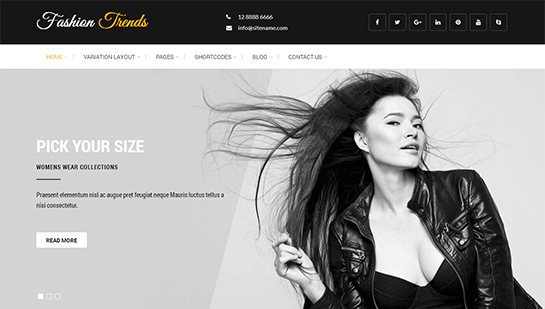 The expediency of Fashion Trends as one of the best sewing WordPress themes is very high. It means that every single penny you are going to spend on it will be justified in the nearest future.
From lifestyle ladies to fashion enthusiasts, seasoned sewers and needlewomen, dressmakers and designers, this template will be a real go to girl for the website owner of any relevant profession or private business representative.
Responsive and mobile optimized design that demonstrates maximum flexibility across diverse fields, customizer options for managing your site on a continual basis, flat design basics used in the theme along with SEO coding and yet much more can be found within this perfect product.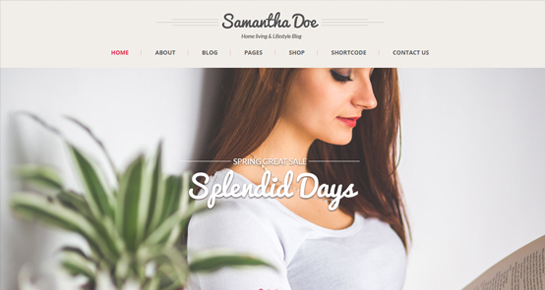 Meet Girlie – a true whimsy galore. This template is as elegant and charming as it is functional and consonant in performance.
All in all, this beautiful and fresh faced website builder is a product without customization limits. We all know if you want to organize a great show for your online audience, you need your site's backstage function impeccably.
In this relation, you don't need to worry since Girlie includes convenient and durable admin panel on the backend of the theme where you can find all kinds of accesses to your template and its elements.
With Girlie your sewing or hobby website will be ranked like there is no tomorrow! A stunning SEO coding is done to the theme to provide stable SEO results and meet your clients just on the spot where they are waiting for your offers.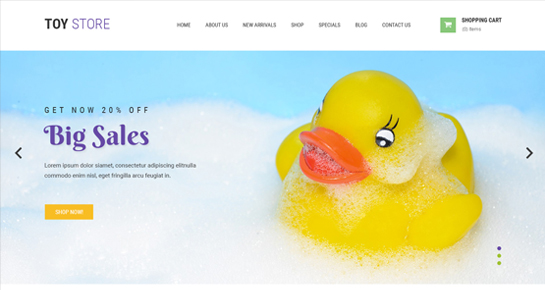 Toy Store is another great idea among the most reliable sewing WordPress themes on how you can achieve great results and win the attention of thousands of clients just with one yet all inclusive and all service website.
If we go deeper into the meat of Toy Store, we'll discover boundless features and useful components which are harmoniously blended not to hinder, but even foster each other's denomination.
You are certainly in luck with Toy Store since your business is going to be found on Google and other search engines and attract new incomers to your site.
The same goes for your site's plugin compatible nature to allow you to test new possibilities of your profile in the sphere of online sale and shopping, gallery and portfolio management, content translation and more.
If you are a master in making something unique out of ordinary, Flower Shop is right here for you.
It has all the credentials to turn into one of the top drivers of your creative or handmade business, sewing studio or sewing machine company, private fashion boutique or online storefront.
Amp up your website with valuable content and show off your best images that will be well arranged in the homepage default slider with controllable slides, pause time, animation and more.
This designer made and HTML 5 based website also comes bundled with preloaded font and color management options, footer, header and sidebar choices to be located wherever needed and to contain pieces of useful information.
Another artistic way to approaching the creation and management of your sewing website is called The Art.
Without any shred of doubt, The Art has got you covered with the ready made mobile version of your site to keep the mobile and gadget users closer to you.
No digital profile is complete without proper coding and styling controls responsible for your site's continual proper form and function. Hence, the developers of this template have done their best to adopt the best web related strategies, of course, keeping the non techy website user and his convenience as a top priority.
As one of the powerful sewing WordPress themes, The Art has already managed to prove its consistency with Shortcodes Ultimate, Contact Form 7, WooCommerce, SEO, NextGen Gallery and other important tools and plugins.
Luxury Watch is another ideal solution for sewing and fabric knitting businesses and industries, fashion studios and ateliers, handmade design specialists and online traders trying to sell their unique products
and accessories.
On the whole, Luxury Watch is not a static framework, but dynamic, meaning that you can constantly change and modify it to adapt to the changing requirements of your online guests.
If you are looking for the best ways of making your site more functional and incorporate new touches, plugins and extensions are your next step, since this template is ultimately plugin friendly.