Have you never heard of Purple WordPress Themes? These themes are an exotic combination of various shades of purple that are originally developed from an impeccable combination of blue and red. This color is often known as the most enigmatic of all and hence also related to magic.
It mesmerizes the audience and makes them endure a significant interest in objects that have the same characteristic. But who can consider using such themes?
These produce soothing vibes which makes it convenient for an artist as well as for a marketing manager.
Therefore, irrespective of the sphere of your profession you can rely on it for fantastic results. In this collection, some of the widely used and time tested options have been included.
You can get a gist of their abilities here so that you can select the best one.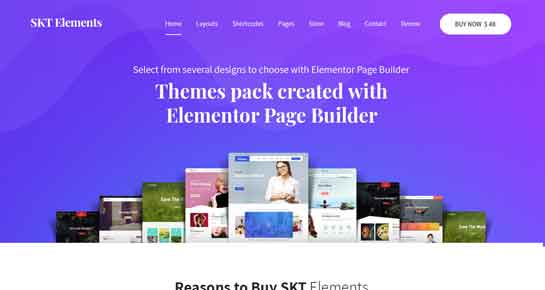 The first option is a multipurpose and the most powerful theme that you can create to select any kind of website. The best part is that it offers 100+ templates in its package that are suitable for various kinds of industries.
Here you can easily find the most vibrating template as per your needs and then conveniently create a website with the same. Adding Purple color to the landing page or to a specific element or background is a kid's play here. Even the color picker will help you in doing so and it will also ensure that a uniform shade is maintained.
Moreover, it is fully loaded with features that can suit a variety of industries and have also been optimized for SEO. The responsiveness is terrific and is not limited to any particular screen or device. It performs exceptionally well across all platforms that give you an upper hand over your competitors.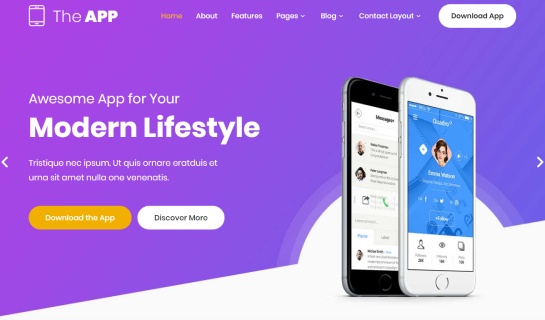 The App Pro is a versatile and elegant theme in this collection of Purple WordPress themes. Our core desired color has been perfectly blended with white to give a serene outlook. The fonts are also in attractive shades of white that makes the contrast just perfect.
Additionally, you can modify the font style, color, and other aesthetics as required by your brand or niche. This website has been created exclusively to promote and connect with the audience for an application, software, or other service-based products. The framework and layout are professionally worked out and its structure is the strongest.
It offers RTL support and is integrated with hundreds of Google Fonts. Additionally, it has also been optimized for speed, multilingual plugins support, and SEO. You can add all the required functionality with the help of shortcodes and can also rely on external plugins for the same. It is single scrollable, easy to use, and offers one-year full support from the developers.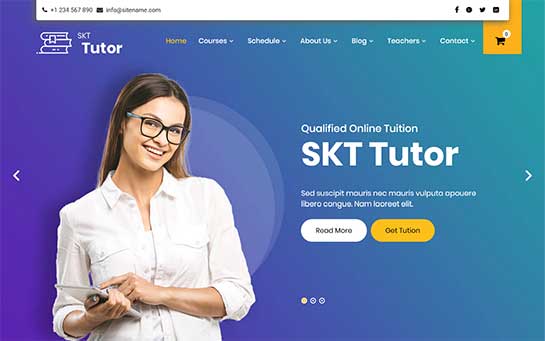 SKT Tutor is amongst the most responsive, professional, and feature-rich themes in this collection. It comes with an impeccable combination of professional colors and niche-based features. It can be used for preparing websites related to universities, academies, private tuitions, or skill-based teaching.
All the tools that are used for setting up a learning management system are compatible with it. The default template is exclusively customized for educational institutes. You can depend on third-party tools and plugins for adding necessary facilities to the templates. Additionally, you can also use the offered inbuilt shortcodes for the same.
In the most professional and elegant manner, your content will be displayed perfectly across all screens. This is because it comes with HD-ready and retina-ready display and is also compatible with mobile devices.
A portfolio gallery section has also been provided for your convenience and it has been optimized for SEO. The entire structure, and design, is user-friendly with smooth navigation and non-complex functions.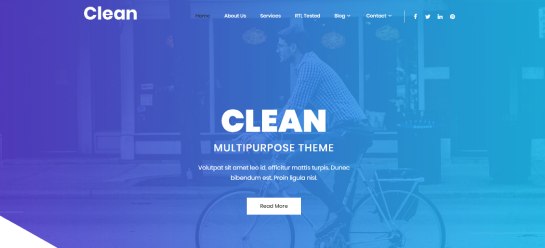 Clean Pro is a truly multipurpose option in the best Purple WordPress themes compilation. You can discover true modernity in its design, features, and representation. For serving a variety of businesses and industries, it offers several options in the selection of homepage.
The basic design is minimal but versatile and fully responsive. For modifying the template or style you don't need to be an engineer or a developer. It can be done without coding from a page builder and customizer. In addition to that, it includes copyright-free images, translation-ready, multilingual, and WooCommerce compatible.
The exclusive CSS-based animation will add a unique charm to your content. It has Jetpack support, CDN Support, Google Fonts option, and is also search engine friendly. Shortcodes can help you add many features and animated blocks for your website. By default, the theme also includes a team area and flip boxes for the team. Full support is available for a period of 365 days and complete documentation is also provided.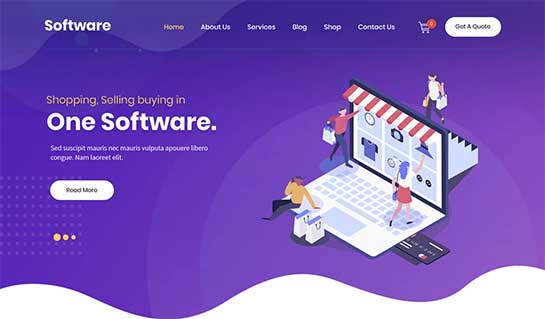 SKT Software Pro is one of the most distinct and exclusive Purple WordPress themes. If you have an IT-based startup, e-commerce business, or own software company then this is for you. In such industries, websites play a crucial role in converting visitors into customers.
Hence, SKT Software Pro enables you to create a professional, modern, and responsive online space that includes all the necessary perquisites. You can captivate the simple text as hundreds of Google Fonts are integrated with it.
Additionally, it becomes quick and easy to import demo content so that modification requires less time. Default visuals are stunning and attractive but there is full room for all kinds of personalization. You can easily target audience with all kinds of screens and mobile-device as it is HD-ready and retina-ready.
There are several choices in different elements like menu, header, footer, etc. It has been coded with perfection and at the same time also optimized for faster loading and search engines.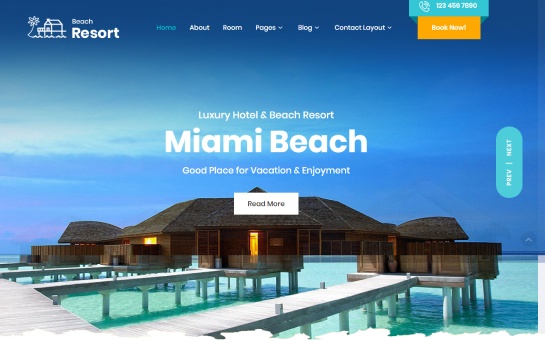 One theme that you cannot avoid in this compilation of Purple WordPress themes is SKT Beach Pro. It comes in a vibrant combination of various colors which gives a relaxing and mesmerizing feel to the audience. It is intended for beach resorts, tourism, travel operators, and similar agencies to create a website.
All the required features related to this industry are already provided by default in the theme. Moreover, some other exclusive features can also be added with the help of inbuilt shortcodes. It is dynamic and completely responsive so that projection over any small or large screen and the device is smooth.
Modifications of all kinds can be done with the help of customizers and page builder so that you don't lack in personalization. WooCommerce is also compatible and you can rely on other third-party plugins as well for specific functionality. It is a lightweight theme with a faster loading speed that keeps the rankings of your website strong.
The next truly colorful option in this list of Purple WordPress themes is Ele Fashion. Fashion has to be colorful or classic otherwise it usually does not make any sense. For all the style enthusiasts and fashion addicts, you can create a wonderful purple-color based website with it.
For creating a beautiful layout with ease you get tons of features with this theme. You can also enjoy real-time customization with the customizer and make all modifications in the template with the page builder. The code validity or responsiveness has been tested across devices, browsers, and screens.
You can expect stable growth with the right content as it has been optimized for SEO. You are entitled to one-year customer support and comprehensive documentation with the theme. The installation process is overall simple and does not consume a lot of time. Lastly, for the convenience of publication and set up you can use the one-click demo option.
When looking for a truly multipurpose option in this compilation of Purple WordPress themes then Condimentum is for you. The first advantage is that you do not experience any challenges related to website creation with it. The entire process from theme installation to final launch has been simplified here.
It is multipurpose so that catering industries of any kind and even artists become possible. It is highly reliable and responsive which is a must for stunning performance across devices and browsers. The basic design of the template is modern, attractive, and yet minimal. This can be easily modified according to your preference and the requirement of your industry.
Creating a brand-specific online presence with a specific color parameter in each segment and element is also manageable. The developers offer a one year support that is aimed at supporting you on every stage before and after the launch. Lastly, the ease of customization and distinct features will make you fall in love with it.
Flat Pro is one of the most popular and widely used Purple WordPress themes. It comes with a material design that is without any gradient. There are tons of new and unique features that are incorporated with this theme. Video documentation is done and a one-click demo option is also provided. It is a color-changing, mobile-friendly, and reliable option for creating any website.
In total, it includes at least 100 shortcodes that can be used to add the required functionality. It has also been thoroughly tested for compatibility with external plugins for adding the required features. By default, a slider is offered on the homepage that can be completely controlled by you.
You can select one from the eight inbuilt templates provided to you with it. This helps you in updating your site in a timely manner with an impeccable design and layout. Setting up a blog on your website is also easily possible and does not demand any extra efforts.
Exceptiona is a perfect option if you intend to offer accounting or similar kinds of services to your clients. It has been cleanly coded and the CSS rich templates make it attractive and super easy to customize. You get to select one from the multiple prebuilt templates.
All the colors used in the design are vibrant and based on purple and its shades. The overall design is modern and proper care has been taken that nothing is overdone. Customization can be done as per your choice so that the true identity of your brand can be captured.
It has been coded under GPL license and all the images included are relevant to your niche and fully copyright free. Additionally, proper care has been taken for the optimization of search engines and maintaining the responsiveness of the theme. All the missing functions can be added from plugins or inbuilt shortcodes.
SKT Plumbing is a niche-specific option in this list of best Purple WordPress themes. This is exclusively for creating a plumber's business website that is bright in colors and powerful in features. It includes pre-built demos that can be imported in a single click and can be easily customized with a page builder.
Additionally, the demo will also help you in setting up a website related to air conditioning, solar heater, etc. All the templates can be installed or upgraded at any time in just a few minutes. You can ensure that useful features like project cost calculator, appointments, etc. are included with the help of external plugins.
It is fully compatible with WooCommerce that enables you to set up a plumbing based online store. It has been integrated with 900+ Google Fonts and has been tested for compatibility across devices and screens.
Beauty Cuts is one of the most dynamic and attractive Purple WordPress themes. This is an exclusive theme that has been coded to meet the requirements of regular and premium hair salons across the globe. Having a distinct but elegant hairstyle is the prerequisite of any social or professional event.
Beauty Cuts enables you to create a finely crafted web space that enables you to showcase your skills and attract new clients. Moreover, all necessary features that are must-have for this niche are included by default. Other additional functionality can be introduced with the help of prebuilt shortcodes or through third-party plugins.
Setting up an online store for hair and skincare products is also possible because it works terrifically with WooCommerce. There is an exclusive pictorial provided where photographs and images of your previous work can be uploaded. The service section and banner slider are also offered along with other key features.