Here is a splendid gathering of the best printing WordPress themes for design studios and printing houses, 3D print services, printing shops, t-shirt printing, creative agencies and painters, poster, banner and advertisement making businesses.
Printing and other creative businesses need a solid area to showcase the best parts of their work and make it available for as many people as it is necessary to form a huge army of clients.
Whether your primary objective refers to the expansion of local market share, transformation into a more organized and client centric business, more orders from clients via the virtual platform or something else, these printing WordPress themes will do all the hard work for you.
Get all the advantages of digital presentation and marketing of your printing and photocopy business with one of the best printing WordPress themes we have put together for you. Bring all your creativity to the fore and leave the irritating details and nuances to us.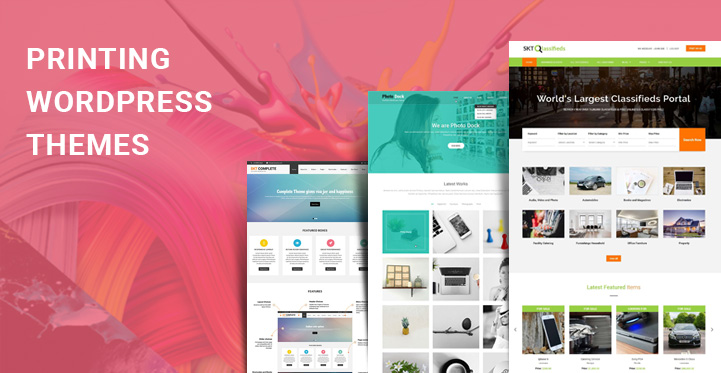 If you want to really crush the digital game and win the modern competition in your specific market, you need to put any of these printing WordPress themes into work.
The absolute evidence is that each of them is coded and prepared well enough to gain, grow and keep the customers your business needs with SEO and SMO practices, responsiveness of your site and its components, easy to use sections and more.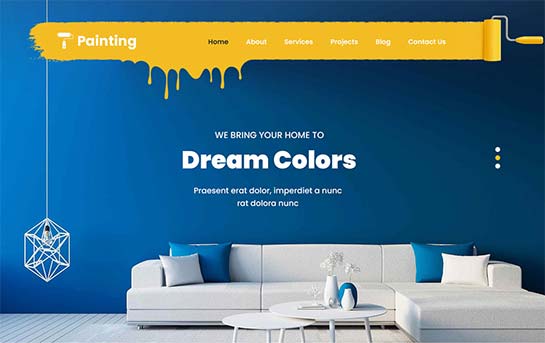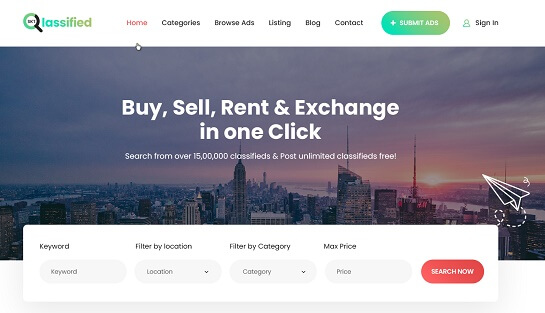 Classified Ads can be the best stimulus for your site's online viability and accessibility around the clock.
This modern template is packed with all the compulsory controls imposed by the contemporary website surfers.
As such, it comes with a steadfast framework based on a good coding with HTML 5 and CSS 3 touches, wonderful navigation with smooth dropdown levels, and all this wrapped up in a seductive design.
The theme has been made to share ad friendly environment so that you can use one of the proven ways of monetizing your printing website and making extra money.
Whether you are going to keep your site in passive tones or make it dynamic with bright colors, make ordinary fonts valid through your website or choose something extraordinary is also up to you with Classified Ads.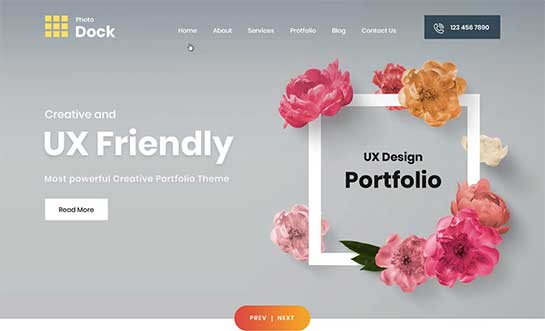 Photodock is another progressive tool included in our assemblage of printing WordPress themes to be the best bet to get your website or blog started.
Actually, turning your small printing or photo editing business into something valuable and big has to do with your own talents and original thoughts rather than with a bit of luck or programming skills.
Otherwise stated, Photodock is already well processed and feature packed to get things easier for you when it comes to crafting the unique look and feel of your site and making it consistent with different platforms, browsers and mobile accesses.
Right from the start, your website will be set up in the right way to be cross mobile and device compatible, as well as to support different add ons and plugins, tools and extensions.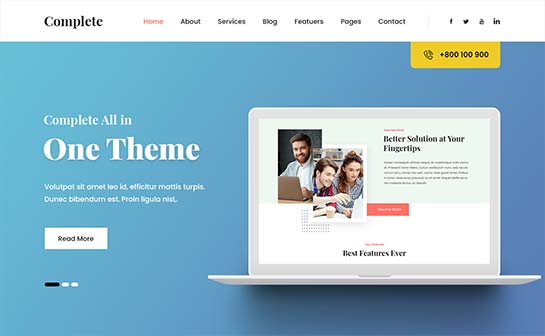 If you ever have any questions catering to Complete Pro and its exploitation, our specialists of the support team are always ready to clear up all of them for you and put you in the right direction to get the maximum of your website.
Instead of using a bulk of complex HTML 5 pages, you are going to receive a user friendly platform that will make the theme accessible to everyone and functional with preloaded shortcodes and customization options.
You can find font and color choices controls, page and post layout and structure settings, header and footer layout choices for fixing widget friendly areas, etc.
Different page builders and plugins, among them commercial and translation, SEO and SMO ones have all been tested with Complete Pro and provided maximum integrity with it.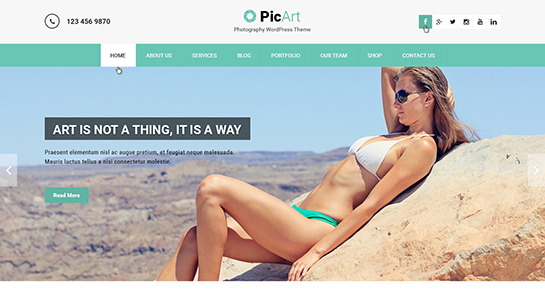 PicArt can be the hero of your success story. If you want to make it work just the way you need, be sure the admin optimized nature of one of the best printing WordPress themes in the form of PicArt will help you gauge all the things much easier.
Show off your printing and design, marketing and advertising services, sell your products and accessories with PicArt since this template is commercial ready and custom built to run as a productive storefront in 24/7/365 format.
All in all, it's a kind of self serve mechanism that will get you covered irrespective of your expertise level in web development, coding and design, frequency of updates, extension of the default platform with shortcodes and plugins, etc.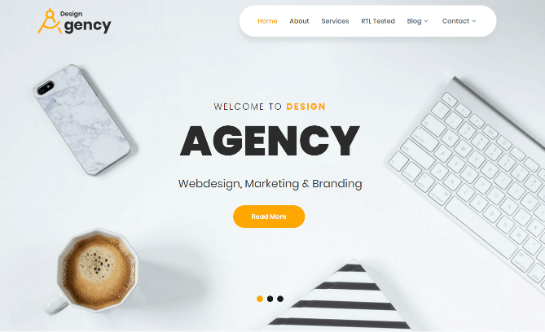 If you want a lot more space in the virtual domain to make your printing business popular and thriving, but you don't want to face the expenditure or complexity of website creation, Design Agency Pro is what you need.
It's a real treasure box where you can find dozens of useful tools and features, controls and management options, controllable homepage slider and widget friendly zones.
Flexibility in customization, smoothness in appearance and scrolling, legible and high quality content that is responsive to different platforms and conditions are all among the secret weapons of any successful website. Design Agency Pro is powerful enough to incorporate all the above mentioned features and not only.
Discover the value and premium nature of Photo World Pro and be sure to have a trustworthy companion along your way to the establishment of an online printing profile.
Stand out like a pro and offer the abundance of your printing services, marketing packages, showcase your portfolio in the homepage slider and gallery section and share all the primary contact details in relevant sections and areas in a matter of minutes.
Photo World Pro will never let you slow down your business because of your customer's needs. Everything is perfectly done to guarantee the most enjoyable and convenient platform for your online guests armed with portable devices, smartphones or gadgets.
If you are in the printing business, then you already know that it is vital that you have an online presence that can help your small setup, transform into a successful business overnight.
Granted it is not going to happen right away but the first step of the process is for you to establish yourself online and get a regular audience, and more importantly, a new website can enable you to target key demographics and run a streamlined campaign effectively.
For starters, you may want to check out some of our printing WordPress themes and select the ones that you think are a god fit for your business.
The great thing about using WordPress as a platform for your website is that it's a free resource, comes packed with all the features you think are essential for your website and yes, the premium themes are just as good as well.
Whether you are into printing or photocopying business, you'll know why it pays to go for printing WordPress themes; for one, these themes come loaded with all the extra features that you think you'll require for your website. You need to remember that your website would be the face of your business online and therefore, you need to look outstanding.
Most online users have a limited attention span and you need to use the little time they spend on the landing page to direct their attention to some of the main features of the website and your products/services.
Once you have selected the theme for your website, you can always outsource the content development to a professional but make sure that the content is SEO optimized so that the site gets indexed faster.
With optimized content and good quality graphics, your website should be able to stand out easily. What's more, with WordPress, there's no mandatory requirement that you have to know coding to customize the site; you can set up a few custom widgets and add the content you need, with the single click of the mouse and that's it.
The printing business, be it T shirt printing or a newspaper organization, is a saturated field; what this means is that you may have to go the extra mile to get people to visit your website.
That's why you may also want to use alternatives such as direct mail marketing, social media and other forms of marketing strategy to get your site more traction.
When choosing the theme for your website, you may want to check and see if it comes preloaded with buttons for all those social media platforms as that should make it easier for you to post directly to the website from your social media accounts such as Instagram.
It should also be pointed out that you can pick and choose your own color and tone for your website but before that, you may want to check out some of the top printing companies and their website as that should clue you up on how to rework your website from scratch.