pool cleaning and plumbing Services WordPress themes production for all the companies
Service providers specialized in pool cleaning and plumbing, salt water and chemical services, salt chlorine generator installation, pool cartridge and cartridge cleaning services.
Vacuuming and pool tile scrubbing services, etc for all the pool – owners, hotel and apartment representatives who are inclined to place a high premium on their financial means and time.
In parallel with the global advancement the consumers' requirements have also suffered a certain growth in any given industry or environment with an intention of finding something valuable and beneficial in compliance with their needs and claims.
And hence a corresponding proposal market has been formulated to satisfy the ever – growing consumer demand exclusively in every field.
As for the pool – related industry, the anticipations from this business are high as well with a consideration that many individuals and centers, hotels and vacation places have pools and are using them year – around.
Hence if you have set your mind on starting a business like this and get your popularity as soon as possible, review the list suggested in the continuation of this article.
Every pool cleaning and plumbing services WordPress themes specified by us can be the key factors of your future revenue growth and profitability, as the same time requiring from your pretty little investment and too little efforts exerted.'
Getting a WordPress theme for distinct niches has become extremely easy these days. But, when it comes to finding the most efficient and suitable option the task becomes tiresome.
If you glance at the different search results you will find hundreds of pool cleaning and plumbing services WordPress themes. But the question is will they do complete justice to the kind of performance that you are expecting?
To ensure that you can create a website with supreme performance and the best functionality we have compiled this list. They will not only help you create a terrific online presence but also enable you to act as a strong competitor.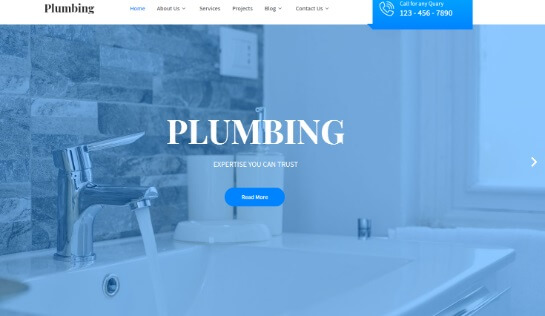 Plumbing is a skilled job and to do justice to such skills in the online space you need a competent theme. SKT Plumbing is one such theme that enables you to make the most of the internet space.
All kinds of services that you provide can be conveniently featured into various sections offered by it.
The basic design of the template is completely responsive and a perfect match for this niche. All the images, animations, colors, fonts, and other aspects of various elements are designed according to the demands of this profession.
To ensure that you can easily target the local audience of your region without any language barrier it offers RTL support and multilingual functionality.
All the inbuilt shortcodes that are hundreds in number are efficient enough to offer you the best features. Not only this, but it also offers WooCommerce support so that you can easily set up an online plumbing store.
Integrating payment gateways and simplifying the overall operations and user interface is also possible. Such features and other peculiar ones included along with it ensure that you can create a mesmerizing and impactful site for your visitors.
In any case, if some crucial features are still missing, then you can rely on external applications for the same.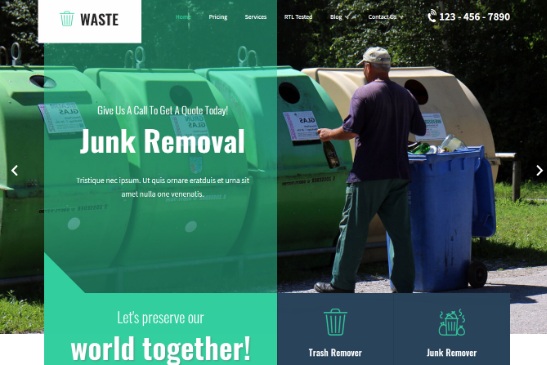 It becomes important for an unusual business to list out on the online domain. Junk Removal is an option that is one of the best matches for pool cleaning and plumbing services WordPress themes compilation.
Irrespective of your technical skills in coding and the size of your business, you can conveniently set up, modify, and publish a website.
The basic design is phenomenal and filled with colors along with suitable images that are copyright free. The structure is exceptional and makes the outlook elegant with dynamic colors and segregated sections.
This helps you in doing full justice to all kinds of services, equipments, and solutions that you offer. Any other service-based business can also be included here without any major demand for rectification or features.
Setting up the theme is a simple process and the one-click import option makes the rest of the task easy. Page builder enables you to customize all the segments as required by your profession.
Everything has been developed keeping in reference to the best industry practices in the respective niches. Hence, the overall expertise that was a must-have for a website is no longer a prominent requirement. You can set up and manage it efficiently with Junk Removal.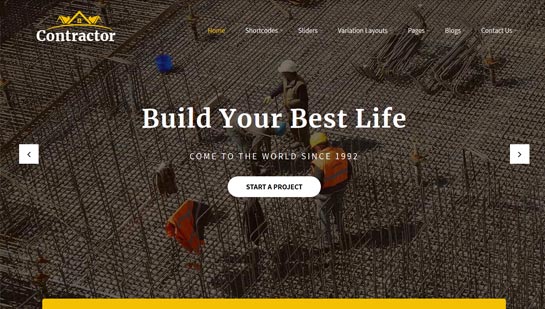 Contractor Pro is amongst the most looked at options when it comes to pool cleaning and plumbing services WordPress themes. For any construction agency, builders, site engineers, or construction company this is an ideal website.
Contractor Pro offers all the prerequisites that are a must-have for such sites along with a powerful performance. The infrastructure sector has significantly started making its mark in the online space by interacting and enlightening clients.
Creating an efficient website for your upcoming project or site is crucial and now easy. Significant attention has been given to the development of usability during the modification process.
Customizer contributes to swiftly making all the required changes from the backend with real-time monitoring. Page builder ensures that the HD-ready and retina-ready templates can be modified and molded as per requirements.
Translation-ready features ensure that targeting a demographic-based audience is simpler and convenient. Moreover, WooCommerce support and compatibility with other external plugins ensure zero compromises with compatibility.
It is optimized for SMO and SEO so that no stone is left unturned on the technical side. All necessary care has been taken for compatibility across mobile-devices, screen sizes, and various browsers.
Setting up an influential and impactful webspace is not as tough as it seems with the right theme.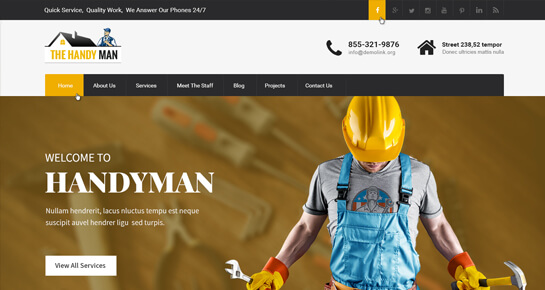 The next theme in the compilation of pool cleaning and plumbing services WordPress themes is SKT Handyman pro. This has been developed for handymen across the world that ensures that all daily life fixes in different sectors are addressed.
A professional handyman services or an agency website that is efficiently offering such services has a lot of information. Additionally, it also requires a structured layout that can capture all the information in a sequenced format.
This theme avoids all the chaos and promotes the simple interface so that the visitors can explore all the sections.
A dedicated service section has been offered so that the gist of all the services can be included there. Adding other inner pages with detailed information is easy and quick.
WooCommerce action promotes the valuation of the company as you can deal with the clients online. This helps in selling flagship in-house or agency base spare parts or similar products easily.
Plugins support is exceptional which helps in adding the required features to keep you on track. Connecting your social media accounts for larger visibility and direct customer testimonials can also be managed.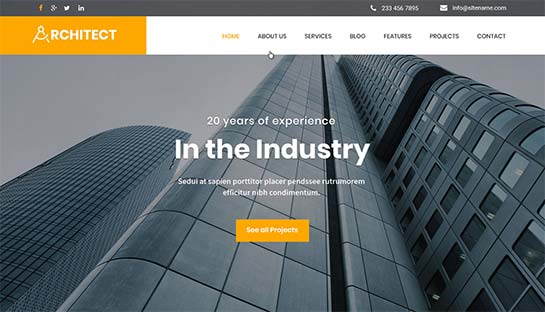 SKT Architect Pro is a truly multipurpose theme in this compilation of pool cleaning and plumbing services WordPress themes. This theme comes with an adaptive approach with mesmerizing design and an elegant outlook.
You can easily create any service-based website with no limitation of features and complete freedom of modification.
Different agencies, startup, and corporate can consider it for a new or up-gradation of the website. It has been coded to perfection and every intricate technical detail has been paid the attention that it deserves.
The default templates are HD-ready, completely customizable, and fully responsive across different devices. Hence, you can continuously modify it according to your sector and expect completely responsiveness.
There are already pre-defined sections in the layout that reduces considerable tasks for you. You can easily add or delete sections and tweak other elements associated with it for the desired outcome.
It comes integrated with Google Fonts and hundreds of shortcodes. This helps in improvising the overall typography and features of all kinds can be infused without relying on external plugins.
Adding a gallery to capture images of the services or products is possible and helps in adding value to the site.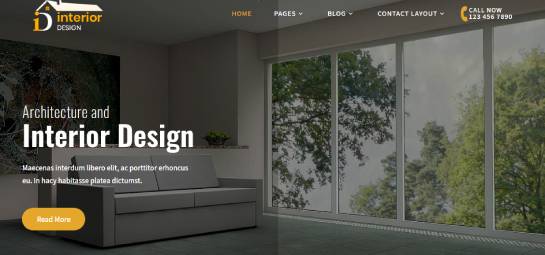 This is an advanced, feature-rich, and multiple domain pool cleaning and plumbing services WordPress themes in this compilation.
The best part is that services or products that are completely distinct from each other can be conveniently featured. This projection will also be in perfect light without compromising the visibility of any of the products.
You get full versatility in the layout that can capture all the content, pictures, and video links. Modification in a particular section or in the entire design is possible without any restrictions or particular limitations.
Page builder will even assist you in creating a fresh retina-ready layout that can be exactly as required.
By default, it offers an integrated slider which is fully controllable and Google Fonts for enhanced typography experience. Some of its peculiar features include one-click demo import, translation-ready, RTL support, copyright-free images, etc.
Continently add appointment and booking facilities by integrating payment gateways for swift transactions. Standard pages are provided by default and comprehensive documentation is also offered for convenience in setup and other operations.
Developing an online shop is also possible with WooCommerce support and easy segregation of sections. Make a difference now with SKT Interior Pro to attract potential leads.
One of the best and the last in this list of pool cleaning and plumbing services WordPress themes is Home Décor. Home Décor is a phenomenal option for creating a magnificent website that is elegant, professional, and attractive.
Setting up the theme from scratch, managing various aspects, and finally publishing it can be done by even beginners.
The convenient modification options do not demand any coding skills and with simple tools, it can be operated. Customization can be done in any area with respect to the kind of services or business that you operate.
Client testimonial which is an integral part of this industry can be included in a separate segment, sliders, or inner pages.
The interesting part is that it is WooCommerce compatible which helps in establishing a dynamic online store. Accepting payment and making appointments will not be troublesome for you. Achievements and recognitions can be highlighted in the gallery or on the landing page.
Plugins of all kinds and types that are demanded by your industry can be added. Shortcodes will also contribute to adding the desired features. Overall this is one of the finest selections that you can make for creating and maintain an impactful website.
The next top – rated pool cleaning and plumbing services WordPress themes with do – it – yourself working principle is SKT Beach for all the relevant service providing companies and independent contractors to keep the clients' pools pristine from cleaning to balancing chemicals in the water.
This pixel – perfect and highly applicable template comes with stable performance under any circumstances, features nicely – formatted theme sections and areas for the frequently – searched information and details.
WooCommerce compatibility for professionally selling all the pool – related items, materials and equipment, lively color wheel to pick up from and stylize the website accordingly, as well as ensures flawless cooperation with all the major mobiles, tablets and other portable devices.
In case you want your gardening, landscaping, pool cleaning, maintenance and plumbing services to be obviously distinguished from other representations online, SKT Gardening with a unique layout and unbeatable potential can be an ideal starting point for you.
From fresh – faced and eye – catchy design and graphical solutions to amazingly well – executed and technologically cutting – edge operational framework, SKT Gardening is a pool cleaning and plumbing services WordPress theme for which you have to pay next to nothing.
It means that this valuable website builder is available in the marketplace for pretty little cost and hence any individual or company functioning on a limited budget can afford himself to enjoy boundless capabilities of this template.
No worries about your website's increased traffic and quantifiable results in search engine rankings, since the theme has been developed with SEO advantages in the authors' mind as well.
One of the most cost – effective marketing strategies for your fishing, sea or pool – related services and products can be our high – end template called Go Fishing.
The theme unspeakably keeps the correlation between simplicity and easy usability on the one hand, and powerful capacity and feature – rich toolbox on the other.
This lovely and inspiring template exudes professionalism and intelligence with exact attention to the small details to make them effective and decent whenever needed.
All the techniques to improve the theme SEO optimization and SMO – integration for boosting the website reputation in the digital sphere.
Responsiveness and mobile and device compatibility have been profoundly employed for thrilling look and feel of the template at your fingertips.
Extraordinary intuitive and smart, clearly coded and pliable, HVAC and Cleaning is another pool cleaning and plumbing services WordPress theme with a well rounded bundle of handy tools and options to build and showcase virtually any design style to outline your brand or company identity and working style.
With available demo version and documentation, this theme comes integrated with the touches of flat design styling to focus on great typography, HVAC and Cleaning comes integrated with plugin support for the website extensive usage and advanced functionality.
qTranslate X and WMPL compatibility for having the content translated into different languages, SEO, gallery and portfolio plugins, as well as WooCommerce functionality for e – commerce and shopping experiences.
Let's start with Furniture Pro as a practical and perspective pool cleaning and plumbing services WordPress theme that can be effectively exercised by any average website admin with no coding knowledge at all, since all the hard work has been successfully completed by the sophisticated authors of the theme.
Hence, for every single individual this template will be a joy to play with thanks to its utterly resourceful and flexible nature ready to undergo any customization or modification.
Be sure that with this user and customer – driven and top – notch template you will get every your word intelligently articulated within your posts and pages and looked presentable and highly informative both for your desktop and even on – the – go mobile users.
One of the basic things to remember when choosing the right template for your niche – specific website is the easy to use and understand structure of it.
Fortunately, WordPress – based themes share the most user and environmental – friendly coding and provide each purchaser with tons of customization controls to make the most of the given template.
SKT Dual is definitely the bearer of all the above – mentioned qualities and as such is truly dependable and progressive ready to match all your business visions, especially if you don't want to be limited within your geographical scope and strives for jumping into the international arena.
The theme is coded taking into consideration all the major requirements and trends of the contemporary digital world and for this purpose celebrates Customizer – based framework with totally responsive and multilingual ready design.