Capturing a photograph is an art, and displaying it in a Portfolio is necessary if you wish to be taken seriously as a professional. Today professional photographers are needed for multiple reasons. If you have a talent for art, you can enter the market without any hassles.
You can even start a professional photography business with a team of photographers. Being discovered in the market becomes easier if you have a well-designed website. When it comes to that, you can easily get a website with WordPress and design it with the help of plugins like elementor.
A website makes you or your photography business more accessible to many new customers. Once you have a website, you can perform various SEO functions that can help you get discovered online. You can even run search engine ads to gain some new customers quickly.
A website with WordPress is easy to manage, but if you want to make a good impression on your potential customers. You should get started with a professional theme and not a free theme that cannot showcase your skills properly. There are tons of photography portfolio WordPress themes that are made just for you.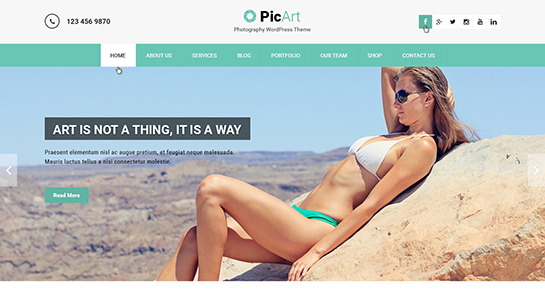 PicArt helps you describe your services with the help of colorful elements. The header image should cover the entire spirit of your website, so be careful while uploading it.
This theme provides a big section that helps you describe your services and what your photography company is all about. After the words are finished, all you need to describe your services are the images you clicked.
That's why the next section has a lot of space to upload your images. This one feature can be found in most photography portfolio WordPress themes.
If you do not operate your photography company yourself, it is important to make your team feel like you are growing together. That's why with this theme, you can highlight the team of photographers that work on each project.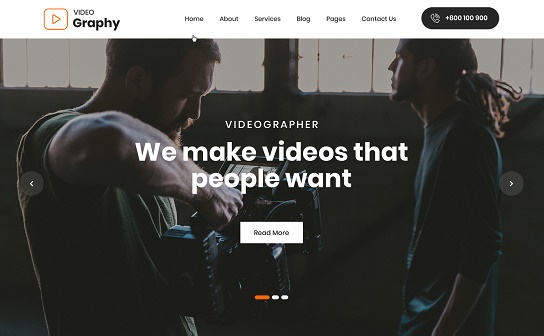 SKT Videography Pro is a theme where videographers can showcase their talent, past projects and make themselves truly accessible to prospects. While this theme was designed with video creators in mind, photographers can use this too.
You can showcase the recent work that you have done instead of all the work. With the help of animated elements, you can describe your services. If you have been recognized in any way, you can highlight those achievements with this theme.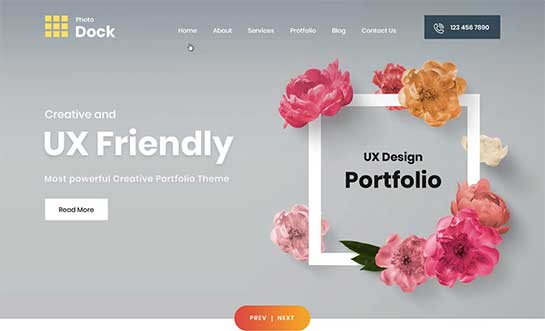 Photodock was designed so that photographers could use it to showcase their talent. It is a great theme that you can use to build your portfolio. The theme is responsive, SEO-friendly, and mobile friendly.
This portfolio template has a minimalistic feel, and many slider plugins can be added. While there is no need, you can always customize it with your own coding. This theme comes with a section where you can showcase the good work you have done with the help of customer reviews.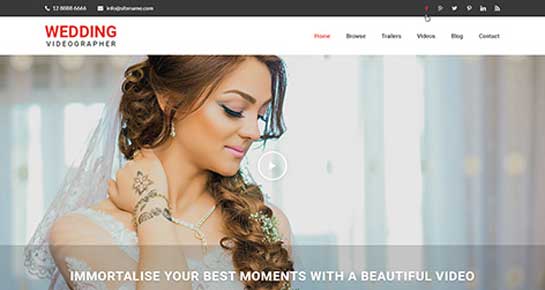 Finding a good wedding videographer is one of the biggest headaches for people planning a wedding. You can be available for business by showcasing your portfolio.
If you have done this before, you can show real work and people will know whether this is what they want for their future wedding or not. This theme comes with a contact us form to help you collect potential leads.
Just creating a website is not enough, you have to ensure it is visible on the internet. For that, you have to publish content regularly. You can reach your target audience with the help of blogs. This theme has the space for blog posts which makes it one of the top photography portfolio WordPress themes.
SKT Lens Pro is a simplistic portfolio theme that will be helpful for you if you are just starting. Even architects or interior designers can use this theme since all it does is allows you to portray your work with the help of images.
This theme is plugin friendly, once the basic version is ready, you can add various WordPress plugins to run your portfolio efficiently.
The main feature of this theme is that it does not focus much on text but lets the images or your work speak for itself. Kindly ensure you only upload the best images you have captured in your career.
This theme is HD ready, which means all your images will be visible to the visitor in HD format. You can include your social media icons in the footer so that people impressed by your work can follow you on other platforms.
You can add the appointment plugin if you wish to take requests online. Your customers can book an appointment, and you will have to visit them to click the pictures and listen to their requirements.
This theme again follows the trend of focusing on images more than text. You can upload the images which you think represent your career as a photographer.
Of course, there will be space to upload more, but the homepage consists of only a few images. The best point about this theme is that it is responsive, SEO friendly, and mobile-friendly.
Do not forget to add alt text on the images you upload because that will help you rank on google. Once you have purchased the theme, you get free installation on your website. If you face any problems, they will be solved by the customer support team.
You can create an entire slideshow of the images that you have captured. Other sections on the website include a blog section, about us, contact us, and the option to accept donations. Since platforms like Patreon have become so popular, why not accept donations on your website from your patrons?
FilmMaker is an exceptional theme for film and video production companies. The header of this theme has a lot of space to add images that define the entire website. Unlike other themes, you also get the opportunity to describe your company.
You get the opportunity to exactly describe your services with the FilmMaker theme, which is why it is one of the best photography portfolio WordPress themes.
An amazing dark background powers this theme, and the text is white. You can highlight the services you provide with the help of a video introduction.
If you have any certification as a video production studio, you can highlight them. This helps you gain the visitors' trust and hopefully convert them into returning customers.
SKT Full Width PRO is one of the most popular photography portfolio-related themes, as it has been downloaded over 200,000 times. This theme gets many features right which is why photographers love it.
The full-width image on the homepage should explain everything about your company or you as a photographer. There were certain features that the WordPress theme lacked when considered for photography. Now, these features have been added to this theme.
Conclusion
You definitely need a professional portfolio if you are serious about a life in the photography business. There are a few features that most photography themes have, but some of them are common.
One such feature is being more image-oriented instead of text. Other than that, any theme you pick from this list will serve you well.