Check out the best photoblogging WordPress themes designed and developed for blog
Other uses can be style image – based performances online, as well as all kinds of photographers, designers, developers, portfolio owners and photo aesthetes.
The art and beauty of the properly shot photography can never be estimated. Whether that particular piece of the visual art is for personal usage and family achieve or is going to be included in your professional portfolio, you can benefit from having a blog or website as an online repository of your photography tries.
In this article, we are thrilled to bring you a stunning assemblage of photoblogging WordPress themes to make your photo – centric online performance flourish and expand its borders of influence.
Each of them generates a well – managed platform covered with beautiful visuals for you to enjoy freely. With limitless template possibilities, they are as stable and dependable as you would like them to be.
The below – specified photoblogging WordPress themes make it absolutely affordable and easy even for a starter to launch a photo blog or website with certain stress on images.
Hence, sit back, unleash the best and the most creative version of you and start your way to online success as a photographer or designer.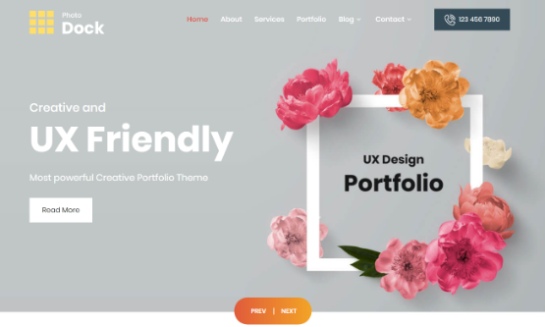 One of the fresh and lively photoblogging WordPress themes we are proud to offer you is called Photodock. This well – dressed and attention – grabbing website is seamlessly perfect from top to end.
It means that the site smooth navigation together with compact content provision will make your site visitors scan your website up to the bottom.
Insert the best pieced of your portfolio in the homepage slider and let it span the whole width of the homepage. This technique will enable your visual content to speak instead of thousands of words and prove your unique taste. The theme is effortlessly ready to be customized, supported by plugins and viewed on different portable devices.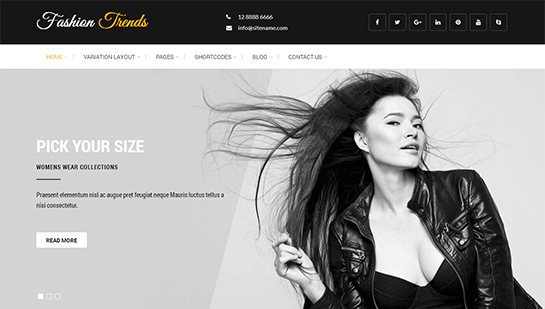 The next entertaining and original template among photoblogging WordPress themes for different usages comes as Fashion Trends. As one of the latest templates on the photo and image line, this website builder is in full compliance with compulsory features and elements imposed by the modern community of WordPress.
Fashion Trends includes HD – readiness and mobile – friendliness for the impeccable visualization and performance across different mobiles and other hand – held devices.
It is also customizer – based to manipulate with the given platform and change it the way you want. From simple and user – optimized layout to search engine optimization, shortcodes inclusion and much more, Fashion Trends has it all.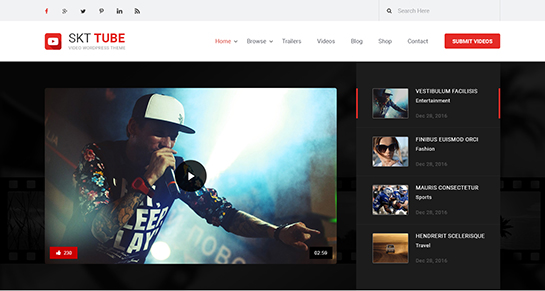 SKT Tube is image and video management system to be easily included in your top – quality website. There are lots of slider options checked within the theme so that you can easily add your photo and video materials. It will let you showcase the whole magnetism and versatility of your website.
SKT Tube can definitely improve the installation and management process of your website based on shortcodes and compatible with page builders.
The theme also shares translation and multilingual ready nature with its POT file inclusion and qTranslate X compatibility. This easy to play with and grasp system is powered by customizer and supports YouTube, Vimeo, Dailymotion and other video portals.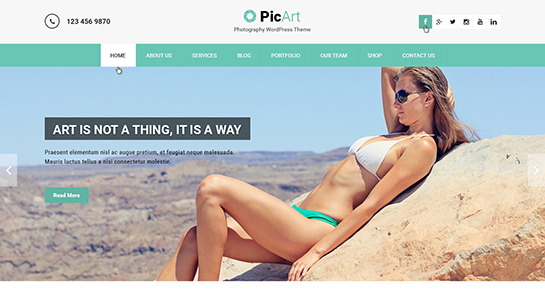 Meet PicArt as the next elegant and chic sample among photoblogging WordPress themes available for a cost – effective price.
We have included all the required elements and controls you could ever want in one creative and eye – catchy website builder. Get organized in an online format and serve your visual content to the target groups of audience.
Split your site content into easy to digest pieces of information and make them accessible via the theme sections. Having a fresh content on your blog section is the best way to let both Google and your clients that your site is active. For that reason a separate blog area is added to the theme for constant updates and new photos.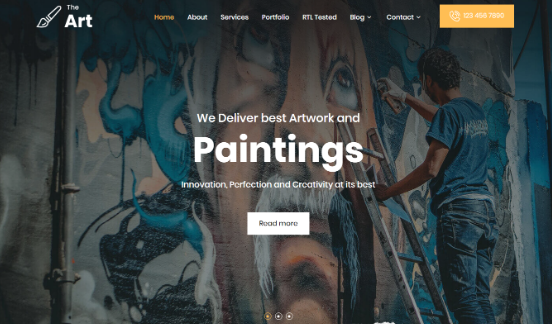 The next artistic and zealous template for photography worlds is The Art. Wonderfully pliable and self – secured, The Art knows its stuff when it comes to getting the client's attention you believe your photography business deserves.
Get your photography noticed by thousands of people across the globe with the help of compact and expressive framework of The Art.
Based on drag and drop functionality, the theme is totally free in customization and development to act the way you want. Several header and footer, as well as inner header variations are available with the theme. A certain number of the pre – enabled shortcodes can be multiplied when supported by shortcodes plugins.
When the words fail to speak for you, images do it. FilmMaker is one of the irreplaceable photoblogging WordPress themes for many photographers and bloggers, artists and designers.
This affordable yet powerful website tool comes with an arsenal powered by technical expertise, an eye for pixel – perfect design and no lack of uniqueness.
The good start of your online photoblogging career is guaranteed with the easy to install and use nature of FilmMaker. Gallery section is a must – have for any startup or seasoned photographer. Hence, this theme offers you stunning options catering to filterable gallery management and manifestation online.
Panaroma PRO is experienced enough to walk you through the most productive yet simple ways to the client engagement and loyalty.
Well – documented and truly reliable, this template has already been checked for its consistency and responsible character when practiced by different bloggers and website owners.
For a more precise and comprehensive tutorial, the demo version of this shortcodes – based and translation – ready theme was added for you to test. In case you are planning to sell your services or photos online, you are free to organize it via your website supported by WooCommerce plugin.