If you are an owner of the gym, yoga teacher or a personal trainer for both mental and physical activities then you should promote your business is a great way, so you could reach potential customers in a short time.
You know that WordPress already has a range of themes to support your fitness business, but finding out the perfect one that takes your business on the peak of success is a little daunting.
You do not worried because we have made it easy for you by choosing the most appropriate Personal Trainer WordPress Themes.
If you are creating your new website earning an existing website then you should choose up this theme because we have done complete research on finding these list that significantly improves your instant traffic as well as conversions.
If you are ready with your hosting plan and domain name, then your second step is to choose the theme. Here is the list and you're ready to get started.
BeFit Pro is created by SKT Web themes, a popular name in the IT industries. This theme is very quick and SEO friendly. This theme has no different it but an awesome looking design with lots of features.
This theme is highly created for the website like gym, personal trainers, health experts, yoga teachers and fitness related content. BeFit comes up with animation on columns that nicely designed and give your content good structure.
On the other hand, this theme includes the number of portfolio sections so that you can easily place your testimonials and team members.
This WordPress theme has a larger blog area, so you can easily add your content regarding your customer's viewpoints.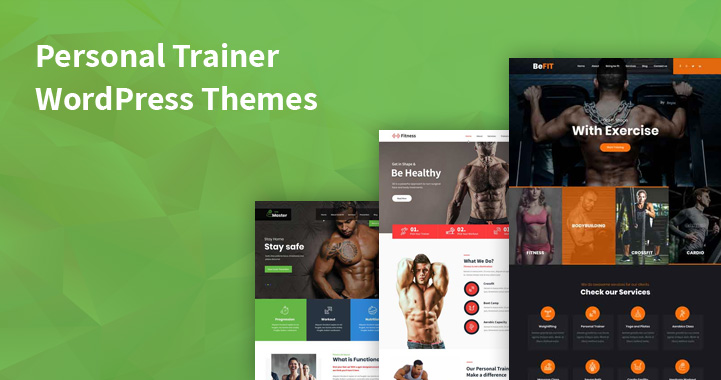 10 Best Personal Trainer WordPress Themes for your Gyms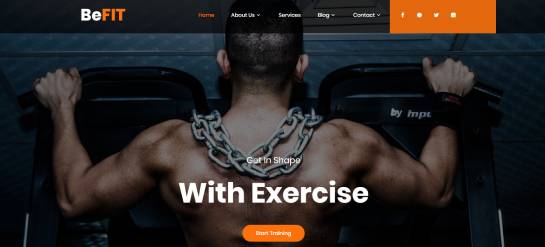 This theme has tried many of features especially the call to action, contact info, header and footer, and latest news showcase that always upgrade your readers with the news pieces.
It is an awesome personal trainer WordPress theme which consists portfolio section and the user can easily subscribe to the blog as well.
Key Features:
It will provide you with complete customer support.
The sample content for the homepage is available.
Follows dedicated and explaining sections.
Full colour changing theme with colour picker tool.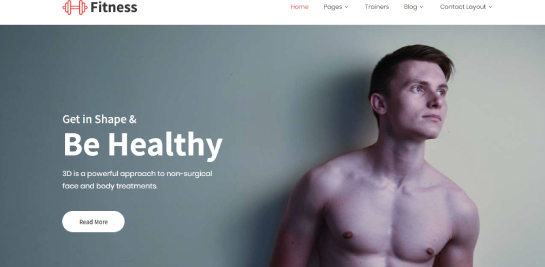 SKT Fitness Pro is the most powerful and dedicated Personal trainer WordPress themes that takes your fitness business to the next level.
With this theme, you will get amazing sample content which is created for every beginner or an expert, so he could create his site perfectly.
The theme includes unlimited possibilities that provide full colour changing features, along with 500 + social media icons package, home page content, and woo-commerce compatible theme.
Here are a lot of shortcodes are also available for adjusting the pricing table, gallery and testimonial section.
On the other hand, this theme comes with 5-page templates such as left, right, full width as well as the blog templates. This is a fully responsive and supportive theme, so you won't find any issue while working on it.
Key Features:
It is integrated with 675 + Google fonts.
It is coded with elementor page builder.
It is compatible with NextGen gallery and a contact form.
All SEO plugins are agreeable.
Includes default sliders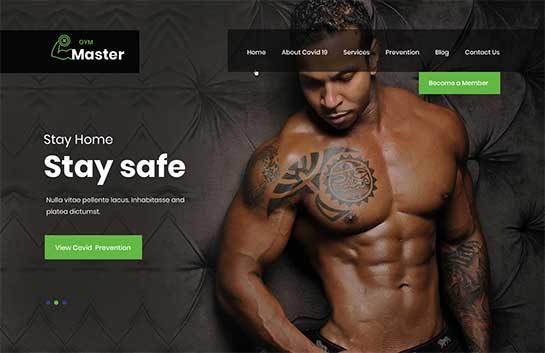 Gym Master is yet another powerful personal trainer WordPress themes you can use for your fitness business, yoga coaching classes, and many more. This theme includes ready to use templates which are extremely customizable and easy to use.
The social media icons are responsible for the theme. Along with that, it includes multilingual languages which means it will support different languages to Grab the traffic from the different stations.
This theme is highly compatible with the latest version of woocommerce which is SEO and social media-friendly. On the other hand, it will provide you sharing plugins and notices for the gym that make your readers more attractive with you.
Moreover, the site is highly compatible and coded with HTML5 and css3, so you won't get any issue while using this. Try this hassle-free!
Key Features:
The gallery area provides a pictorial view.
Include various options for the input boxes and buttons.
PO file is available for translation.
Default sliders, social media platforms and time table area make this a desirable theme.
Courses section is also available.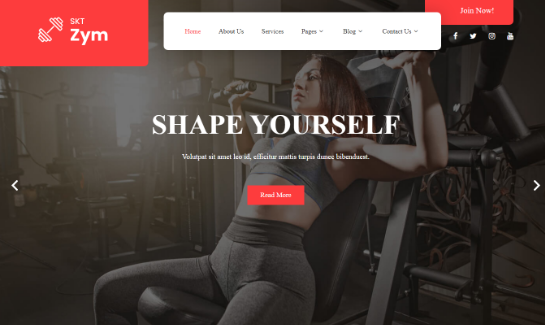 If you are looking for the theme that gives complete zym views, training programs, and related buttons and features, Zym is the best WordPress theme you can choose from the list.
You do not need to look for the fall of the other thing because it is a multi-purpose theme you can create your website according to your convenience.
It is highly customisable and best theme which provides you with great activities that can help you publish new exercises, fitness tips, client testimonials to increase interactivity with clients.
This keeps them engaging in your fitness world. Furthermore, this theme is custom made that can help we will their requirements related with the gym.
On the other hand, it is widgets friendly and highly coded theme which can take content on the top of search pages. These are the things you maybe wanted to have, so go ahead with it.
Key Features:
Showcase different courses and respective fees with pricing table.
Include contact us page and contact form with shortcodes.
Well suited for easy shop management and selling nutritional supplements plus training courses.
The time table plugin is also included.
Easy to use & build.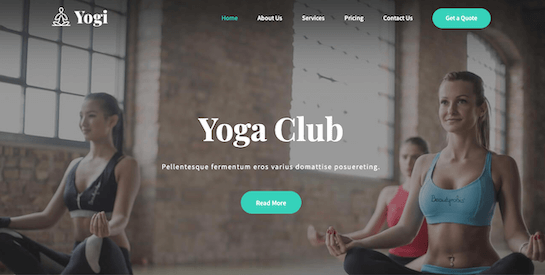 Yogi Pro is a personal trainer WordPress themes that exclusively designed for the yogi teachers, yoga classes, yoga training programs, and other related to fitness.
It is a great theme for doing yoga or a personal trainer business because it is compatible with woocommerce and support your requirements easily. This one looks good on all the devices and browsers.
Also, it is created with an elementor page builder that is fast to load and easy to use and buildup. Along with that, it includes call to action and contact info on the top of the header or footer section.
This complete theme admitted the various practice, work in the services pages and also includes services which you can easily choose for your related business. Moreover, you can share valuable information related with yoga by using the blog section.
Key Features:
It is a complete colour changing theme with the customise feature.
It includes 580 plus icon pack and 650 Plus Google fonts.
It is compatible with the latest version of WordPress.
It is Google tested and crossed checked theme with various Browsers and devices.
Provide one year of customer support.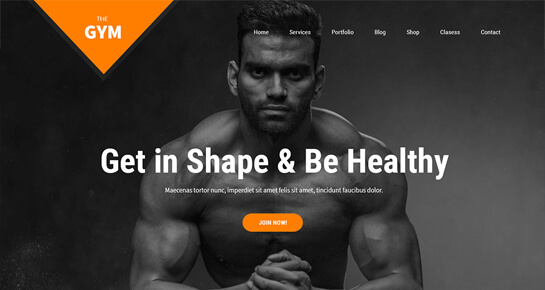 Just like its name, SKT Gym Pro is dynamic, full feature and great designed free themes that easily help you to improve your overall possibilities with the website.
The theme is made up with elementor page builder that makes it easy for you to use and built your site with comfort. The vital thing is you do not require any professional person to do all things for you.
This is beautiful, feature-rich and modern + incredibly powerful theme that takes your fitness word to the next level.
It includes the powerful live drag and drop builder with incredibly easy for you to make the website user friendly. Furthermore, the live customisation options ensure for branding and your customer will be in a great way to fitness.
It also provides you with the trainers and the team expert portfolio section, so your readers will get most out of your website.
Further, it provides the assistance of Akismet module evaluating the spam in marks, which meet your website experience and speed control continually. It ensures the Adjustment of WordPress so you will run your website very smoothly.
Key Features:
Effective, simple and modern theme.
Support the envithe to gallery option with numerous pictures.
It is Guttenberg editor perfect theme.
Satisfaction provides various range of services and columns.
Give assistance of Google map, XML, and sitemap.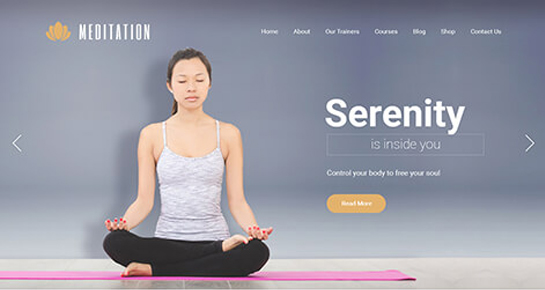 Meditation pro is incredible fitness theme designed for meditation, reiki experts, and yoga gurus. It is a multipurpose WordPress theme that you can use for the fitness related website easily.
The theme is very simple and easy to use the also help the user to enjoy the user-friendly experience on the site. it includes the various short quotes, which are known to improve the functionality of the website as well as the performance.
This theme can be used by multiple industries to design the website related with business owners, but it can be very impressive when you go on the meditation project.
It includes the special standard pages like 404, Archives, categories and other pages that make your website standardized.
On the other hand, it includes the five layout variations that can easily modify as per your requirement. This is coded with elementor page builder and support with various social media platforms with SEO.
According to the experience of a customers, it has found medication pro is the best website theme. It will provide everything you want.
Key Features:
Design with all prerequisite features.
Include a number of themes files with PSD design files.
Include layered, cruelly, and other slider plugins.
It is RTL tested and language supported theme.
If you are a physical therapist and looking to create a website then using personal trainer WordPress theme can be beneficial for you.
In this, you should go for Reiki Pro WordPress theme because it is managed by SKT page builder and make it easier for you to manage the contents of the home page as well as the other features.
In this theme, you will get four layouts, headers and 4 column layout for the photos. Along with that the blog section is available in different layouts. So you can choose your best one according to your preference.
Furthermore, if you are selling training programs or services, WooCommerce plugin is also compatible with the theme. Social commenting plugins are also available, hence you can access and grab the audience attention in a large number.
The POT file is also listed that help you easily get the audience from the different states of the country. The elegant animations are also great to provide you with the best version of your theme and the website.
Key Features:
Google tested and fully documented theme.
Include a number of slider plugins.
Widgets and user-friendly.
Include 30 + Blocks with HD ready feature.
If you have a dietician and want to sell your diet charts and other programs that help the user to live the life healthy, diet and nutrition theme is perfect to get started.
In this theme, you will get different page layouts with testimonials that easily help your readers to involve in your website for more updates.
Additionally, it is fully compatible commented code + advance WordPress theme which work on every device and browsers.
It is very simple and easy to use that includes in built contact forms, the customers can contact you with ease and you will find the best of the website.
Key Features:
Integrated with a number of Google fonts, social media icons, and blogs layout.
Inbuilt home page with 20 sections.
The event calendar is also supportive.
Martial art is one of the best personal trainer WordPress themes which is completely secured classy and compatible with every device.
If you are a martial arts expert and want to sell your online classes or enhance your conversion for your clubs then it is the most popular theme that can help you to grab the user's attention.
Once your website is css3 coded, it enhanced functionality and provide supportive call-to-action buttons.
Moreover, it gives embed tag lines, the home page, Google map and dozens of widgets which support your website completely. This also includes the contact form with captcha securities, so you won't get any issue of getting hacked.
Key Features:
Can be used by the non-Tech person.
Provide 24/7 customer support services.
Allow you to display your content in a more responsive way.
Can set up online classes for the customers.
Provide Complete blog section.