The most tuneful and consonant music school WordPress themes are put together for music schools and academies, music bands and private singers, dance and record studios, musicians and arrangers, song contests and concerts, music and piano teaching websites, blogs, as well as any other music based activities online.
For as long as human beings have existed on earth, there has been music varying largely between times and localities.
It was and is present in different cultures, societies and communities as a bearer of national values, traditions, artistic description of specific rituals and more.
Music is considered to be a universal behavior.
Therefore, music based world is immensely popular and crowded.
There are music enthusiasts and lovers, songwriters and authors, passionate composers on the one hand, and music marketing evangelists, record studio owners, music festival managers, musical equipment and instruments traders, music teachers and tutors making money in this field on the other hand.
The area connecting those two groups of interested people is the modern networking system with its digital products, websites, blogs, as well as other media and informational portals.
In this connection, we are going to share the best tips of music school WordPress themes for all kinds of music industry representatives to establish their websites and blogs online.
Whether you are going to advertise your music school, private lessons and tutorials or sell your records, songs or compositions, organize contests and music events, each of those music school WordPress themes will be a dreamlike product for you.
They are well equipped to share the most importance tips and tricks of a modern template so that you can invest your time and energy in producing more revenue and tangible results.
Music School WordPress Themes for music teacher school websites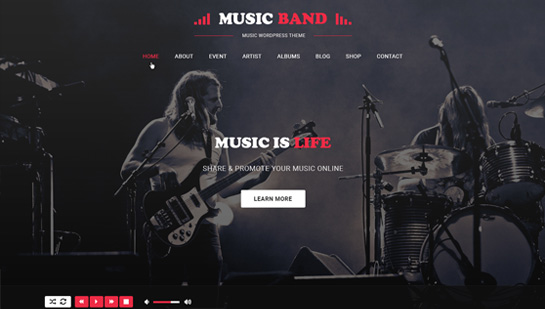 Music Producer is one of the stable and persistent, visually and functionally pro quality music school WordPress themes you can apply in order to make your school or agency, academy or club more popular and noticeable in the digital arena.
It requires less learning curve for the installation, activation and further management than you might ever think it to be. You don't need to be an expert in programming world in order to create and go live with the best version of your website that will be responsive and mobile friendly.
There are dozens of playlist options for any musical producer or singer, music teacher or specialist to exercise for presenting different albums and songs for sale in the most dynamic fashion.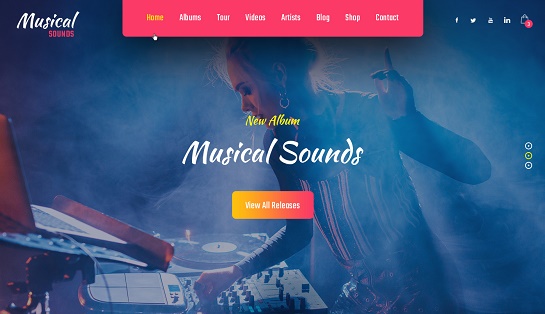 Visual excellence and operational durability are the characteristics best describing Musical Sounds as a useful website building solution for musical industry and its gurus.
Let your best notes speak instead of you with the help of Musical Sounds that is mobile checked and widget friendly, as well as comes with page and post templates to make your profile one of a kind.
Music Player can be found with the default template to showcase your songs and audio files in an efficient format. However, you are free to exercise other music player plugins to make your presence more diversified and enjoyable for your website guests.
The theme is also compatible with WooCommerce and other commercial plugins so that you can organize the online sale of your concert tickets, musical instruments or whatever it is.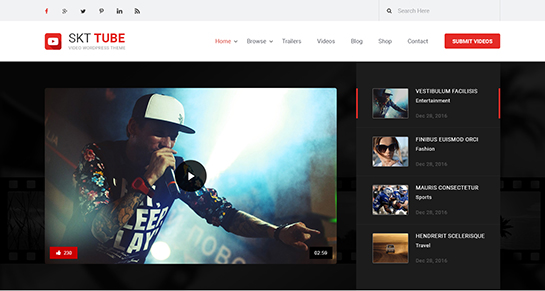 SKT Tube is one of the best destinations among music school WordPress themes that is video based and video friendly.
It means that you can upload and make dozens of video materials and video tutorials available for your online audience. Homepage video slider is excellent in hosting the most popular ones to draw more attention and consideration.
This amazingly rich and fully fledged template is loaded with unique shortcodes responsible for your easy workload when it comes to content setup or management from the backend of the theme.
You can also add video galleries and arrange them accurately with the help of multiple relevant plugins which are all tested with SKT Tube. Shortcodes plugins are also compatible with this template to generate more opportunities for you.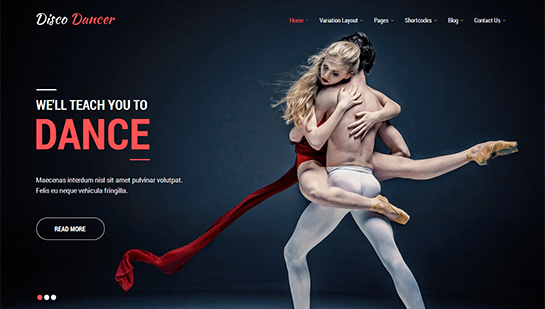 Any dance or music school manager will find Disco Dancer a whimsical product to incite more interest in your institution, club or school, increase sales of your music and electronic products, acquire new followers and more.
The theme's fully customizable nature makes it possible for you to try and test different mixture of colors and typography, calls to actions and widget friendly areas, homepage slider images, etc.
If we take in depth look at the features and elements included in Disco Dancer, we'll discover preloaded shortcodes, HD ready exposure for keeping the stunning look of your web images across different mobiles and their resolutions, inner page templates and much more.
A plethora of plugins, among them commercial, translation, pricing table, SEO, social sharing and others are fully compatible with Disco Dancer as well.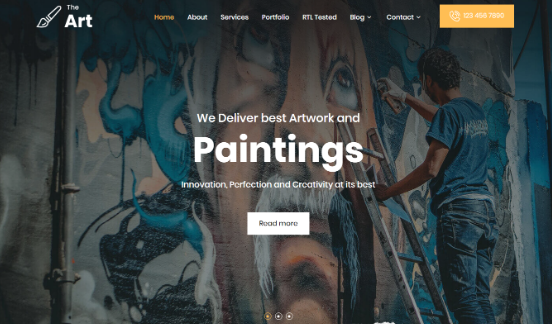 Music is one of the most expressive and lyrical forms of art. Therefore, our template launched as The Art will be a total fit for your musical needs and objectives.
With an artistic approach towards creating an engaging template, the authors of The Art perfectly knew the best way of developing and designing it to be one of the top rated art and music school WordPress themes.
This multifunctional and artistic website template is ready to offer you a saturated website building and customization experience with inner header and footer variations, page and post templates, customizer controls, plugin compatibility, etc.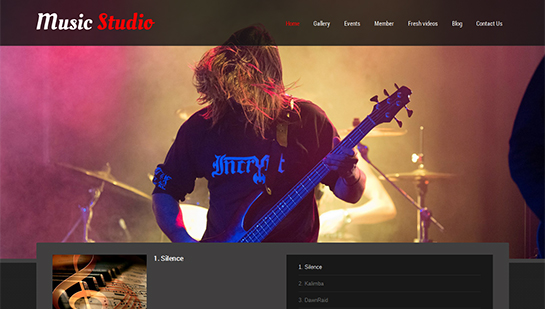 If you are looking at the easiest ways to earn your place under the sun in the virtual domain, look no further than Melody. It is one of the niche specific music studio and music school WordPress themes delivering a seamless structure rolled up with beautiful appearance.
Make your website look scintillating by the application of the homepage slider and showcasing the best of your imagery. Separate photo and video galleries are also possible for uploading and presenting your concerts and performances, new songs and music, etc.