We have marked down the best of the available mountain biking WordPress themes designed for extreme sports and hiking, mountain biking and rock climbing, adventurous tours and paragliding, sports and sports complexes, cycling and bike rental as well as other relevant adventure sports and biking related websites.
Between life and death, extreme is what makes people experience the peak of their feelings, breathe fully and win their own fears.
From mountain climbing and biking to skydiving and snowboarding, people are in love with such extreme activities guaranteeing the most powerful adrenaline rush, which can never be produced by the human body under normal circumstances.
Hence, with the interest of thousands of enthusiasts towards suchlike extreme sports lovers searching for new emotions and feelings, there is a relevant offer in the digital platform represented by different sports clubs and associations, tour managers and other businesses.
Our mountain biking WordPress themes are created exactly for such businesses and activities to be promoted online with as little initial investment as possible.
All of these products are the output of professional staff and WordPress specialists but are offered at a justified price to be available for the majority of clients.
Widget ready and high resolution checked, thoroughly manageable and ineffably versatile, each of these adventure and mountain biking WordPress themes packs all the features you will ever need to make your digital presence energetic and vigorous for your potential clients.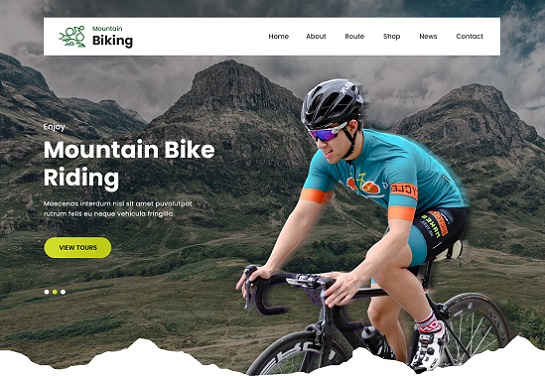 Mountain Biking is a straightforward and responsive WooCommerce based template from the list of mountain biking WordPress themes.
The theme is more suitable for selling biking, frill, spare parts, accessories, and mountain biking and bicycle store sites.
While creating a theme we have made sure that you should be able to appeal your thought and show your love for mountain biking easily. Thus the template is 100% responsive and adjusts every screen that your visitors might prefer.
However, the theme offers a beautiful color picker to change the color of a theme as per your wish. This will help you to enhance the deals and satisfy the eye of most customers that are requesting your services.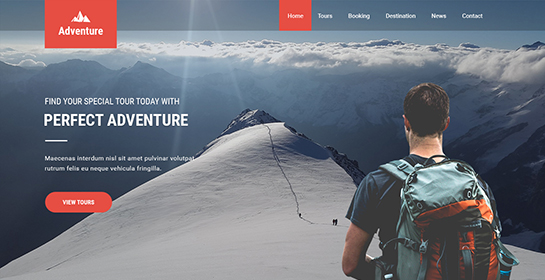 Adventure is one of the leaders in the mountain biking WordPress themes industry. Different hiking projects and tours, hikers' and backpacker's units and communities, camping, trail running and mountain biking services can be accurately showcased with the help of this template sharing the most modern coding and styling.
Responsive and cross mobile compatible layout, smooth and sleek navigation layers for the website guests to explore the whole potential of your site with their mobiles and smartphones, widget friendly zones and preloaded shortcodes for quick functional updates are all accessible with Adventure.
Homepage slider is also neatly located on the theme's homepage to serve as the best destination for your spellbinding photos and images to awaken the curiosity and passion of your website guests.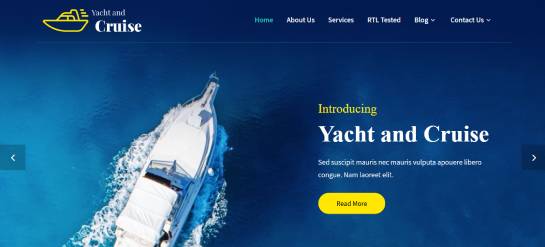 Better website, better content deployment, better quality of your images are possible with Yacht and Cruise.
With a large homepage slider and custom styling, management and modeling options, this cross device and mobile checked template is universal and all inclusive to meet all kinds of web demands, admin's priorities and preferences.
Let your website viewers and potential clients, club members and others to keep track of your website updates in the blog area, maps and guidances, contact info and tour packages, bike rental services and other valuable information integrated into the prebuilt or newly added sections.
Feature rich toolbox, easy to use admin panel, 100 % responsiveness and search engine optimization, social media integration and commercialized platform, translation ready layout and no coding processes at all… happiness?
Well, Military is ready made to provide you with one of the mountain biking WordPress themes coming with comprehensive and smart framework ideal for the newbie in the digital world.
Make the most unforgettable experience for your audience and share the best moments of your tours in the form of homepage slides to seize the viewer's attention as soon as he lands on your website.
Further, you can proceed with the replacement of the demo content imported with your own one and adding certain details, shades, colors, call to actions, social media links, practical plugins and other third party tools.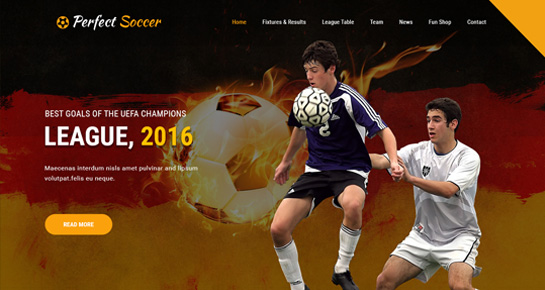 Another great template dedicated to the pixel perfect performance of all kinds of sports and fitness, hiking and biking clubs and associations comes known as Soccer.
It can be the right inspiration both for the startup companies and long established tour managers, extreme sports clubs and athletes to share the best services and offers, tours and events, memories and games with the right audience.
Font and color, site and page layout options, homepage slider controls and typography changes are all given within the theme. Sidebar can also be added to posts and pages, calls to actions can find their best places in footer and header, page and sidebar areas.
Event and map, ecommerce and translation, calendar and contact from, SEO and SMO plugins are all fully compatible with Soccer to make it easier for you to give the complete picture of your business with scheduled events and tours, maps and directions, multilingual content and online shopping possibilities.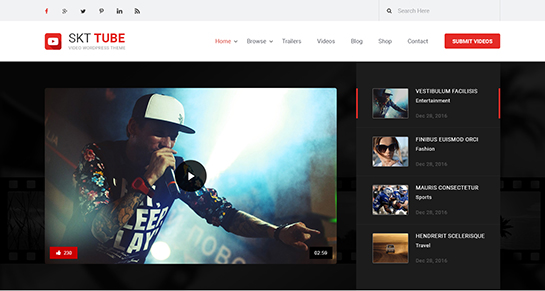 It's more effective to showcase your potential clients what you can do for them rather than breaking your head on writing long articles and describing all your advantages.
In this relation, SKT Tube is one of the video optimized mountain biking WordPress themes to organize the proper exposure of your fantastic tours and biking activities, tours and tournaments, members of clubs and satisfied clients.
The authors of SKT Tube have already taken the trouble of adding video homepage slider so that you are expected to utilize it with your video materials. This tactic will also improve your site's SEO ranking and will result in a stronger client attention.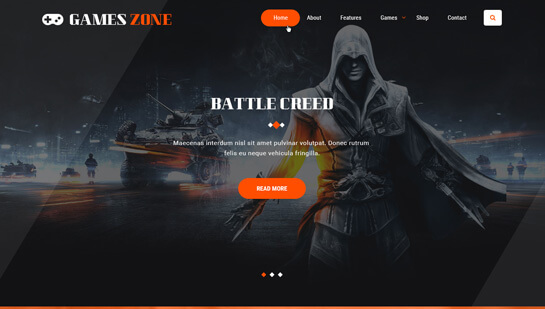 Game Developer is another top selling template you can give preference to when you are about to announce your site's launching and take care of its best qualities over time.
Easy to use and manage homepage sections and areas, preloaded and additional features available with plugins and extensions are all managed from one single system located in the theme's backend.
Ads optimized and advertisement friendly, Game Developer offers you extra possibilities to earn money and invest it in the promotion of your own business.
Page builder and visual composer practices, commercial and slider, SEO and social sharing plugins have all been tested with Game Developer and proved to work error free with it.
Many people love to experience thrills, adventures and risks in life to give their adrenaline a junk. This is where skydiving, rafting, mountain biking, surfing and other adventure sports come into play.
With the dropping prices of travelling every year, there is an increase in the number of travelers and adventure seekers.
As a result, the rapid development of popular adventure sports destinations all across the globe has taken place which contributed this adventure sports to be the greatest business in the travel and tourism field.
Earlier, adventures had to plan their own travel destinations to perform stunts or participate in risk-taking sports, the maximum they could do is to rely on newspapers or magazines to get an idea of the adventure sport that he is willing to take part in.
In today's rapidly growing internet technology, most of the travel bookings take place online via different popular platforms.
Every moment you could find different adventure sports listed in those travel sites through which you can book and plan your journey to participate in those extreme sports.
So if you want to start your own venture in this niche business like providing bike and house rentals then getting your venture in an online platform is the first step to consider.
Now with the advancement of internet technology, making a beautiful and powerful website with the help of content management systems like WordPress for your prospective future clients don't require much money or brain these days.
In addition to bike and house rentals, if you want to dig in more by providing hotels and flight bookings, tour and adventure sports guides as well as selling adventure sports package then you need to have an interactive website to satisfy your potential customers with these whole ranges of possibilities.
These mountain biking WordPress themes will help to develop your website in no time and will even allow you to customize important parts of your website like homepage, headers and footers according to your choice to make it look a promising business to your visitors.
With the help of these mountain biking themes, you could add various pictures and small write-ups right at your homepage in the form of colorful sliders to give a tinge of authentication and at the same time appealing to your customers.
This will keep the viewers hooked on more and more content and you will get the chance to convert them into sales.
These themes are featured with different plugins to give your websites a whole range of useful functionalities that will suit your business demands.
Suppose, you want to give the users the option of booking travel packages, hotel, flights or even buses according to their convenient date and time. For this purpose, you can have suitable plugins activated in your website.
Maybe, you also want to sell different accessories needed for participating in those extreme sports. You can also add this functionality with the help of Woo Commerce plugin which is available with these themes.
These WordPress themes have SEO built to its core, which means it will help you to place your website in top rankings so that users will notice your website more than others in search engines like Google, Bing, etc. when they want to seek answers to their adventure sports-related queries.
In a nutshell, if you want to start your venture by customizing and building a top-in-line website to offer different extreme sports related information and booking facilities, then you must consider these mountain biking WordPress themes to give yourself a safe and successful head start into a long lasting fruitful business.