Today it is easy to start your WordPress website. However, if you have started it for your business, you should thoroughly research merchant services WordPress themes and choose the right merchant theme for your business. The theme that you use will give customers an insight into what your business is about.
That is why you should not take this matter lightly. So first, you should begin with understanding the needs of your business and then search for different website themes that can fulfil those needs. If you are creating a website for commercial purposes, you cannot miss these amazing merchant themes.
Each of these themes has a few factors: a call to action, speed optimization, testimonial plugins, WooCommerce plugin, image optimization, appointment plugins, different font options, retina-ready, cloud-based backup, page building options, etc.
Once you get started with these themes, you will be getting new leads for your business every day. The value you get is nothing compared to the price you pay for these themes, as most cost around $39.
It is a one-time investment that you should make for the success of your enterprise.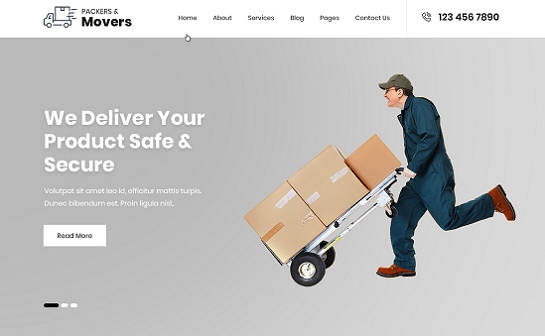 SKT Packers and Movers is the perfect theme for your website if your business is about providing reliable logistics operations. This theme allows users to shop for services such as warehousing, storage, corporate relocation, shifting, and more.
Customers trust businesses more if they openly display their satisfied customers and capabilities. So, with this theme, you can display your active vehicle fleet and the number of happy customers. If you are new and do not have reviews, you will get clients based on the number of active vehicles you have running.
When you have a website in this business, people can easily contact you if they are looking to move. You can display all the information like prices, customer reviews, active vehicles, the number of clients served, and videos describing your company.
This theme also supports google maps so your customers can track their packages. Get started with this theme, and then you can customize it any way you like.
If one theme is perfect for the finance industry, it is the SKT Specialist. It comes with a polished look that other businesses will like if they consider acquiring your services to manage their finances.
This theme is sophisticated, reliable, smooth, neat, and responsive. This theme is perfect for you, even if you run a small accounting firm.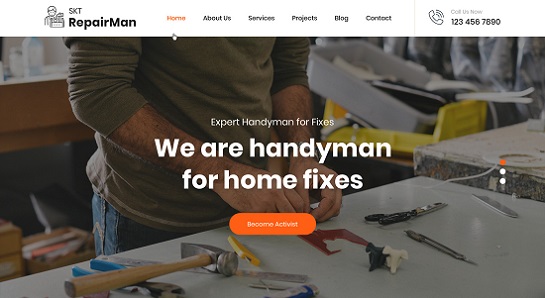 If you run a home remodeling studio or provide home repair services, then SKT RepairMan is the perfect theme for your website. To ensure that viewers are not confused about your services, you can highlight them on your website.
This way, if someone just needs help with plumbing, they can click on it and move forward with the service order. They know that getting clients as a new business is difficult, so you must highlight every project you get on your website.
With this theme, you can highlight the projects you have worked on and their outcomes so your potential clients can see them! If you run a remodeling studio, this theme is the best for you out of all the merchant services WordPress themes.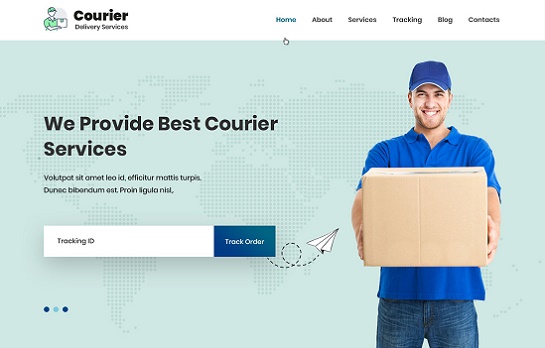 When running a courier service business, having a responsive website is very important as customers depend on it to track their couriers. Their theme works on most browsers and is equally responsive on mobile phones and computers.
This theme works with the WooCommerce plugin, so customers can choose any service they want and checkout.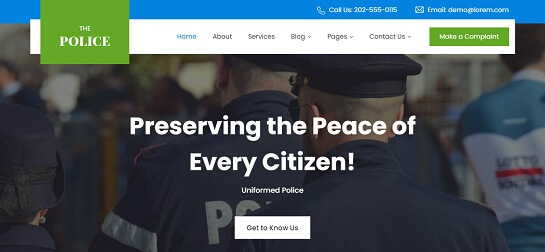 SKT Police is a theme for the police or other security-related business websites. There are so many police departments worldwide; other than that, there are also many security businesses.
Yet, most of them run their website on a random template. That is why SKT Themes decided to create a proper theme surrounding police work. After all, the police keep the community safe.
If your template is not designed with the service in mind, then it will have problems with updates and plugins. While running a police department or a security business, you must put the face of your best people forward.
That is why their theme helps you highlight your key team members. It is also important for the public to know how you serve them, which is why now you can also add testimonials. Reading about the acts of courage of the police will be bone-chilling.
The police are responsible for immediate services like emergency help, patrolling, identifying criminals, etc. That is why they must have the best merchant services WordPress themes.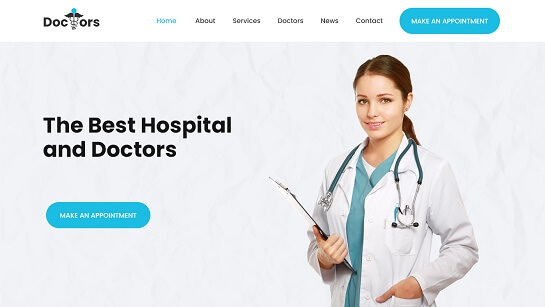 A lot of medical firms use WordPress to get started with a website. This template will serve your healthcare business so well that you will not want to move to another. This multipurpose theme can be used if you run a hospital or clinical practice.
You need a website that communicates the message that you can solve their medical problems. A healthcare business website should be able to book appointments online, which is what you can do easily with this template.
You can also post your recent discoveries in the field of medicine with the blog publishing feature. If you have happy customers, then you can publish their testimonials online. This template takes care of providing healthcare from the beginning to the end.
Professionals who excel in business start providing their consulting services to other businesses. Your consulting firm needs a website to tell your potential clients how you can help them. Business is all about numbers.
Suppose you can showcase the number of clients you have served and how you helped their business. Then you will be able to get alot of new clients. That is why this theme focuses on graphics and numbers.
A lot of people need plumbers, yet they remain underpaid. Now you can move ahead of the curve and market yourself as a true professional. Other businesses use plumbers who do not know how to handle the technical aspect of creating a website or app.
Now you no longer have to worry about that. Just create one with this simple theme and get the pay you deserve. The calculator plugin can be added, which helps customers calculate the exact price of the project before hiring you to work for them.
If you have faced problems where customers take your services but are shocked after listening to prices, this plugin is a gift. Now customers can see how much you charge, which makes your business transparent. Using the right merchant services WordPress themes can help you establish yourself as a highly earning plumber.
You are a handyman if you are known to do quick fixes around people's houses. You need an online presence with a call to action to keep getting clients. With this theme, people can fill in their details in the contact form, and you can contact them later.
This theme has a slider that can showcase all your services. When someone visits your site, they need a specific service, and once they see that you provide those services with the help of this slider, then their mind will be at ease.
Movers and Packers Pro is a premium business theme that can help you if you are looking to get some new leads. This theme can allow you to change the colour of the text, images, and background every minute.
If you have an active social media presence, you will be happy to know that you can link your social media profile with the social media icons. The header will display your business's address and phone number.
Alongside it, a quote option will help you get leads. You can easily add the woo-commerce plugin to this theme if you wish for customers to buy your products or services online. Out of all the merchant services WordPress themes, you can use this theme if you are still confused about how your website should look.
Pet Care is a WordPress theme about animals and can be used by pet shops, pet care, animal conservation groups, veterinary doctors, and others. When it comes to pets, different people like different friends. If someone is a cat person, then another is a dog person.
People also like to have birds and tortoises as pets. If you have a pet care business, it becomes difficult to explain which animal's needs you can cater to. Thankfully, with this theme, you can easily do so.
It has a logo for each animal; then, all you have to do is drag and drop. You can be providing services for these animals or providing products for these animals. If you wish to provide services, you should add an appointment plugin, but if you provide products for pets, add a WooCommerce plugin.
Auto Car is a car dealership WordPress theme that can help you take control over the look and feel of your business website. You can write custom CSS and control font-related elements.
If someone is going to have their car repaired, they should be able to see how you do your business on the website.
Everyone likes their space to be clean, but most people hate cleaning, which is why there has been a surge in the cleaning business. Why bother doing something yourself when you can leave it to the experts. If you are that expert, this website is perfect for displaying your services.
You do not have to do a lot of work. Apply this template to your website, and you are ready for business! Get a 5-level drop-down menu to add as many pages as necessary to describe everything about your cleaning business.
They know your business is always growing, which is why they also enable you to keep increasing the services section. If you have a repair business and have been searching for different merchant services WordPress themes, then you can also use this theme.
Business has been moving towards the service sector lately, and the IT field looms large in that sector. If you are a developer and have started your own IT business, you also need to take care of the design component of your business's website. You do not need to worry, as applying this theme makes everything easy.
If you are unsatisfied, you can add custom code. It comes with IT-themed logos that you can use to describe the services you provide. You can add numbers and then add descriptions regarding the number. This way, you provide statistical data about your IT business to potential customers.
If you want to depict your proficiency in the Information Technology field clearly, pick this theme out of all the available merchant services WordPress themes.
This WordPress theme is the best if you run a film studio or an advertisement studio. It supports uploading high-quality videos on the first page of the website as it will highlight your studio's work. Not many merchant services WordPress themes can process more than one video on the website's front page.
It has an alluring design which compels people to keep browsing the website and check out what else you do. A low bounce rate is always good for your business; using this theme for your studio will lead to the same.
Fashion boutiques can use the SKT Tailor theme for their website. You must ensure visitors find your website as appealing as your customers find your clothing. This theme is filled with spaces where you can add refined images and attract new customers.
Your website is automatically optimized for high speed so that customers can quickly select what they need. You can also add different calls to action in the header and the footer.
Now you can easily get started!
Creating your commercial website is complicated, but with the help of these themes, you can easily get started. If you have a business and want to create a website, you can easily pick one of these themes that will suit your business.