This article represents the features of the Medical Equipment WordPress Themes for creating medical and Life Sciences Website.
Medical science has evolved significantly in the recent times and has proved to be a beneficial aspect for mankind in this fast growing world.
The modern developments and adoptions of new technologies has created a way for advanced medical facilities and has reduced the cost and time to a greater extent which was not visible in early times.
The population of the globe has been ever increasing and so is the number of people requiring crucial medical attention.
We cannot depend on the older techniques to serve the purposes of medical treatment and hence there arises a need of modern day medical equipment.
It has been observed on a general basis that many number of people suffer from serious health issues and require some or the other treatment which is fulfilled with the help of the medical equipment available in the market.
These equipment are of wide use in the large hospitals where it has now become a mandate to provide the best of the facilities to its patients keeping it cost effective at the same time.
The business of medical equipment has also come up as a never ending success owing to the daily requirement from the hospitals, clinics and the retail market. The demand has increased more in the current time with the increasing ratio of people falling ill.
Being into the modern world where every hand is occupied with digital medium such as mobile phones, tablets etc; medical equipment websites have also found a space to cater the people who are in need of the same.
It is essential for a medical equipment website to provide all the details and information to a user or a customer who cares heeding to it.
Hence to fulfill the same, choice can be made from some of the best Medical Equipment WordPress Themes for creating medical and Life Sciences Website.
Here is a wide range of Premium Medical Equipment WordPress Themes to be observed.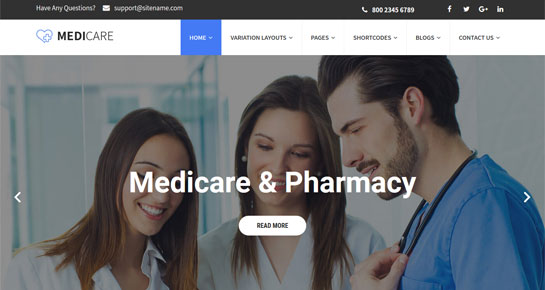 Medicare Pro is the most advanced and highly flexible kind of Medical Equipment WordPress Themes that allows for best output while considering for building a medical website.
It has been perfectly carved and never misses out on the expectations of creating a high-end website that makes the user have a seamless experience.
This theme is to make all the medical facilitation providers switch to digital medium and develop a multipurpose website packed with advanced features to be successfully implemented and used on mobile devices and tablets.
It is a blend of functional and immaculate design that has enabled to feel it on the high resolution monitors being HD and Retina ready kind theme.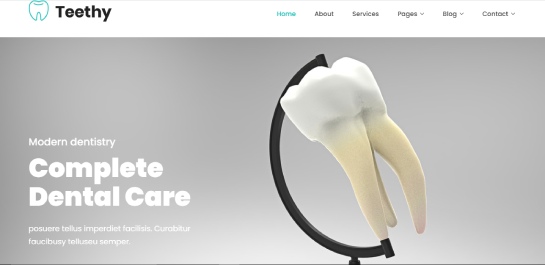 Teethy is a smooth and sober, pleasingly functional WordPress template for medical equipment. It is an immensely developed and remarkably technological theme that stands out of the queue.
Its features makes it one of the most unique and user friendly theme that proffers for making the changes to happen in real time.
With the option of changing the color of font and the background, Teethy is loaded for furnishing a highly advanced and tech-savvy website.
It is one of the competent theme to expedite and caters the needs of doctors, dentists, physiotherapists, medical practitioners etc.
It is packed with over 800 Google fonts and gears up to craft the modern day website in a detailed yet awe-inspiring way to make the visitor experience even more fascinating and website more magnificent.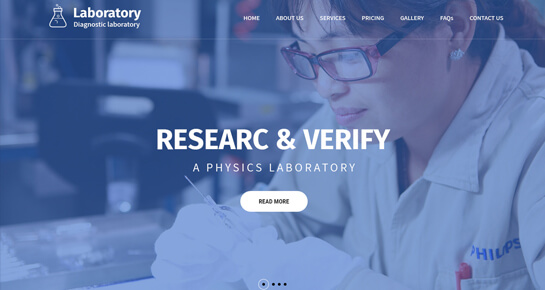 Laboratory Pro is a robust and pleasant, splendid and glorious theme of WordPress for medical equipment. It has been crafted with keeping in mind many of the exciting features that are wonderful in their own aspect.
It is a congenial theme that facilitates for the options to make the website more informative and easy to access.
It has been armed with various fonts and colors to help the builder make use of his choices and create a website that is more engaging.
While making this theme, it has been thought well to make it compatible with popular plugins like WooCommerce, Contact form 7 etc.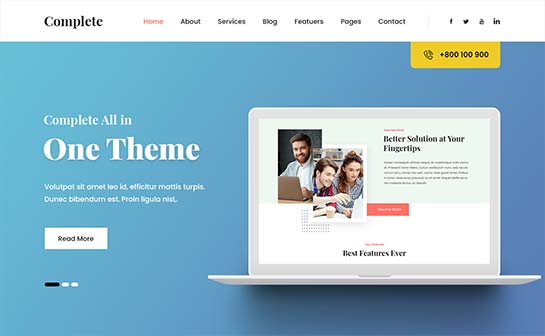 Complete is one of a kind of Medical Equipment WordPress Themes that is optimized and created to yield best quality result while making a medical website.
It has been made to deliver the maximum of services with easy to choose options that help in changing the style of fonts and colors of the texts and the background as well.
It is a versatile theme that allows for the changing the colors of other areas and provided buttons. Making your website appear the way you want can be achieved with this theme as it comes loaded with 100 in-built shortcodes that is enough to showcase the timelines, gird and list view, column boxes and more.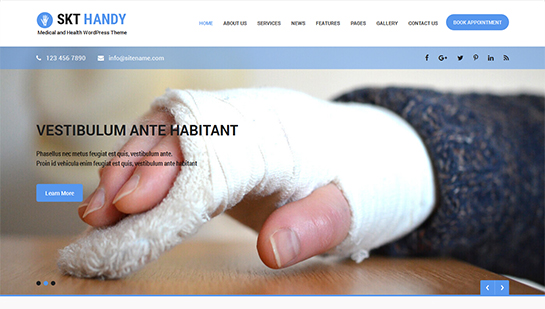 Handy is the resourcefully thought out and carefully designed WordPress template of Medical Equipment that offers the best website making experience with the features it provides to the user.
It has the most astonishing and delighting options of selecting from more than 600 Google fonts at the same time making it friendly to a mobile device. It is empowered with the integrated sections for blog and social media and can be well utilized being compatible with cross browser and device.
It is like a rainbow in the dark allowing you to choose from various colors for fonts, text and menu that makes it come up with a full color changing unique WordPress theme.
It creates an incredibly developed platform for website designing by supporting the plugins like WooCommerce which can be brought into use for E-Commerce.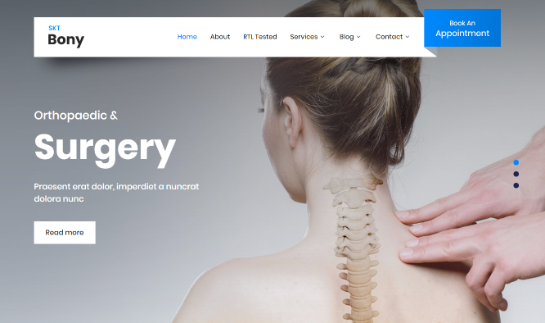 Bony is a type of Medical Equipment WordPress Themes which is dynamic and easy to use in nature and gives better experience of website design with its set of options.
It includes the pack of over 580 awesome font icons to reflect the one of a kind interface and is tested with most popular SEO plugins to help you in making one of the best websites to be at the top of the competition.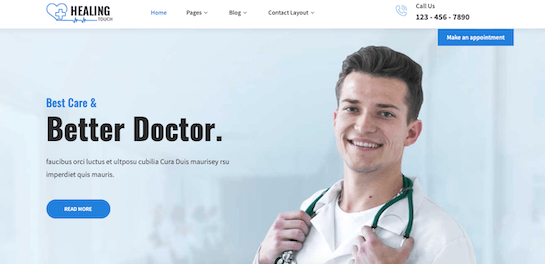 This theme is one of a kind responsive Medical Equipment WordPress Themes. It has been designed to indulge in its beautiful layout and offers rapid customization of the sections.
It has the most marvelous options to craft a website such as color change, over 500+ of icon packs and its compatibility with the latest version of WordPress. This theme is superb in its nature and displays ample of the possibilities by being mobile device friendly.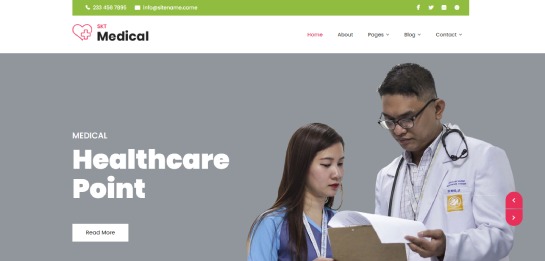 SKT Medical Pro as the name suggests is the WordPress template for Medical Equipment. It is a creative and purposeful theme with multipurpose functionality to cater the best optimum services for the user.
It has the fabulous performance by having all Google fonts available and there is a color picker to make your experience more colorful with the desired color changes that can be done across any section.
This theme reduces your efforts to a great extent by giving homepage content as default as soon as it is installed.