The best maid service WordPress themes are highlighted in this article for maid service and laundry websites, HVAC and maintenance companies, as well as other cleaning related industries and service provisions online.
The cleaning industry is one of the major and revenue generating activities in the modern world that arose due to the dynamic and saturated lifestyle of the modern people on the one hand, and the active construction of huge commercial and business centers, as well as other buildings on the other.
In one way or another, private cleaning services are in high demand at present.
The professional cleaning of premises, office and dwelling places have become an indispensable attribute of a modern life stressing the reputation of the office or house owner, his moral and social values and more.
With this image of the cleaning industry in our mind, we have compiled a list of the best maid service WordPress themes for such kind of cleaning related activities, including maid and laundry services, regular and occasional cleaning services, moving out and moving in cleaning, green or commercial cleaning, window washing and carpet cleaning and more.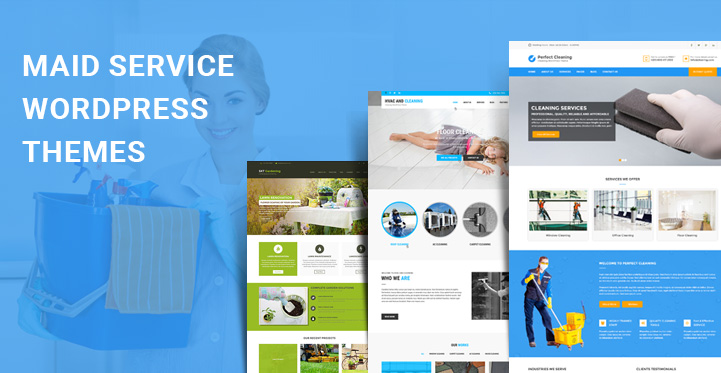 Each of the maid service WordPress themes you will go through this article is a mixture of strong modern coding and lightweight performance aimed at making your digital life much easier and affordable even if you are working on a tight budget.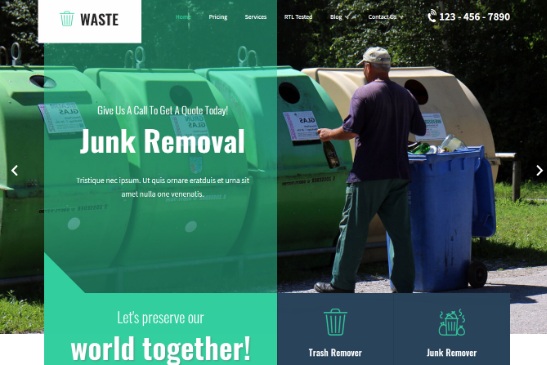 Junk Removal is one of a kind product among the most practical maid service WordPress themes revolving around maid service and cleaning industry.
With pixel perfect visualization and CSS3 touches, stable HTML5 coding and responsive web design, this template is something valuable when it comes to starting your online journey and making money from your digital presence.
Showcase any kind of maid services through your posts and pages, advertise your company and its achievements in the relevant field, and give your contact details in the contact us section, as well as footer or header areas to make them easy to notice and follow.
The theme's fully fledged nature brings dozens of elements and features at your hand for multipurpose usages and applications. Here you can find useful packs of shortcodes, fonts and icons, color management options, compatibility with social media platforms, as well as major plugins and extensions.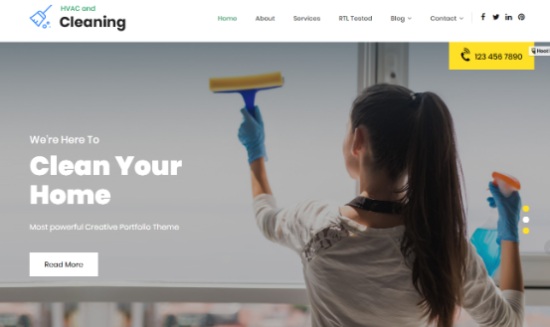 HVAC and Cleaning is the next premium quality yet cost effective, wonderfully pliable and visually clean website builder you can purchase from the official directory of maid service WordPress themes.
The frame of the theme's activities is rather large based on the diversity of functions, possibilities and potential it offers to the end user.
The awe inspiring appearance of the theme is only the small part of the advantages you can enjoy.
From a more technical viewpoint, HVAC and Cleaning is surprisingly elastic and flexible with strong HTML5 and CSS3 coding and styling, page and blog templates available, translation ready layout and much more.
The dynamic and frequently applied flat design style is present in the theme ready to make your profile trendier and more mobile optimized.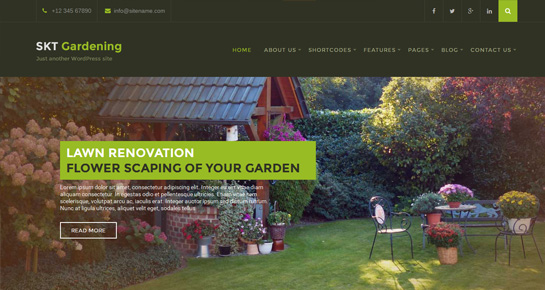 SKT Gardening is fresh faced and colorful, user centric and admin optimized WordPress template catering to a myriad of home and office, garden and yard related services, from gardening and landscaping to pool and house cleaning, window washing and carpet care.
With SKT Gardening, your cleaning company or agency's profile can be beautifully shaded with the right graphics, colors and fonts, since you have all the rights to change the default touches of the theme and make your preferences prevail across your profile.
There is something more enjoyable with SKT Gardening if we go deeper into its structure and functionality.
From SEO and SMO controls to shortcodes supported operation for quick additions and content setup, this template celebrates it all.
The theme's responsive design for an excellent mobile user experience, as well as commercial ready layout with WooCommerce compatibility are other pluses of SKT Gardening.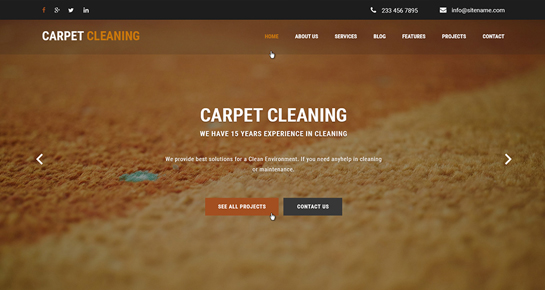 The top rated specialists and WordPress experts have shaped the development of Cleaning Company in the right way so that it turned out to be another lovely and multipurpose layout for dozens of online presentations.
Absolutely any topic relating to accommodation and house, home and apartment, office and another business premise, as well as services catering to them, from renting and selling to cleaning and maintaining, can be fully revealed through Accommodation.
With light and appealing design, clean shapes and useful icons, this template comes with Google fonts package included, as well as RTL language support, header and footer layout choices to play with, sidebar layout controls for posts and pages and much more.
The theme's responsiveness makes it possible for your valuable content to keep its stunning look and feel no matter what device is used for its browsing.
Pest Control is the right starting point for your maid service and cleaning, moving and packaging, transportation and maintenance website or blog.
As one of the award winning and designer made maid service WordPress themes, Pest Control brings a set of practical elements and controls for you to draw the final image of your dream site.
Let people find your services and cross their chore off by hiring your specialist or choosing your cleaning services. Make all your content easy to find and read via the preloaded theme sections and areas and customize them to be more presentable.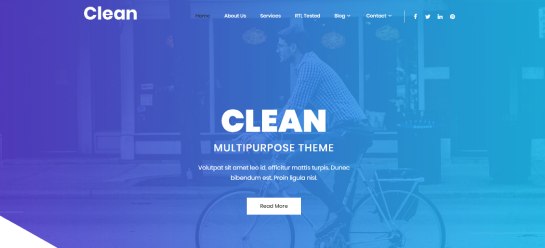 With modern and energetic design style and functionally error free operation, Clean Pro is the last top notch website building solution you will come across whenever you want to start your design or portfolio, photography or interior, cleaning or washing, home appliances or handymen websites.
Powered by the latest coding and styling trends, responsive and mobile optimized nature, plugin compatibility and commercial readiness, Clean Pro is capable of leaving the fierce online competition in the dust.
The theme's feature rich nature with shortcodes and homepage slider, page and post controls will highly contribute to it as well.
In this modern age of fast lives, the cleaning industry has grown tremendously over the last couple of years. It has been generating huge revenues, and have been at the forefront of gathering more and more demand, day by day.
Cleaning services provided privately are getting more popular and thereby these kind of services are slowly becoming an important part of someone's home and office. Cleanliness Is Godliness – as the quote suggests, the social and moral life of that person will depend on that exact reason.
So, how do you promote your own cleaning services to a wider range of audience out there online? The question can come a bit tricky, as it involves a lot of planning and figuring out what will work the best for the business.
And that's where Maid WordPress Themes come in. Whether you have laundry cleaning business or a carpet cleaning business – Maid WordPress Themes will help you build a website that is not only modern looking and performance oriented but also will help you keep your budget intact.
For starters, setting up a cleaning website will require you to make engaging posts that will showcase your uniqueness and achievements before your customers. It should have contact details so that you can be easily reached by your customers.
There should support for various plugins and extensions, and also support for social media platforms too. Maid WordPress Themes will do every part of this for your website.
Maid WordPress Themes will provide you full error-free functionality, along with responsive and optimised clean looking websites. This is very important for your cleaning, washing or any handyman service providing websites.
Similarly, if you have a business that deals with packing and moving, Maid WordPress Themes will also aid in your journey too. It helps to make your website more presentable to your users and also making your content easy to find and read.
Coming to other forms of services, like gardening to various types of landscaping and house cleaning as well, will definitely need the help of Maid WordPress Themes.
You can make your website just like your preferences, along with the help of SEO (Search Engine Optimisation) and SMO (Social Media Optimisation), so that more users will be able to know and find about your services. Not only that, with the help of WooCommerce now, commercial viability is now just as easy as the click of a button.
It's not all easy to make a business or a service work out so easy, and you rack in heavy profits. It definitely needs a lot of time and dedication. Maid WordPress Themes knows all of that, and therefore helps you to focus on things that are more crucial and needs more attention.
Maid WordPress Themes will help your service gain that starting boost, which will later go long way in providing much greater benefits. From the perfect functionality to the awesome design and performance – and that too at a budget – it's nothing more than just a dream to work with tools like these.