Humanity has been tested with time again and again. The LGBT community today is uplifted due to varied effort from people across the world. There are organizations, individuals, and members who are striving each day for the health, safety, and the well-being of this community.
The Internet has become an inevitable medium to ensure that your voice reaches every nook and corner of the world.
Hence, it is a fantastic idea to create a website that talks about upholding the rights, issues faced, solutions, and everything related to the LGBT community.
There are numerous WordPress themes available online but it is tough to find one for creating a special purpose website. Hence, to make your task burden-free, we have listed here some of the best LGBT WordPress themes here.
Best LGBT WordPress Themes for Social Activism and LGBT Organizations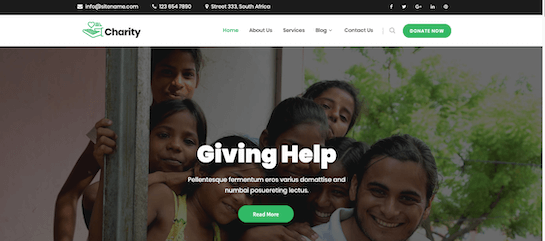 Freedom and independence revolutions across the world have proven that a pen is mightier than a sword. Expressing thoughts, beliefs, opinions, and truth regarding everything can do wonders for this community.
People can be touched with the emotions that god has imbibed in them. For this purpose, the SKT Charity Pro option is a perfect match. It has been exclusively designed for promotion blogging and is equipped with all features to support the same.
The overall design has been kept minimalistic so that it looks clean and the entire attention is focused on the content.
The integration of Social media handles on pages, widgets, or other areas is possible. Moreover, all plugins are supported to match the functionality that you are looking for.
The loading speed is awesome and you can do all kinds of customizations. You can create a perfect platform to attract organic traffic and voice your opinion.
Babysitter is a fine multipurpose development and is a suitable match for LGBT WordPress themes.
It is modern, professional, and powerful in virtue that has been created with the purpose of excelling in everything that it features. You will find a burst of pre-developed layouts and designs.
Page builder helps you in creating mesmerizing templates without compromising the final output quality. Its cleanliness, versatility in performance, and well-organized elements make it a perfect match for your purpose.
All kinds of customization including the header, footer, sliders, sidebars, homepage, landing page, and other elements can be done quickly.
If the need arises you can also sell personalized merchandise by establishing an online store as it supports WooCommerce. It is mobile-friendly and optimized for faster loading and SEO.
If you are not a pro at development then it also offers comprehensive documentation that helps in the installation process.
This is one amongst the other unique theme developed to be used by NGO, social group agenda, and similar niches. This will be an ideal match for your purpose given the kind of default content that it includes. All the provided pre-built templates are retina-ready can be directly used by you after necessary minor modifications.
If the default ones do not satisfy the needs then you can easily create customized ones with the help of page builder. The customizer will help you in making and tracking changes in real-time so that the website can be live in minimum time. All segments have been worked out carefully and are modifiable as per the requirements.
It is multilingual and translation-ready so that you can easily voice your opinion and promote campaigns according to demography. It offers compatibility for WooCommerce which is directly at your advantage and social media handles can be quickly integrated.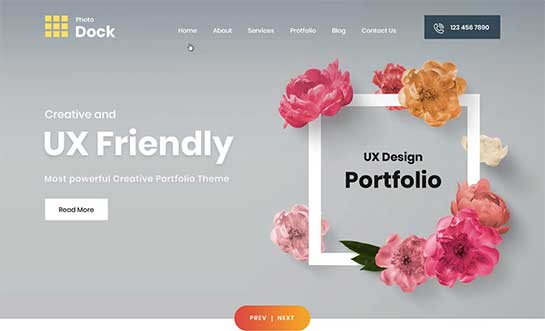 Photodock makes it to the list of LGBT WordPress themes due to its splendid versatility and responsiveness. Your creativity can run as wild as possible here because it is an infinitely customizable theme. Your content will be reflected in the kind of light and radiance that it should be with Photodock.
You can spark interest among your visitors and establish a striking online presence for the community. Persuading and assisting members as well as visitors can be done conveniently. The default settings are impeccable but through modification also you can create a breeze anyway.
No technical knowledge regarding coding or development is required for managing the same. All necessary functionalities and tools can be integrated with the help of plugins.
In addition to all these, it is mobile-friendly and cross-browser compatible. Why choose a mediocre option when you have a reliable choice?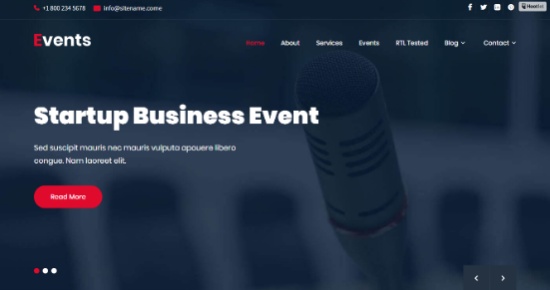 SKT Events is a truly power-packed performer and makes it to the compilation of LGBT WordPress themes. It is widely used across the globe given its potential of creating a stunning, powerful, and flexible website.
It comes pre-loaded with dozens of HD-ready templates so that you can easily choose one for your purpose. It has been tested to withstand and perform perfectly under heavy load.
In terms of security and privacy, it is unbeatable. All basic and semi-advanced features for customization and modification are incorporated by default. Despite this, it never has a history of underperforming.
Given its potential to host all kinds of content with complete versatility your purpose for serving the community can be fulfilled.
Moreover, you can also establish an online store and a blog on the same website without any extra installations. You will never regret selecting this option for enhancing the lives of your members across the world.
This is a minimal dark theme with the required features to be a part of the LGBT WordPress themes. This is an exceptional theme with dark graphics to ensure that the message that you share is strong.
Considering the kind of purpose that you intend to digitalize it will add a unique stand to it. Not only will your members love it but the organic traffic will explore the site considering its aesthetics.
The other interesting part is that all other elements also are in staunch dark colors contrasting with black and giving a surprising feel.
Modification of all kinds irrespective of the elements, layouts, and backgrounds is possible. Google fonts are integrated and social icon packs enable you to choose your suitable icons.
It supports WooCommerce so you can make your online presence felt by setting up a virtual store. Adamantly express yourself to the world without turning back using this platform.
Donation is an integral aspect of running a non-profit organization which makes this theme suitable for LGBT WordPress themes. Your noble efforts, activities, and vision can be spread across the world. This will ensure that hundreds of people connect with your cause and donate for the same.
Considering this aspect this theme has been developed. You can easily integrate the required payment gateways here and also establish an online store with WooCommerce. The overall layout has been kept simple but touching. If you want to run a blog along with your website then it can also be made possible.
It is entirely customizable although we are sure that you will fall in love with the default templates. All other sections like colors background color, font, styles, and others can be modified as planned. The user interface and navigation facilitate all requirements of the visitors which makes it the best.
This is another great blogging focused WordPress theme that makes it to the list of LGBT WordPress themes. People often select normal and usual themes for blogging that hardly includes any functionality. This theme will directly take you a step ahead from such bloggers in terms of SEO.
It is optimized for faster loading speed, SEO, and performing excellently well when accessed from mobile devices. Not only that but the integral aspect being that with WooCommerce integration you can set up an online store.
Not only this make your visitors read about your cause, opinions, struggles, and life along with shopping merchandise relating to the same. The availability of cause-specific merchandise is a marketing technique in itself that you can utilize easily here.
Every aspect, element, and colors provided by default are modifiable to ensure that no stone is kept unturned in creating a successful blog.
Are you looking forward to publishing an e-magazine or digitalize your hardbound magazine? If your answer is yes then you have landed on the most reliable, secure, and responsive theme for the same. Flower Shop can feature all the content of a magazine online irrespective of the niche and cause.
The preliminary outlook gives the audience a feeling that they are exploring a physical magazine. It is versatile and is SEO optimized to ensure that website crash incidents are minimized due to heavy load.
You can easily add calendar, events, contact forms, and advertisements with default features or with the help of plugins.
Customization is under your control so that the entire look can be modified from time to time according to your editions. You also get documentation so that you never remain stuck up anywhere in the installation process.
Event Planners Pro makes it to the compilation of LGBT WordPress themes given the kind of functionality and features it offers. It is basically developed for use by all kinds of social institutes, NGO's, and other noble causes. Hence, it will generate exactly the right kind of aura for your visitors.
Moreover, the graphics, templates, and content can generate the right kind of emotions for conveying your message. When it comes to functionality it is filled with all kinds of modification and performance options. It is fully optimized for performing exceptionally in all kinds of screen sizes, browsers, and mobile devices.
For modification customizers and page builder plays a crucial role and will assist you in each step. The entire setup process is well documented and you also get support from the developers for a year.
This is a creative and modern theme with subtle layout combinations making it an ideal option for LGBT WordPress themes. Predefine demos and ready to use templates have mesmerized all its users to date. You can also take it to your advantage for featuring your noble cause.
Best combination color skin has been provided but you have the freedom to work out a customized one for your website. If you have a specific strategy planned for branding that can also be easily executed with page builder and customizers at your service.
Search engine optimization, cross-browser compatibility, mobile-friendly, and retina-ready are some of its core incorporated features.
Other additional amenities like header, footer, slider, widgets, and sidebar can also be controlled and molded. You will face no issues in setting up an online store because it is highly compatible with Woo Commerce.
SKT Trust Pro is a multipurpose website but adamantly focused on featuring NGOs and social cause organizations. Hence, this can be amongst the suitable choice for creating a website regarding the LGBT community support. The basic background provided by default is white and everything else is featured in different color contrasts.
Adding a gallery to feature quotes, images, and real-scenario videos in the most optimized format is possible. In addition to that by adding plugins, you can feature calendars and other events arranged by your organization.
Sliders will help you in featuring the most recent events, upcoming events, and spread the vision of your community.
In addition to these, there are necessary provisions and compatibility for integrating payment gateways. This enables you to take donations directly to your bank account from across the world. You can also set up an online virtual store as it is swiftly compatible with WooCommerce.
This is the last option in the compilation of LGBT WordPress themes. It is a multipurpose theme that by default offers truly HD graphics in various segments.
It has been crafted with excellence and includes all functionalities and features required for running a successful website.
The layout is unique and the default colors are vibrant. Its first look reflects unparalleled dynamics and elegance. You can easily modify it and convert the content to suit the requirements of your community members. Not only that but other segments can also be modified without touching a single line of code.
It is compatible with all major plugins so that you remain on the cutting edge in terms of features.