Are you looking for a reliable and business ready job board WordPress theme to create a professional and tech savvy job portal or job search website for your audience? Then sit back and enjoy what SKT Job Portal has to offer you.
Job hunting practices have long shifted from the physical world into the digital one granting both employers and job seekers with hundreds of new opportunities to find cooperation ties with each other on a mutually beneficial basis.
Moreover, solving the problems of staff selection and recruitment, choosing the cheapest, convenient and effective candidate to fill the open vacancy on this or that company or organization is easier with the help of global networking system with its custom built communities, websites and boards giving you freedom and flexibility in your candidate selection process.
SKT Job Portal being a top quality and sophisticated, visually clean and functionally stable job board WordPress theme takes the responsibility of creating job and vacancy related websites, job directories, job portal and recruitment agency, employee referral services, manpower resource and HR consulting profiles in a matter of minutes.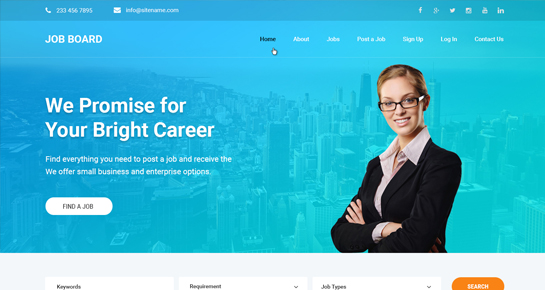 Other Similar Themes like SKT Job Portal for Job Board WordPress Themes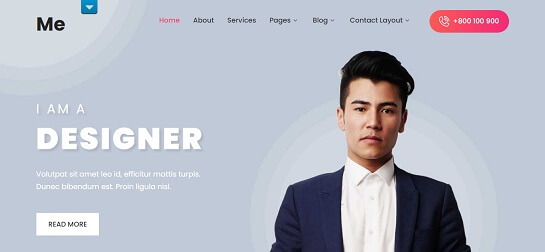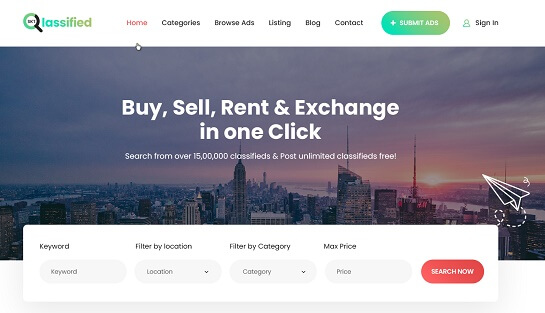 It would be a great choice if you choose classified ads to design your website for selling and promoting your business products and services. The products you display on this template will look very attractive and appealing. Users will be able to find their desired items as each and every product is listed properly.
Easy navigation menus and links are provided straightforward. Customers will be able to search their listing by adding filters. You have a full choice to choose a Google map option that will help your customer to search their listing as per their current location. You can add videos on the banner slider to appeal your thoughts visually.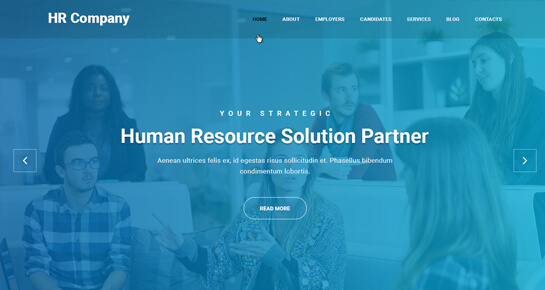 HR management is the elegant Job Board WordPress Theme that has so many premium plugin compatibilities that will save your time and money on investing in developers and designers to extend your website functionality. The template is created for students and teachers so that they can create and take out the notes online.
This template also can be used by professional developers to showcase their portfolio in a professional manner. An expert or corporate business person will find this template more helpful as it has so many things to offer.
Because it is compatible with WooCommerce plugin one can list courses easily and allow students to download their notes in a single click.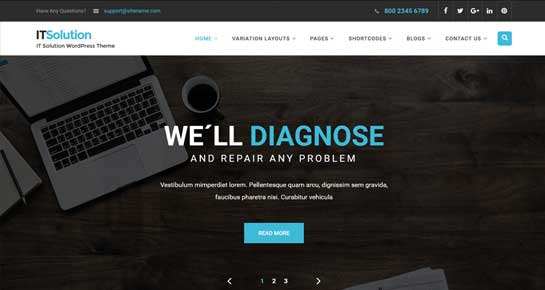 If you are looking for a platform that will help you to add your different kinds of services and courses then IT Solution is best for it.
IT solution comes with lots of features that are established by adding plugins to it. You can give a tough competition to your competitors as it is best design-wise and functionality wise.
Thus it has integrated with the elements that are essential for creating and showing your services like you can add video as well as text content on the slider section. It is Gutenberg ready, accepts high-resolution images, and browser compatible.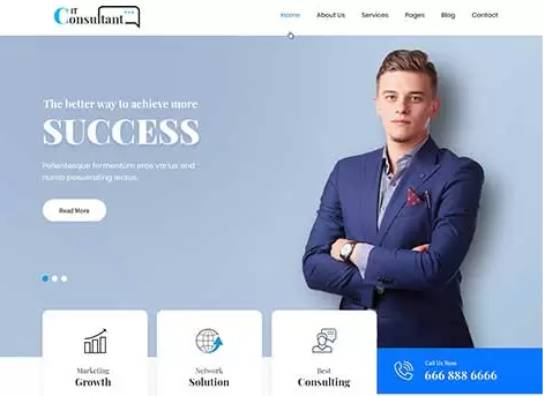 IT Consultant has a professional redesign, registration form, responsive and attractive look, friendly with plugins, and crafted with elementor page builder to set your professional website easily and effectively.
The main features of a template is that it is customizable from every end, a perfect template to establish learning management system gives a fast performance, reliable, supports unlimited fonts, colors, it is translation ready and integration with different tools.
We have checked this template with different tools and found that it has quickest and fastest page loading that will ultimately increase your website conversion rate.
However, this job related template can be productively used for other similar representations and web establishments online, ranging from tutoring and scholarship, education and training businesses to financial and industrial, real estate and movable property listings, advertisement portals and women journals online.
Use your biggest chance with this exclusively well developed and constructed job board WordPress theme and you will be amazed by its practicality and versatility while being in action.
From setting the tone of your entire portal to keeping it active and dynamic with blog posts and news, interviews and more, from adding the most creative imagery to the homepage slider to linking your social media platforms with your site.
SKT Job Portal is an irreplaceable tool at your fingertips with all the essential features and customization options.
Monetizing your job board website with easy to search and find options, additional filter tools and the overall quick performance of your site to save the precious time of your clients will be possible with this results optimized and profit directed template.
In addition to making money from vacancy placements and commission fees, you can double your incomes with affiliate links and additional ads placed on your website by your partners as SKT Job Portal is custom built to support such kind of activities.
The primary aim of the seasoned developers and authors of this job board WordPress theme was to deliver a framework that will be easy to use and control for absolutely anyone, from experienced programmers to the novices of the digital spectrum.
As a result, they made SKT Job Portal shortcodes friendly and integrated a considerable amount of shortcodes in the template to solve the basic functionality and structural issues of your site, add or remove this or that part or element, restyle something, etc.
Apart from being the main "coder" of your site, with this website tool you are also going to be its designer while having at your fingertips a plethora of color and font selections and options, authorization to tweak the theme's backend for image and style controls, CSS 3 animations and much more.
Other features this highly recommended job board WordPress theme celebrates are page and post controls along with widget friendly areas.
Google checked and approved fonts and font based icons, modern flat design style with less clutter around, homepage slider with 10 slides available with pause time, animation and other controls.
Exercising page building tactics in order to make your job board more diversified and versatile can be achieved with any additional page builder plugin paired with SKT Job Portal.
Calendar and gallery, events and shortcodes, SMO and social sharing, slider and other plugins are also among the compatible tools that can make your virtual presence more competitive and challenging.
Since the dawn of the Internet, the e commerce activities and businesses have been thriving as never before. With SKT Job Portal you will not miss a single chance to become a part of this commercial based online industry and use it in favor of your specific business since this template in question is checked and supported by commercial systems and extensions.
One of the effective ways to prove your job portal is worth being trusted and visited is the presence of testimonials areas. Your clients and partners leaving their comments and feedbacks can be the best stimulus for your future clients and connections.
Therefore, adding testimonials section to your profile with the help of this job board WordPress theme can be a valuable asset in keeping your reputation higher.
For all those website guests, employees, recruitment agency managers and finally job seekers, you don't speak the language your website is presented with, one language principle of your site is going to be one of the main things to make them chase away.
And since you don't want it to happen, you are obliged to use the multilingual ready character of this template and showcase your content in more several languages.
With POT file inclusion and translation plugin compatible, SKT Job Portal will let you get a competitive advantage over other relevant businesses with your multilingual content breaking the linguistic barriers between your business and its clients.
Finally, we came to the point where more than half of your website traffic depends on the responsiveness and mobile optimization of your site.
Well, in this spectrum SKT Job Portal is never hesitant to arm your website with adaptivity and cross mobile and browser compatibility to be flexible across a variety of environments and mobile devices.
This type of web design is also highly recommended by Google so it means that you are going to add extra SEO touches to your site with the mobile centric coding of the theme.
Full documentation and technical support are the additional pluses of this template directed to the simplification of your workload as a website developer and designer with step by step guidance and instructions whenever needed.