We are here with the best industrial WordPress themes for factories and industrial centers, manufacturing and other niche specific structures and companies.
It's quite easy to perceive the difference between a handbag store or boutique selling a product to a client and a handbag manufacturing industry selling its products to the stores across the globe.
While in the first case the selling success mainly depends on your shop consultant and the appearance of the target handbag, in the second case it's much more than those factors contributing to your success.
Customer focused and industrial market driven working strategies are heavily based on the digital world at present. In order to have your special place in the rapidly growing industrial market, a powerful and self hosted website with all inclusive nature is a must.
Your website can be a linking platform between you and your potential distributors, partners, clients and customers.
With all the above mentioned advantages of industrial websites in mind and not only, in this article we have put together some of the top notch industrial WordPress themes for industrial and manufacturing, technically productive enterprises and units, industrial service providers, construction and renovation companies and centers, etc.
Present your business profile in the best way while outlining the unique working principles and equipment you offer to your market base.
There are tons of features and characteristic options that unite all those industrial WordPress themes in one group. However, they are also unique in their look and feel and can undergo certain changes to prove your best qualities.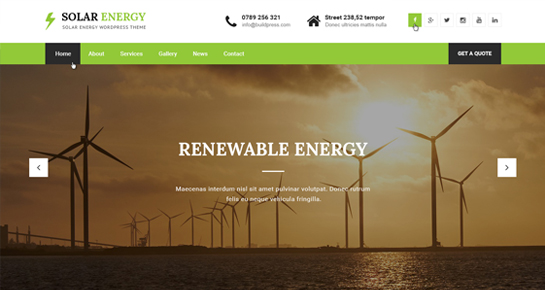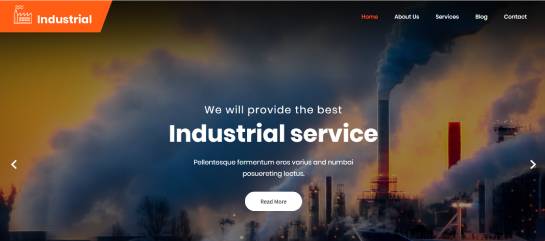 SKT Industrial is one of the serious looking industrial WordPress themes with out of the box features and elements. It comes bundled with high powered potential and turn key solutions for your future industrial website.
Any manufacturing, renovation, construction or production company can be fully revealed through the post and pages provided by SKT Industrial.
Moreover, breathtaking management and customizability are put into action for you to tweak the controls of the theme or make small adjustments to it.
You will be capable of changing the way your site typography or color gamut appear, content is set up with the help of shortcodes, etc. The theme is also cross mobile and browser compatible with responsive coding, as well as SEO compatibility to be the best return on investment of your industrial business.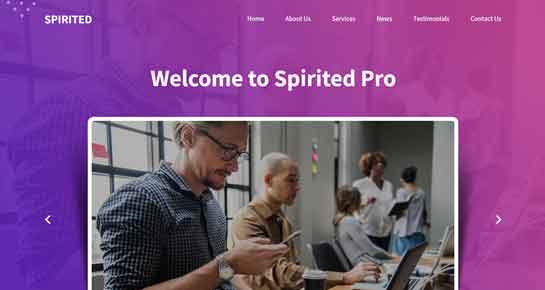 Spirited Pro is highly practical and elegant looking, GPL based and error free industrial and manufacturer, company and business centric website to make your business or company find its online visitors.
A perfect segmentation structural scheme is given within the theme for you to add your content and texts, give updates and showcase best images catering to your projects and other portfolio items.
There are home, about us, services, gallery and contact us sections, as well as different boxes to insert any kind of information.
The combination of blue and white colors is what makes this template so eye catchy and visually aesthetic. Lots of testing has been done to determine the true capacity of the theme, including checks for plugin compatibility, etc.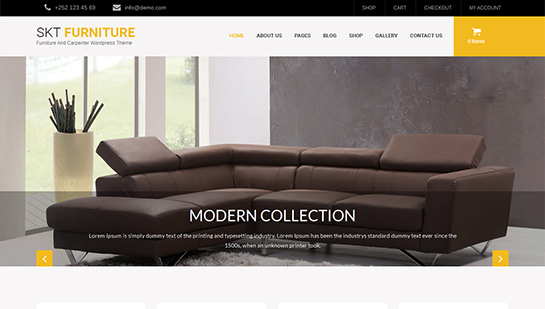 Meet Furniture Pro as another affordable and cost conscious offer included in the range of industrial WordPress themes.
In can effortlessly be practiced for any industrial factory, furniture production, construction or architecture businesses and other industry centers and associations. It's an amazingly robust and clear feature rich WordPress authored template generating full responsiveness and cross mobile and browser compatibility.
It also includes handy admin dashboard for you to control your site from the backend of the theme and without getting stuck into complex coding.
Google fonts based and armed with color changing controls, Furniture Pro lets Google and other search engines crawl your website for indexing and offering them to the potential clients. This is best done thanks to the SEO coding of the theme.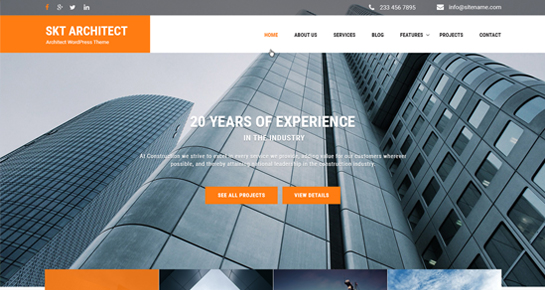 Designer crafted template, pixel perfect visuals, smooth and sleek navigation and much more. SKT Architect Pro has got your covered. It is based on easy drag and drop functionality, supported by full documentation and the assistance of the theme's authors whenever you feel the need.
In a few minutes and with a few simple clicks, your site is up and ready to go since the theme installation and activation processes are speeded up to the maximum extent. The theme can be an irreplaceable website building solution for especially for construction and architecture segment.
However, this SEO and SMO compliant, translation, mobile and shortcodes friendly template is general purpose at its core and can relate to any other topic as well.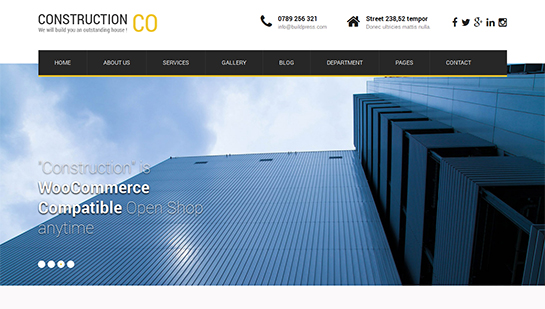 SKT Construction Pro is another fresh faced and inherently resilient template one can find in the directory of industrial WordPress themes and templates. Contribute to buyer seller and client producer relationships through your highly informative website and use all the given techniques for targeting the right audience.
Homepage slider is one of the best display tools to attract website guest's attention on specific content or proposal, sale or discount, etc.
It will enable you to add up to 10 slides and make use of around 12 controls, including pause time and animation. Packed with animated sections, SKT Construction is never jealous to provide you with an avalanche of customization options for fonts and colors, backgrounds and images, shortcodes and more.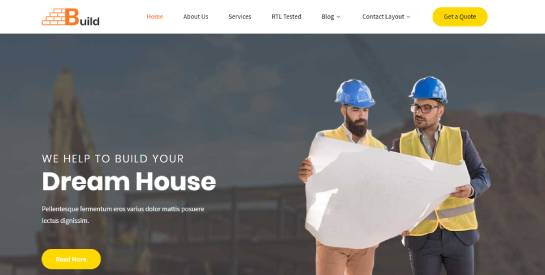 In case you are looking for easy to use yet completely reliable industrial WordPress theme to go live with your website, Build can be a favorable solution for you.
This responsive and quick performing template can be the best guidance for implementing your business value proposition and communicate it to your potential customers and clients.
Separate sections of services and blog are available at your leisure to add the most searched content and details. Social media integration is also performed to keep your focus on social media platforms and its active users as well.
There has been a drastic change in which the industrial world operates since the last decade. Gone are the days when only a handful of industries were dominating the world and with the advancement of technologies now there is an equal opportunity for everyone to grow and prosper.
In today's connected world it's all about attracting the right customers and this is getting difficult in the competitive world of industries.
With the major global shift towards a digital side, industries have now found a new turf to compete so as to get better opportunities.
Be it showcasing their capabilities, or attracting new customers they have to do it through their website. So the major focus right now for all the industries is to get a good website that is presentable and appeals to a broad range of audience.
This is where our Industrial WordPress Themes come into the picture. Our themes are premium in nature and appeal to a wide range of audiences. You can use our themes in any way you want, we offer full flexibility so that you can enjoy maximum freedom.
The main challenge with industrial websites is that they have to present a lot of information in a quick and interactive manner. This is where a lot of businesses fail, as they tend to put long and boring texts on their website, along with no special filters or features to help the customers navigate through the content.
No one likes to read long pages of information and there is a huge chance that they would rather visit a different website that offers information in a short and interactive manner.
So, if you want to make your website beautiful and one that provides clear and concise information in an interactive manner then you should go for our industrial WordPress themes. They offer a wide range of features and customization that lets you show your true capabilities in an orderly fashion.
There are several industrial WordPress themes offered by us each fulfilling their own motive, and you can browse through all to choose one that resonates with your business. All of our themes are unique and help you showcase your business capabilities in depth so that the customers know your true potential.
As our theme offer full customizability, you can make nitty-gritty changes here and there to make your website just the way you want. With our themes, you can even change the entire flow of the website as per your requirements.
As more people are using mobile these days, all our themes are designed in a way that they are cross-compatible between various devices. So that the people can view the website perfectly on any device.
If you are concerned about your website that will get more traffic then worry not, as all our industrial WordPress themes have strong SEO compatibilities.
This ensures that a number of people visit your website. We are confident that if you choose our industrial WordPress theme, it would turn out to be one of the best decisions for your business.