Industrial Company WordPress theme and the templates suitable for industrial websites have been listed here which are really useful for such commercial large websites.
With the emergence and rapid advancement of WordPress content management ecosystem as a unity of niche – specific themes has greatly facilitated the virtual manifestation of any small or large – scale industry, company or business.
By offering a handy set of optimal tools, robust interface and with sophisticated groups of specialists this platform has long become a truly hard – headed channel for all types of corporate and business undertakings.
Needless to say that having a stable and constant relationship with your target client marketplace is so paramount for all the industry companies.
Running a popular and environmental – friendly, as well as client – oriented website featuring your general profile, offered services, prices and discounts, business policy, contact details and much more seems to be a top – primacy to follow and implement within the shortest period of time.
In this article a list of the most applicable and smart pieces of industrial company WorPress theme are compiled.
Each and every industrial company WordPress theme shares the most essential features and elements ready to boost your digital presence.
Subsequently, what you are supposed to do is to review the suggested website builders and choose the one which seems more suitable with your industry general profile.
This template will also get you covered with its user and visitor – centric, responsive and cross mobile compliant web creating and managing solution targeted to an industry profile of every size or nature, experienced or small – sized business and much more.
Totally customization – ready and packed with a set of Google fonts and font – based icons, SKT Industrial comes with multilingual – ready platform, WoCommerce compatible and e-commerce – based character to run an online store and sell your industrial products.
Powered by user and developer – friendly coding, SKT Industrial is all about precision, yet resourcefulness and yet intuitiveness.
It means that even a novice or non – techy website admin will be capable of putting his final touches and traits from behind the scenes easily.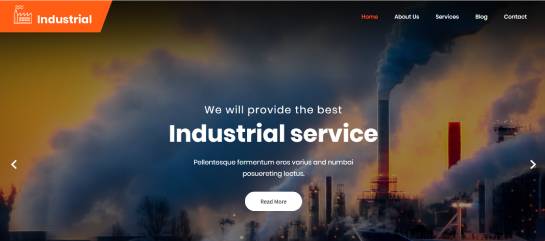 SKT Industrial is the first industrial company WordPress theme that has been thoroughly planned and well – developed to be smooth and pliable, visually business – looking and functionally cutting – edge.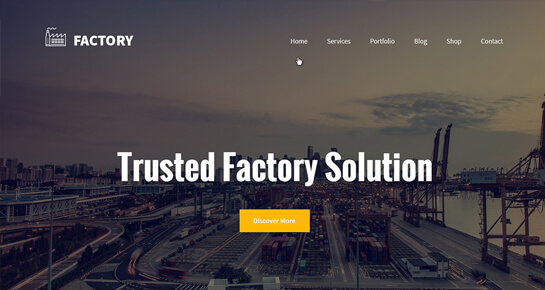 With a bulky assistance of this modern and top – rated Towing your company profile will be showcased and comprehended as an expert in its industry.
This industrial company WordPress theme is multipurpose at its core, meaning that this inherently smart website building tool can be the reliable basis for every web profile.
Balanced between simple nature and functional saturation, Towing is specifically practical for towing and car dealing, logistics and transportation websites to use the given suitable structural skeleton of the theme to expose all your valuable images and texts.
Strictly arranged and pliable homepage sections and areas, as well as attention – grabbing default slider on the homepage will also boost your online industry effectiveness, resulting in your client's satisfaction and positive website user experience.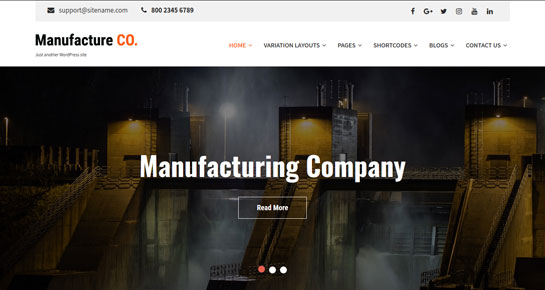 From beautiful and clean design to flawless user and client – compliant atmosphere, Spirited Pro is the next cost – conscious, yet premium – quality template for revealing all the professionalism and experience of your target industry.
Based on white and blue classic combination of colors, this template is totally responsive and cross mobile compatible, SEO – optimized and WooCommerce supportive.
This industrial company WordPress theme is a product with meticulously induced sections, parts and areas to arm with the most relevant texts and images, posts and publications.
All the aspects of multilingual ready platform have also been minutely taken care of to generate and present your content in different languages as well.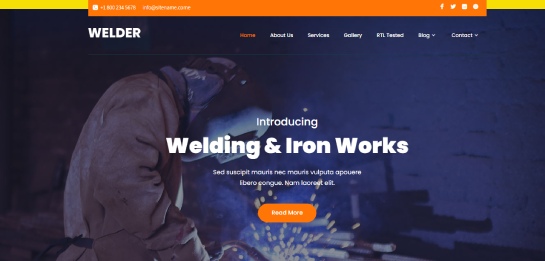 With wonderfully elaborated pre – designed post and page layouts, Welder is another industry – friendly template decorated with modern and highly applicable flat design aesthetics that seamlessly eliminates all the excessive shades and other archaic elements for more streamlined web experience.
Safe and secure, easy to grasp and follow, this theme of SKT production and WordPress compatibility has all the potential of providing engineer or businessman, designer or agent with broadband controls over his profile.
With elegant and to the point visuals, HTML5 and CSS3 – based coding and styling, widget – friendly structure and SEO – plugin compatibility, Flat Pro simplifies the admin's efforts of dealing with the default theme, editing and customizing it the way he wants without any pain or the necessity of hiring professionals to do it.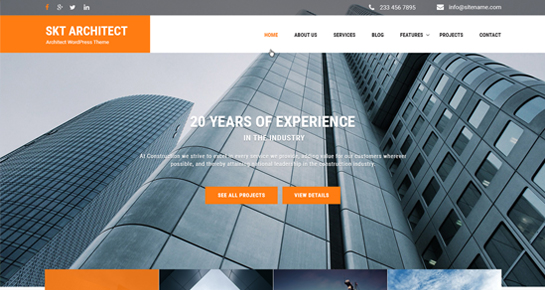 Precisely tuned and totally elaborated, stylized with flat design dots and spots, SKT Architect Pro is another highly advisable industrial company WordPress theme that deserves specific attention and review.
In compliance with all the major trends and stipulated requirements of modern WordPress community, this theme is ideal for every industry representative aimed at breathing a fresh life into his old website and revamping it, or starting everything from 0 and easily exemplifying the expertise of the given business in this or that spectrum.
This trustworthy and future – scalable template attributes immense value to parallax web design wonderfully exercised in nice – looking parallax backgrounds.
Well – optimized for SEO needs, SKT Architect Pro will give you a perfect head – start in your Google and other search engine rankings, in turn helping all your future potential clients to find you.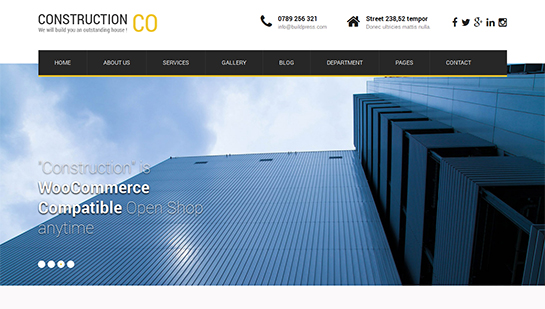 Get ready for a website building experience with 0 coding knowledge at all. Exercise SKT Construction Pro as one more clutter – free and shrewd industrial company WordPress theme to get your quick – witted industrial website up and running in a couple of minutes.
This broadly configured and functionally advanced template is trained to cut across all industry, business, corporate and commercial business boundaries, as well as diverse personal and individual initiatives.
It comes bundled with default slider and easy to use sections, lots of shortcodes integrated and readily responsiveness and yet much more to have with this template.
All in all, with SKT Construction Pro, anyone will be able to touch on all the available channels and communicative pathways to get in touch with the clients and customers.
Industrial sale cycles are not something which is simple and they require way more efforts than any other form of selling.
The need for industrial websites like any other form of business is indispensable, now the next question is about the features of the website which will add to the business.
There are many industrial business owners who wish to have a website but are not sure how do they want it to function and what they want the visitors to see when they reach it.
The Industrial Company WordPress theme is a suitable source which can create a strong platform for a highly impressive website.
Now when the confusion is around the features the best way to deal with it is by doing some research and actually taking some of the important ones into consideration.
Even when you are creating the website on your own thing about the most important features and ensure that they are not compromised.
Create a roadmap: Your website should have aesthetical appeal but along with that it must also be useful. Thus one must pick out the way the website should work before picking the HTML tags or server type. This goes a long way in creating strong SEO which directly impacts the ranking of the website. This is professional terms is called 'wire framing'.
Include business information: Way before the business or selling and conversion starts it is important that the visitors are made aware of the business. Display the mission statement so that the visitors will understand a lot about the business in a crux and they will also be able to make a comparison with other business websites.

Let the visitors know how long you have been serving in the Industry and what all have you achieved so far. This goes a long way in building trust with the business. If you are able to add client's testimonials or clients list here it would be the cherry on the cake.

Communication and contact information: The Industrial Company WordPress theme has dedicated space for contact information so that the visitors do not have to waste time and look for it. Include your email address, phone number, and chat box here so that no business opportunity is lost. Do it in a way that the visitors feel welcome and you are also not overburdened with calls and messages. Do mention your response time here so that there is no confusion.
Security: When you are dealing with sensitive information and data then safety should be your number one priority. Efforts should be made to acquire the SSL certificate which will encrypt any communication made between you and the clients. There are many good options available which can be looked at so that the security is in place. It is a great way to create trust with the clients.
Creating an efficient website will not be a difficult task when you will pick the right features which will make an impression on the website visitors. Pick these features wisely.