Get the best home improvement WordPress themes authored by SKT Themes and create a professional home improvement and flooring,.
HVAC and cleaning, plumbing and home maintenance, staircase installation and building, interior and exterior design, renovation or handyman services provision website or any other relevant profile online.
The digital arena that is accessible to absolutely everyone is one of the productive means of communication for residential and office repair and maintenance service provision industry.
It plays an important role in the conduct of business, personal activities, bringing people together around some services and offers, events and challenges, connecting companies with clients, etc.
In a nutshell, access to this network gives relevant businesses virtually unlimited opportunities to find new prospects and working fields, establish partnerships, advertise and promote merchandise and services.
At the same time, there is a great possibility of communication with direct clients and end users while bypassing numerous obstacles, barriers and intermediaries which would be inevitably present in the physical world.
Hence, if you are the one with future scalable plans of establishing virtual dominance for your home improvement and ceiling, air conditioning and heating, gardening and landscaping.
Locksmith and electrician, painting and plumbing services, look no further than our collection of the best home improvement WordPress themes at your disposal.
User friendly and ready for any kind of customization plans, these construction and renovation, painting and home improvement WordPress themes will greatly help you get your head around the platform you are working on.
The thing is that they are all customized for startup WordPress users with absolutely no coding or design knowledge.
On the other hand, there is a fantastic team of web design and developing masters behind each of these home improvement WordPress themes which have enough experience in creating strong and durable systems to go smoothly with your future website.
Why home improvement WordPress themes are necessary for your architecture website? Nowadays a lot of people are running their online business for the sake of money and making identity worldwide.
To showcase how well you're in your field and engaging customers within your business only requires 24/7 efforts and the best customize theme that establish easy communication with the customers.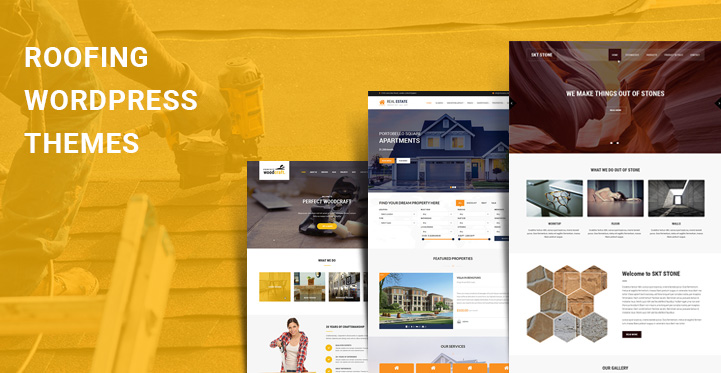 Buying the best home improvement WordPress theme can describe your business smartly. First, it defines your business goals and aims with content and services to your audience.
Second it interacts with the users by using contact forms and third it showcases your previous work and testimonials to the audience so they believe in your services.
More than that, you can customize your website design as per the user's choice without the help of a technician.
As you can see, buying themes can help you reach your goals successfully. Therefore, we have come up with the best home improvement WordPress themes that better define your goals.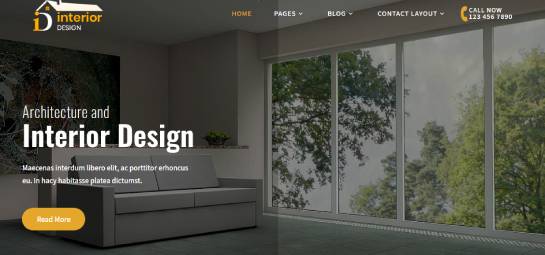 SKT Interior Pro is one of the best home improvement WordPress theme coded with elementor page builder and highly compatible with the devices as well as browsers.
If you want to create a website that completely fascinates your visitors with its simplicity and colour combination the SMT interior pro contains a lot of sections and preloaded contents that make easy for you to replicate the inner pages content as per your business requirements.
This has easy to use gallery which showcases your testimonials and previous work in a fantastic way that used mostly interact with.
It is RTL ready theme and also includes a nice parallax background, which allows your users to interact with your website and your business services easily.
More than that it is a colour changing theme that usually good in changing the font size colour as well font style throughout the theme.
Once you start using this theme you will find limited pages and post plus 4 levels of dropdown Menu that make navigation easy for the customer the glass point is also captcha code with contact us form so your user will find your place completely safe and best to use.
It is affordable and best theme which is spam free and covered all your services in one place. If you are finding the theme that allows you to get the best use then download the theme now.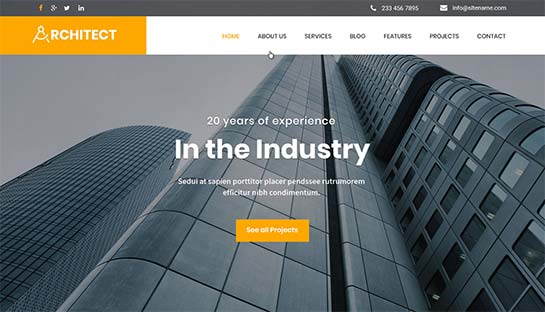 If you are looking for a theme that set a standard of designs and gives the new look to the renovation companies on the internet, so SKT Architect Pro is one of the best home improvement WordPress themes that give Perfect Match to your business requirements.
The theme is nicely designed and easy to set up, and there is no need for a technician. Moreover, it is integrated with 600 + Google fonts and 500 + icons, which is best to share your post and your services on social media to grab customers worldwide.
SKT Architect Pro is well designed and the mobile-friendly theme is a girl so include element colour that can be changed easily by using color picker tool.
The theme comes up with various option panels and sections for the home page so that you can describe your business very smartly and impress your audience via testimonials and your achievements more than that it includes header and footer sections that allow your website looks elegant.
This theme you will showcase your plans and achievements fantastically to your audience will usually interact with your business and provide trust on you this is a theme design for multipurpose business related with the same industries and domains, so try it.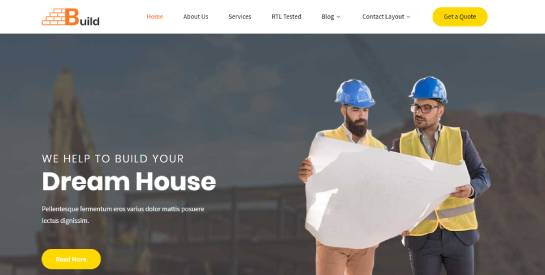 The build is easy to use and customise home improvement WordPress theme that offers you responsive construction-related website. The theme include a number of the blog section, media and news section to cover up your blog post for an audience.
Moreover, it includes a hundred Plus shortcodes that help you to share your content in a fancy way without getting any codes.
This theme comes up with the company section as well as a Project section so that you can showcase your projects easily that help your user to find out about your business easily.
It is a highly compatible theme with the latest version of WordPress. Further, it is coded with HTML5 and css3.
This construction-related theme can present your work of Style and also the testimonials in an impressive way, so the audience finds trust in your company.
The contact us plugin is also installed with contact form where it uses Captcha code and map location to get detailed information about your users.
On the other hand, the theme is flexible and have sidebar options on both left and right side that can feature your content easily. One can use the Build theme to showcase specialization to the targeted audience.
Home Decor is yet another the adequate home improvement WordPress themes that Gives complete control over your website. The theme is specially designed for the website related to interior designing, maintenance, project management, renovation, remodelling and Constructions.
This is compatible with the woocommerce plugin that can allow the owner to sell their services easily. Home decor is supportive with page builder plugin so you can edit the theme yourself. This theme has extensive options that can manage the settings easily.
On the other hand, it also includes Gutenberg plugin as well as 30+ creative pages that allow you to create multiple page Demos and click Demos. The theme is also updated with the new version, so you won't find any issue while using it.
The theme is also cross-checked and tested the theme with various Browsers and devices so that your user would find any issue all interacted with your website.
This is super easy and includes jet pack supply which is the most popular security plugin. The theme is necessarily the best when it comes to choosing mobile-friendly and SEO optimized theme.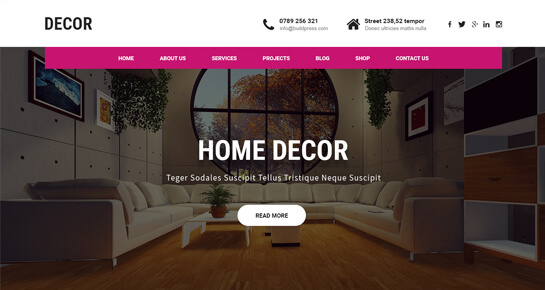 Decor home improvement WordPress theme is designed for business growth related to home designs, remodelling, construction, etc. The decor theme is responsive and compatible with browsers and devices, so your website gets easy to rank on the search pages with fewer efforts.
This theme comes up with one-year customer support, so if you find any difficulty while creating your website you can get the advice of experts.
Also, it is a well documented and completely compatible theme with each of its sections, resultant you can create your website Yourself by not getting any assistance of technicians.
Besides, it includes both header and footer section that has been design-friendly with various layout variations. On the other hand, the decor theme is beautifully come up with four layout variations as well as the standard pages like 404, categories etc.
Also, it includes blog sections and various plugins supportive theme such as visual composer, elementor, Beaver, and live composer.
This is also companionable with woocommerce plugin that helps you don't get your services easily you can also allow the comments plugin that can reinforce your commenting structure that engages the customers more in your website.
Furthermore, the forum membership plugin is also continued and tested with it.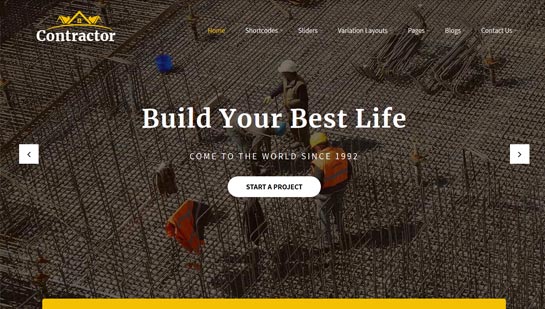 Contractor Pro is a superb and aesthetic designed home improvement WordPress theme build up with SKT page builder.
The theme is closely related to creating a website related to construction companies, engineering sites, renovation companies, home decor, interior designing and many more.
This theme is good in improving the overall functionality of the website that quickly load your page faster and enhance security that gives a positive impact on your visitors.
This is Google XML sitemap provided theme which easily crawls by the Google and you can rank on the search pages easily. Moreover, it provides security from automatic attacks, so you can help users stay protected with your theme.
On the other hand, it includes social media icons that usually support your theme worldwide and you can receive traffic from different countries.
Further, it is available on free installation so that means you can access this best SEO and SMO optimised themes for your business free.
One can pick this theme and increase business performance to a greater extent. It will provide a huge collection of the networks and you can reach your goals quickly.
Kitchen Design Pro is the best animated and carefully designed theme with several sections on the homepage. This is build up with SKT page builder which include various templates that are easy to set up and use.
Also, it is a translation ready and best theme which can convert your content in other languages easily so that you can reach the customers worldwide.
It has been used by a lot of industries already and now it is your turn to build your website with this theme as it includes many customisation options for your content and the website colour and font size.
More than that kitchen design pro is the best and the compatible theme with various forms like BB press to support search Engine Optimization.
Additionally, it includes social sharing plugin which is also compatible and gives great opportunity to give you beautiful traffic to the website. On the other hand, it is right now available on free installation that makes the User experience most exciting.
If you are looking for a theme that simply impresses your audience related to the home decor, plumbing accessories, heating and plumbing services then SKT Plumbing is the best theme you should pick.
In a couple of minutes, you will create your website by using special templates. One can use its 900 Plus Google fonts to highlight the important text of the website as well as your services.
More than that it is fully optimised with Search Engine Optimization and social media Optimization theme.
Further, it is based on the perfect call to action buttons that usually engage your audience with your business.
This follows up of blue colour combinations that simply attract your customers in your business.
Else, you can find the one-year customer support if you find any difficulty you can call the experts for the assistance.
The theme also come up with updated notifications so you do not need to worry about any of issues related with an update. This uses various special characters and standard pages. Try it now!
If you are looking for the premium responsive and mobile-friendly theme with the creative look then just try out the electrician Pro home improvement WordPress theme that based on electrical services related to home lighting, repair, maintenance and infrastructure.
This theme includes default slider and helps you to put testimonials and pictures of your previous work impressively that usually grabs a user attention.
On the other hand, you can change the elements and colours by using the colour picker tool. Also, it involves 404 standard pages that are designed to make your website fully responsive and compatible with every device.
Moreover, this WordPress theme will help you to get four different types of header and footer options, so you can choose your favourite Layout to operate the website.
If you have business-related to electrician services home building and another profession then go for this device and make yes the first step for the business growth.
If your business is related to painting companies, house decoration, painter, home decorators, and related then painting home improvement WordPress theme is complete fits with business requirements.
It is crossed-checked with various Browsers and devices so you won't find any issue of loading the theme.
Painting theme comes up with one-year customer support and gives you multi-purpose design, so you can change the element as per your purpose.
The incorporation of shortcodes is also preloaded that satisfy your requirements on introducing new elements for updating the new content on your website.
This painting theme is based on customising options so you will make changes as per choice and it will give a positive impact on your website. Similarly, it includes slider plugins that merge with various features and allow the users to interact with the website easily.
WoodWorks is an outstanding home improvement WordPress theme related to designing, furniture work and related website. This is completely mobile friendly and browser friendly theme that can target every of your customer.
This includes several page builder plugins such as elementor and live composer that worked pretty well with this theme, and you can create the best inner pages of your website.
WoodWorks will come up with optimising content and plugins. Also, it supports social media plugins hence you can share the content on the various platforms. Furthermore, it is integrated with Google fonts which are above 800 and come up with special characters.
Also, it is tested with various form plugins to support your off-page SEO and you can reach on the search pages easily.
According to the technological purpose, it is the best theme that can take your business into the new Heights. So, what are you waiting for? Try its demo version & find the changes.
SKT Handyman Pro is a service provider theme that can use by different industries like construction, manufacturing, repairing center, home service provider, wall painting business, fabrication, builders, etc.
Call to action are provided at the top of the header and at in bottom to the footer so that your user can easily communicate and reach to you. Different social media buttons are integrated by default to get connect via online.
Free 1 year support and free complete documentation have been provided. More than 650+ Google fonts are loaded and 900+ Icon Pack are included with Home Improvement WordPress Themes.
Coded with the lastest HTML5 & CSS3 code so no need to worry about the loading speed. Because the theme is SEO and image optimized.
SKT Stone is one of industry related and highly ranked templates worth checking. From stone processing and manufacturing services to home and building design and renovation services, everything can be properly advertised with the boundless capacity of SKT Stone.
Powered by tons of essential elements and controls, this template is totally responsive to be accessible for your clients on the go, SEO optimized to be easy to understand and qualify for search engines, as well as admin friendly with a customizer based backend of the theme.
While this top quality template comes packed with pro features and infinite versatility, there can still be functional touches missing from the core ecosystem.
Here is where different add ons, shortcodes and plugins come into the picture. From commercial and translation tools to maps, analytics, slider, gallery and other plugins are all well working with SKT Stone.
Whether you are looking for a complete and well taken care of software to quickly launch your website or planning to customize your own one by adding your design and filling the missing pieces of the default template, Real Estate is what you need.
Comprehensive and all inclusive at the first glance, but simple and intuitive in control and management, Real Estate is one of our best recommendations if we are to talk about the best home improvement WordPress themes for your niche specific business.
Your desktop and mobile armed web visitors will find a unique combination of eye catchy images on the homepage slider combined with easy to navigate homepage sections and areas, social media links to follow, contact form and more.
Taking your newly started website from good to the possible best will be easier and less expensive with WoodCraft than you might think. Real Estate is available at a price that is affordable and a quality that is highly competitive.
This template is built as per the latest needs of modern digital users and as such comes with super fast loading nature, quick response to user's clicks, smoothly navigable levels and responsiveness across a myriad of browsers and mobile platforms.
Getting your narrow specialized home and gardening, home improvement and ceiling services served up in different languages is also possible thanks to the multilingual ready layout WoodCraft grants you with.
Whatever the size of your online project you are going to implement, whichever your priorities concerning your virtual branding are, Locksmith is here for your needs.
It is one of the valuable locksmith and lock installation, housing and domestic service provision, repair and home improvement WordPress themes you can rely on and purchase at a next to nothing price.
This shortcodes armed and color changing template recognized the importance of accurately categorized visual and textual web materials and hence comes with fully controllable structure and menu, widget friendly areas and other content zones, gallery and homepage slider for images and more.
If you want major search engines to be keen on quickly crawling your website and ranking it higher on search results, be sure you can achieve this with Locksmith since the latter is totally search engine optimized.
Gardening and landscaping, tree and plant care, snow removal, carpet and tile, flooring and hardwood services can be effectively showcased to the most target audience with the help of SKT Gardening.
Apart from displaying your services in the relevant sections, you can also start the arrangement of your online storefront for selling your home and interior design, decoration and renovation related materials and products.
In case your clients need your consultation or have questions to be answered, they can use the contact form added to your site by default.
Plugins like e commerce and portfolio, SEO and SMO for scheduling your work and sales, as well as promoting them more efficiently are also compatible with SKT Gardening.
HVAC and Cleaning is the next dynamic ecosystem fitting to your flooring and carpet tile, air conditioning and ventilation, cleaning, moving and packaging services and their presentation online.
Speed up your customer centric site with this powerful template and be sure your content is going to take the most relevant form and appearance when viewed on different devices, when accessed by mobile or tablet users.
Ready to go beyond and above your expectations, HVAC and Cleaning is also customizable in terms of colors and fonts, images of the homepage slider, post and page layouts and more.