The number of WordPress powered websites around the world has exponentially increased in the last decade. This has resulted in emerging of distinct themes that are niche-specific and can help in quickly launching a website. But, have you ever heard about Futuristic WordPress themes? We bet you have not.
These are the themes that are developed with high precision and accuracy to ensure that they serve all future requirements. But are they really futuristic? They indeed are because they are coded keeping the future trends in mind.
This helps you in remaining at the cutting edge of the competition in the present as well as in the future. Explore this read that includes on the point information on the best options that are available in the industry at present.
You can expect terrific support and performance from external plugins that can help you in adding all the missing features.
Integrating social widgets and related features to remain connected with your visitors is also possible. WooCommerce support is offered and it has been critically optimized for supreme performance with search engines.
Best Futuristic WordPress Themes 2022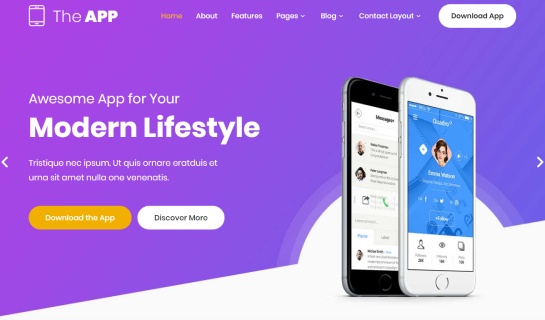 The App Pro is a visually stunning and powerful multipurpose theme in this compilation. Creating unique websites to highlight your application, software, and other service-based products become convenient with it.
It has been developed with a smart and clever design that makes the entire process of setting up, installing, and launching easy. You can empower your site with the amazing and powerful set of tools offered by default.
The interfaces are developer-friendly, graphical, and intuitive so that no specific type of content can be missed out from being featured.
The basic template can be straight away imported, modified, and launched. It is retina-ready and HD-ready so that you do not have to be worried about its responsiveness across any device.
You can easily decide and install the additional plugins required to enhance the functionality as required for your project. Page builder plays a crucial role in minimizing your workload and ensure that all modifications can be done without knowing to code.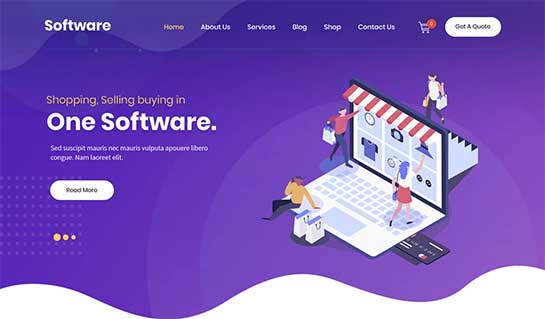 This is a bright, responsive, unique, and multipurpose option in this collection of the best futuristic WordPress themes.
The software industry has expanded from Silicon Valley to Bangalore in the last three decades. It has and is emerging as one of the most looked at industries in the upcoming times across the world.
This creates a hectic pressure to create a theme that can satisfy all the long-term requirements of the client and their audience.
SKT Software Pro is an emerging and widely used theme with a dynamic landing page, optimized SEO, and full room for modification. Functionality-wise all the small and big aspects can be modified within a few minutes.
You can easily create a fresh template, layout, and structure if the default one does not suit you. Moreover, other modifications related to the same and all other elements are possible without any additional requirements.
The compatibility with plugins, languages, screens, browsers, and devices is top-class. We assure you using it will open the doors of evolution for your firm in the online space.
Privacy, security, data leak, hacking, etc. are some of the most frequently associated terminologies with the Internet. All these are of core importance and can directly impact the daily lives of humans.
In fact, a virtual breach of privacy or hacking can be one of the most dangerous occurring events for a corporate, business, brand, or individual.
To cope with this, a Cyber Security theme has been developed that makes it to the futuristic WordPress themes collection. It is customizable, responsive, and comes with attractive animation.
Google rankings are bound to increase with the right content because it is SEO-friendly. The most integral of all is that it is created particularly for security business and can be used for multiple industries.
You can be assured of stability for the long-term when you opt to use it. The elementor page builder has been incorporated by default that enables making all the changes with ease. You can easily integrate Google Maps, Social Media Plugins, and other related programs as required.
Telecom is an integral part of the best futuristic WordPress themes compilation. This is because the dependence on World Wide Web connectivity for personal, professional, and business tasks has increased beyond measures.
Hence, it can help you in creating a prominent website for broadband services, internet service providers, cable television, telecom services, etc.
The basic design is such that it can captivate the user audience from multiple industries. You can quickly create minor changes in terms of layout, templates, colors, and other elements to give it a personal touch.
The approach for development and its use is completely user-friendly so that operations and usage becomes convenient.
You are offered with hundreds of incarnated shortcodes that contribute to improvising the functionality of the website.
All popular plugins that are required for your site can be added without any hesitation or compatibility issues. The coding has been done by maintaining WordPress and SEO standards.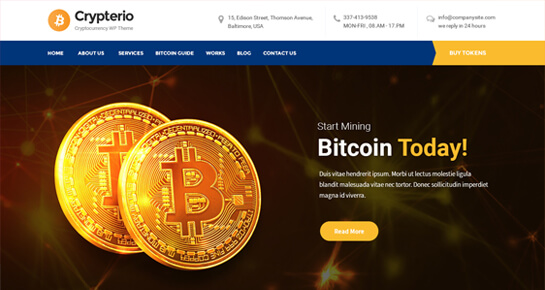 Irrespective of whatever anyone had to say, all of us have witnessed the potential of Cryptocurrency in recent years. Given the present progress in its field, it is going to be inevitable for the future.
This theme will help you create an innovative, fluid & flexible, and highly responsive WordPress website. For creating one of the most advanced and distinctly recognizable websites this is an ideal option.
Every aspect of your web space including behavior, feelings, and looks from the inside-out is completely under your control. Real-time monitoring of changes and full authorization of all kinds of modifications with page builder and customizer is enabled.
You can tweak the settings, color, layout, and template as per the demand of the project at hand. From top to bottom it is streamlined and simplified for SEO which makes it easy on the server load. Integration of shortcodes and all kinds of plugins for enhancing the features are possible.
SKT Horoscope is a versatile and multipurpose theme in this compilation of the best futuristic WordPress themes. When you want to enhance the reach of your skills, talent, and business then overlook everything else and select this.
It comes with high-quality graphics and an interactive user interface that can redefine the concepts of services and products that you are marketing.
In addition to that, without writing any code you can make core changes in the website quickly and easily. With complete authorization and freedom, it is assured that you can create a webspace reflecting your vision.
Visual customization and modification is not a new process or operation. But, here the developers have simplified the entire operation so that even a rookie can execute it.
You can choose from multiple site layouts, sticky menu, mega menu, and hundreds of custom fonts. It is RTL-ready, retina-ready, and offers multilingual and Jetpack support.
All plugins that help you in improvising the functionality of your website are compatible and most of them are also tested.
When it comes to futuristic WordPress themes the ones developed with special features in online teaching are in great demand.
This is because in conventional options when adding multiple features through plugins the performance was affected. Hence, with some fine-tuned development in coding and majestic features, SKT Tutor is the best theme.
It is professional, elegant, and user-friendly across all its components and aspects. For your convenience, the installation process has been re-conceptualized and for ease of set up one-click demo import option is offered.
It is mobile-friendly and compatible with all the latest versions of WordPress. WooCommerce support is offered by default that helps you in setting up a commercial website.
Considering the basic requirements of tuitions it has been tested for compatibility with plugins like an appointment, booking, security, pricing, tables, etc. Experts have ensured that all the coding standards are followed and that it is optimized for search engines.
IT is indeed the future and therefore IT Consultant Pro is an inevitable part of the best collection of futuristic WordPress themes. The better way to achieve success in an online space is by selecting better platforms.
IT Consultant Pro happens to be one of the best platforms you could ask for to develop your website. This is because of the catchy, attractive, and professional visuals that it has along with strong features.
You can use it to create websites for multiple niches and industries as well given its powerful security and performance aspects. Moreover, the integration of all kinds of plugins and modifications of all aspects is possible without writing any code.
Apart from that the page loading speed, image optimization, and embedding of all kinds of content are possible. You will also receive unparalleled customer support for a period of one year and lifetime access to comprehensive documentation of the theme.
High Tech is one of its kind multipurpose, fully-customizable, and highly-responsive themes. Customer demand, intrinsic features, and ease of customization have resulted in its inclusion in the futuristic WordPress themes list.
Page builders can help you achieve the kind of professional and aesthetic appearance that you are looking for. It has also set unique compatibility standards for add-ons.
It offers multiple page-layouts, templates, and color combinations to ensure that you can create the best. Moreover, other additions like default sliders, widgets, integration of WooCommerce, and comprehensive documentation for setup are its acclaimed facilities.
The integration of other popular services like social media handles, Google Maps, Contact Forms, Gallery, etc. is also possible.
The best part is that adding any such services do not impact or downgrade the performance of the site in any manner. It is retain-ready and HD-ready which ensures full compatibility across a range of browsers, devices, and screens.
Research and development is the key to achieving distinctive millstones in the future. But for reflecting such work and connecting with audience and experts on a global scale you need an equally distinctive theme.
Laboratory Pro is one such option for creating websites related to innovation centers, corporate technological business, research & development, etc.
This is because it comes with a clean, minimal, and flexible design approach with zero compromises on features. With effectiveness and ease, you can opt to design or redesign the inner pages. Page builder and customizer will be there to transform your imaginative website design into reality.
Adding or removing sliders, sidebars, widgets, pages, blogs, and others is possible. You get at least four unique options to create footer and headers.
Plugins of various kinds are tested for compatibility so that you never fall short of facilities. Lastly, WooCommerce is also compatible which adds a completely new vertical to your website.
Web Programmer is a super versatile option in this compilation of the best futuristic WordPress themes. This is because it can truly adapt and respond accordingly to any given idea or environment. When it comes to user comfort for navigation and interface then it is the best anyone can ask for.
Prebuilt layouts and demo contents help you get a clear idea of how and what kind of basic approach you will receive.
Other add-ons like sliders, sidebars, widgets, and fonts truly add to the charm of creating a target audience based online space. Content of all kinds including videos, photographs, textual content, and blog format can be added without any difficulty.
Easily integrate other plugins for enhancing the functionality of the website and for the convenience of the users.
Modifications are quick and simple and the entire customization process is easy and possible with all aspects of the theme. It also comes with peculiar features like RTL support, SEO-optimization, translation-ready, and multilingual compatibility.
The last theme in this exclusive list of unbeatable futuristic WordPress themes is Condimentum. This is a multipurpose theme with a soothing design and powerful features. Everything about it including its name is different, new, and productive.
You can easily modify all elements, backgrounds, templates, layouts, and structures whenever required. Any such action does not demand any coding requirements and can be completed in minutes. This gives you an upper hand in keeping your website updated and new all the time.