Creating a website for your painting company can be a daunting task, especially if you're not familiar with web design or development. Fortunately, WordPress has made it easier than ever to create a professional-looking website with a variety of free themes.
These themes offer an array of features that can help you showcase your painting services and portfolio while providing a user-friendly experience for your visitors.
Whether you're looking for a modern and minimalist design or something more traditional, we've got you covered. So, let's dive in and explore the best free WordPress themes for painting company!
Block editor is one of the tools that can be used to customize the contemporary and responsive SKT Patterns WordPress theme, which is dedicated to architectural and interior design. In addition to that, it utilizes the full site editing (FSE) functions.
It also has recurring patterns. The block editor allows for the modification of every component, including the colors and the font. This theme is versatile enough to be used for a portfolio, website design, or websites relating to the building industry.
Windows Door lite is a free WordPress theme that was built specifically for enterprises that make windows and doors, as well as other manufacturing industries, factories, roofing companies, construction companies, industrial plants, and more.
Other potential users of this theme include roofing companies, building companies, industrial plants, and manufacturing industries. This theme comes with a remarkable and tasteful design that, when combined with the online presence of your company, can help you secure a greater number of customers.
With the page builder compatibility function, the process of developing a website will become less difficult and more straightforward.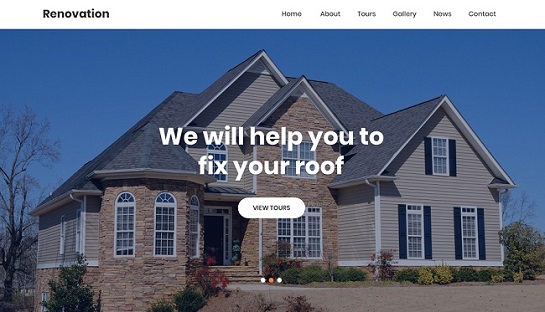 The SKT Renovation WordPress theme is a home improvement theme that is best suited for niches relating to renovation, building firms, construction, and remodeling contractor services.
In addition, it is an excellent choice for a handyman, repairer, installer, mechanic, electrician, craftsman, plumber, marble setter, painter, carpenter, and other skilled employees in related fields.
Because the theme's code is well-written and its design is solid, you can be certain that it will provide your online company with all of the functionality that is necessary. Using the most powerful backend panel, each piece is easily customizable in a matter of seconds.
Because the pages are prebuilt and there is an option to import sample content with only one click, you can have your website up and running in just one hour.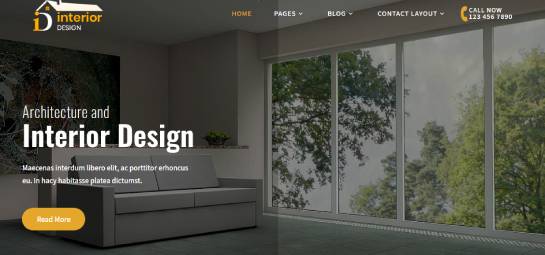 SKT Themes' Interior Lite is a completely responsive WordPress theme that has an outstanding theme that you can use for your eCommerce online business.
Although it was developed specifically for WordPress sites devoted to interior design, you can use it for any kind of company website, including those devoted to food, travel, restaurants, construction, agencies, and consulting!
Interior Lite is a theme that is compatible with eCommerce plugins and NextGen Gallery, in addition to being adaptable and simple to work with. Your users will most likely remain engaged with your site as long as it maintains its contemporary and streamlined appearance.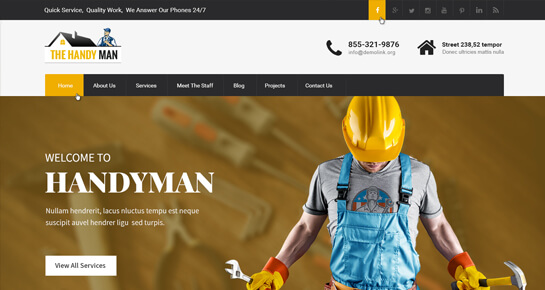 This simple website design for handymen is offered as a free WordPress theme with handyman. This template may be used for the creation of websites for a wide variety of businesses, including but not limited to construction firms, maintenance services, remodelling businesses, carpenter workshops, power providers, and many more.
Wonderful websites may be designed by anybody, even those who have no experience with coding. This theme is done based on the WordPress codex theme review standards.
Maintenance Services WordPress theme is a model theme that can be used to construct websites for any company, electrical agency, home services, maintenance agency, plumbing and remodelling, small business, and websites connected to these types of businesses.
Due to the detailed documentation that is included with the maintenance service theme, creating a beautiful website is now possible for everyone. It included working on and setting up each aspect of the project.
Even users who have never worked with website templates or themes before will have no trouble using this theme because of how basic and simple it is.
This WordPress theme is ideally suited for use in planning websites for businesses in the construction and building industry, such as builders, contractors, development organizations, designing destinations, remodelers, burrowers, and interior decorators.
Since WooCommerce is now flawless, transferring any sort of service transaction, including the sale and purchase of services, should be achievable without the assistance of a third party.
This WordPress theme is ideally suited for planning websites for businesses like as builders, contractors, development organizations, designing destinations, remodeling, home stylistic layout, burrowing, interior designers, and other similar businesses.
Anyone trying to do business online these days requires a website. To attract visitors and spread the word about your company, you really need a website.
This is a basic, free WordPress themes for painting company that responds well to several screen sizes and has been tested extensively for those resolutions.
The use of an approach based on flat design has made it possible to avoid concerns about compatibility with older browsers.
This template is WooCommerce compatible, and WooCommerce functions flawlessly when used in conjunction with this template; as a result, it is very simple to sell products online with this template.
Sharing plugins that are compatible with social media and which have the potential to be useful in increasing traffic by using social media sharing. This theme's code adheres to SEO best practices. As a result, it works with many SEO plugins.
Free downloads are available of SKT Full Width, the most recent version of our full-width WordPress theme. It is a wonderful theme that allows the backdrop to rotate on the main page, and on the inner pages, the background can be changed to whatever the user desires.
The SKT Full Width WordPress Theme may be used for free, and it adapts to displays of any size. A sidebar that can glide down and up depending on what you choose to use as the backdrop for your home page is included with a full-width WordPress theme.
The stunning appearance of the free full-width WordPress theme is achieved by scrolling over the backgrounds that you have specified individually for each page. Since the backgrounds take up the whole screen, the name of the theme has been preserved as Full Width to reflect this fact.
The Ele Business Lite is a free WordPress themes for painting company and is a responsive design that was developed for local and small companies, in addition to those that range in size from very tiny to larger.
We have placed our whole emphasis on calls to action, such as a one-click contact form, icons for various social networking platforms, our physical location's address, phone number, and email address. It is a basic and free business.
The elementor page builder was used in the production of the WordPress theme. When one makes use of the slider backdrop selections, they will have the ability to expound on their company in more depth.
A new trend in user interface design will be followed by the website if it has a design that is straightforward and uncluttered.