A time – proof collection of free premium WordPress themes for all creative and successful web designers and agencies, marketing and digital experts experienced in stylizing and personalizing client websites of any caliber.
If you are a web designer or specialist and want a reliable channel of reaching out to your potential clients, crafting and presenting your own website with your preferred design.
And graphical solutions will be the best starting point of your business undertaking and will grant you with a substantial payoff in the nearest future.
Below you can find the best examples of free premium WordPress themes that are forceful enough to gratify all your provocative wishes and perspectives.
All of them can be acquired without spending a single penny for them, but instead will provide you with the most productive and dynamic platform, on which you can exemplify the vision of your company.
Its full potential and services to structure unique and creative web pages for your customers for the increased results.
No matter which one you are going to give preference to, you can be sure that it will be the safeguard of your challenging place in the contemporary digital paradigm.
1. SKT Design Agency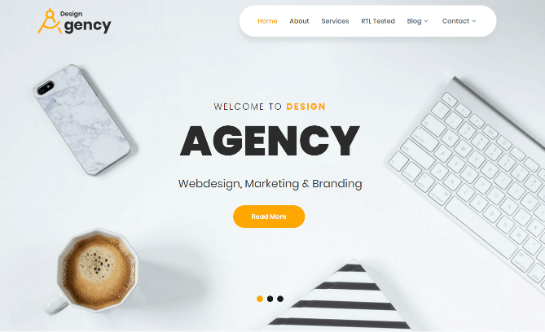 SKT Design Agency is smart and intelligent, powerfully packaged and functionally foremost premium – class while free WordPress template that can be construed as a sample of art centered on making your web design – related business truly worthwhile and easily digestible at the same time.
GPL license availability, responsiveness and cross browser compatibility, tons of configuration and customization options, flawless 5 level dropdown navigation and fast – loading of the theme.
Blog and standard pages inclusion, as well as amazing cooperation with a wide array of modern plugins, including WooCommerce, SEO and other plugins, make a congeneric unity for every web designer to experience to the maximum.
2. SKT White:
Detail – oriented and cleverly – coded, visually and functionally strong, user and customer – optimized, SKT White is loaded as free premium WordPress theme for all kinds of design and developing agencies, graphical experts.
3D animators and other relevant candidates to save their developing time and avail themselves to already clearly coded template with all the primary theme essentials within.
Anyway, if you opt for emphasizing your own style and handwriting, you are enabled to do so. Arm the neatly – arrayed theme sections and areas for showing off your best services and projects.
It display the links of your designed web pages, showcase the alluring pieces of your business in the slider and maximize your sale rates gradually.
3. Gravida Lite: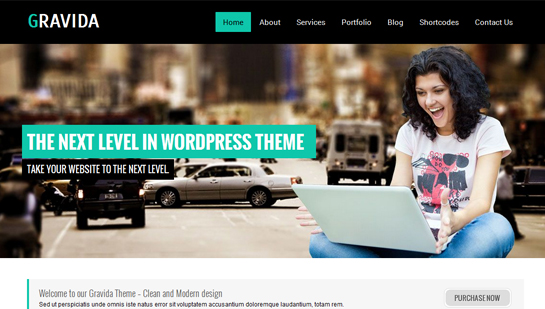 Design your modern and exceptional way to worldwide fame and recognition through Gravida Lite. It's a completely engaging and dynamic, motivational and intriguing product with awe – inspiring color conjunction and inherently easy to use ingredients.
Get the best design agency website practice with no primary investment at all, since the theme is right there for you completely out of charge.
Each and every element of mobile and device – compatibility, smooth and pliable navigation, compliance with the current WordPress codex requirements, Social media integration and much more has been discussed and projected in isolation to be comprehensive and complete in all its exhibitions.
4. Kraft Lite: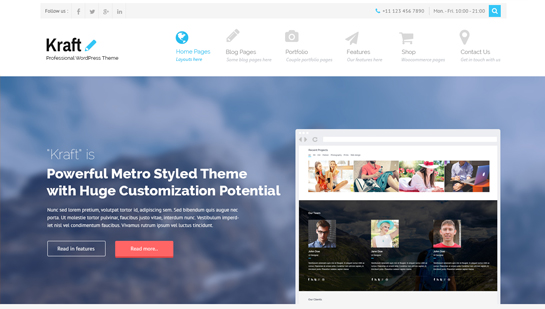 Kraft Lite is one more precious, yet free premium WordPress themes, the each and every part of which has been minutely created with the non – professional user in mind, but has been reached to intuitiveness, precision and perfect usability.
Packed with a wide range of primary features and controls, among them fast – loading character and visually credible design, mobile and device adaptability and complete documentation supported.
Social icons and standard pages inclusion, e – commerce experience and WooCommerce, Contact Form 7 and NextGen Gallery compatibility will make you feel confident towards your future digital success and customer conversion.
5. Wedding Lite: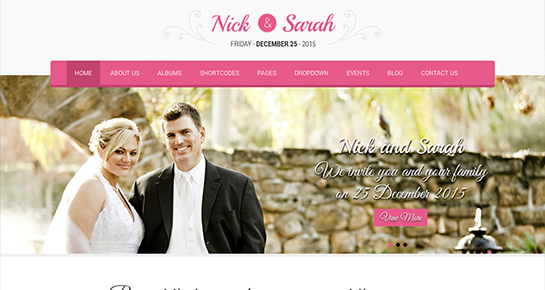 Rise up your design agency website from the ground, offer a bulk of your exciting web design and developing solutions for diverse individual clients and companies to meet their private challenges online with the help of Wedding Lite.
Build a 24/7 connection with your clients and make them the participant in the process of their web design creation process.
This conceptually multipurpose and functionally feature rich web builder toolbox is concentrated on generating original, powerful, practical frameworks for any kind of design – related businesses.
So that the best design models can be showcased on the website sections or as slider images, be it a custom web design and development, or something extraordinary, wireframing or other services.
6. SKT Black: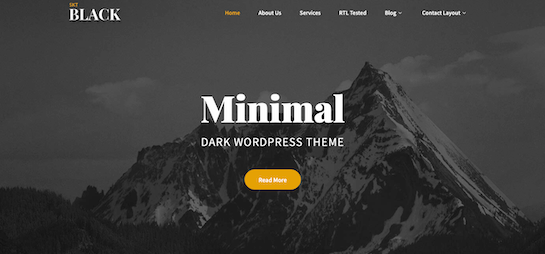 SKT Black Pro seamlessly balances between customer – driven and easy to follow structural peculiarities and technically cutting –edge performance, making your future web design profile literally unbeatable.
Before you get started through, be sure that you will be far away from discrepancies with the theme and will be ready to build your presentable profile from the ground up easily and effectively.
The theme's arsenal comprises elegant and thriving visualization, customization – optimized features and extendable functionality for speeding up your upcoming digital success and letting you conquer new business horizons by means of online shopping experience and more.
This free, yet strongly advised template has a distinct honor of being totally responsive, which means that all your website visitors and users will be guaranteed with a great viewing experience across a wide range of mobiles, tablets and other portable devices.
7. SKT Parallax Me: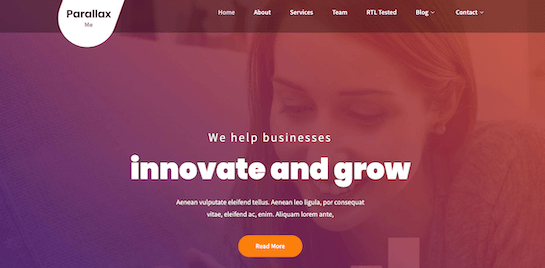 If you are for the specific unity of effective visual layout and impeccable inner performance, then SKT Parallax Me shares the most convenient environment for your digital activities.
Parallax web design has been exercised in the right way to make your content distinctive, interesting and captivating.
This is one of the available tactics of grabbing your website viewer's attention and lead them to the most beneficial parts of your services, consultation, digital products or whatever you have prioritized to offer them.
At a deeper level, this free premium WordPress theme with its customer – driven character and error – free operation is ideal for any web designer or design agency.
When it comes to creating websites, it used to be difficult not to mention the fact that most web design companies used to charge exorbitant rates for developing the same from scratch.
That's why, as a business owner who is just starting out you may want to focus on the core of your business and opt to develop your website using the WordPress platform.
For starters, you should be able to choose the layout; the overall design features and custom build it from scratch.
In the old days, you would have to write runnels of codes, but now, thanks to WordPress platform, everything is pretty much automated; so check out some of our premium WordPress themes for web designers and choose the one that seems to be the 'right theme' for both you and your business.
Remember, that a website is a powerful marketing tool only as long as the theme you have chosen is good enough. It all comes down to what you are looking for; for example are you looking up to just set up a corporate blog or do you need a website that can help you market your key products and services to the targeted customer base?
Once you have worked out the main motivation behind your need to set up the website, you can move ahead and check out some of the premium WordPress themes for developers and set the ball rolling.
Building a website has never been this easy, and it is all thanks to platforms like word press – you should be able to register, choose from one of the free premium WordPress themes for web designers and get a responsive, intuitive website that looks every bit as professional as the rest.
Of course, there is a very good reason as to why you may want to opt for premium WordPress themes for web designers – for starters, these come with built in flexibility that allows you to customize and tweak it later on, as you see fit.
Apart from it, it provides you with better storage space and enables you to share large amounts of data with your audience.
In other words, you should be able to upload videos or anything else that hogs a lot of space without a hassle onto your premium WordPress themes. Various studies have shown that videos are much more effective when it comes to marketing as the customer is liable to stay engaged.
Naturally, you need to choose a good theme with the proper layout for your website which is why you should check out some of our premium WordPress themes for web designers or even do a demo with the same to get an idea of what your website would look like.
The demo feature, which is more of a show and tell should make it easier for you to choose the right theme for your website.
And remember the golden rule, your website needs to be adaptive, responsive, robust and intuitive and as long as the theme you have chosen does this, then you should be all set to become a success story, in the making.
Checkout more free WordPress templates from https://www.sktthemes.org/product-category/free-wordpress-themes/