Football WordPress themes are the best options especially if you own a business related to sports. Definitely a good choice for coaches and trainers in sports especially former athletes Football WordPress theme can be also used in advertising and promoting sport clubs.
Its versatile nature with effectively designed sections helps the retail shops to use to it to full potential.
Many of its features are cleverly designed with full effects of boosting businesses and scheduling in a proper managed way. You can easily present engaging content of your choice with Football WordPress themes along with all of its features.
WordPress sports themes are built exclusively for sports-related websites with retina ready styles and colors with crystal clear pictures from web.
The sports feature theme is made to work equally well on all the web browsers popularly. It has WPML features compatible with popular third-party plug-ins to provide more creativity freedom for the users.
It comes with good organized menu options, testimonials and client reviews for you to make informed decision. Football WordPress Theme also has plugins from Woo commerce allowing you to sell out sport related team.
Best Football WordPress Themes for Sports Events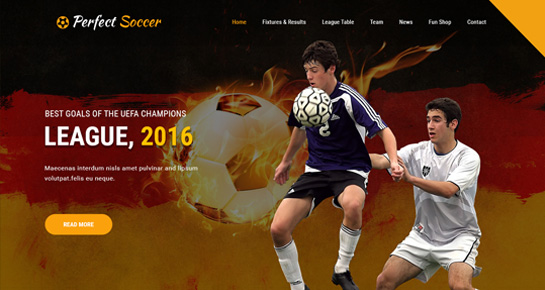 Soccer is a responsive WordPress theme, especially for football, soccer and related games. It comes with list of features like List of players, League table, Fixture and results.
It does more than simply presenting syndicating information culled from other websites. Its features help in maintaining and attracting audience in a highly competitive modern online environment. Their main goal is to create you a football team website highly functional and flexible.
Its features:
Data is organisable and can be distributed properly across the website. Users can navigate and locate things easily.
Project stories and news on the curve.
Have blog layouts to keep readers updates
Have more plugin to increase creativity and flexibility on hand.
The theme contains widgets, magic buttons, modules, internal pages, layouts and skins to make your website the best.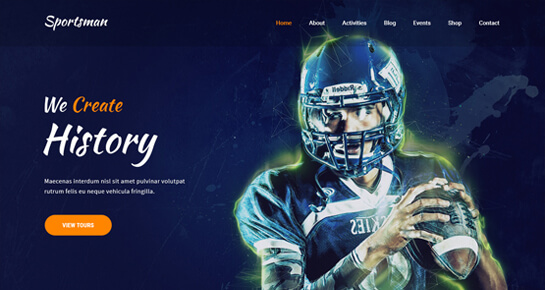 Sportsman Pro has minimal design with hassle free navigation enabling the users to flexibly roam through the web pages. This theme is developed with keeping users and client's requirements in mind like SEO, Social icons and other custom icons.
Apart from its professional functionality and quick operating speed, Football theme WordPress focuses on its beautiful simplicity and comfortable user interface which provides easy functioning and easy customization.
This WordPress Name is compatible with all browsers and presents unlimited colors with typography options. It allows 24 seven outstanding support services.
Its features:
Awesome font icons
Widgets available in all sizes
The site is adaptive and responsive
Elegant and modern designing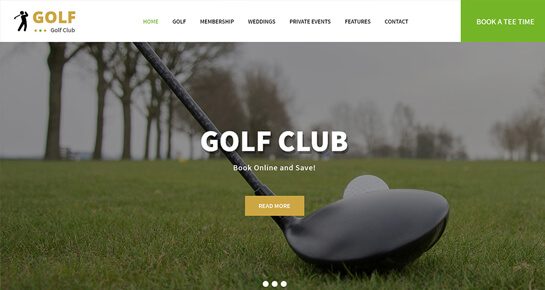 Golf clubs and golf resorts around the world are luxurious in terms of their services and especially where the people can go.
Hence golf resorts around the world should showcase their own and off course facilities. They should showcase different kinds of facilities and amenities provided like tennis courts or swimming pools.
This is one of the types of football WordPress themes has location and social icons presented very nicely and even the animation options are available. The very important element for any kind of resort or hotel is call to action.
Its features:
Modern coding is used like HTML5 and CSS with flat aesthetics
Simple to handle its backend which is based on customizer for WordPress theme default.
Explanation of top-services is provided from top to down and underneath the slides.
Its translation ready and multi-lingual friendly
Browser and resolution friendly and cross device friendly as well.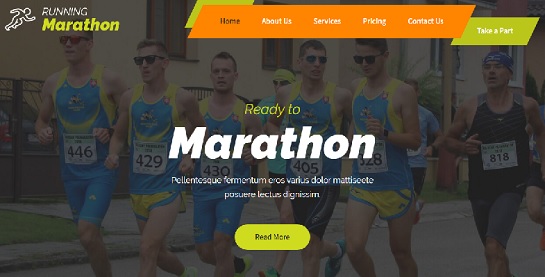 Sports business is quite huge and people belonging to the same field want to maximize the profit in the same sports industry.
In order to make it possible you have to mark on everyone's mind which is quite tough in this competitive world. But watch it means nothing is impossible you can make it happen through Marathon WordPress Theme.
Creating websites using footballs is a very simple task. This team will be very beneficial for runner's trainers, fitness centers, marathon organizers and fitness enthusiasts.
These WebPages are considered to be flexible because you can add any customizable plug-in in order to extend the functionality of the website.
Its features:
This customizable plug-ins makes the pages and the sections of the website very dynamic in nature including easy navigation property.
The features of this team will allow you to make your own unique look as you want.
Simple to handle as its backend is based on customizer.
Users will be able to find information very quickly
Multilingual compatibility.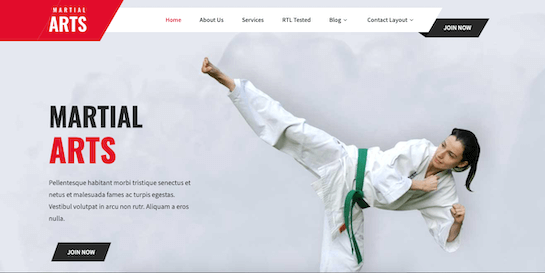 Martial art WordPress theme can help you create a website full of sporty and dynamic features. Their template uses colours and images to help the viewers to be invited and proceeds with the training.
It is the most simple and natural way to administer people irrespective of their images and backgrounds. A website that promotes I need to pick Martial arts must respect the culture and roots of the sports.
So in order to build a Pannier on the website with Sally difference to the spot there has to be a fantastic presentation on your pages, especially if you want your audience to take interest in your offerings in sports like karate and kung fu.
Its features:
This Football WordPress theme has high flexibility to well organize the content in your website.
Multilanguage compatibility
Cross-browser compatibility is also available.
SEO compatible.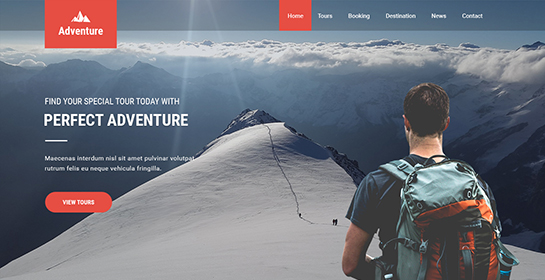 Adventure WordPress theme is simple, minimal and is a very responsive in nature. This theme offers flexible option panels which are very customizable and based on high intensity creativity.
This theme is translation ready and very advantageous for plug-ins and businesses. It's based on very simple languages like HTML5 and CSS3.
They own capital gains options to make a website where professional tactics are applied. This Football WordPress theme is adventurous and provides popular plug-ins. It is multipurpose template and people can create any type of business, personal blog and e-commerce website.
Its features:
It's compatible with Woo Commerce plugin to make a shopping website.
It offers many customizable options, modern responsive and retina ready attributes.
You can choose from a pool of customizable fonts and colours.
Different layouts can allow you to select from 400+ available icons.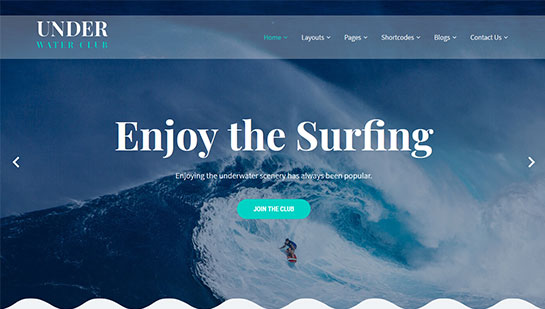 The underwater pro theme is straightforward and professionally designed for creating unique websites primarily related to aqua diving clubs, sea adventure, surfing and other activities.
For most of the people, activities done in water are not about leisure time but are a lifestyle. This Football WordPress theme created in the color blue is peaceful to everyone's eyes. So if you're interested in the underwater lifestyle and want to showcase you're engaging through your website, start a business.
Build a website first for starting the business. This template is as flexible as water where you can showcase all your services to provide pieces of information through your videos and galleries to attract many visitors on your website.
Its features:
One can view the website on any device like laptops, tablets and mobile phones.
Homepage section helps you showcase different layouts along with videos and call to action button for choosing the best services.
Very modern and flexible WordPress theme, with inner sidebars layout available.
The premium version is 100% responsive and flexible.
SKT perfect is a perfect world press team which can be used for many commercial websites and is multipurpose in nature. These football WordPress themes are super flexible and scalable.
Their supporting plugins have several fantastic customization options and they create different designs which cater to various industries and commercial websites.
Most of the portfolio websites can be easily created with its compatible plug-ins and several sliders in themes along with layouts for galleries.
It's very efficient for photographers to have the desired type of website with choosing the right plugins and creating their site visually attractive and outstanding.
Its features:
Compatible and integrated with the different font icons which are more than 600.
These themes are SEO compatible and responsive along with being mobile friendly.
Perfect themes are available with all kinds of themes which are also related to commercial themes.
Translational ready with multilingual plugins to make the sites more flexible and functional.
Sharing button and SEO compatible with various commenting plugins.
Horse riding themes have the most helpful approach to deal with the site. If you don't have any coding information to deal with the site then horse WordPress themes can help you showcase some qualitative features. Today they come with effective layout customizations with unique PC aptitudes and features.
With keeping the best visual representations can be utilized by pet and veterinary related centers, canine instructional courses and sport coaches. It's very responsive which impacts the layouts of the site and generate contents accordingly as per needs.
Its features:
Ultra-advanced with negligible formats to any sort of equestrian sites.
The Football WordPress themes are assorted and are filled with flexible choices of plug-ins.
This Football WordPress theme is supported by all kinds of browsers and devices.
Headers and side bars layouts are fully customizable and can be adjusted according to the user's wishes and requirements.
It has diverse and excellent layouts for inserting high quality images and even animations.
SKT gym pro theme has very cool animated columns with sectioned layouts dedicated for blogs, galleries and videos. The SKT gym pro theme hosts around 2 variations of animations for the users to choose from.
It has more than 500+ icons, which are based on font size and can be used over anywhere over the website page. It comes with a slider which is under default actions along with customizable shortcodes.
The site is easier to navigate and is functional in terms of usage with selecting you own style and fonts. There are many requirements and needs that show up while building a website.
Its features:
It has compatibility with Woo Commerce such that it can be functional as shopping website.
All the SEO plugins are compatible with this theme.
This Football WordPress theme is incorporated with animated columns where you can any part of it and can apply on any part of the website.
The theme installs within seconds and works efficiently with Google and other browsers as well.
This theme has more than 500 social media icons and is compatible with all social media platforms.
Most businesses today deal with web for brand awareness, for both private and public organizations. Applying online strategies is actually a powerful tool for brands to expand their customer base with online visibility.
Built-with military style in mind the Military WordPress theme has come into existence perfect for crafting any branch of services ranging from sports to actual military services.
Installing this Football WordPress Theme is secure, dynamic, and functional and generates high conversion due to its flexibility.
The websites incorporating these themes can also be promotional and used as shopping websites. It's one of the best tools to start your business only if you know how to function properly with this theme.
Its features:
These themes are perfect for crafting any branch of service is plug-ins and layouts can be used for various subjects. As it is multipurpose.
Its mobile friendly, compatible with all browsers and people irrespective of any device can access your site.
Its SEO friendly with helping the site to gain good traffic and leading more revenue generations.
The shortcodes are always available and ready to be played with, and make the site more customizable and functional.
This Football WordPress theme is a one-click feature, can be installed within one click itself.
Conclusion:
The above mentioned Football WordPress themes are compatible, user-friendly, mobile-friendly with powerful and premium plugins. The page builder integrations can be customized without any knowledge of coding.
These themes come with cool customizable plugins and shortcodes, which can be effectively changed as per needs and requirements of the users. You can always do the Woo Commerce integration with the entire above mentioned theme templates.