Finance WordPress themes are created expressly to satisfy the requirements of companies, associations, people, and other entities that operate in the financial sector.
These themes have features designed specifically for the finance sector, like tax calculators, unique widgets for showing your financial data, and other tools for financial analysis.
In addition, such types of WordPress themes for the financial industry frequently have pre-built layouts and other design components to assist you in swiftly building a financial website that looks professional.
The following points will show the usefulness of these types of WordPress themes:
This is a WordPress theme that offers a simple modification interface that enables users to alter the appearance and feel of their website quickly. The layout of this kind of theme instantly adjusts to the device it is being viewed on, thanks to its responsive design.
This WordPress theme is focused on security and performance in mind.
It is regularly updated and backed up to ensure website security and optimal performance.
The theme comes with a selection of useful plugins and widgets that make it easy to add additional specifications cum functionality to your site.
Finance WordPress themes should be SEO optimized.
The use of this theme ensures that search engines properly index your website.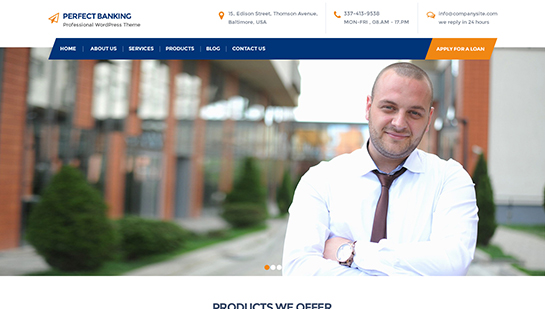 SKT Banking is one of the popular finance WordPress themes. The theme is built to be totally responsive and attractive on every platform, from desktop computers to mobile phones. It has simple features that allow you to quickly change your website's style and feel.
It comes with a full-width responsive slider that can be used to showcase your products or services.
It is optimized for search engines and is fully compatible with popular SEO plugins.
It is fully secure and is regularly updated to keep your website safe from any malicious attacks.
Its Banking is fully compatible with e-commerce plugins such as WooCommerce and Easy Digital Downloads.
It has a dedicated support team is always available to help and answer any questions.
The SKT Specialist theme has several page layouts and allows you to construct your own layouts using page builders. The inbuilt drag-and-drop page builder makes customization simple.
Its multiple header styles allow you to choose the perfect look for your website.
This theme is translation ready, allowing you to create a multilingual website easily.
You can choose from multiple slider options for your homepage, such as the featured image slider and the carousel slider.
It comes with multiple color options, allowing you to custom change the look and feel of your website easily.
You can easily customize the homepage of your website with the pre-built drag-and-drop page builder.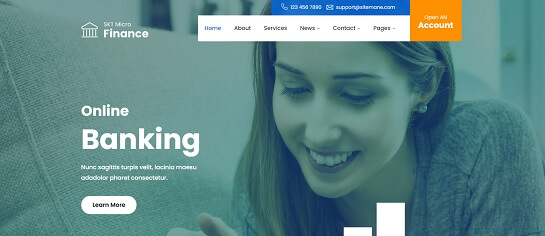 SKT Microfinance is designed for easy setup and customization, so you can get your website up and running quickly and easily. This theme is popular amongfinance WordPress themes.The theme is designed for easy setup and customization, so you can get your website up and running quickly and easily.
It is a fully responsive WordPress theme.
It looks great on all screen sizes and devices.
It comes with a huge array of widgets to be used to create a professional-looking homepage.
It is also optimized for SEO, making it easier for customers to find your website.
It offers dedicated user support and can be reached through its customer support page.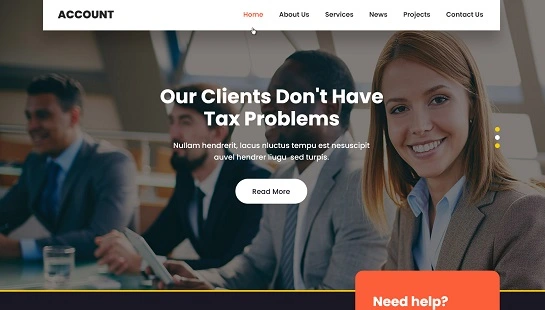 SKT Accounting is a user-friendly theme that is simple to install and configure. Its visual page builder allows you to construct pages without any coding experience. You may also change the appearance and feel of the theme using the provided settings panel.
It is a mobile-friendly theme that is entirely responsive.
It is search engine optimized, so your website will appear higher in search results.
It has several custom widgets that may be utilized to enhance the functionality of your website.
It has a professional appearance that is ideal for accountancy and consultancy websites.
The theme is available for translation.
Ele Business is a WordPress theme meant to look great on every screen-size, from desktop to mobile. This is one of the most popularfinance WordPress themesamong web developers. This WordPress theme has many portfolio styles that you may use to exhibit your work.
The theme has an intuitive and simple-to-use customizer.
The theme is SEO-friendly, guaranteeing that your website ranks high in search engine results.
It has a robust drag-and-drop page builder to assist web developers properly in the design,
The WordPress theme has numerous slider styles.
The WordPress theme has a variety of header designs.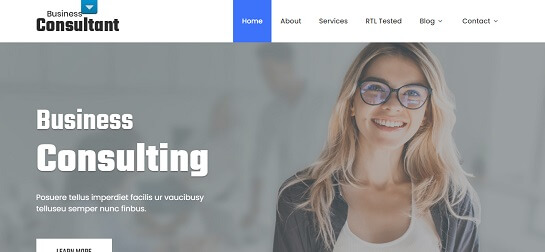 GB Consulting WordPress theme is search engine optimized, which helps your site rank better in search results. This theme has social media integration, which allows visitors to effortlessly post material from your website on their favorite social media sites.
It works with all major web browsers and provides a uniform user experience across all devices.
This theme features many unique widgets to help with content management.
It offers several configurable menus to help you arrange your stuff.
This theme is ready for translation, making it simple to establish a bilingual site.
It has automatic up-t0-date features to help keep your site up to current with the newest features and security patches.
The GB Insurance theme is a highly configurable type among thefinance WordPress themes. It has an easy-to-use user interface. Users may need to learn how to code to modify the theme, which is responsive and suited for mobile devices of all sizes. It looks fantastic on any screen size, from small cells to giant desktops.
The theme comes with pre-built pages for insurance companies.
The theme comes with a template builder, which makes it easy to personalize the look and feel of the website.
This theme is SEO optimized for higher search engine rankings.
The theme is secure and protected against malicious attacks.
The theme comes with dedicated customer support.
SKT Corp Pro comes with a wide range of short codes, allowing you to add various elements to your pages easily. It has a fully responsive WordPress theme looks great on all devices, from mobile phones and tablets to desktops and laptops.
It comes with multiple layouts to allow you to create the perfect website.
The theme is SEO optimized, making it easier for your website to be found on search engines.
SKT Corp Pro comes with an intuitive theme customizer.
It has a full-width slider, allowing you to showcase your products and services.
Its several-page templates will enable you to create custom pages quickly and easily.
The Business Consulting WordPress theme is SEO-optimized and created following the most current coding standards. It has a powerful yet simple customization panel for giving your website a distinct appearance and feel. The theme is responsive in design.
All major browsers have been tested and confirmed to operate with the theme.
The theme has numerous distinct home page layouts from which to pick.
The theme features a number of custom widgets and shortcodes.
The theme integrates social media, allowing you to share your content effortlessly.
Because the theme is ready for translation, you can easily construct a bilingual website.
With its drag-and-drop page builder, predefined layouts, personalized widgets, and shortcodes, Bizness Pro is made with simplicity in mind. It includes a WordPress theme that is completely responsive and looks amazing on both desktop and mobile devices.
The theme includes a variety of customization possibilities, like uploading unique backgrounds and logos and using an endless number of colors and fonts.
It has integrated SEO tools and is search engine optimized.
The most popular eCommerce plugin, WooCommerce, is compatible with it.
Google Fonts and the theme work together without any issues.
It integrates into your website more effectively with social media.
In the list offinance WordPress themes, the Spirited Pro WordPress theme is designed with an intuitive interface that is easier to customize and configure the theme. It also includes an extensive collection of powerful options and settings.
It is designed to be fully responsive, as it looks great on any device.
The theme allows you to customize the theme with ease.
It is optimized to help your website rank high in SERPs.
It is entirely in line with the popular WooCommerce plugins.
It allows you to create a powerful and fully customizable online store easily.
SKT Consulting Pro has a robust Theme Options Panel that makes customization simple. You can change how your website looks and feels with a few clicks. It is a WordPress theme that is entirely responsive and created to look fantastic on any device.
It has a variety of page layouts that let you design unique, personalized pages for your website.
It contains personalized widgets that let you extend the functionality of your website.
It has sophisticated typography choices that allow you to alter your website's font types and sizes.
It offers several slide-show choices.
Its thorough documentation makes getting started simple.