In today's digital age, a robust online presence is imperative for businesses in the financial sector to thrive. WordPress, as a versatile and user-friendly platform, offers an array of specialized themes tailored to meet the unique needs of financial institutions. These themes provide a solid foundation for financial businesses to enhance their online performance, boost credibility, and attract more clients.
In this article, we'll explore how WordPress themes, such as Finance, SKT Banking, GB Consulting, and others, can help the financial sector achieve better results in the virtual realm.
The Finance WordPress theme is a powerful tool for financial companies, enabling them to build professional websites quickly. This theme has customizable sections for showcasing services, testimonials, team members, and more.
Any business in the financial sector wants to look professional and promising. People interested in investing and borrowing money seek service providers with goodwill in the market. Showcasing testimonials of happy clients on the homepage is one of the several ways to keep your image up in the digital world.
The Finance WordPress theme lets you choose from various layouts and widgets to customize the home page and overall website appearance.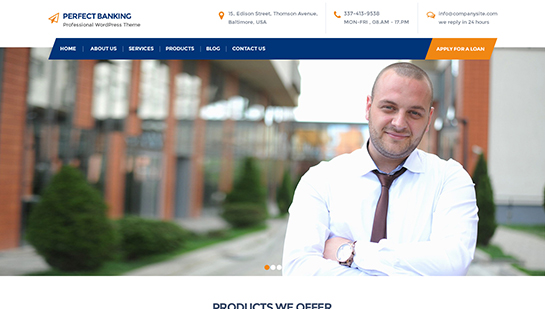 Specifically tailored for banks and financial institutions, the SKT Banking theme provides a sleek and modern interface that instills trust and reliability. Its user-friendly layout and robust features allow for seamless integration of online banking functionalities, secure client logins, and transactional services, ensuring a seamless user experience for customers.
The theme is compatible with popular plugins Easy Digital Download and WooCommerce. These plugins ensure secure financial transactions online. Although more people are now using digital money, the question of security and data privacy still haunts the mind. Any business that provides financial services online needs to have a robust plan to ensure the safety and security of its customers.
A platform or wallet that is safe to put money in and withdraw is trusted and promoted by the users. So when choosing a finance WordPress theme, make sure to opt for the one that ensures the safety of your customers.
SKT Specialists theme offers a clean and sophisticated design for specialized financial services such as wealth management. It highlights expertise, credentials, and tailored financial solutions, building credibility and confidence among potential clients.
The theme's intuitive navigation and compelling call-to-action elements encourage visitors to connect with financial experts effortlessly.
Competition in the digital or online market has grown so high that even a small business wants to be visible. They use eye-catching techniques such as beautiful colors, themes, fonts, attractive images, and more to attract the targeted audience. Businesses in the financial sector can use sliders, galleries, testimonials, and more to attract customers.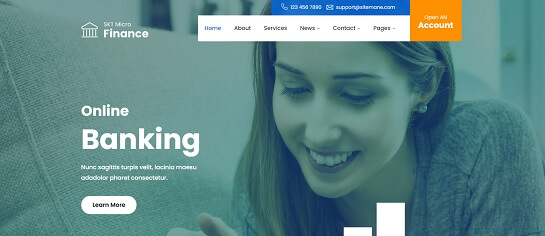 Explicitly designed for microfinance institutions, the SKT Microfinance theme emphasizes inclusivity and financial accessibility. The finance WordPress themes are essential for small-size businesses as they have a lot of things to do and significantly less time for everything.
SKT Microfinance can be installed in one click. It is ready for use and has unique features such as quick customer support and a professional-looking website. The theme is a must to try for new businesses and those who are ready to expand their business online.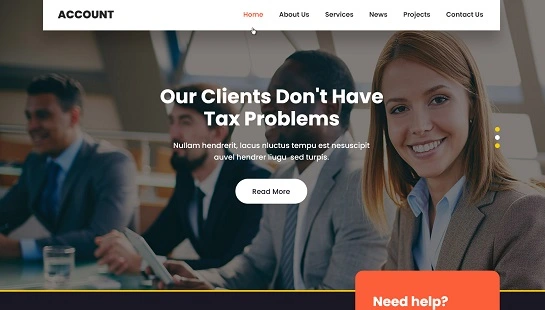 SKT Accounting theme caters to accounting firms and financial consultants, providing a professional platform to showcase services, case studies, and client testimonials. The theme's customizable features and easy-to-use interface enable accountants to create an informative and visually appealing website that builds credibility and attracts new clients.
Businesses offering online financial services should use finance WordPress themes to make them more visible. People in the finance sector usually need lack coding experience. So having a website that does not require coding is a blessing in disguise.
Moreover, mobile responsiveness is also very crucial for online business. Most financial companies provide dedicated app services to their customers. It is essential to have a mobile-responsive website to download and promote the app.
Ele Business theme caters to a wide range of financial businesses with its versatile design. This theme's robust features, including multiple layout options and dynamic elements, allow financial institutions to create an online identity that matches their brand values and objectives.
The financial sector is booming and challenging as it has also become available for online users. People are interested in putting their money online either by investment or through buying bonds and shares. So, a website that reaches all targeted audiences at the right time is crucial.
This is possible through proper SEO strategy. SEO helps websites ranks higher and even helps showcase web link to online users looking for keywords such as finance, investment, and more.
Ele Business is one of the most promising finance WordPress themes that can help rank your website and make it appear in the top searches.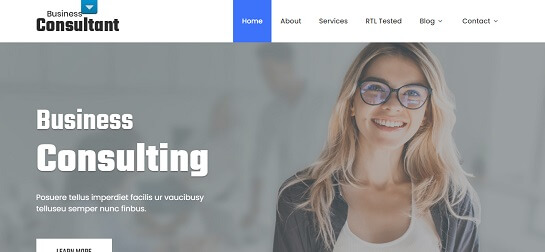 With its clean and elegant layout, the GB Consulting theme is a perfect fit for financial consulting firms. The theme's portfolio section allows consultants to effectively display their expertise and past projects, establishing authority and fostering trust among potential clients.
When choosing a finance WordPress theme, one should select a theme compatible with all major browsers. Another thing that is important to consider is the configuration of the theme. Is it easy to install? Or does it require special skills? Businesses in the finance sector may hire a professional to build a website. But if budget is a problem, you should go for a website that is easy to set up.
Choosing a WordPress theme installed with one click can save you money and time. As a financial services provider, you may have to work on a tight timeframe, but at the same time, you also need to be visible online.
GB Insurance theme is tailored for insurance companies, brokers, and agencies, offering a seamless platform to showcase insurance products, benefits, and coverage options. The theme's user-friendly interface and informative sections empower users to make informed decisions regarding their insurance needs.
When customizing their website, insurance companies should consider applying finance WordPress themes that let them stay actively engaged online.
SKT Corp Pro is a multi-purpose theme suitable for various businesses in the financial sector. Flexibility and customizable features enable corporations to create an engaging online presence that reflects their unique brand identity and fosters client loyalty.
One of the biggest challenges in the financial sector is to maintain the trust of the customers. As a business owner, you should draft a strategy to keep your customers happy online. You can promote online services through your website, such as travel saving plans, easy loan plans, and more. But, to provide valuable services, you also need a website that protects your customer's details.
Designed for financial advisory and consultancy services, the Business Consulting theme provides a sophisticated and professional platform. Its integration with appointment booking systems and lead generation features streamlines client interactions, enhancing the efficiency of financial consultancy services.
A lot of people seek professional advice for their finance. They are interested in knowing how they can save more and maximize their returns on investment. And for them, the expert is the one who has knowledge of the subject matter and has already helped people in their financial decisions.
Through testimonials and feedback pages on your website, you can highlight the comments of your previous clients. Testimonials are also suitable for explaining to new customers how you can solve their problems. What approach do you use to understand their issues?
Bizness Pro is an all-in-one theme for businesses seeking a dynamic and engaging online presence. For financial companies, it seamlessly integrates service sections, client testimonials, and lead capture forms, optimizing lead generation and conversion.
Online businesses sometimes need more than just a website. They need social networking tools to communicate with their customers. The Business Pro theme works wonders with social networking tools. Through your website, you can share with your audience on social handles. Moreover, you can also direct traffic from social platforms to your website through online marketing.
Spirited Pro theme suits financial startups and emerging fintech companies with its modern and visually appealing design.
The theme's attention-grabbing layout and interactive elements help new businesses stand out in the competitive financial landscape. The theme is search engine optimized and helps your business stay visible online.
SKT Consulting Pro caters to financial consulting firms and advisors with its comprehensive layout and essential sections. The theme's emphasis on expertise and personalized solutions encourages potential clients to seek professional financial advice and services.
Financial consultants need to have an online presence that makes them look promising and helps win the trust of prospective customers. Therefore, you need a professional-looking website, so choose one of the pro finance WordPress themes.
Most WordPress themes are easy to customize and have user-friendly layouts. You can add slides to showcase services, testimonials to highlight comments of happy customers, and a lot more.
Conclusion:
WordPress themes have revolutionized the way financial sectors operate online, offering an array of specialized themes to cater to diverse financial businesses. From banks to microfinance institutions, financial consultants to insurance companies, these themes empower businesses to create impactful online experiences.
The themes mentioned above, such as Finance, SKT Banking, GB Consulting, and others, equip financial companies with the tools they need to build a credible and efficient online presence, enhancing their performance and attracting a broader client base.