The growth of virtual learning has resulted in the rapid introduction of elearning WordPress themes. Are you looking to download one such theme for creating a prominent website?
If yes, then we have compiled the best ones from across the web in this read. You can easily use it to teach a single or variety of courses and programs.
With eminent aesthetics and flexible design, these themes will prove to be a convenient solution for creating as well as maintaining the website. But what is so special about them?
These themes by default include tons of features and basic functionalities that are required for setting up an online classroom. Various other benefits associated with it are discussed here so that you can wisely select the best one for your site.
Best eLearning WordPress Themes For Online Course 2022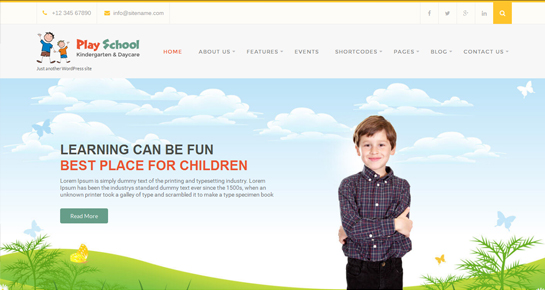 Play School is a perfect theme to create a dedicated online learning space for children. It comes with unlimited possibilities and with a little tweaking of colors and graphics you use it for schools and universities as well.
You can flexibly use it with various Learning Management Systems. Additionally, it offers WooCommerce support that ensures smooth transactions of the sales of the online courses. The theme is already prefilled with different kinds of relevant content.
There are also many images and high-quality graphics in different sections and subsections. A dedicated layout is also offered if you want to enable blogging with your present website.
The theme also offers an inbuilt photo gallery so that you can easily upload pictures of your achievements and facility.
Compatibility with third-party plugins is also tested and you can rely on them for adding other features. Hundreds of inbuilt shortcodes are offered for your convenience of adding features without writing code and depending on plugins.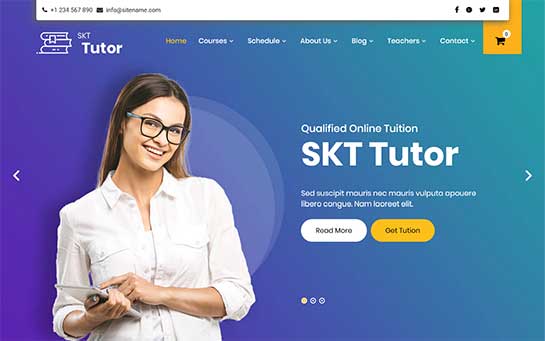 Affordability is one of the core reasons that educational institutes started offering online courses. But to ensure that the affordable courses offered by your institute reach out to the potential candidate you need a dynamic website.
SKT Tutor is amongst the most dynamic and vibrant elearning WordPress themes that can help you in doing so.
It is preferred and is in high demand by training centers, web education, and similar online courses. It offers you more than one prebuilt templates that can be installed with just one click.
This helps you in saving considerable time for figuring out the correct structure and layout for such a website. Additionally, you can also rely on these templates for updating your website after a certain time.
The best part is that it is feature-rich and is completely customizable. Without compromising on the brand and reputation of your institute a significant online presence can be established. It is tailored to perfection for better management and one of its kind user experiences.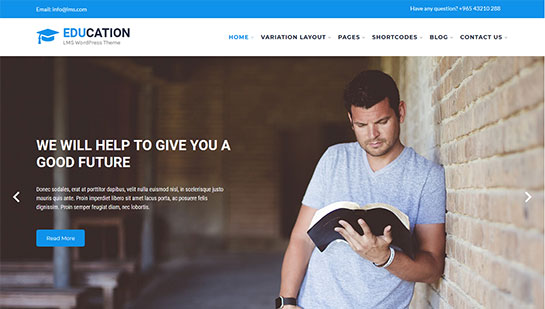 Shaping the future of the students is now possible despite being an ocean apart from them. Online classes are gradually revolutionizing the future of education.
SKT Education which is amongst the most popular elearning WordPress themes is the best at it. SKT Education offers you a website where you can project you're expertise and strength of your institute.
Along with this, it is also equipped with features and capabilities to host online classes for students. The best part is that the entire theme is coded to deliver the best results across all operations chosen by you.
You can easily integrate with various learning management systems and also with WooCommerce. This helps you in conducting and selling online courses in various niches.
The modification of the templates, elements, or any other subsection is easy and can be done in a few clicks. You also get one-year customer support and comprehensive documentation for resolving all kinds of issues in the setup process.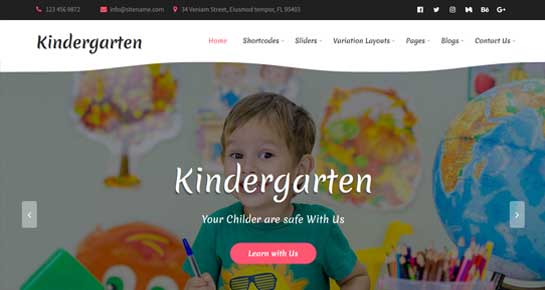 This is an exclusive theme in this compilation of elearning WordPress themes. Such themes are rare and tough to find through any other source. Kindergarten is dedicatedly developed for creating an online teaching website for kindergarten, preschool, nursery, and child care.
Digital education is the best solution to beat the pandemic and keep the children safe within the comfort of their homes. The pre-built templates and other sections are mesmerizing and will be loved by the children. The developers have ensured that children will also fall in love with the aesthetics of the website.
You can conveniently update the website with the overall curriculum, fee structure, and profile of the teachers. Testimonials from parents can also be included. Moreover, it offers RTL support, multilingual support, and is also translation-ready so that language no remains a barrier.
Accepting fees online can also be managed by convenient integrating the desired payment gateway. Embedding recorded videos is also possible so that the students can watch them at any time.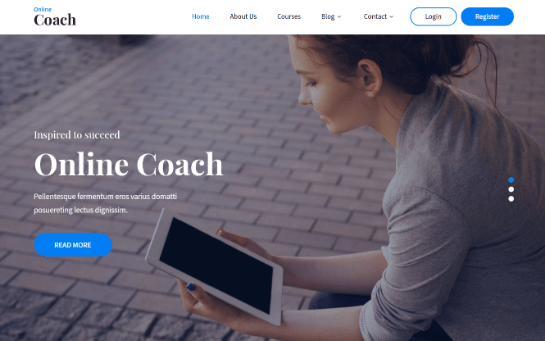 Online Coach Pro will help you to make learning more fun and engaging. It is equipped with all features, tools, and facilities to fully manage and run lecture modules over the internet.
The theme is also rich in colors and customization so that it can be made perfect for diverse kinds of educational institutes. You get options to select the template of your choice and with one-click demo import feature can be easily installed.
It has been extensively tested and is fully compatible with the WooCommerce plugin. This enables you to list all your courses online for purchase by learning enthusiasts across the globe.
You can also manage posting sample receivable certificates, statistics, price, ratings, and more. This helps the learner get an exact idea of the course and he/she can feel confident about it. The exclusive and limited period content can also be displayed on the slider that is offered by default.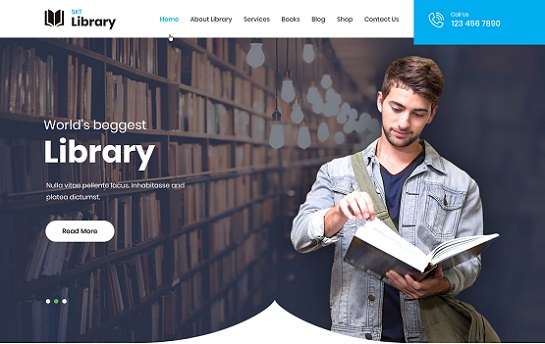 SKT Library is one of the fastest emerging elearning WordPress themes. It is one of its kinds set up where you can easily accommodate and sell thousands of books across the globe.
WooCommerce compatibility which is a must for setting up an online store has been successfully tested on it. Therefore, setting up subscription-based library access or selling online e-books or physical copies is easily possible.
You can conveniently modify the checkout window and ensure that the process is simple. The user-interface and navigation are also thoroughly worked out so it does not become complicated for the users.
Uploading new books, pictures, and adding a description are amongst the most important tasks that are easy to handle here.
You can create a dedicated section or page to add client reviews about your service and the book as well. Modification and customization of all kinds are possible so that you can remain at the cutting edge of competition.
It has been widely predicted that coding is the future of the upcoming decades. Hence, there are hundreds of institutes and companies intending to set up online coding classes for students of all age groups.
Web Programmer is one such powerful and feature-rich theme that can help you set up a website for elearning different aspects of coding. Hence, it has made it to this compilation of best eLearning WordPress themes. It has passed the Google mobile-friendly test which makes it responsive across devices and screens.
The added advantage is that the default template is HD-ready, retina-ready, and also translation-ready. It offers RTL support and is incorporated with hundreds of Google Fonts for ease in the modification process.
The homepage includes more than ten sections so that sufficient content as per the course can be added. All these sections can be easily modified in terms of color, style, and layout. If required you can also choose to add more sections or remove a few of them.
Elastic Pro is a popular and widely used multipurpose theme that has made it to the eLearning WordPress themes compilation.
With effective digital education tools, you can easily bridge the gap of education across curriculum and industry expectations. Its unique and powerful framework helps you in hosting classes for students of all age groups from school level to postgraduate level.
Such a diverse offering of courses and its relative content can be well-handled by Elastic Pro. It also comes with prebuilt demos that are best in class and retina-ready. You can select one and tweak it as required to match your requirements.
It is compatible with multiple third-party plugins like the timetable, calendar, pricing, etc. This helps you in organizing and scheduling your classes.
All standard pages are included by default and integration with hundreds of Google Fonts is also offered. The smooth animation, the elegance of the theme, and your powerful content-rich courses can create a terrific online presence.
Naturo is another prominent and powerful multipurpose theme that has made it to the eLearning WordPress themes collection.
This theme empowers both students and teachers with the unlimited possibilities that it has to offer. You can set up and manage easy access to digital textbooks, digital courses, online exams, and much more on the website. The amazing educational templates and demos help you in setting up a website in several minutes.
Don't worry about starting from scratch as the layout and structure have been configured properly. Shortcodes play an essential role in adding all the relevant features required for your classroom. In case if some features are still missing then you can depend upon external plugins.
The user experience is marvelous and the loading speed is fast. It can include as much content as required. You can also add photographs by setting up a gallery and run a blog of your choice on one website. WooCommerce compatibility helps easily selling digital courses online.
Simple is one of its kind flexible and comfortable solutions for creating a digital learning website. You can evaluate this theme from all the aspects and it will emerge victoriously. Despite being a multipurpose theme it perfectly meets the requirements of a dedicated classroom and a student-based website.
The prebuilt demos are easy to import and the modification process of the same is also easy. This helps in setting up a personalized classroom-based site for the students. Details about your institute, school, or university can be easily captured.
In addition to that, complete details including photographs and fees of the digital course can also be included.
Collecting fees for the digital course will never be an issue because you can integrate payment gateways. The Schedule of the course and the sample of certificates can also be added. A default slider is also provided to highlight achievements and for important announcements.
High Tech is amongst the prominent multipurpose eLearning WordPress themes. It makes digital courses and online learning effective and engaging.
It is basically a technology-related theme that can create a wonderful education-based learning website. The core advantage is that it comes with high-end features some of which are extremely powerful and missing in other local themes.
This gives you a performance advantage over your competitors. Additionally, it can be integrated with learning management systems so that managing and handling of various courses become easy. Other plugins for scheduling classes and related to assessment can be added from plugins.
All online courses can be successfully executed with it and detailed information about the same can be added. Setting up an online digital institute that offers courses on various niches is possible thanks to WooCommerce compatibility.
Lastly, you have complete freedom to personalize each segment of the website according to the curriculum and audience.
The last of the elearning WordPress themes best collection is a truly multipurpose SKT Parallax Me Pro theme. You can offer innovative digital courses and grow substantially by reaching out to students across the globe.
The added advantage that your visitors have with it is an excellent and user-friendly platform. It comes with various sections and multiple layouts for you to select from.
The possibility of adding courses and the content related it to will be limitless. Easy integration of learning management systems enables you to design, host, and manage all the courses perfectly.
You can strategically manage exams, quizzes, important topics, and embedding of important video lectures. All the external plugins are supported and shortcodes are also at your rescue for adding various features. Lastly, it exhibits constant and equal performance irrespective of the screen size, device, or browser type.