Do you want a brilliant theme that helps in selling ebooks and another digital format such as apps, software, etc handily? Yes! You are landed on the right webpage.
In this post, you will get the collection of top 11 responsive ebooks WordPress themes that not just best to sell digital goods, but it also best to sell themes, icons, fonts, plugins, etc. This collection is completely universal that make your audience experience awesome while purchasing from you.
All the given themes have in-built Woocommerece plugin and payment methods with complete security. These themes help users to connect with your website buying guide with ease. Don't worry the themes are fully documented and you will get 24/7 customer support as well.
However, from the 1000's of themes choosing a particular one is quite difficult. This is why we have handpicked top 11 ebook WordPress themes that go with your business perfectly. So, let us find out the best!
If you are looking for the ebook WordPress themes which is configured with Prety layouts, fantastic colour options, and supreme elements then Ele ebook is the perfect theme you can choose from the list. It comes up with secure payment gateways and supports online payment methods for both customers and retailers.
This is a reasonable theme that includes more than 900 fonts and icons options. On the other hand, this theme is used to create a website for the services related to electronic Book Stores, professional writer ebooks, publishing services and many more.
The user can easily review your website and completely get entertainment from it. Also, it comes up with international shipping features as well.
The clickable call to action buttons and Google XML sitemap is well operated, so you won't get any issue while using this theme. Ele ebook is professionally organised and provide you optimise feature that assists you in easy mode.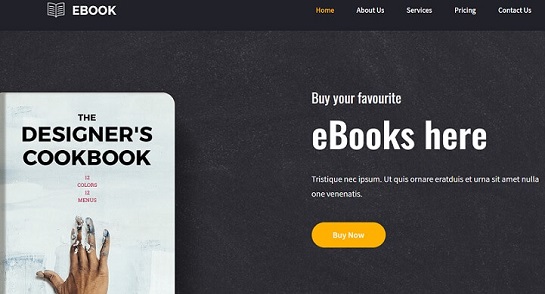 Key Features:
PO and.MO file which makes the website translation ready.
Include multiple SEO plugins to increase the desired ranking.
You do not need to struggle for updating and setting up the theme.
Multiple coupons and special discounts are linked.
Include advanced venues with 5 level drop-downs.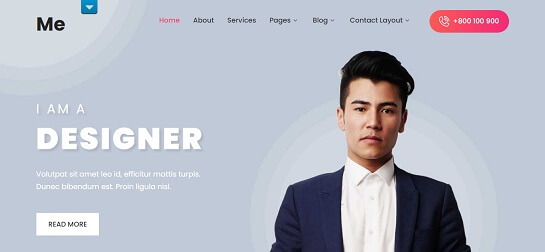 If you are looking for compatible and Google tested theme that is responsive for all devices and browser then Resume Pro is one of the best to get started with. It is a full colour changing theme that you can customise easily with the colour picker option.
on the other hand, It is fast to load and provide a fast response when you open in your browser. This is as an integrated and SEO plugin supportive theme that comes up with education sections, about us section and with the resume section as well.
The theme is compatible with the latest version of the WordPress, and it also includes the updated woocommerce and online digital platform that supports both contact form 7 and Ninja form with SEO plugins.
This is fully documented and simple to manage theme and also it is good for everyone who even doesn't know about how to work with the theme.
Key Features:
Include 500 + Icons pack.
Come up with various sections which can easily customise.
The theme is a multi-purpose used for creating a multi-page website.
The portfolio Section is filterable.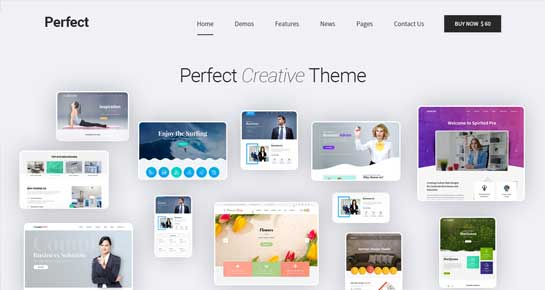 It is a multi-purpose and fantastic theme which include 97 plus themes for your project. This theme is highly designed as a multi-purpose theme so anyone can use it and enjoy its responsive and Google mobile-friendly theme.
It includes various templates that you can choose according to your website project. This includes multiple inner pages which are designed with page builders like visual composer and elementor.
It includes a hundred plus inbuilt shortcodes and several pre-installed templates. Along with that, it includes various pages related to about us, services, and more.
SKT Perfect includes several footers and header layout which possible to improve your experience. Further, it is google tested and configured theme which increases your visibility on the internet.
Key Features:
Include 5 levels of dropdown mega menus.
Support bbpress forum.
It is retina ready and HD ready theme.
Perfect theme to support commercial websites.
Comment template is nicely featured.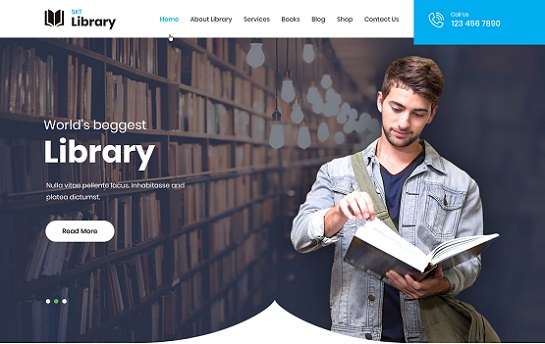 SKT Library is a fantastic and yet another ebook WordPress theme you can pick for selling books online. This library-related theme is specially designed for making an online book store and library to sell a number of books in PDF and other digital copies in the easiest way.
With this, you can easily start your online ebook selling business without taking another party help. It is highly integrated and extremely easy to use. You can quickly know about it when you get involved with it.
Its flawless design is easy to rank and grab user attention. Moreover, the user can easily add a review and give valuable comments that better rankings.
Further, it comes up with a wide range of plugins to enhance better performance and features. This includes the beautiful gallery that showcases the collection you have on your website.
Also, this is a fully customisable and supportive theme with dedicated layouts with animations. This includes 5 level dropdown menu and one-click installation process so you can easily enjoy the dashboard and quickly sale out your books and collection for the best revenue.
Key Features:
Include social media plugins.
Cross checked with Browsers and devices.
Include backup plugins like WP clone and duplication.
Quickly translate and integrated with Google Map.
Footer section include widgets options.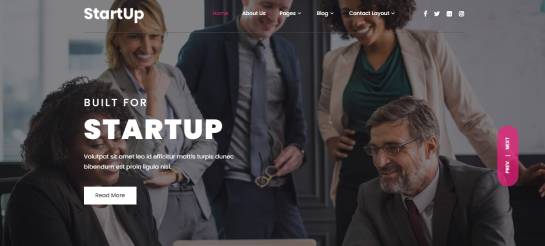 If you are just starting up your first online selling venture online then you need to look for a simple and elegant theme. This is why SKT Start-Up pro is a unique ebook WordPress themes that will take your business to a successful lead. This is integrated with easy-to-use theme options and plugins compatibility.
Also, it comes up with replacing slider and a quick contact form so you can easily reach out to customers. This is easy to embed with the maps, videos and podcast.
Also, it is tested and different shortcodes plugin theme which is suitable for every kind of Business and multipurpose. Further, the theme is compatible with latest WordPress version that quickly changes its fonts, images, text and other options easily.
It is not used for your beautiful startup, but this theme has all the necessary options and features that can take your small business to the ultimate success. Reaching this theme can actually help you to find a suitable platform for you to target the audience and generate leads from them.
Key Features:
Integrated with easy features and options.
Multilingual Ready theme.
Woocommerce work is outstanding with the theme.
It is coded with elementor page builder.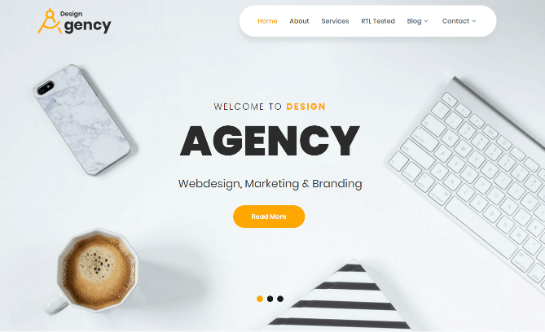 Design Agency Pro is superb and responsive ebook WordPress themes you can choose for a startup. The theme is highly designed just to promote online sales among customers. It is quick to load and the user can spend an easy time with your website.
Well, it comes up with each compatible page that showcases the Digital goods and physical goods fantastically. Moreover, it comes up with fantastic icons and social media plugins that work to target the desired audience, resultant you will enjoy leads.
Key Features:
Come up with background, text and colour changing options.
Built with elementor page builder.
Compatible with woocommerce plugin.
Include the NextGen gallery and other gallery plugins.
Easy to configured and replace.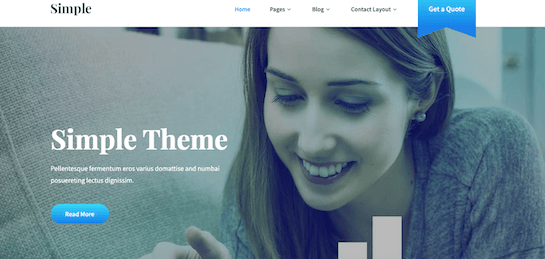 Simple is very amazing option to choose as an ebook WordPress themes for creating a website. It is highly responsible and includes the easiest theme options. Further, it is compatible with various shortcode plugins that include minimal in terms of colours, fonts, and background.
With its an elegant style and colour theme, it provides a unique approach to your audience so the audience wants to hear from you.
Additional, it includes a lot of blog page and template option, you can share your data with your audience to give them exactly what they want.
The theme includes hundreds of plugins which can be used easily and come up with flexibility. It does not require any previous experience of coding because it includes inbuilt shortcodes for various pages and buttons.
Key Features:
Give one year of customer support.
Include full documentation.
Include certain elements that can easily improve your page rankings.
You will get full control over the sidebar.
It is one of the best highly customisable and affordable yet fantastic theme that can fulfil your all requirements related to your selling digital goods and services related to industries and companies. SKT pathway comes up with the background change option so you can use this theme easily and change it whenever you want.
Also, it is a multipurpose theme that comes up with 5 design templates and provides you with a lot of easiness in maintaining and using tabs, recent posts and sections as well as input boxes.
It is integrated and woocommerce compatible themes you can enjoy your online business success. This helps you to create a number of contending the website with your preferences and so go and use this for success.
Key Features:
It supports Woocommerece and bbpress forum.
It is a multi-purpose and responsive theme.
Include standard pages like our team, pricing table 404 etc.
It is coded with HTML5 and css3.
Include 450 plus icons.
If you're looking for a theme which comes up with animated sections and filterable Gallery plus easy to use then SKT White Pro is the best option to choose for ebook WordPress themes. This is a fully integrated and supportive theme with 50 plus social media icons. Along with that, it is faster to support and give you support forum with contact form 7.
It is simple to use and handpicked theme where it does not require any knowledge. This allows you to add many images and filters as per the categories. Also, this is a one-page filter theme which is easy to use and set up. Them is also perfect and fully documented that support your business needs.
Key Features:
Provide standard pages like 404 and blog section available.
This is retina ready and HD ready theme.
The management is very easy.
Satisfy your customer's needs.
Complete Pro is one of the supportive and Google friendly Plus mobile-friendly theme. it includes slider features with animation and pauses time. This includes multiple inner pages layouts with easy-to-use and create.
Furthermore, it is multilingual- ready and shopping thoughtful theme which is checked and tested by Google and various Browsers and devices as well.
Complete pro is highly optimised and social media supportive theme that can take your business into a successful board because the more it attracts with the audience the more you will fulfil your targets and enjoy the revenues.
Key Features:
Compatible with Yoast SEO plugin.
Revenue generation features.
Come up with flexibility and functionalities.
Satisfy your customers.
Fast to load and easy to navigate.
SKT Parallax Me Pro is a completely elementor page builder and compatible theme with all sorts of browsers that have the ability to customise of any section and the background even the fonts.
This theme is beautifully crafted with the colour options and Portfolio pages sections that make it easier for you to showcase your products in a fantastic way that usually get into your website and make a purchase.
This theme is important and provides ready to use demo content, which means you can quickly install it and use the sample content for ensuring setup. Also, you can customise everything with your chosen content.
Key Features:
It provides rearranging effects that work amazing for the site.
It will catch up with the audience without hard efforts.
Create a website for both visitor and owners.
Include the number of Editing options to impress users.