If you have a B&M (brick and motor) business, then you must know that it is essential that you set up an online website at the earliest. According to Shopify plus, Digital transactions and mainly ecommerce sales will touch $4.5 trillion by 2022.
The fact remains that nearly 85% of businesses have an online presence and if you are looking to compete with them, then you need to do much more than just count on the odd banner or two in front of your shop as well as newspaper adverts.
You need to set up an online shop, and what better way to go about it than to base your website, on WordPress. Of all the available platforms.
WordPress is one of the best on account of accessibility, adaptability and the fact that it is an open source program, meaning that it is free.
And once you have decided about the platform, you can then check out some of our top ranking easiest WordPress themes.
The easiest WordPress themes have been coded by experts and each comes with advanced functionality as well as widgets designed to help you get more traction online and to compete more effectively against the competition.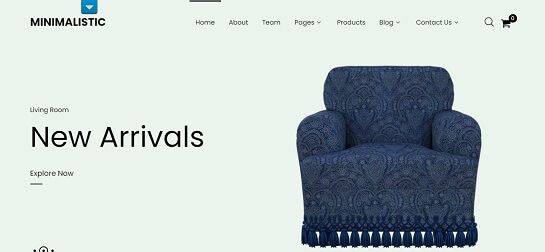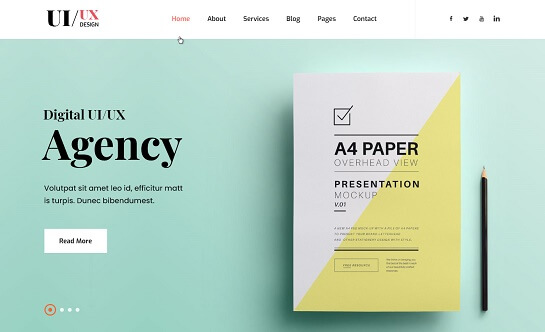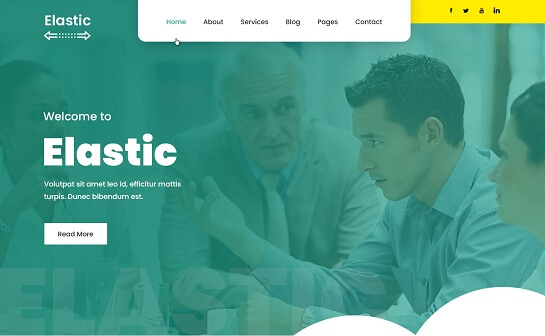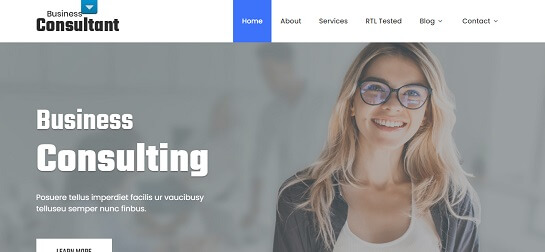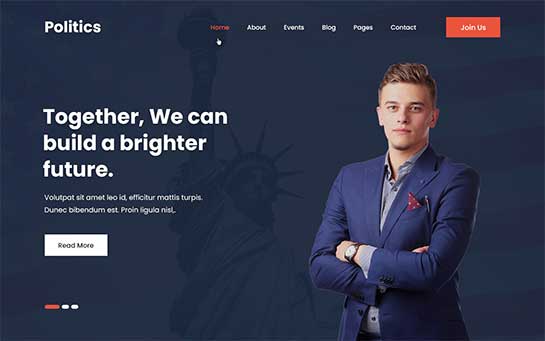 For one of a kind theme, easiest WordPress themes certainly stand out, and this theme is no different.
It comes with a nice layout and a neat, uncluttered design with the requisite drop down menu and multi-layered information architecture, designed to help users navigate the site with ease.
What's more, the theme is customizable and comes with several layout, header, footer and sidebar options.
The fact that theme also comes with 100+ short codes should enable you to customize and tweak the theme to your heart's content without having to code anything.
And if that was not enough, the theme also supports third party plugins which means that you can use the same to enhance the performance, appearance as well as functionality of your website.
You can target key demographics much more effectively with advanced sliders, utilize contact forms with captcha to capture their details and streamline your marketing as well.
What makes this particular theme unique is that it does not contain too much widgets which means that your pages should load faster and as a result, your customers should be a lot more satisfied which is a good thing.
Especially if you are looking to reach out to a wider audience. The theme comes priced at reasonable rates and costs only $39, which is indeed a real bargain.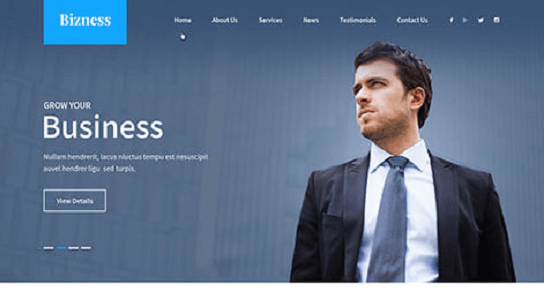 This theme which ranks as one of the top ten among all the easiest WordPress themes certainly stands out for all the right reasons.
The theme is fully customizable and comes with a built in color picker with which you can change the color of any page element.
Apart from this, there is also the fact that the theme comes with compatibility with third party plugins which should help you provide your users with better user experience.
As you enhance your website with advanced functionality and better performance. In fact, you can use SEO plugins to optimize your website better so that it gets ranked better.
The theme itself comes with easy to use widgets, which should help you provide your users with better functionality and help increase those rankings better.
What's more, the theme also comes with customizer which should help you change/ preview the changes as you carry them out, so you can gauge the changes and determine whether they are required or not.
It also comes with 700+ Google fonts as well as 670+ icon choices which should help garner your website more attention.
The theme is pegged at $39 and given all the advanced features that it comes with, the rate is indeed a reasonable one.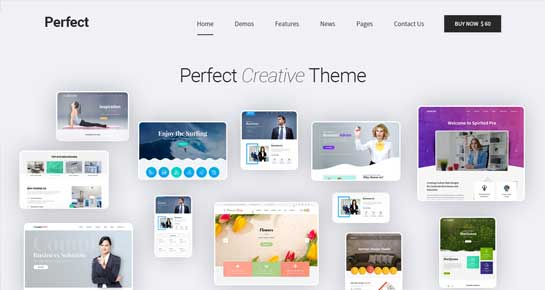 This particular theme stands out from the other easiest WordPress theme for the simple reason that it contains twenty premium themes and more.
As a result, you should have more choice and freedom to choose the right theme with this particular package; it comes with pre installed templates, contains over twenty themes and can be used for any industry/ niche.
The overall design is simple enough and yet eye catching, and what's more, the themes contained here have all been developed by experts and are designed to be 100% responsive.
It is fully customizable and all the themes come packed with 100+ short codes that you can use to customize and tweak the various templates and all the page elements on the website, without you having to code anything at any point.
What's more, all these themes are compatible with third party plugins so you should be able to use the same to provide increased functionality and other services for your customers.
With the help of external plugins and widgets, you should be able to set up an integrated payment gateway as well as set up online tracking, along with integrated Google maps for your users.
And this particular theme package, with its twenty premium themes comes at a throwaway rate of $60 only.
Whether you are looking to display high end video graphics on your home page or on any of your additional pages, the one thing that you would need is a theme that's designed for that purpose.
And that's why you may want to take a closer look at one of the top ranking easiest WordPress themes.
This theme comes with a built in, high definition video slider along with 32 variations, with both the time lapse and animation features.
This theme is as good as it gets as it comes with a creative design and intelligent navigation features that should make it easy for your users to use the same.
More importantly, it also comes with compatibility with external plugins so you should be able to use more advanced sliders like crelly, revolution, master slider and many more, easily on your website.
And what's more, you can use SEO plugins to optimize your website so that it ranks better for SEO and provide your users with advanced functionality.
All of this should result in higher conversion figures, and more traffic; what's more, this theme is both retina and HD ready.
It is also translation and multilingual ready and can be used with plugins such as WPML, qTranslateX, and Polylang among others.
The theme comes with a reasonable price tag of only $48 along with one year support as well as free installation.
When setting up a website for your local business, it may be a good idea to aim to get your website rank better for local searches.
To that end, easiest WordPress themes, especially this one should be a great fit. What makes it stand out is the fact that it comes with a neat design, that's both easy on the eye and easy to tweak and customize as well.
Moreover, the theme comes with a very simple layout that can be tweaked along with header and footer.
Moreover, this is one theme that is quite widget friendly and both the footer and header can be widgetized so you can increase the functionality of your website.
It is also compatible with both woo commerce as well as external plugins that you can use to develop your website from scratch and provide your users with advanced tools and features.
You can set up a contact form with captcha, or even set up a payment portal for your users to utilize, for paying for services and products.
Overall, the theme is compact, and comes with a price tag of $39, a reasonable price given the advanced features.
The banking WordPress theme is one of the top ranking themes, especially given its flexibility and ease of use. The theme itself is neutrally colored and the layout is professional.
It comes with a built in customizer and as the site is completely customizable with 100+ short codes, you can give your site a complete makeover, change any page element and all of this without the need to code in anything.
The theme has been developed by experts using HTML5 and CSS3, and you can use CSS3 to load animations onto the front page. It comes with a responsive design and one that's completely scalable.
And as it comes with a flat design, it can be used with older browsers without much difficulty. It comes with a default slider with the ability to hold ten slides that you can use to showcase high resolution images.
You can even host a slide show and use other sliders like master, cyclone slider 2, layer, meta and others.
It is also both retina and HD ready, so you users should still be able to access your website irrespective of the device used and the resolution used with the same.
The theme comes with a price tag of $48 and with all the advanced features, that's a real bargain, at that rate.