The following article highlights the features of Doctor Appointment WordPress Themes that are available exclusively for creating a Medical Website.
Humans! a specie or a creation of God which is different and distinctive in its own way. Unlike the other living things which exist in this world, the human race carries a separate identity making man a social and thinking animal.
Having said that we all are superior than any of the other creatures of the world, we still are the same when it is about what lies beneath us. Being composed of organs, flesh and bones we too breath and sustain in the environment like the other living fauna.
Nowadays the environment is not so healthy due to many aspects and serious issues that happen on a daily basis.
To name a few we are facing troubles from pollution, natural calamities, the disease causing organisms etc which has affected our lives and our well being making every other individual fall sick and prone to some or the other diseases.
If a person suffers from any disorder than it becomes necessary to look out for a doctor and get the treatment before any mishap occurs.
The number of people falling ill to the diseases has increased in the recent times therefore long queue can be observed in front of the hospitals or clinics. Attending so many of the patients in a day is not possible for a doctor.
Hence the processes have now been changed and a patient can now consult for the problems with a prior appointment taken with the doctor.
Since we have been discussing about the world being digital, the medical facilities have also turned out to be the same.

From the adoption of latest technologies for the cure of mankind to the online provision of appointment and the overall processes, medical era has written many success stories.
Out of all the achievements in the medical sector, the most extensive one is creation of medical websites. This has helped lot of the people across the globe to make direct appointments with the doctor and to get the treatment for their health issues.
Medical websites are not only beneficial for the patient or the customer but also for a doctor or a hospital unit to make people aware of the medical facilities that are being offered.
It is necessary that any medical website should be user friendly to help a patient or a customer understand the facilities and make appointment with the doctor. Hence, here is a wide range of premium doctor appointment WordPress themes to be observed.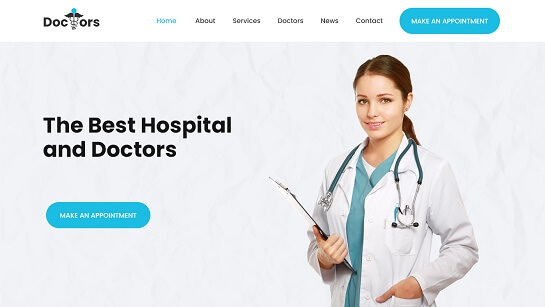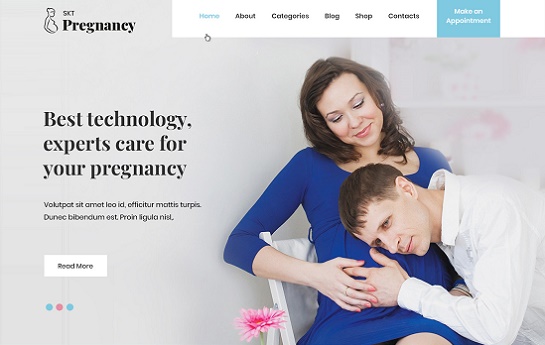 Medicare Pro theme can be termed as a one for all kind of WordPress template for Doctor Appointment. It comes up with all those features that are necessary to create a website for making appointments and to get information about the medical facilities.
This theme has been designed after a deep thought on how a doctor appointment website should look like and what are the necessary sections that it must have.
Time is very precious especially when it is related to medical emergency. Hence to bring upon rapid response, this theme has been optimized for faster loading and is SEO friendly.
It has 100+ built in shortcodes and is multipurpose with ability to work on high resolution monitors being HD ready theme.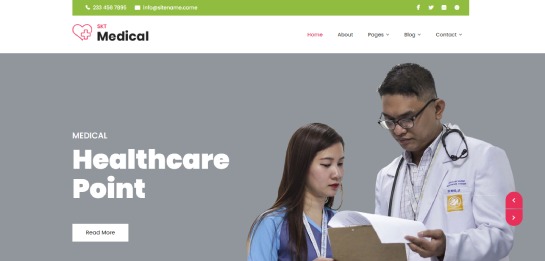 SKT Medical Pro is the blooming and playful WordPress template for Doctor Appointment. It has been developed to give the user an exorbitant experience and to help in building a one-off medical website as per the requirement and need.
This theme with its number of features is ostentatious in its nature giving preloaded color picker to change the color whenever needed. It also has more than 500 icons available for social media and the best part of this theme is the homepage comes as default after the installation itself.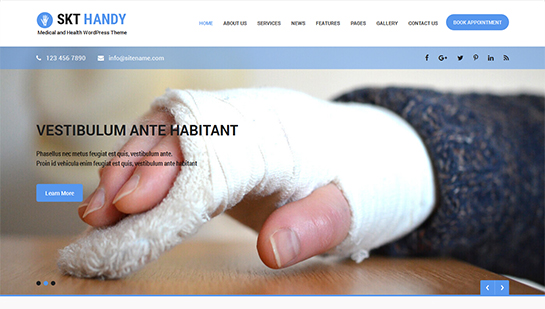 SKT Handy is one of the exuberant type of doctor appointment WordPress themes that packs ample of unique features to make this theme one of the best usable for creating a medical website. This theme has been designed by keeping in mind today's scenario and hence it is cross browser compatible.
It also gives us an option of customizer that is easy to use and helps in making live changes in the website. SKT Handy can prove its competence well as it has been coded with latest WordPress codex standards.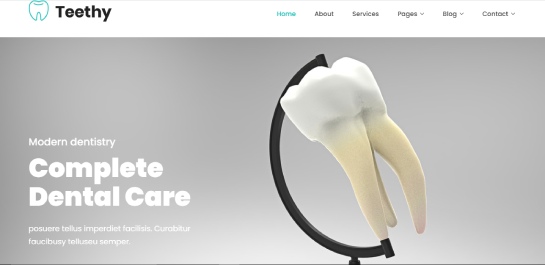 Teethy is one of the responsive Doctor Appointment WordPress Themes that is efficient and elaborating, advanced and dynamic in its nature. It has been created to serve as a multi use theme for doctors, physiotherapists, dentists etc.
This theme is distinctive which can be customized with the changes that can be observed happening in the real time. It has the feature of changing the colors where the color can be altered not only of the text but also of the background making this theme highly eccentric.
It has been authorized with more than 810 Google fonts that are integrated in this theme to achieve full control over the fonts. This theme makes a website attractive by its peculiar characteristics and can yield better results among the competitions.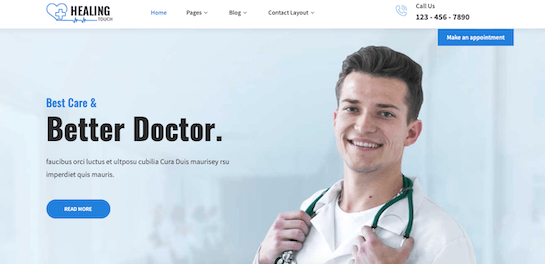 Healing Touch is one of a kind responsive Doctor Appointment WordPress Themes. It is equipped with multiple features to make the website creating experience more delightful.
It is packed with 500+ icons and various Google fonts. This theme has the quality option of setting up the content precisely and effectively as it has been coded with 100+ shortcodes.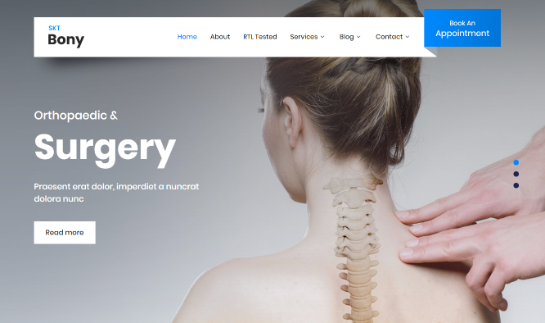 Bony is a Doctor Appointment WordPress template that is exclusive and extraordinary with its features. It has been integrated with more than 650 Google fonts that allows for the typography selection. This theme is SEO plugin tested and comes up loaded with a pack of 580+ font awesome icons.
Toothy is a vigorous WordPress Doctor Appointment template to provide an effervescent experience to the user for creating a medical website.
This theme is vibrant and offers itself as one of the solitary theme to bring out the most better options while considering to make any website.
One can simply change the inner page header image which is one of the feature of this theme and it is also powered with lots of blog and page template options to develop a feature loaded outstanding medical website that is advanced in nature. It has elegant styling and to make it more gazing gallery sections have been added to it.
Psychology is one of a kind of Doctor Appointment WordPress Themes that is peppy and robust at the same time delivering the optimum output for creating a medical website for doctor appointment.
It is easy to use and gives a person the clear view of all the sections and content within a website making it simple to make appointment with doctor.
It provides a lavish look and efficient quality due to its various ready to use sections with easy shortcodes. This theme makes it even more exuberant by giving the slider features with animation and pause time which can be changed based on choice.
All of the above templates are related to medical field and hence they are useful for a doctors websites where a doctor might need to grab the appointment in every way possible that is using contact forms, calls or even emails.