In this article, we'll go through the best day care WordPress themes developed and processed specifically for child and kid care, adult and medical care agencies and service provision centers, private nurses and nannies, kindergartens and preschools, child development centers and other kid based businesses.
Caring for children and elderly people is traditionally the responsibility of the family.
However, even if you are experiencing a special type of intimacy with your kid or parent, there comes a time when turning to a supplementary support in guaranteeing their well being is a must.
The saturated routine especially of working people sometimes makes them vulnerable when it comes to allocating time to their kids or parents. This is the point where different day care services come into play.
Opening and running any day care business can be a daunting task, especially if you are working on a tight budget and limited human resources.
However, it does not refer to the virtual presentation of your business through a user centric website.
There are cost effective and admin optimized day care WordPress themes to give a quick start to your website without shelling your hard gained money.
Each of them is custom – built to give rise to a deeply functional and elastic website in compliance with all the modern standards adopted by the modern digital arena.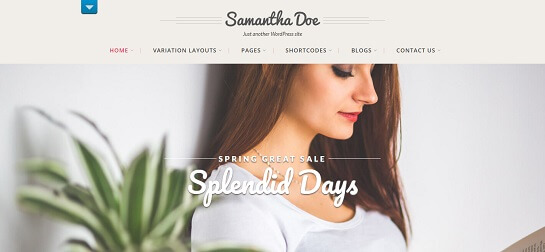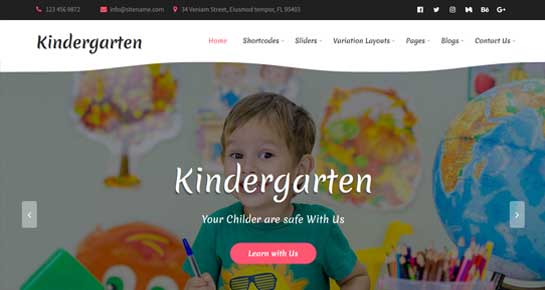 Babysitter is one of niche specific day care WordPress themes for kid and children related businesses, kid care and development centers, private babysitters and nurses to offer their multidimensional services online.
The theme is functionally advanced and technically stable so that you can add as much content and as many high resolution images as you want and be sure your website will never feel overwhelmed.
If we break Babysitter into its components, we'll discover nicely arranged sections and areas, homepage slider at the top, packages of Google fonts and font based icons and yet much more to be delivered with this template. It's also up to you to change the existing color gamut of the theme and add your own color touches to the overall design of the theme.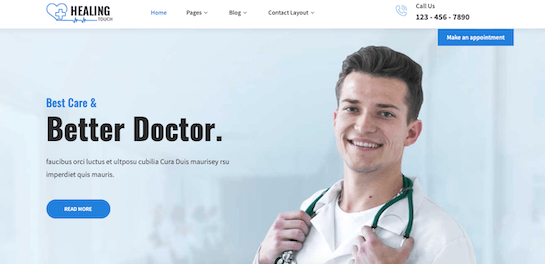 Healing Touch has to do with medical based elderly and child day care services and hospitals, clinics and agencies, medical experts and nurses, psychologists and neurologists, as the case may be.
In case you are running a public or private day care business and want to offer your professional care services to your potential clients, Healing Touch will be the best platform to stress your expertise and experience in the given field.
Take advantage of the given highly resilient platform with convenient content zones, footer area as an informative zone for your clients to get in touch with you, as well as full screen homepage slider to showcase your business or staff. The theme is also responsive and mobile friendly, as well as shortcodes powered and WooCommerce compliant.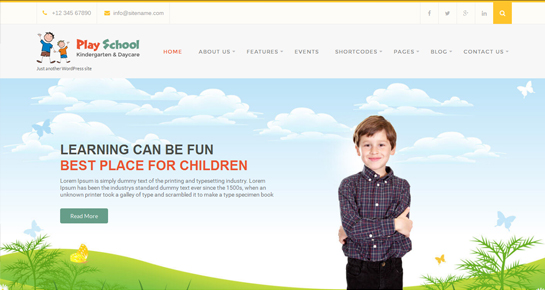 Lively and colorful, energetic and ambitious, Play School can be the most successful choice when it comes to kindergarten and child care, preschool and school, entertainment and development, education and other kid and children centric websites.
As one of the top notch day care WordPress themes at present, Play School is never hesitant to grant you with unlimited access to your future website. You are the only master and designer of your site with a handy toolbox at your disposal to create a day care website of a lifetime.
Choose from the given page and blog layouts, header and footer variations, select the right color combinations and arm the slider with the most attractive images and photos. SEO friendly coding has been added to the theme for your website to appear high in relevant search engine rankings.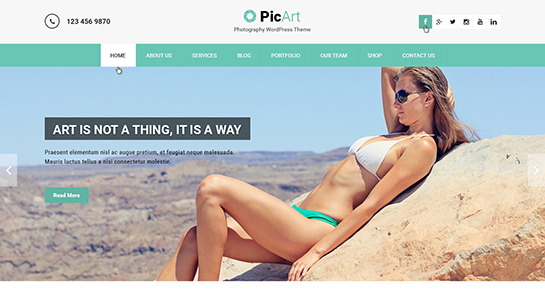 PicArt is the next error and clutter free, visually attractive and colorful template in the collection of day care WordPress themes which you can use for your day care website.
Ready to save your time and speed up the installation and activation process, PicArt comes bundled with a whole customization system at its core for you to exercise.
Split your content into reasonable parts, like your business profile, services, groups, daily activities of children under your care and supervision, contact details and more and show off them via the given areas and content zones.
Portfolio galleries, widget friendly sidebar area, footer and header variations are all wrapped up in PicArt. It is also cross mobile and device checked and approved thanks to its adaptive and responsive nature.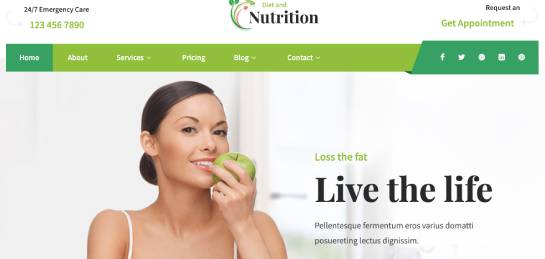 Diet and Nutrition break all the borders when the question refers to supporting day care activities and boosting their visual presence. Multipurpose and all inclusive in its true essence, Diet and Nutrition makes it painless to start building your website from scratch or refreshing the old dated one with new solutions.
The experts working on this template have chosen clear and uncluttered web design to keep the web content in the center of attention.
Widget and blog friendly, ecommerce ready and font based, this website building tool integrates prebuilt homepage sections, page layouts to select from, sleek and robust navigation up to bottom, etc. Search engine optimization of the theme is the best guarantee of your business popularity and client engagement.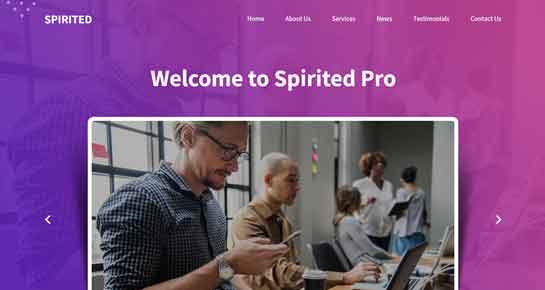 Spirited Pro is elegant and stylish template which is unparalleled in safety and precision. As one of the recommended day care WordPress themes available for an average user, this template is adjustable enough to match and mix with your needs and business objectives.
Visually streamlined and efficient, elegant and chic, Spirited Pro combines high quality features and options that will blow your mind.
Among them are pieces of shortcodes, Font awesome icons integration with more than 580 icons, fast performing and loading rate across all kinds of mobiles and other portable devices.
It also features SEO plugin compatibility for higher SEO results, as well as translation readiness for having your content translated into target languages.
Every person in this world has a top priority about their children or parent's care especially if they are the earning member of the family. They will always like to invest in something that will take care of their children or parents when they will be busy in the mornings at their respective jobs or offices.
But if you are the owner of a daycare clinic, proving the top in line services won't be enough to pull customers from the areas where people are unaware of your services. Thus, an online face is essential to spread your business offerings to potential customers.
With the changing of time and the advancement of technology, traditional ways of displaying your organizational objectives and offerings have shifted to a digital solution to a certain extent.
So, in order to show your organizational goals and its missions to a larger number of audiences you must dig in further into the digital era by designing a perfect website for your daycare clinic.
Gone are the days when website building was costly and time-consuming. With the introduction of popular content management tools like WordPress, this game has totally changed itself.
Daycare WordPress themes will help you to build an amazing looking WordPress website in no time and with minimal efforts. These themes offer a fully functional and flexible website with lots of customizations available for you to choose from as per your desire.
You can welcome your visitors to your website by displaying your organization's stories, achievements, functions and objectives in the form of both write-ups and high-quality images in a concise manner.
These can be easily created with the use of these themes and will help you to build a good image of the organization's portfolio. You can even customize the most important parts of the website such as the home page, the header, and footer to make the website look more promising to your potential customers.
You can also redesign the menu so that the visitors have a smooth experience navigating and exploring through the contents of your organization's website.
WordPress also offers a bunch of other functionalities through software known as plugins. Suppose you want to invite your existing customers to come to your clinic's tenth anniversary, this can be done easily by sending invitation emails from your website with the help of email-marketing plugins.
Apart from this, it can help you to create various other functionalities in your daycare website to enhance the user experience of your potential clients. The SEO of these themes is truly powerful and will act as a great marketing tool for your organization to place your website in the top ranks.
In terms of security, these themes will just wrap up your website with added security features so that no data gets stolen from your website.
Moreover, these themes are highly responsive, that means it will run smoothly on any screen size without any glitch.
So, if you want to maximise your business profits and at the same time want to gain the trust of your customers in terms of services offered to them for their kids or parents, no other choice will be better than building an impressive, powerful and flexible website with the help of daycare WordPress themes.