It is absolutely normal if you are wondering what are creative marketplace WordPress themes?
These are the themes that unleash out-of-the-box creativity in terms of designing and functionality. They ensure that in all and every manner your website stands out and beats the competition. But, can you create a powerful website with one such creative market theme?
Absolutely, why can't you? With evolving needs in the market, there are thousands of themes available online. In this compilation, you will find some of the best creative themes related to various markets and niches.
These themes have been selected from hundreds of widely used options across the globe. So explore this read and end up with the one that can do complete justice to your niche.
It comes with fully customizable elements, layouts, and templates along with the integration of Google Fonts. This enables you to particularly customize all elements according to your creativity for your audience.
Its built-in functionality and flexibility set it apart from the rest of the competition in the industry. The templates are retina-ready, multilingual, and HD-ready.
It has been tested for responsiveness across different devices, screens, and browsers for superior results. All elements have been coded by experts as per the WordPress coding standards.
Creative Marketplace WordPress Themes from SKT Themes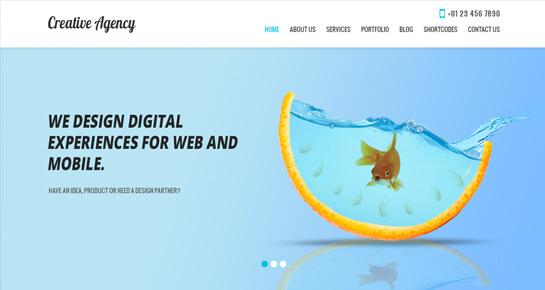 Creative Agency is the first option in this compilation. It is responsive, elegant, multipurpose, and has powered hundreds of websites.
A slider is provided by default and integrating social media handles is also easy. The social media icon pack is also offered with hundreds of icons.
Widgets, sidebar, header, footer, and the rest of the things including sections can be adjusted as needed. Plugins of all types are fully compatible so that you can rely on them for additional features.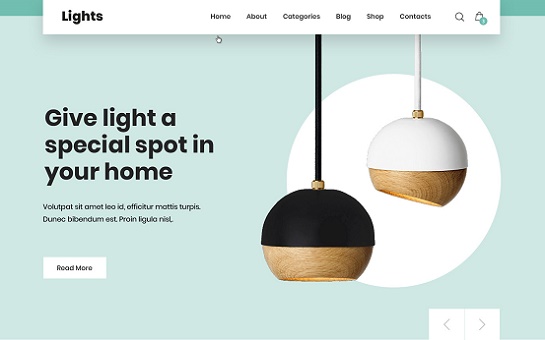 SKT Lights is amongst the finely developed creative marketplace WordPress themes. It has come with magnificent designs and graphics that include a lot of attractive colors. Despite being filled with a lot of colors it does not seem too chaotic, instead, it resembles a perfect blend.
This can be used for creating websites related to home decor, architecture, interior decoration, antiques for the house, etc.
The installation and setup process is extremely easy and quick so that you will never face any issues in it. On top of that, the entire process has been captured in a comprehensive documentation format for your convenience.
If at all you face any problems at the later stage then there is one-year support available from the developers. For a tantalizing visual you can represent the inner header with a club of banner, slider, or video.
Similarly, the footer section comes with five layout options to select from. Plugins of all kinds are compatible and all standard pages along with hundreds of shortcodes are offered.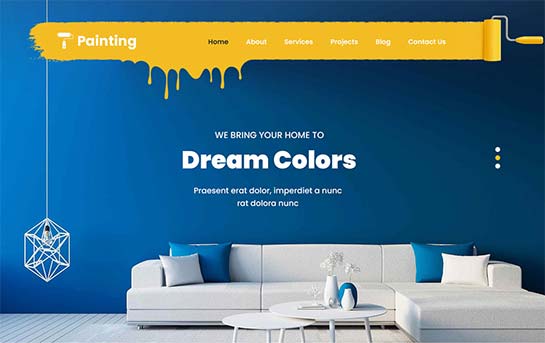 Painting is a magnificent club of aesthetics, performance, and creativity. All its qualities are significant and rare to find in one package. This has made it a part of the creative marketplace WordPress themes list.
It is a multipurpose theme and perfectly fits for creating websites of home décor, painter, painting companies, and even artists. It comes with amazing design options and complete freedom to redesign and restructure elements as per your needs.
The page builder plays a vital role in modifying existing templates and creating fresh ones in HD–ready format. As per your needs, you can easily add plugins related to pricing tables, gallery, advanced contact forms, social widgets, etc.
WooCommerce compatibility is offered and has been tested rigorously. This ensures that all your products can be set up in an online store. In addition to all standard pages, you can easily run a blog on the website without any extra efforts.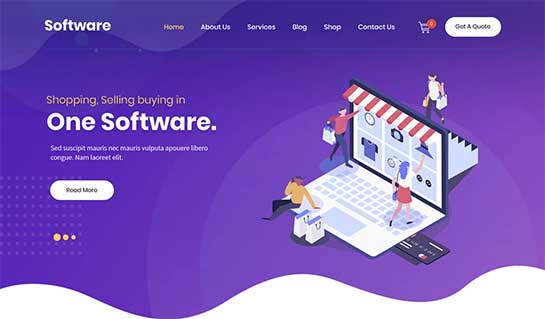 SKT Software Pro is a boon for all software-based and digital marketing companies. It offers all requisites in terms of features of these niches and additionally enables complete modifications.
With minimal coding and zero compromises in performance, one can easily launch a website with this theme. It is due to such distinct characteristics it is a part of the creative marketplace WordPress themes collection.
It is a modern and feature-rich theme with a simple user interface that reflects professionalism in all aspects. All basic functionalities are included and shortcodes can be used to add hundreds of other features.
Liberty to choose from multiple layouts, multilingual compatibility, HD-ready templates, and complete customization of all elements are amongst its key features.
You can strongly rely on customizer as well as on the page builder for making your tasks easier. You also get free comprehensive documentation and one year support from the developers.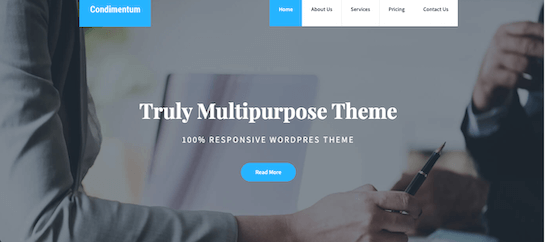 Condimentum is a distinct multipurpose theme that is responsive, flexible, and attractive. Any NGO, corporate, business, or individuals can easily make a creative website with it.
For easy content handling, it comes with animated columns. For any particulate section, you can choose the animation and easily apply it.
It has passed the Google mobile-friendly test and with impeccable coding it is SEO-friendly. An inbuilt slider is present in the structure which gives you at least twelve animation effect options apart from other controls.
It is completely documented and customizable to ensure that all elements can have a personalized touch according to your target audience. For menu, navigation, social media, and other related elements it has been integrated with icons pack.
You will also find the incorporation of social media handles by default along with a built-in contact form. 100+ shortcodes and a dedicated blogging area have also been provided.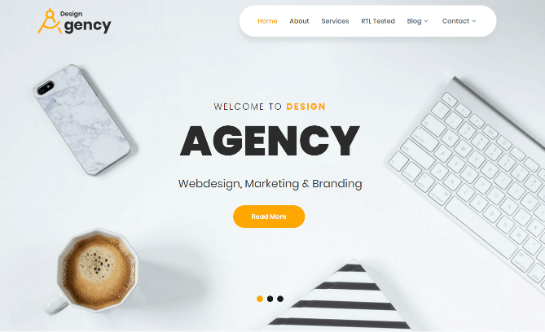 Design Agency Pro is amongst the most popular creative market WordPress themes that are distinctly crafted for Digital Marketing. Given the nature of business and operations, it becomes tough for digital marketing agencies to get everything in one theme.
Design Agency Pro has been exclusively developed with inbuilt facilities and major incorporations of all facilities to suffice these demands. It is an all-inclusive package that enables the best performance with all the requisites.
It is multilingual and includes a PO file for easy translations. It has undergone the speed test and has a terrific loading time.
In addition to WooCommerce compatibility, it also offers proper call-to-action buttons and social icons. It is compatible with various plugins that can add the golden touch to your website.
Along with standard pages, a portfolio section is also offered and 1300+ Google Fonts are also integrated. All components, templates, elements, and layout are easily customizable as per your needs.
Art is another phenomenal option in the best creative market WordPress themes compilation. Painters, sculptors, musicians, poets, writers, and all other artists can rely on this to create a stunning digital space.
With several header options available for inner pages it becomes easy to have a header of your own choice. Five mesmerizing footer variations are also offered for your selection.
A slider is provided by default because the homepage of an artist's website matters the most. All your achievements, upcoming releases, and recognitions can be featured in the same with complete control over its effects and animation.
The incorporation of social media handles with this theme is SEO-friendly which ensures dynamic engagement with your audience.
All necessary information and content can be added in the most flexible manner in pages as well as sections. Lots of shortcodes are also provided to enhance the features and plugins can also be used whenever required.
The infusion of creativity happens from home. Hence, the same principle applies, when you are about to create a digital space for home décor. Home Décor offers you one of the most versatile platforms for creating a mesmerizing business website.
It can be suited to create websites for interior designing, renovation, construction, etc. Due to such a wide spectrum of possibilities, it is an inevitable part of the creative market WordPress themes list.
Buying and selling online products and services becomes easy with WooCommerce support. The creation and edits can be easily managed with the help of the page builder. Settings can be controlled without any restrictions with the help of extensive options.
It is compatible with the latest version of WordPress and features perfectly across all screens, devices, and browsers.
Irrespective of any device the fonts and icons will always be cardinal saleable and distinct. You are entitled to receive updates free for a lifetime. It is RTL compatible and translation-ready.
Clean Pro is a simple, effective, and powerful performing multipurpose theme. Entrepreneurs, designers, dreamers, and artists can adamantly rely on it for their website needs. It is a full color changing theme with cross-browser compatibility.
The header, footer, and sidebar can be a part of the widgets for supreme performance. Moreover, multiple creative layouts are available for blogs as well as pages of the site. By default, you are offered contact forms, gallery, and hundreds of shortcodes to infuse other features.
Full compatibility is offered and tested with WooCommerce hence there will be no difficulties in setting up an online store. More than 500 Google Fonts are integrated and hundreds of social media icons are also present in the icons pack.
Featured boxes are included and a default service area is also provided. Banners of various kinds can be managed on the top of the inner pages. Full support available is for one year and the entire setup process is completely documented for your ready-reference.
Exeptiona is a recent addition to the list of best creative market WordPress themes. This is a multipurpose theme but is basically based on Accounting and CPA's.
Hence, for everyone who is looking to set up a website that is based on accounting service then this is the theme.
The overall design is completely professional and crafted fantastically in blue and white colors. It is fully scalable with five levels of the drop-down menu. Layouts can be conveniently selected for blogs, posts, and pages so that the desired web page can be formed.
It is fully responsive across all kinds of browsers, screen sizes, and devices and also with shortcode plugins. Colors of all elements and layouts can be linked or modified as required.
There are tons of websites based on the restaurant theme. This makes it critical for your restaurant website to be unique and powerful. Creative Market WordPress themes list include Ele Restaurant which is an elegant, dynamic, and spontaneous theme.
It comes with multi-page layouts that can be easily modified and selected through page builders. All necessary information about cuisine, hygiene, and quality can be included easily.
Plugins will help you in setting up a dedicated space for menu and reservations. Contact forms can also be added and WooCommerce compatibility is also offered.
The layout can be tweaked, adjusted, or replaced as per the brand identity of your firm. Lastly, full support is offered for one year to tackle any issues before and after the launch of the website.
Naturo is a widely used multipurpose theme used to deliver the right strategies in the most convincing manner. It is responsive and every element is color changing that can be managed from the backend. The coding meets all the required standards and is SEO-friendly so that it can have better SERPs.
In total, 300+ icons and 600+ Google Fonts are incorporated by default that adds a unique value to your website content. Social Media has been fully integrated and a dedicated blog area is provided for promotions of products and services.
It offers WooCommerce support so that getting your business online does not become a tiresome task. All kinds of customization and modifications are possible and it is compatible with the latest versions of WordPress. Full support to resolve any query for a tenure of one year is provided.
The last in the compilation of best creative marketplace WordPress themes is Cyber Security Pro. This is a power-packed multipurpose theme offering solutions for all kinds of industries and niches.
It offers 100+ distinct and HD-ready layouts that can cater to a wide range of industries. Modification in all of them is possible without knowing to write a single line of code.
Automation in functionality can be established with the help of plugins. Shortcodes play a crucial role in adding the required features. The entire layout and structure can be customized to meet end-user needs.
Sidebar styles, widgets, header, footer, and everything else can be customized. Additionally, setting up an online store and integrating payment options is also quick and easy. Social Media can be easily incorporated to boost visitors' engagement.