Child care WordPress themes are listed out for all kinds of baby and child services
The best samples of child care WordPress themes for baby sitters, day care services, as well as child care – related products and preschool services to start and promote a specific and consumer – lovely business in the digital environment.
Baby and child caring and supervision businesses are of utmost importance as for present and as such they profoundly cover a wide array of diverse topics, activities, social and other conventions and much more.
And whether you represent the agency of babysitters or daycare center with respective licenses and clear – cut rules, becoming a part of huge virtual community will speak to your favor in diverse business and commercial ways to gain more popularity and offer not only your child care facilities, but also diverse ways of boosting the child development.
We have selected the most suitable child care WordPress themes to be applied and exercised fully.
A consistent effort and endeavor went into coding and developing those products to give them modern and contemporary basis, fresh and dynamic treatment, as well as stability and self – adjustment towards every single interposition.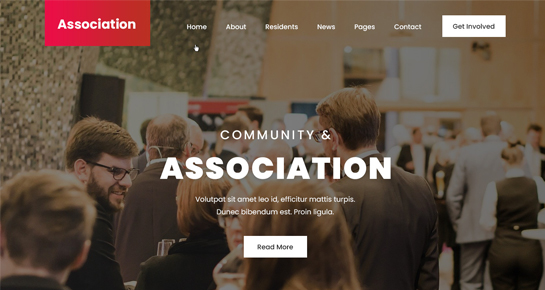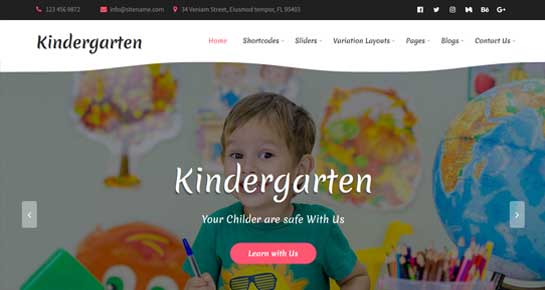 Babysitter has each and every characteristic feature and control to be proudly called one of the best child care WordPress themes shared in the repository of the most user – friendly and convenient content management system.
It's a highly versatile, smooth and sleek, well thought – out and speedy to facilitate the parent's processes of searching for the nurse or babysitter and finding the best candidate for their child.
Hence, all your highly informative content with the accompanying images can be published into your homepage sections and areas in a neat and accurate fashion, so that every specialist will have his personal profile with his biography, experience and other important details.
Babysitter with its e – commerce experience is also ideal for running a baby care products, child clothing or toy store and come up with significant results.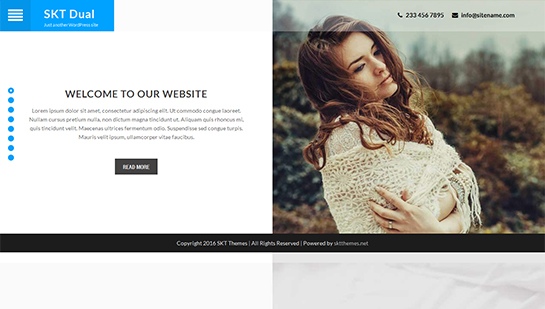 SKT Dual is another top – rated WordPress – based website builder ready to give a start to almost any specific topic, including also baby and baby – care industry.
This lovely and visually awe – inspiring, user and customer – driven, inherently complete and comprehensive template has been ensured to be all – inclusive and feature – rich with all the primary and essential controls over each and every aspect of the theme to be edited and presented as per specific needs and objectives.
SKT Dual has been coded to feel itself stable and sharp across all the modern screens, starting from mobiles to tablets and ipads. Additionally, SEO plugin support and translation – readiness of the theme will let more traffic move around your babysitter website content.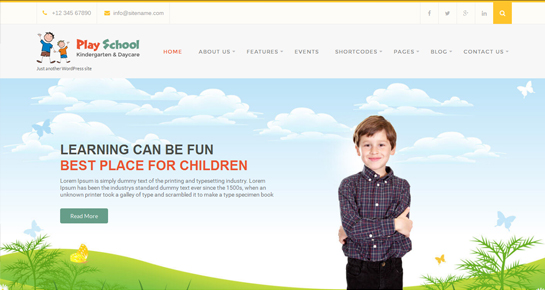 Colorful and lively, smart and intelligent, adaptive and resilient, Play School deservedly occupies its place in our list of the top and best child care WordPress themes to suit any type of websites and blogs, be it a kindergarten, preschool, babysitter agency, daycare center, child care center, playgroup, crèche or whatever it may be.
This modern and clearly coded, visually interesting and animated, functionally saturated and technically error – free template is fitted with diverse page and blog layouts, numerous sliders to be activated and armed with the brightest and inspiring images, SEO friendly nature for countable and trackable results, WooCommerce compatibility for relevant shopping career online, as well as perfect functionality with LMS, calendar, timetable, gallery and portfolio, qTranslate X and cache plugins.
With highly niche – focused and colorful design, interesting and motivational graphical solutions, going hand in hand with impeccable inner functionality for reaching out new working and commercial horizons for any nursery, kindergarten, school and preschool institution, child store and baby shop is The Art.
Your premium – quality content nicely arranged in the available sections and areas will render the most exciting viewer experience for all your potential clients and customers, and this accurately structured web content together with flawless navigation and fast loading will definitely drive more traffic into your site.
The Art is also professionally created and optimized to fit any mobile and device screen size with the needed changes and amendments, which are, however, to the extent that is compulsory for the precise visualization of the content when accessed from any portable device.
The best criterion to check Bony as one more dependable child care WordPress theme is the examination of the time.
With this solid and persistent, durable and easy to control web creation and arrangement tool not only will be your right hand right from the start of planning and processing your babysitter or child care, kids store or any other niche – specific product, but will leave your website visitors and readers speechless even in some years.
Exactly for this purpose, Bony deems to be highly perspective investment in relation to your baby – related online profile.
Each and every last detail of your site will be under your control and command to appear or to be hidden, to be located here or there to be noticeable by the target groups of audience, etc.
With Bony everyone can easily expand his core competence and reveal the potential of shopping and e – commerce segment, since the theme enables you to do so.
SKT White Pro is multipurpose and ambitious WordPress – powered theme to follow a drag and drop way to the best customized look and feel of any target web presentation in the digital platform. This product can be useful even if you are not a large or experienced baby – care company and has been working for a local market only.
With this theme all your marketing steps will be clear – cut, and all your efforts – reasonable to escape the market segmentation and be accessible absolutely for anyone across the globe.
As for the mobile and tablet compliance, WooCommerce and Contact Form 7 compatibility, strong and stable HTML 5 and CSS 3 coding and animation controls, all the shades are scrupulously taken care of.
If you're running a day care or a child care center then you need to make sure that you have the appropriate theme for your website. Child care is a fact of modern life; with so many parents leading professional lives, the demand for premium child care services has just trebled in the last five years.
With this demand, naturally the competition would be intensive and that's all the more reason for you to check out the various child care WordPress themes. With the appropriate theme on your website, you should be able to ensure that your website is as professional as some of the very best out there.
Check out some of the reasons as to why it is pivotal for you to install a child care WordPress theme at the earliest.
Top of the line CMS system: Most parents often need all the information they can get on a child care service before opting to register for the same. Given this you may want to opt for a theme that comes with rich CMS features and in-built pagination tools.

With pagination, you should be able to divide up a long post into multiple pages thereby making it easier for prospective customers to read the same without having to suffer an information overload.

Customization: It is always better to go with themes that allow you complete customization so that you can tweak the layout, the structure of your website, the header, footer and even the font used on your site.

By doing so, you should be able to recreate the website in just the way you wanted it, to the last word on your landing page

Payment gateway: You need to ensure that the theme you choose is woo commerce compatible; with it, clients should be able to use the same to make payments. Furthermore, you can also use various plugins to display your website in multiple languages as this will enable you to target a larger demographic than before.

Some of the themes also come in with the required translation tool so that's another thing that you may want to check out.

Mobile friendly: You need to make sure that the theme you have selected is mobile friendly; that others can access your site on their mobile phone or other hand held devices without any loss of functionality. Similarly, you may want to make sure that the theme you choose is compatible with all types of browsers.

This is exactly the reason why you may want to do a dry run with the selected theme and see if the one that you were looking for is this one.
These are some of the reasons for why you need to ensure that your child care website has the right and appropriate theme in place. With the right theme, you should be able to target your demographic more effectively than before and in the process, help give your conversion rate a boost as well.