Theme color defines the nature of the website. Every color has some special significance, and therefore, most of the themes provide users the option to change color as per need.
For example, blue is a corporate color, pink is for a feminine website, yellow and red are more for blogs. But brown is rather a neutral color and it is generally used for food or design related websites.
Today, we are going to provide you the best brown WordPress themes that will make your website look extraordinary.
Brown WordPress themes can be used for interior designing, coffee shop business, food product selling website and even for the furniture business. Brown WordPress themes have a novelty in them, and hence, they will make your website stand out among others.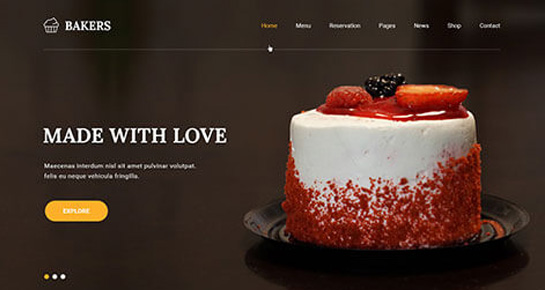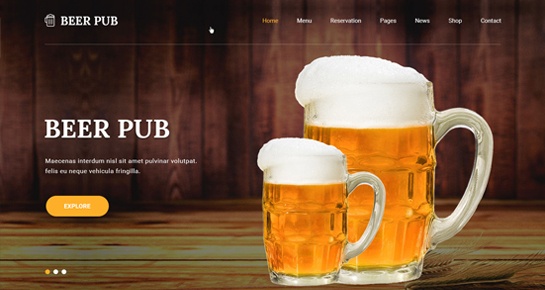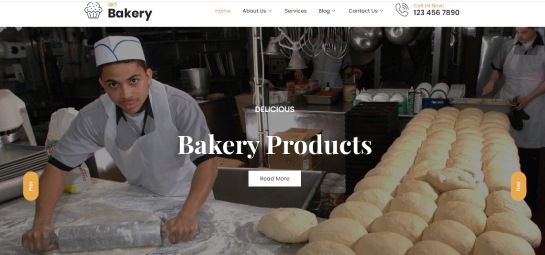 The bakery is one of the best brown WordPress themes to put up your online store perfectly. It is fully responsive with cross browser compatibility and has passed Google mobile-friendly test. It is a clean and modern theme and is very light weight for faster loading speed.
The homepage has sliders with control options. You can add various animation effects and set the speed of the image transition.
It comes with all the features for a perfect online store to sell food items like cakes. More than 650 fonts are there to beautify your site with ornamental text, and along with that, it is WooCommerce compatible.
It has various side widgets to show offers and deals, and there are different sections for blogging, service showcasing and other important pages.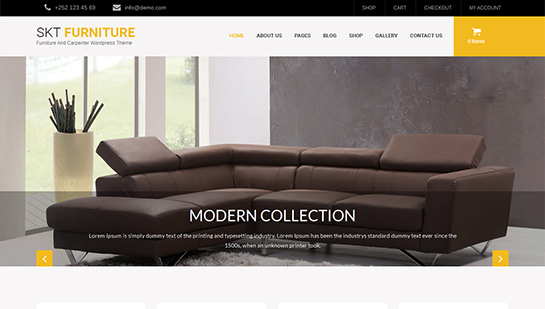 Next up in our list of brown WordPress theme is Furniture Pro. Even though it has brownish yellow color as default, you can easily change it to complete brown. It is best for an online furniture store, and it is common for furniture to have a brown color.
It has WooCommerce compatibility for the direct monetary transaction through your site. There are over 580 fonts and related icons to decorate the site.
Furthermore, you can have shortcodes to add attractive texts and designing elements. The galleries of the theme stand out and it is absolutely mandatory for any online store to showcase the best photos of their products to attract customers. It has video and video plugins for creating visual triggers and engaging visitors.
Apart from that, it comes with multilingual and translation support for local and global customers. It is fully SEO-friendly and has options for social media integration and social share plugins.
The recommended page builder can be used to create any page as per requirement. You can also use bbPress to have a forum on your website.
If you do not prefer deep brown WordPress themes and prefer lighter brown to reddish brown theme color, Blendit is perfect for you. It has the perfect blend of brown and red and the outcome is splendid for the eyes.
It is a one-page Wordpress theme with the responsive property. Every element is changeable in terms of color. It is multilingual and translation ready. It has amazing effects and animations.
There are over 350 icons to add a visual trigger to make the site look beautiful. The theme can be used for product and service business, app showcasing or any software and business for that matter.
It has social media integration, separate pages for blog, news and press releases. There are about six different designs for the blog section. Gallery part is stunning, and it comes with over 100 shortcodes.
It is one of the tailor-made brown WordPress themes. It is best for companies who have offline outlets where people can hang out and have a cup of tea or coffee. It is mobile-friendly, compatible with any browser and fully responsive. You can use the theme for general purpose as well.
It provides awesome gallery to showcase your portfolio, hundreds of shortcodes for better presentation, pricing list, various types of sliders and hundreds of Google fonts.
There are over 550 icons for different purposes to make texts visually more appealing. It is SEO and SMO friendly. All pages can be managed and designed easily without any technical knowledge.
This is one of the feature-rich brown WordPress themes. The brown cover has been used wisely and not spread over the site. It is available in text color, light designing elements and hover points though you can change the color scheme of every component as per your liking.
It is a modern theme with various sections and preloaded contents. There are parallax effects, beautiful sliders, amazing galleries and one can create unlimited pages. You can integrate Google map, WooCommerce, or any standard plugin for more functionality.
It is a WordPress theme with brown and yellow color combination. It looks so elegant and attractive that visitors will automatically fall in love with it.
It is the perfect theme for showcasing premium products and services. It offers controls to change color, pick a color, integrate WooCommerce, use different languages with translation and much more.
Slider and gallery are prime attractions. It has cache plugin for faster loading time and SEO plugins to rank higher and increase visibility. All the standard sections are there with different template designs.
It is the best theme if you are going to construct a website that has feminine nature. It is one of those light brown WordPress themes and is a perfect blend of brown and pink to be precise.
You can use it for online stores to sell female products, get your female massage and beauty parlor online and even use it for a blog on a feminine topic like cooking, fashion, and lifestyle.
It has responsive sliders with the call-to-action feature, icon packs and other designing elements, perfect galleries, and various other light animated section that your visitors.
The list of brown WordPress themes is incomplete with mentioned SKT Food. Brown WordPress themes are perfect for food related websites whether it is an online store or blog.
SKT Food has all the features like recipe section, blogging section with various layouts, animations, flat graphics, call-to-action pages, services and portfolio pages.
The theme is SEO and SMO friendly and provides various useful drop-down menu and sidebars to engage the visitors and gain more revenue easily. These are the best brown WordPress themes you will ever need to put up your dream website online easily and stand out among your peers effortlessly.