In the digital age, the online stage is as crucial as any physical venue for artists to showcase their talents. Whether you're an actor aiming to captivate audiences, a photographer seeking to capture life's most profound moments, or a painting artist striving to express your unique vision, your online presence plays a pivotal role in sharing your artistry with the world.
This article will look into the WordPress theme specially designed for actors, artists, and designers. These themes are not merely templates but virtual canvases that empower artists to bring their creative visions to life in the digital realm.
Social media and online platforms such as YouTube have increased the scope of exposure, especially for artists. Therefore, it is very crucial for artists to make the best use of the Internet to showcase their work.
Best Artistic WordPress Themes for Actors, Photographers and Painting Artist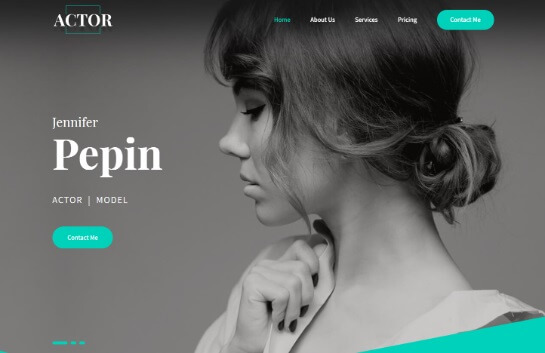 The SKT Actor theme is invaluable for actors aspiring to take command of their digital narrative. For actors, online visibility holds paramount importance.
While social media platforms like Instagram and YouTube provide avenues for self-promotion, having a dedicated website imparts greater control over one's profile.
Top Features of SKT Actor
Artistic Customization: These artistic WordPress themes feature page builder tools, facilitating seamless customization to reflect your personality distinctively. Pre-built content expedites website setup.
Video Optimization Option: Optimal video support distinguishes these themes as ideal for video-friendly content.
Pro Plugins: Integrated premium plugins empower content modifications.
Conversion Optimization: The theme incorporates conversion optimization tools. These tools are quite helpful in creating a successful website.
Comprehensive Portfolio Presentation: The theme lets you showcase your reel, bio, and reviews effortlessly. Its creative and interactive layout elevates your online presence.
Intuitive Visual Builder: A visual builder permits intuitive element placement through drag-and-drop functionality.
E-commerce Potential: WooCommerce integration is viable for promoting video files,m clips, and more.
Enhanced Search Visibility: The theme is SEO-friendly and helps the website in search engine rankings.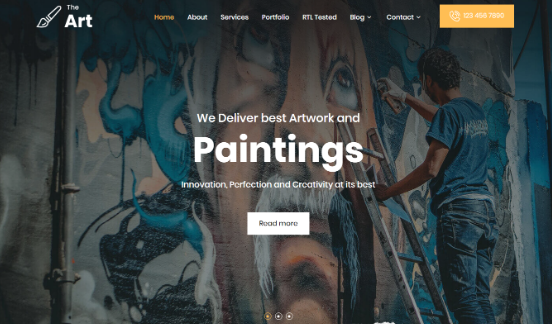 Simplicity defines the user experience of this artistic WordPress theme. Its adaptability seamlessly adjusts to varying screen resolutions. Artists aiming to showcase their work online find this theme tailor-made for their aspirations.
Whether launching a new website or presenting products on an existing platform, the art WordPress theme remains optimal, a suggestion often extended to WordPress designers.
Top Features of the Art Theme
Enhanced User Experience: The theme comes with intuitive navigation that helps enhance user experience.
Striking Homepage Slider: The theme has a homepage slider featuring high-resolution bold images.
Enhanced Connectivity: Integration of social icons fosters connectivity.
Improved Online Visibility: SEO compatibility contributes to search engine visibility. Moreover, it has an ideal tool for professionals and aspiring photographers to showcase impactful visuals.
E-Commerce Expansion: WooCommerce compatibility expands ecommerce potential.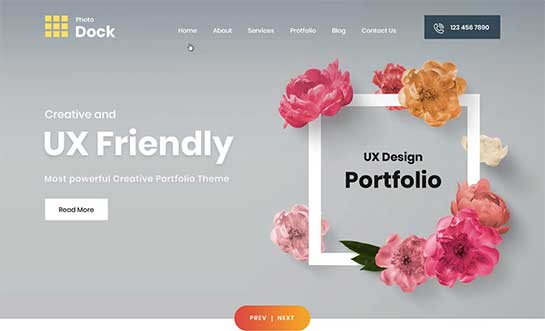 Geared towards photographers, particularly notable figures establishing an online presence, Photodock boasts an array of theme options with compelling responsive layouts.
Top Features of Photodock
The prebuilt customizer simplifies page development, enabling color, text, and functional adjustments.
Font and color options, shortcodes, and page controls enrich customization.
SEO and SMO friendliness enhance online discoverability.
HTML5 coding underpins enhanced accessibility, audio-video support, and user interactions.
Full-width slider accentuates underwater or wildlife photography.
The mobile-friendly design ensures optimal viewing across devices.
Plugin compatibility and widget support amplify functionality.
Filmmaker provides a contemporary framework for presenting films and visual content, particularly suitable for budget-conscious individuals new to WordPress.
The theme lets you showcase your work in the gallery section; you also get to customize the website layout to make it visually appealing. The theme is mobile responsive, which means it makes your website viewable and accessible on devices.
Top Features of Filmmaker
Seamless Customization: The theme comes with a color picker option that makes it easier to customize the website to match the brand's identity.
Social Connectivity: The theme encompasses over 50 social icons and is easy to connect with social platforms. You can stay connected with the online audience through the social audience.
Enhanced Online Presence: The theme has an effective SEO and SMO optimization option that improves the website's online presence.
Enhanced Accessibility: It comes with diverse shortcodes to empower content presentation.
Plugin Support: Plugin integration enhances page features. You get one year of complimentary support from the purchase date when you download the theme.
Visually Appealing: Sleek and polished design exudes professionalism.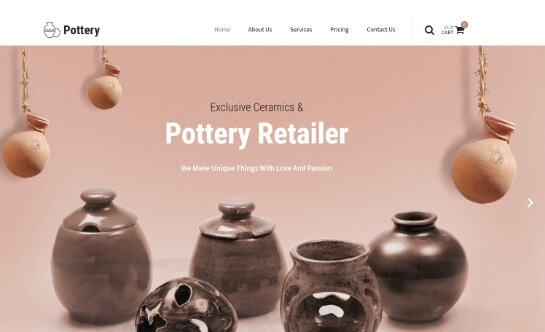 With an elegant yet professional aesthetic, SKT Pottery is an ideal choice for those seeking prominence in the competitive market. Given the contemporary popularity of pottery, this theme supports entrepreneurs in leveraging their passion into a thriving online venture.
Top Feature of SKT Pottery Theme
Visually Appealing Homepage: The theme has a stylish and classic homepage that accommodates various sections for tailored content expansion. Moreover, it features a user-friendly interface accompanied by comprehensive documentation.
Gallery: Actors or businesses into filmmaking can use the theme to showcase successful videos and images. It has integrated photo and video gallery plugins, making sharing media on social handles easy.
Fully Customizable: The template customization panel offers color scheme adjustments.
Shortcodes and Plugins: The theme has built-in shortcodes and plugins to enhance content appeal.
E-Commerce Expansion: WooCommerce compatibility enables online store establishment.
Location Integration: You can add your location to your website through Google Maps integrations. This feature helps your potential clients contact you effortlessly.
Enhanced Security: Robust security compatibility safeguards against cyber threats.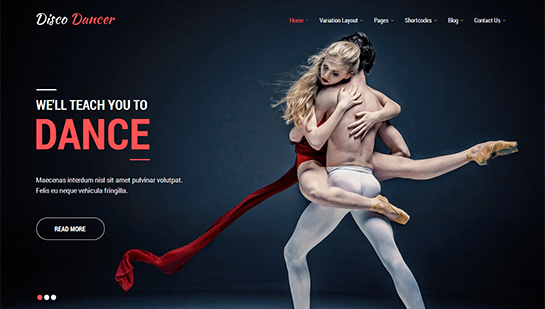 This versatile Disco Dancer artistic WordPress theme is an excellent fit for diverse parties and nightclubs. Photographers can leverage this theme to exhibit captivating pictures taken at discotheques and dance events.
Furthermore, videographers can utilize this theme to establish a website showcasing videos from a range of events, including pre-wedding shoots and more.
The theme's potential expands further with the integration of several plugins, enabling the exploration of various business concepts. You can elegantly present your photography through galleries or slideshows. Moreover, you have the option to elevate your website's aesthetic by implementing full-width screen features.
Top Features of Disco Dancer Theme
High-Quality Resolution: The theme is HD-ready, with extensive testing on high-resolution screens.
Plugins: Compatibility with numerous plugins, including multilingual, SEO, shop, pricing tables, gallery, and calendar plugins.
Free Template Pages: Offers a selection of templates for inner pages, varying in headers, sidebars, and banners. The theme also comes with widget-friendly headers, footers, and sidebars.
Fully Customizable: The theme can be customized. It empowers users to make font and color choices to customize the theme. It offers four header and footer options for diverse customization.
Easy to Setup: User-friendly for newcomers to WordPress, facilitating easy navigation and setup.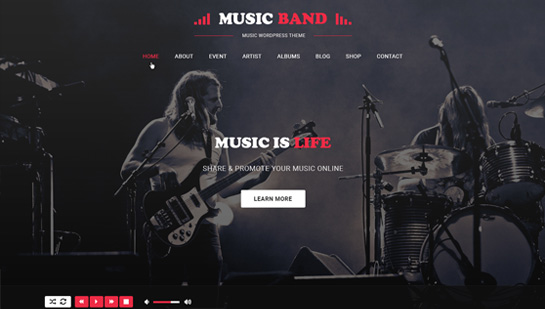 For individuals seeking a video website without technical expertise, the Music Producer theme is an invaluable asset. Whether you're showcasing your talents or looking to promote your work, this theme offers an expansive platform for storing images and videos and managing event invitations.
Regarded as one of the most sought-after artistic WordPress themes, Music Producer effectively addresses a range of needs. With its installation and strategic plugin implementation, this theme becomes a comprehensive solution for various information displays.
Top Features of Music Producer Theme
Fully Responsive Website: The theme creates full responsiveness, ensuring seamless operation across all platforms. It supports slideshows through compatibility with multiple slider plugins.
Easy to Setup: The theme is quite easy to set up. It has user-friendly navigation with a five-level dropdown menu for extensive website structuring.
Plugin and SEO compatibility: The theme is compatible with an array of plugins, including social, SEO, and gallery plugins.
Customizable: The theme has four header and footer variations, both of which are widget-friendly. It comes with diverse blog and page layouts.
Melody, a prime example of artistic WordPress themes, caters to those crafting exquisite wedding videos. This theme proves invaluable for wedding videographers and event management companies alike, serving as a platform to showcase past work and testimonials.
Top Features of Melody
Customizable: The theme is compatible with various sliders and an array of pre-set options, including 12+ skins. It has four header and footer layout options.
Visually Appealing: Offers both video and image sliders to cater to diverse visual content.
Add and Manage Gallery: The theme comes with an instructive manual for managing and maintaining an elegant wedding videography WordPress theme.
Improved Online Presence: The theme has SEO and SMO compatibility, which enhances the online visibility of the website.
E-Commerce Expansion: WooCommerce integration facilitates the establishment of online stores. As you download the theme, you get free installation support.
Whether you're striving to build your personal website or launch a business venture, rest assured with the Ele MakeUp theme. This theme offers a seamless WordPress experience, even for individuals less tech-savvy.
You can add visually appealing images, tutorials, and a lot more to provide your audience with related information.
Top Features of Ele MakeUp
Easy To Setup: The theme is easy and free to set up. It has a user-friendly design, suitable even for those unfamiliar with technical intricacies.
Visually Appealing: The theme incorporates slider sections and diverse page layouts.
Social Connectivity: The theme boosts seamless social media integration through widgets for improved targeted customer engagement and advertising.
Safe and Secure: The Ele makeup theme supports security plugins for enhanced website protection.
For those aiming to transform their interior design passion into a profitable venture, SKT Interior Pro stands as the quintessential choice.
This WordPress theme encompasses unique features to establish a distinctive brand for your interior design business. The theme is customizable and mobile responsive.
Top Features of SKT Interior Pro
Mobile Responsive: The theme is cross-device compatible for seamless user experiences.
Fully customizable: You can customize the header, footer, and page layout to match the theme of the website.
E-Commerce Expansion: The theme is easy to set up. Moreover, it is compatible with WooCommerce for setting up online stores.
Complete Support: The theme comes with detailed documentation for easy understanding and installation of the theme. You also get the option to opt for customer support for installing the theme.
Plugins and Shortcodes: The theme incorporates built-in shortcodes and plugins for added versatility.
Activism Pro is a purpose-driven theme designed to cater to websites or blogs focused on social movements, fundraising, crowdfunding, or political agendas.
With this theme, you can make campaign events, plan out social causes, and help address societal issues.
Top Features of Activism Pro
Versatile Templates: It has multipurpose templates to choose from. You can choose any template that meets your goal.
E-commerce Ready: The theme has WooCommerce compatibility for travel merchandise sales
Dynamic Visuals: It supports slider integration for compelling visual presentations.
Customizable Headers: The theme offers diverse header options for personalization.
Easy to Setup: The theme is compatible with various page builders for enhanced design flexibility.
Search Engine Ready: The theme is SEO-Friendly and supports a variety of SEO plugins.
Event Listing: It enables event listings through a calendar plugin.
Final Verdict:
Whether you're an actor seeking the perfect stage, a photographer capturing life's wonders, or a painting artist expressing your innermost thoughts, these themes offer not just a website but a gateway to boundless creative possibilities. They empower you to design an online presence that mirrors your unique artistry, leaving an indelible mark on the digital stage.
Remember, your website is more than a virtual portfolio; it's a reflection of your passion, your dedication, and your artistic soul. So, embrace the power of these artistic WordPress themes and continue sharing your creativity with the world, one click at a time.