A collection of search – based and practically checked appliances WordPress themes is presented for all.
Those who are rooting around the available marketplace to find the most fitting appliance store, repair, maintenance or service appliances WordPress themes and templates to consider for their future website.
In the recent decades much focus has been on the digital world as a compound unity bringing together individuals, private entrepreneurs, professionals and startups, companies and organizations of any caliber, educational institutions, financial agencies and much more in an online format.
Thus, this networking ties and relationships have long become more valuable and significant than ever in the previous times, transforming data and information into actions and processes that create new working opportunities.
Individual and business development potential, mutually beneficial online experience and yet much more to come within the time.
Thus, the current state of the world and its reflection in the online platform supposes that all the presentable people should have their trustworthy and dependable presentations online in the forms of blogs and websites.
At present, the global networking system is a paradigm shift, which makes a completely new era of chances for everyone, from clients and customers and sellers and service providers to local and international communities, and even countries.
Keep up with reading the continuation of our article and you may find a strong list of the best appliances WordPress themes to anticipate all your wants and wishes and turn them into reality.
All of them share the most applicable features and options and are 100% customization – ready, so it will be totally up to you to edit and stylize the look and feel of your website for making your store or service center live and open for all your customers.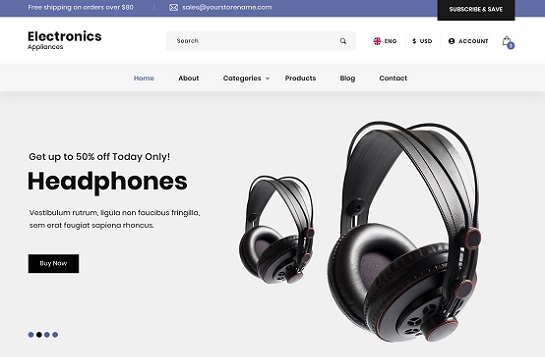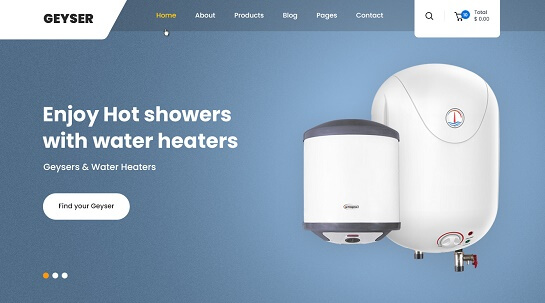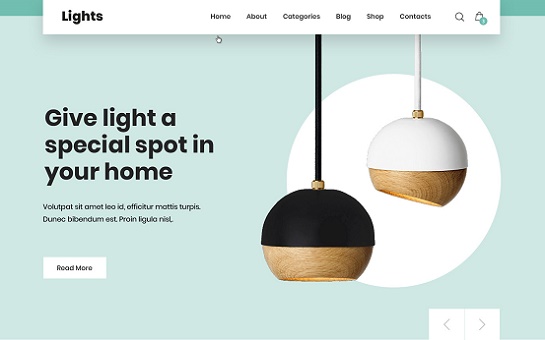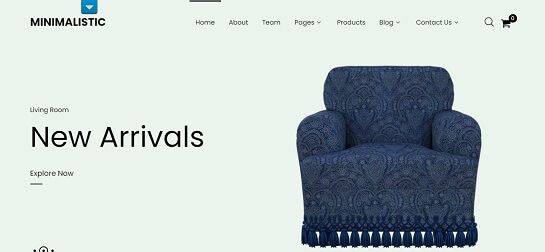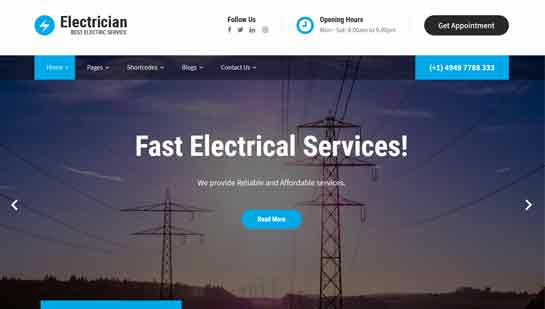 Electrician Pro will satisfy all the requirements of electricians. Therefore it is called that Electrician Pro is an appliances WordPress themes that enables you to illustrate electrician based services.
Like fix faulty wiring, geyser repair, repair lights, holders and sockets, repair fuses, installing or uninstalling the inverters and LED TV's, etc.
Electricians just need to list down their services in the service section page or block, then the user will check the service if they need they will charge you online.
To procedure, easy payment different payment gateways can be integrated via various plugins options. Many more features are there. To check it out just click on a demo button.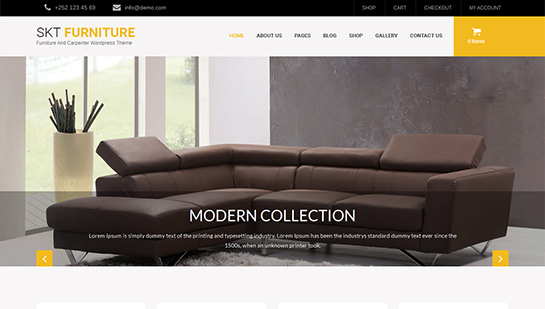 Sophisticated and time – checked, user and customer – driven, custom – built to tailor to any kind of industry manifestations, Furniture Pro is able to provide you with the best outcomes at the right place.
This template can be the most fitting variant for your website presenting a appliances or device shop, or dedicated to the repair and maintenance services of home and other appliances.
Available in the relevant market at a reasonable price to be accessible to larger groups of audience, this template is an amazingly convenient low – budget marketing platform for all your website content and the way it can be served to your potential clients.
For your convenience, Furniture Pro features a stunningly flexible and adaptable, responsive and cross – mobile compliant, as well as multilingual and SEO – ready framework as the most cost – effective ways to boost your traffic and increase your company awareness.
Thus this store template can surely be added into the appliances WordPress themes category.
Grocery Store is another industry – based and businesslike, inherently smart and intuitive enough to embed completely new appearance and extended functionality whenever needed.
This template can be deservedly included in our list of the most dynamic and resilient appliances WordPress themes for all those individuals, technicians, electricians, newly based or experienced companies and service centers.
Who are inclined to guarantee the most user – centric and presentable online profile, which will allure all the website visitors visually, and meet all their demands in relation to functionality.
As a responsive and e – commerce ready template, Grocery Store generates a neatly structures homepage sections and areas to display all your information, company profile, team members and specialists, services rendered, pricelist, working ours, contact details, etc.
In addition to this, you can turn to the prebuilt slider for the demonstration of your high – quality images of your new products and devices and control them accordingly.
Simplicity and lightweight nature, readily responsiveness and cross – mobile and tablet friendliness, easy to customize color scale, strong and modern HTML5 and CSS3 coding and styling are smoothly integrated within SKT Nutristoreand make the latter so advanced and ready towards all the challenges.
Projected and developed to cater to all the predictable needs and preferences of any appliances store or shop owner.
Tis appliances WordPress themes celebrates a potentially e – commerce compliant framework when the theme is supported by WooCommerce or other commercial plugins for the most productive shopping experience for all the website viewers.
All in all, this modern and creative website building tool with its handy package of tons of features and management controls to show off your content in the most categorized way.
Its fast – loading and smooth – navigable nature to save the website user's time and nerves, can be the portion of initial assistance to kick your rapid advancement along the way.
In case your plan in relation to your appliances WordPress themes based website includes no one else but you to build up the site from scratches and take it to perfection, look no further than Towing.
This top – rated and very competitive template is well suited for any kind of appliances shop to sell all types of items, including refrigerators, washers, dryers, dishwashers, ovens, HVACs, freezers, water heaters or whatever it may be, or render your professional services to your clients.
So that they get in touch with you, select an appliance which is broken, book a repair appointment and get their problem solved with the help of an experienced and knowledgeable specialist or technician in the shortest timeframe possible.
Conceptually well – thought out and energetic, live and inviting, surprisingly easy to use and follow, SKT Pottery appears as one more appliances WordPress theme to lead the way in the relevant industry and cope with all the expected and unexpected issues one can be faced with while trying to showcase the most efficient and credible appliances – based online profile or store.
Customization and configuration possibilities are endless with this website builder, so that you are the only master of your website visualization and inner functionality without any support of IT specialists, developers or graphic designers.
SKT Pottery also comes integrated with responsiveness for all your on – the – go multi – devise user customers to communicate with you no matter where they are and what type of hand – held device they are practicing to scan your web content.