Do you want to start your blog, business website or online shopping store? If yes, then choosing up a theme that supports your various needs is really important.
A theme should not only fit your business or brand, but it must have the ability to support multiple plugins to reach your targeted audience and rank on google search pages.
You have Collection of themes to choose for your business, but selecting any one randomly does not make sense at all. You need to think about your goals, targeted audience, and everything that satisfy you and your users both.
Therefore, we are here and rounded up all in one WordPress themes that will do best for your business and you do not need to put your mind in finding all little details.
These themes will fit any type of business. So in short, choose the specialize theme from the given list and get started with your business.
The List of Top 13 All in One WordPress Themes 2020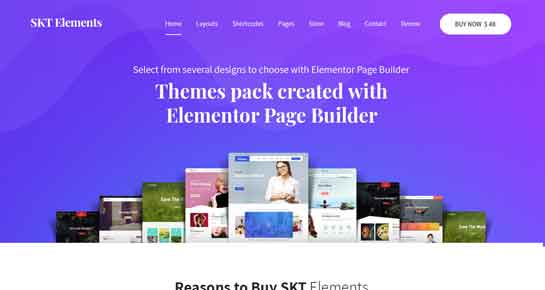 If you are looking for a theme that can give your website a stunning look in an easy way then you should acknowledge SKT Elements all in one WordPress theme. In this theme, you do not require any technical knowledge to go and install it. It includes the simple templates that you can use according to your website requirement.
The theme has multiple website pages which quickly and give your drag and drop function, so you can easily improve the customer experience.
Key Features:
Supports kind of files such as video, text, images and audio.
It will provide you with a flexible theme that supports multiple browsers and devices.
You do not need to compromise with the footer and header section. It is widget-friendly.
You will get free customer support for one year via emails or contact number.
Provides the best searching experience to the customers.
SKT Guten Pro is yet another best all in one WordPress themes you should strive for your business. It is a highly preferable theme by the customers because it is easy to use and available for multi-purpose businesses.
The theme has followed up all the guidelines and tested by Google so that your user will get the real experience. This theme is best that can be handled by any tech or non-tech person. It includes a hundred Plus functionalities, so you can install it without editing the codes.
Key Features:
Includes a number of features such as event search, save the venue, Google map and many more.
Support the NextGen gallery plugin and compatible with high-quality images and videos.
Favor's calendar and wpml plugin
You will get a testimonial block to showcase your reviews and also you can add up to three columns layout which can style your website.
It supports multilingual languages.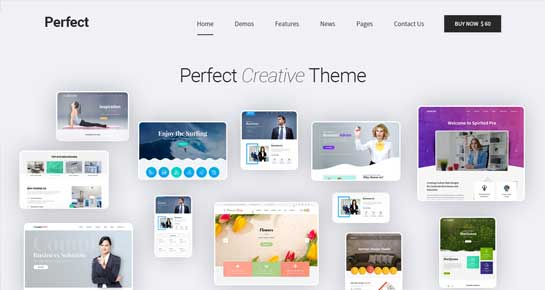 This theme is highly recommended and suitable for any type of industry. It has pre-installed templates that come up with various appearances that you can select for your website. The home page is coded with SKT page builder which provide you super flexibility and fun.
More than that, its inner pages hold up the multiple page borders such as WP Bakery site or a breezy and more. SKT Perfect is compatible with the various plugin such as wooCommerce gallery plugins, slider plugins, and many more.
Also, it is friendly and optimised theme that makes it easier for you to load on Google and help to get the best customer experience.
Key Features:
It includes comment templates with nicely compatible with commenting plugins.
Fully documented theme
Retina ready, HD ready, and multilingual Reddy theme pack compatible with q translate and wpml.
Include about, services, and other inbuilt pages that you can edit easily.
It is integrated with 600 + font-icons as well as several Hydra layouts and advances short quotes like partner logos.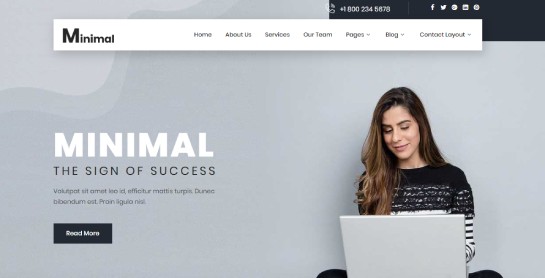 Naturo is one of the finest all in one WordPress themes that looks good for every business. It is a very nice theme which is SEO and SMO optimized. Along with that, it has a team and Portfolio section which can have to showcase your premiums and testimonials easily.
Many people love a clean and simple website and this is exactly what it will provide you. It comes and integrated with awesome font icons which have been checked and tested. The theme is drop-down ready and consistent with the latest version of WordPress.
This theme is developed by using the elementor page Builders and also supports the Divi, WP Bakery, and multiple page builders.
Key Features:
Contact information can be displayed in the footer section.
It is clean and easy to use.
Include default contact form and testimonials.
Contain 600 + Google fonts.
You can use the blog very affordable to per articles news and other tips.
It is a complete multi-purpose WordPress theme coded with elementor page builder. It is one of the safest and documented WordPress themes that compatible with the latest version of WordPress.
It includes a proper call to action buttons that integrate with your clients. It is also known as a robust WordPress theme because it includes the default about and the team members where you can showcase the services easily and nicely target the audience with the greater navigation features.
The blog section can also be great and used for the multiple purposes that make your services more reliable.
Key Features:
Complete colour changing theme so you can edit as per your choice.
It is coded with HTML5 and CSS5.
One of the best industry-related theme that can build you as the brand.
Include several boxes of testimonials, etc.
Google tested and retina ready theme
If you are looking for the super easy and fast loading themes that just better you user requirements, simple is all in one WordPress themes which comes up with essential features nowadays.
It is highly congenial with the different gallery plugins and supports widgets of sidebar, header and footer as well. It is fully documented and very easy to use. It does not require any technical person to access the codes.
Since it is based on the WordPress.org navigation that comes up with all great features to support the user requirement as well as the owners. It comes up with the default demo video, so you can learn the basics and use it accordingly. Also, it includes a colour picker tool, so you can change the theme background as per your choice.
Key Features:
Include several plugins so you have full control over the sidebar
Support multilingual languages and a default contact form.
Easy to load and compatible with different plugins.
Give a stunning appearance to your website.
SKT Parallax Me Pro is the SEO optimised and responsive theme that has the ability to reach your targeted audience conveniently and you'll get the Best rank on Google search pages in a short time.
It has filterable portfolio sections and showcases gallery to show the audience what you have been working for. This is a one-page multipurpose theme which is beautifully designed for any type of industries in the businesses on eCommerce section.
It has 10 section into one page that comprises pre-enabled shortcodes. It comes with unlimited colours and colour picker so you can change it according to your website.
More than that it includes pricing table, testimonial area, and contact form with captcha code. It is simply designed that allowed the webpage to scroll down easily and create a great effect, so you can get back to it.
Key Features:
It is an interesting theme that is designed to achieve your goals successfully.
It will give your website captivating and forward-look.
This has been crossed cheque with multiple Browsers and devices.
It is loaded with various social media icons.
The well-suited theme for every business
It is a well-suited accounting WordPress theme which has a greater number of features to support your business in multiple ways. This theme has different looking.
This provides you with great info and comes up with a lot of white spaces that give your website a stunning look. The theme is responsive and easy to run and load on mobiles and desktop.
It provides you with great services from the customers and allows users to navigate your site perfectly. It has scalable dropdown level 5 and multiple page layouts, blog layout, and posts layout options. This also includes the proper call to action buttons which is packed with the options panel and you will get the great response.
Key Features:
Comprise auto-rotate feature
Give your professional and impressive website
Include of some 500 + font and 650 Plus Google fonts.
Incorporate multiple theme files and free installation
SKT Pathway pro is yet another all in one WordPress themes created by the SKT themes to accomplish the goals of every industry and the business. It has many inbuilt features that allow you to create the best website from its appearance to its professionalism.
The theme can easily modify with the person who wants to change its colour font etc. This includes twenty sections on the homepage and comes up with the 5-page template such as Right, Left, full width, no sidebar and blog template.
This is an integrated ready and WooCommerce supportive theme. Along with that, it is perfectly integrated to support the best customer satisfaction.
Key Features:
Comes with the standard pages like 404 and pricing table.
Can help you to add any type of content.
100% supportive and world-class best theme for your business.
Involve slider, headers and footers.
If you are looking for the theme that supports your business sales easily and you can earn the best revenue for it, then you should look on the local business all in one WordPress themes because it focuses on the call to action and social media buttons.
It has a different inbuilt slider which can be easily modified as per your need. It includes a contact form that supports captcha code, and also it is compatible with social media sharing plugin, so you can reach the multiple orders from the different platforms.
In the case of supermarkets of your local business survive, it is the best digital platform or a theme to outreach your competitors.
Key Features:
Coded with the latest programming languages and give you a more professional appearance.
Perfect theme to support local business and reap maximum features.
Include contemporary features the take you to the peak of success.
It does not provide your customers with the inconvenience.
This theme is specially created for professional business websites who wants a website should be fascinating and amazing. The theme is actually the fastest and simple theme which is lightweight and support number of plugins.
The customer support of this theme is highly experienced and integrated with eCommerce functionality. Ele Business theme is coded with the latest languages that support the latest WordPress version. Moreover, the website can be created by utilizing the customise features So, anyone can add it as per the choice.
Key Features:
It is just the perfect option to increase the lead and users subscription.
The theme can be used by different businesses and small scale industries.
Include a lot of options that raise your business globally.
It is a high quality responsive multipurpose WordPress theme which is suitable for every device and browser. It easy to use and include portfolio, so you can add photos and the testimonials to showcase your audience that how good you are.
Along with that, it includes cache plugin which is important for the best website experience. It is essential and the best theme to reach your business goals easily. It is compatible and can handle different languages, so you can achieve your audience more and get the best results.
Key Features:
It comprises special characters.
It is a clean fresh and professional theme.
RTL tested and Google friendly theme
Incorporated with multiple fonts and google icons.
SKT Biz Pro is also the best all in one WordPress theme which can manage the home page itself. It is easy to use and fully documented theme. It is highly great and supports multiple plugins especially Ecommerce, so you can sell the products online.
More than that it helps the Guttenberg features that simply integrate with the most SEO plugin. The theme includes the number of elements which provide you with a great layout in the text, images, and heading that is integrated with the Google maps.
More than that, it can fix up your errors easily and you can receive direct support from the customers to resolve any kind of issues.
Key Features:
Include standardized pages such as easy to navigate.
Include 6 types of page templates.
The main feature of the theme is its USP.
Give the best user interface that allows the best UX.