Actors, Actresses and Models and Model Agencies need online portfolio to showcase their works, recent works as well as past works.
They need a online website to showcase about themselves, cater to their press releases as well as show to the world what they are capable of in case they can do multi tasking as well.
Our model and actor portfolio WordPress themes provide the resume and platform for those actors and models who want to get an online visibility, online medium to showcase to the world about themselves in both professional and personal manner the way they want it.
Since the number of pages one can have on a website are unlimited and the features we have are also of good number anyone can have a very decent 20 pages website showcase everything from press releases, to galleries, to news.
To blogging which connects actors with their fans and also have Twitter and Facebook Feeds in the footer and sidebars for increasing Fan interaction and engagement.
Since WordPress can auto post on various social networking websites the work also gets reduced by adding a post or a press release in your website and getting it published on each and every other social platform that matters.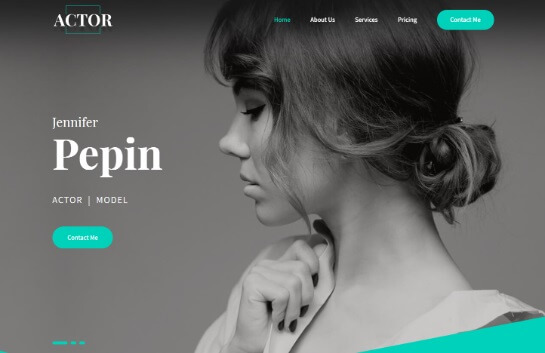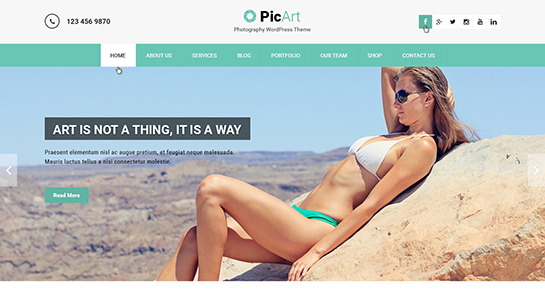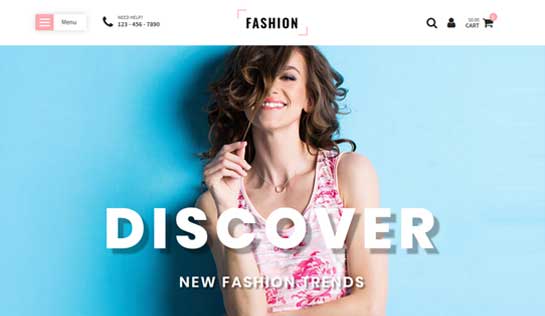 Panaroma Pro is a professional actor and model suitable WordPress theme which suits the purpose of an actor or a model or even a singer or musician very well.
It has 5 large slides on the homepage which can talk about the 5 important points you want to display on your site namely: Your photo gallery, News/Blog section, About yourself, Your showcase or work gallery, contact us.
Of course someone can have different 5 topics or points but this is definitely a personal theme which can add the desired touch to one's portfolio.
This is a color changing theme hence one can make it as per their own color and preferences as it suits their choice.
Features include:
Color changing theme.
5 slides look really amazing on the homepage. Unique homepage.
Compatibility with various different plugins of gallery and in built gallery.
Transparent body in inner pages for nice full wide background images.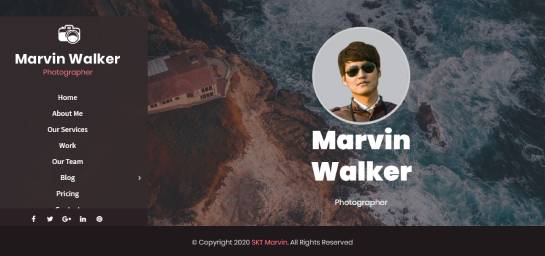 Marvin is a single page or one page actor or model or model agency responsive WordPress theme which is a good way to display your portfolio in a nice and easy way as well as in a single page talking about everything about you but still keeping the feeling of a resume type of website.
Single page themes are common when it comes to apps, products and online resumes and hence its no surprise this theme made it into our list of actresses WordPress themes.
We have kept a single background for the whole site which can be a nice background or a collage just like how people keep their cover pictures in Facebook or Twitter backgrounds.
Since its WordPress one can have many menu items in the sidebar and have different pages like about me, PDF downloadable resume, contact us form, social networking sites and their feeds and gallery among others.
Features include:
Simple to navigate and one page.
Color changing.
Social media friendly.
In built gallery and contact form.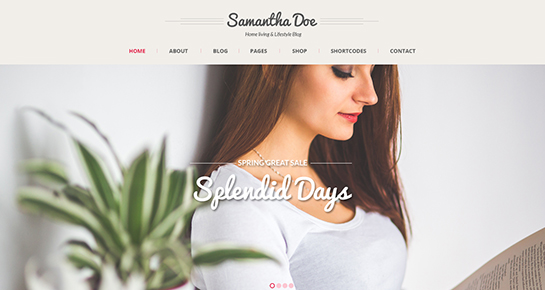 Girlie theme is the perfect them when it comes to showcasing a girls or a persons life in just about one page.
It has a wonder slider on the top under logo or font styled name of yours and menu.
It has 4 boxes upgradable to 6 boxes to tell all about you and what you do.
It has What's new area and a shop area in case you want to sell some goodies.
It has a blog area at the bottom and a parallax section where you can either have testimonials or something else.
It also has an about me area. This theme is perfect for a personal WordPress theme which suits actors, actresses, models and model agency websites to showcase someones life in just 1 homepage.
Of course this is a multi page website theme which will have links to all inner pages and blog pages.
Features include:
Blog
Page Layouts
Slider changeable
Color changing theme and other features given on above themes too.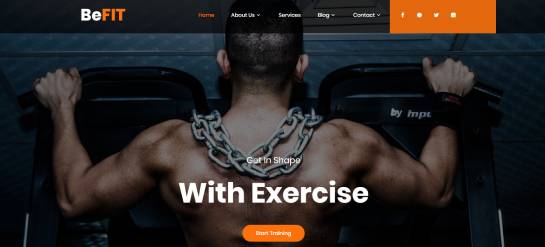 BeFit is yet another personal trainer WordPress theme but can be used for the purpose of displaying a personal profile page for anyone be it actors or models or singers as well.
BeFit theme although sounds more like a fitness related theme but if the images are changed then it can suit well almost any kind of WordPress website.
It has various sections on the homepage which display various aspects and has video and gallery sections among other sections.
Features include:
Gallery properties.
All features talked in above themes.
SEO and SMO friendly.
Responsive theme as is the case with others too.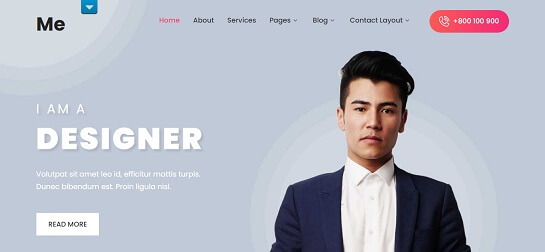 This is the perfect Resume WordPress theme for anyone who wants to showcase their skills, their works in case they are multi tasker, Personal info, social media buttons and about us section features online resume links too. It talks about Education as well and skills bar and work experience and gallery area.
This theme is perfect for online resume WordPress theme or online CV WordPress theme and can act as a perfect boost for someone who needs a quick online presence.
Features include:
Skills are showcased clearly.
Work Experience and Education discussed.
Other features as given in above themes.
Launch Pro WordPress theme is a product launch WordPress theme however can be used nicely to launch even books as well as actors and model portfolios. It has all the necessary features as well as necessary elements to make a complete website for online portfolio of any type.
Features include:
Simple and multi purpose.
Clean and easy to use.
Different layout than others if someone wants something different.
Complete Pro is the best theme we have created till date and has to be on this list. This is a true multi-purpose WordPress theme which can be molded and used in anyway one wants it to use.
Has ample header options, footer options, ample sections of various types. The way you want it you can set it up and use it.
Features include:
More features than any other theme.
Several 100s of sections and shortcodes for setting up content the way you want it.
Black looks eye soothing to many and having a black background for pictures and white text looks good and suits many. The orange focusses on those call to action buttons very nicely. Has all the features one needs to complete an online portfolio website in short time.
Features include:
Black and orange look eye soothing.
Photos look great on a black background.
Simple and easy to use.
One page portfolio WordPress theme.
SKT White Pro is similar to SKT Black Pro however is on a white background with blue call to actions. The strong parallax slider on the top along with the single page navigation and multipage layout can suit any type of website one can think of including model portfolio WordPress themes.
Features include:
White layout similar to Black Pro above however all in White for people who like White.
I Am One Pro is a single page WordPress theme suitable for any type of website but very suitable for actor, actresses and models type of websites.
Features include:
Singular page WordPress Theme.
Easy to use with content clubbed with theme on install.
50+ social icons included all one needs is to enter the URL.
This is for agency portfolio WordPress websites like model or actor agency portfolio sites which are needed by agencies to display all kinds of models or actors they deal with and their portfolio.
Features include:
Agency style WordPress theme.
Fully documented.
Compatible with several plugins and has in built contact form and portfolio.
Photo World Pro is a pictoral WordPress theme. Images speak more than words and that is the idea of this theme to focus more on images and thus image slides can explain what the site is about and the person is all about.
Features include:
Pictoral view WordPress theme.
Pictures slider view on the homepage with 15 slides.
Inner pages laid out on nice backgrounds.
Compatible with several gallery plugins plus have in built gallery.
What Actor and Actress WordPress Themes should have?
Any actor or actress WordPress theme needs to have the following at least as we know because they need to personally showcase about themselves and this acts like an online resume for them.
This also acts as an area for their fans to like their various works, check about their previous works and know about their upcoming projects.
Also this becomes an area where the actor or actress can write about specific issues on their blog post and people come and read and interact with the actor about it.
1. Personal Profile zone: Personal profile zone should include a complete and detailed summary about how the actor or actress has done from the beginning till date.
It should have details about his/her parents, and relatives and current husband or spouse.
It should have details about initial struggling phase and the works for which he is best known for.
It should have an area where the various awards he has won and the awards he was nominated for should be given and mentioned.
2. Portfolio area:
Portfolio area can include and hold previous and past projects as well as gives an insight about the current and upcoming projects.
Portfolio area can also include a gallery of the awards he has received and the awards receiving night pictures can be included.
A portfolio area also amuses and interests directors and producers to contact the actor or actress for more work.
Actor or actress WordPress theme should thus have a personal profile and a portfolio area and this is a must for them.
Model or Model Agency WordPress Theme also have these things in common
Most of the top celebrity models and model agency and portfolio WordPress themes also have these common features and they are a must for them to showcase nicely about the model or the model agency.
3. Events Calendar:
An events calendar acts like a nice area where people can check about the upcoming events that are about to happen and can book tickets for them or acknowledge which country and city this event is going to happen and can travel to that place.
It also gives an insight to other customers to may want to book the celebrity for their ribbon cutting or wedding or events as well. Thus important info about the event management company or agency who manages events for the said actor or actress or model can be found in this section as well.
4. Specific Shortcodes:
Specific shortcodes like skills i.e. a nice skill bar describing various skills of the actor or actress can be given in a nice area or can be given in the sidebar on each page.
This is a crucial and a nice feature for any actor or actress or model portfolio WordPress theme.
Also other shortcodes like pricing table although prices aren't given directly most of the time but events rates etc can be given.
These days a large number of people are dreaming about to make their career in modeling or want to go into the film industry. It largely depends on the hard-work and some sort on luck as well.
Modeling and fashion are all about charisma and delicacy. Today there are a large number of options by which one can reach their goal. One of the best available alternatives is making your online presence. One can get much popularity if work according to a proper plan and in a proper manner.
If anyone wants to build their career in photography, modeling or the like, then here we have designed a lot of themes by which one can design their relevant website.
Model WordPress themes are designed keeping in mind various features and functionality which are must require by modernizing websites related to the latest fashion trend, modeling as well as photography. If we talk about modeling then which is the most important aspect which is mandatory for your website.
The answer is elegance of your website as you are designing a modeling website which is solely related to pleasant and eye-soothing look. Therefore, one must have to design a website which just looks stunning as their beauty.
Here, in all these themes we have incorporated numerous features. All the themes have a distinct functionality that makes it stand out from the crowd.
All are designed with Modern technical languages like HTML and CSS3 which provides your websites an animated effects and increase user-interaction as well.
One just after seeing a glance of your website tempted to take a deep look into it. Just imagine, when you design your website with such graceful themes and it is combined with a striking content than the blend of these two will be outstanding.
All these modeling themes are designed with modern technicalities but are much simpler to use even for neophyte users.
When you go step by step to take a look at the demo of all these themes then in this journey you will find a list of masterpieces which are just impeccable for showcasing your glamour.
If we talk about art then there is much competition in this industry as well. There are a variety of arts in the whole world. But as you all know everything needs a perfect medium and well-designed strategy by which it can reach to the people in the best way.
In the list of themes, there are such themes also which one can use to make their website pertinent to designing agency like 'design agency pro'. It is splendidly designed which can take your business to new heights and you can become popular within a short span of time.
Among all these themes some themes are best suited for the one who wants to start their career as a freelancer in any stream. One can make effective use of these themes to gain name and fame within no time.
One most significant feature is that all these themes are designed to be multilingual compatible so that one can design their global website and can reach beyond boundaries.
All are translation ready themes so that one can easily translate your website into any other language as well. This will be of greater convenience for your website visitors.
Model WordPress themes as the name suggests is a polished and exquisite package where you can find a variety of well-designed themes which all are neat and decent.
It is just idle to set up your websites. Give any of these themes a try and you will be just amazed by its results. This is also compatible with various devices and browsers as well. So, all these themes comprised of all necessary features.
If you're a budding actor or a model and want to showcase your talent to the world, then you need something useful and huge platform, i.e. going online with your own website.
It will help you to get more recognition, not only in the professional world but also in the personal space too. People will start to know about your talent more, and thus can approach you for something big, that may change your career wholly. That's what Model Portfolio WordPress Themes are for you.
On a website, you can have unlimited pages about your career, various types of galleries showcasing your portfolio, along with the appreciation for your fans as well as plugins for Facebook and Twitter social media support too.
From being a singer, musician, or even a model, Model Portfolio WordPress Themes will showcase your work. It will help in customizing the way you want your website to be.
From themes that are colour changing, to various slides animation – you can feature them all. There is not only a gallery built in but also have support for other gallery plugins as well. Background features also look much more visually impressive and fuller, with the added transparency feature.
Apart from that, if you want to have a single page website, there is the option for that too also. It will easily showcase your portfolio, in just a single glance, without any need of other options.
You can set up a cover picture, just like you do on Facebook or Twitter, along with support for adding social media plugins as well.
There will be an option to download your resume, in just a single click, in terms of PDF, as well a have contact option too. This will help clients to get a nice idea about what you can do, and also easily reach out to you if they are interested.
Apart from that, you can also set up a blog on your website, telling all about your struggles and past, so that your clients may know more about your past life.
There will also be themes that can be colour changed too. Not only that, there is support for SEO and SMO too. SEO stands for Search Engine Optimization, and SMO stands for Social Media Optimization.
Where customers can easily find about your website on the internet, through Google Search or Social Media platforms. The website will also be very much responsive too, all thanks to Model Portfolio WordPress Themes.
If you want to showcase your skills, there is also an option for that. With Model Portfolio WordPress Themes, you can showcase your personal information, work experience, education, resume and various other social media buttons as well.
Clients will know about your skills quite clearly, and thus it will be better for the client to provide the necessary job. With clean looks and simple to use functionality, Model Portfolio WordPress Themes, is undoubtedly the best option you can have in your hands, to boost your acting or modeling career.