If you are surfing the Internet for the best accountant WordPress themes for your personal or corporate needs, our powerful assemblage of the relevant template may guide you to the right direction.
In the modern business and commercial world, accounting is an area all individuals and business representatives, regardless of their age, occupation or job position, should be familiar with.
However, for the organized and accurate organization of each and every business or organization of any caliber, having a reliable accountants or accounting service provision company is a must.
Hiring professional accountants, bookkeepers or accounting firms will significantly ease the load of the company and will enable you to focus your attention on other more productive affairs and undertakings.
Today hundreds of accounting or bookkeeping agencies and firms offer a wide range of services, including accounting, consulting, estate planning, tax services, bookkeeping, reviews and audit, etc.
Naturally, high level services are offered also online and are accessible to a larger spectrum of potential clients and customers.
In this relation, we'll highlight some of the top notch accountant WordPress themes catering to accounting, CPA and bookkeeping businesses.
Each and every accountant WordPress themes encompassed here is something of a great value and will bring tons of benefits to your small scaled or highly seasoned agency or firm.
They are also wonderfully pliable and convenient for private accountants offering their services and consultations, as well as other freelance and payable works.
Best Accountant WordPress Themes For Accounting CA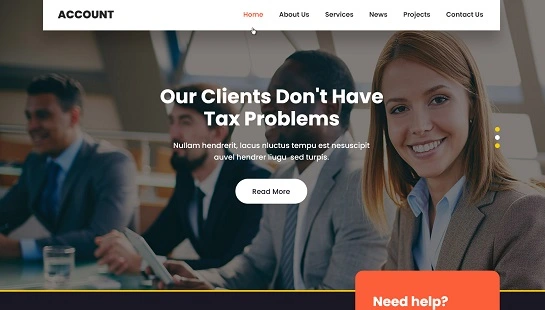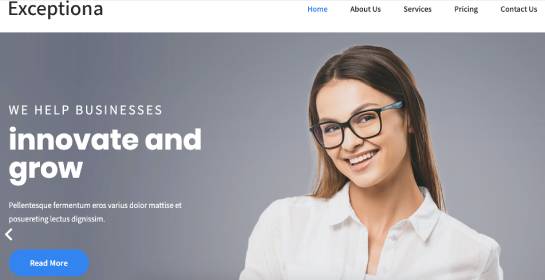 Exceptiona is the best starting point to build an exceptionally good and easy to browse website built on a stable and durable framework.
It is well coded and well developed accountant WordPress themes enabling you to highlight your services and offers, staff and agency specialists so that people can grasp the serious and sophisticated spirit of your accounting business.
Very serious yet attractive and attention seizing, functionally excellent and structurally flexible, Exceptiona celebrates maximum responsiveness and mobile friendliness ready to take your site throughout different hand held devices, as well as major browsers.
From secure and clear coding and styling controls to admin friendly dashboard, Perfect Accounting has been developed and crafted to minify the complex coding processes for the future website admin.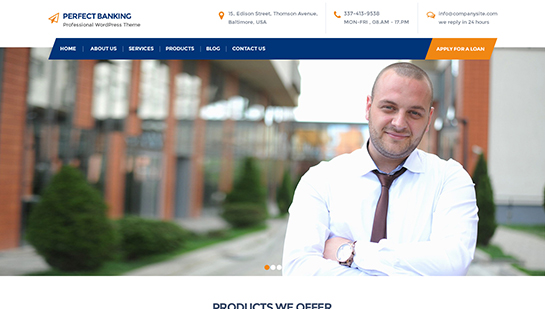 SKT Banking is a feature rich and technically saturated financial and banking, bookkeeping and accountant WordPress themes that is custom built to tailor to any specific needs under those disciplines and working areas.
Check out the demo version of this top rated template to feel the abundance of its capabilities and advantages over other affordable templates.
Use the preloaded homepage sections like home, about us, services, blog and contact, as well as boxes, as well as footer, header and other relevant areas to display your primary and secondary content, enlist services, share your location and other contact info.
This systematic rendering of the site content will make the entire website easy to crawl and scan for the required information.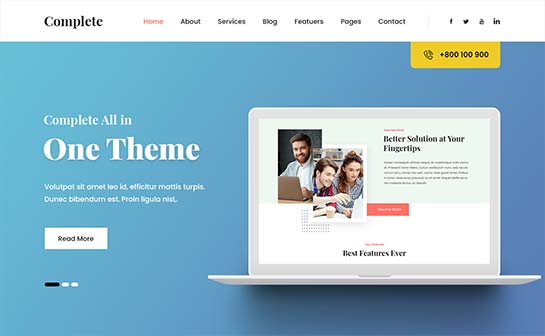 Complete Pro is one of the well crafted and minutely processed templates ready to go together with absolutely any type or kind of websites and blogs. It follows that your accounting business can also greatly benefit from this really complete and comprehensive website building tool that is also easy to edit and manage over time.
Having a complete surveillance over the look and feel of your profile will be easier with Complete Pro than any non techy web admin can every imagine.
Staggering and infinitely smart, it comes with scrupulously worked out framework styled with responsive touches to fascinate your website guests who browse your content on their mobile and tablets.
You are also empowered to add and test plugins and shortcodes of different denomination to expand your footprint online and result in a greater achievement.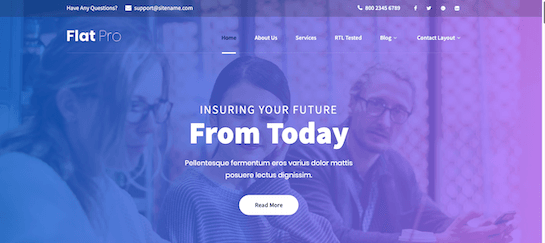 The whole elegance and beauty of flat web designing are more than evident in Flat Pro as a modern and effective accountant WordPress themes for multipurpose usages and applications.
Although the appearance or the look of your accountant website is not the most important factor in your accounting business, you need to take care of providing your clients with the most accurate and eye catchy look your site can have.
Additionally, your website shaded with minimal elements and touches will be smoothly scrollable from top to bottom and will respond to every click of the user in a matter of seconds.
This quick performing rate of the template is also well supported by responsiveness and mobile friendliness so that your services will be viewable for the customers on the go as well.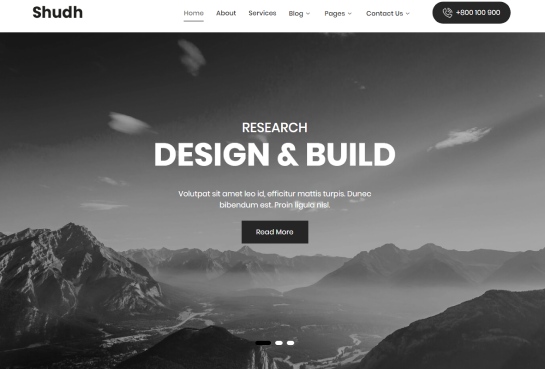 An accountant WordPress themes dotted with minimalistic web design approach is the best option you can have at your fingertips. Having the most important messages clearly visible and easy to notice will let your business be more productive and easy to access on the digital arena.
What will make your accountant or financial website so unique is up to you. The theme grants you with boundless admin controls over the default template to put your best foot forward and stress out your specific brand or identity.
Color and font managements, shortcodes enabled, portfolio section for already completed projects, translation ready platform to serve your content to the international audience and more features will be accessible as soon as you purchase Shudh Pro.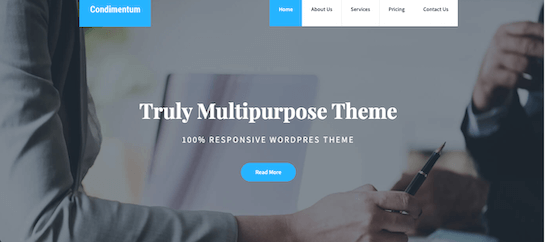 Condimentum is another visually clean and easy to follow, minimalistic in terms of colors and excessive elements template with a straightforward interface and outline.
It efficiently eliminates all the attempts of making your admin workload heavy and unbearable. The simplicity and intuitiveness in usage will guide you through the most practical parts of the theme to draw the best look and feel for your site.
There are all the appropriate content areas and zones for you to provide your financial and accounting information in a timely and neat fashion.
Blog section for boosting traffic and daily visits, as well as SEO coding for more qualified SEO results are also included in Condimentum.