Today, WordPress is widely used by millions of users across the world because of its free, customizable and extremely extensible. Just as important as our site's design may be, knowing that it is available to everyone looking for it, is equally important.
Are you also one of those whose websites spend a lot of time offline? What'd happen to those customers who are looking to access your blog?
It's obvious that a downtime of a website could cost you possible customers, clients and most importantly, money. In this post, we'll cover up how to monitor your server uptime in WordPress and the use of appropriate plugins to ensure that it never goes down.
What Does Monitoring The Server Uptime Mean?
Of course, you can sit on a chair and look at your computer screen to watch server's uptime and downtime. There are various services available in the market to monitor that for you so that you get sound sleep, without having to worry about downtime.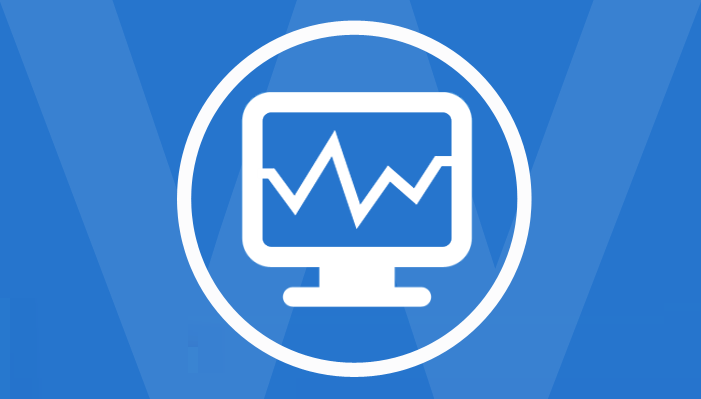 The Need of Monitoring Your Site's Uptime!
Though you have spent a lot in creating your WordPress website and to monitor your website, its 24*7 working is still unsure and if that's happening, it can become a fairly huge problem such as:
If your website is regularly seeing downtime, how can your clients or customers can trust you with their business, which leads to an unreliable service and that's very bad for your business.
What if your website is down and there are plenty of customers who are willing to purchase your products at that particular timing. It'll not only cost you money but potential buyers too.
Major search engines will find it difficult or for the matter of fact, will not be able to index your website if it's regularly down. Your business will see a huge downfall among the search engine rankings.
You might have opted for a hosting server that guarantees you uptime throughout the day and night, but that doesn't mean they are strictly following their guidances.
So, it's important that you monitor your website time by yourself to remove any downtime possibility to avoid loss of business.
That's where you will require special monitoring tools and services to ensure you're getting the services you are paying for to protect any unfortunate consequences.
The Best WordPress Uptime Monitoring Plugins
The WordPress Monitoring Plugins below work with all kinds of websites and help you monitoring the uptime of your server, and if your site does go down, they'll automatically send you the notifications to a log file where the data gets recorded.
1. Jetpack
Jetpack is a free plugin offered by the developers of WordPress with several included services such as Monitor, which checks your website's up and down time and inform you immediately by an email everytime your website see a downtime.
Not only the website's up or down time but also you'll get the reports of visitor's stats, security services and ways to speeding up images.
Either you can install this plugin from WordPress official website or do it via the plugin directory of your website. Connect the installed plugin to WordPress.com to enable its features.
2. ManageWP
ManageWP supports tones of features such as restores, backups, uptime monitoring and multiple site management but not all of them are free.
To monitor server uptime, you need to upgrade to the premium business plan of this plugin. Once you have started using this plugin, there's nothing better than that as it provides you with each detail via emails or SMS.
To install this plugin, you need to create an account on ManagWP.com and follow the steps and within few minutes you'll have it installed on your website.
3. Orbit Fox by ThemeIsle
Getting informed by SMS or Email for uptime of your site which is what advertised for this plugin. You need to register an account at ThemeIsle to use this plugin.
Various hosting services claim to have 99% uptime, and this plugin is an excellent way to judge them and check your websites uptime, too. One site for 60-minute duration tests you get free of cost from this plugin which is decent enough.
4. Uptime Robot
To astound you with another WordPress plugin, let's introduce you with Uptime Robot that checks your website's uptime in five-minute intervals.
Not only you'll receive emails, but everytime your site has a downtime, you'll get Twitter, web hook and push notifications to manage that.
You can also choose to monitor more than 50 sites or to receive SMSs, but for that, you need to upgrade to their premium plan, which is worth. To install it, you'll require creating an account with this plugin.
5. InternetVista
To use this plugin, you'd require an account and then choose one of their premium services. Yes, it's not free but with this, you can choose from the number of ways to receive notifications everytime your website is down.
Not only notification choice but you can also select the intervals you'd like for this plugin to monitor your site.
Also, you can view the overall performance of your site. Though it is costlier than all WordPress Monitoring Plugins of its niche, it's more useful too.
6. Super Monitoring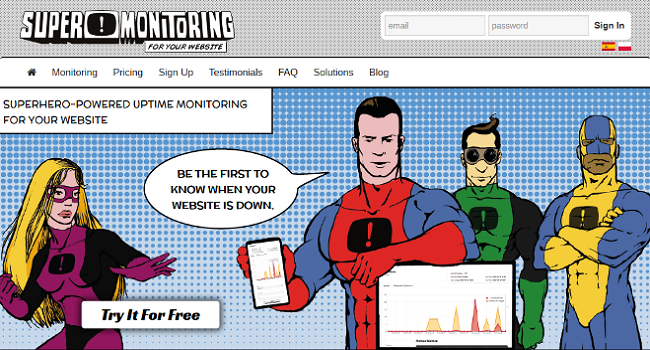 As the name suggests, it's super intelligent in monitoring your website but to use this plugin, you'd require an account and subscription to any of their premium services. Once subscribed, you can choose the intervals and notifications for the downtime.
Without regards to the plan you choose, you'll surely get all the functionalities including performance monitoring, Google Analytics, one-minute intervals and downtime history.
You need to upload the entire directory "super monitoring" to your website to install this plugin.
7. Pingdom
Costing at only $7.95 a month, Pingdom is one of the most popular web performance management tools to understand how your visitors are using your website and the kind of experience they're receiving.
It monitors your website's up and down time every minute from locations across the world and provide information in graphs and reports to give you a clear picture of your site's performance.
For every downtime of your site, Pingdom will run a test to see if it can establish the cause. You can enable this Plugin from your website's admin area.
8. Remote Website Management Plugin by Watchful
This tool will alert you with an email as soon as it captures any downtime. It's robots check your websites in every five minutes of interval. Even when your site is up, you'll be notified for that too.
To install WP Website Monitoring:
Upload the complete plugin folder to the /wp-content/plugins/.
Go to the 'Plugins' menu in your website admin area and activate it.
Now, go to 'WordPress Website Monitoring' under the 'Settings' tab and configure the plugin.
Few Third Party Services for Monitoring
A) Site24x7
It can help you monitor the uptime, downtime and performance of all kinds of apps, websites and servers. As soon as it tracks a downtime or unavailability of your site, you'll receive notifications via email, SMS, RSS, or Twitter.
This service will work for almost all kind of websites, but it is advisable to larger sites and companies to use this plugin.
B) Monitor.Us
Monitor.us is a one-stop solution for all your website's monitoring requirements. Mostly, this plugin is used by IT professional as it offers website, network and open API monitoring.
For the common WP users, its free services are best as they can choose jus the website follow-up to and ignore the rest.
The websites today are always against huge competition. The websites cannot afford to not have functions which are important to the crowd.
Since the websites are against huge competition despite any of the challenges that they face they need to ensure that they provide the visitors what they expect. The number of features and functions that are required to be included on any website are limitless.
Every website owner makes all efforts to include these functions in the website. What is important now is that the website which is created with so much attention and efforts should be accessible to the whole world this means that the website should be up and run when the visitors try and connect with it.
Think of the disaster when the visitors reach a website link click on it and it is not available. The website loses a lot of traffic because of this.
Even the loyal visitors who connect to the website will eventually move away if the website gives them connection problems. The major thing that is required in such situations is that the website owners must keep a check on the uptime.
What does monitoring actually means?
You must realize that the website owners cannot sit all day and check for the hours the website was up and functioning and the time it was down.
What they require is a monitoring service which is automated and does the job for them. They can even pull reports for say a week to see how the website has performed.
This will ensure that the visitors to the website will have the right access to it and they will not be disappointed.
Every website needs to maintain this reputation with their visitor and the only way to check whether it is in place is by using a service on their behalf.
WordPress has always been at the top of this game. They have never ignored any market needs and in fact, they have responded to the same in time.
The WordPress website monitoring plugins are thus a great opportunity for the WordPress owners to get the information on the performance in time.
What does the monitoring process do?
The WordPress website monitoring plugin sees to it that the website is up 24*7. It generates reports to ensure that the owners know what the websites performances have been.
It does not directly do anything to change that but keeps the owners and the maintenance team up on the project. They generate updates to show that the website has not been performing for its optimum which means that the users should do something to change that.
There are many such plug-ins available for the users. The website owners should choose some of them wisely to pick the ones which will exactly suit their needs.
The WordPress Monitoring Plugins can be included from the directory or the official site and can be installed just like any other plug-in.
It is important to keep an eye on these websites as they will lose on the clients if they are not available to them given the huge competition.
Final Thoughts
After you have selected and installed any of these WordPress Monitoring Plugins or services, just see how your website performs.
If you notice any astounding downtime, it may be the time for you to switch to a better hosting service and if there are no downtimes, continue using the website server you are currently using as they are actually abiding by their guidelines.
What do you do to monitor the site's up or down time? Please share with us in the comment box:
About the Author:
Catherrine Garcia is an experienced Web Developer at Hosting Facts and a passionate blogger. She loves to share her knowledge through her articles on web development and WordPress.