In today's digital world, speed is king. Websites are no exception, and slow websites can cause visitors to navigate away quickly. As a website owner, you want your visitors to have a great experience on your site, but you also want to be able to manage it easily. That's where WordPress static site generators come in.
They can help you create lightning-fast, static websites that are easy to manage and update. In this post, we'll take a look at the top WordPress static site generators that will help you create a fast and responsive website for your audience. So let's keep reading!

When it comes to lightning-fast website generators, Hugo is a name that stands out from the crowd. Built with speed and simplicity in mind, Hugo has gained popularity among developers and website owners alike.
One of the key advantages of Hugo is its incredible speed. Powered by Go, a programming language known for its efficiency, Hugo can generate static websites in a matter of seconds, even for large and complex sites. This blazing-fast speed not only improves the user experience but also boosts search engine rankings, as page load time is a crucial factor in determining website performance.
But speed is not the only reason why Hugo has become a top choice for developers. Its ease of use is another major selling point. Last but not least, Hugo comes with a collection of more than 300 pre-made themes that are easy to use and loaded with a variety of features, making it possible to develop even very complicated websites.
Simply Static is a powerful tool that allows you to convert your dynamic website into a static one with just a few simple steps. This WordPress Static Site Generators is particularly useful for those who have websites that don't require constant updates and want to optimize their site's performance.
With Simply Static, you can easily generate a static version of your website by simply entering the URL and specifying the output folder.
The tool will crawl through your website, fetching all the necessary files and resources, and creating a static version that can be hosted on any server. This process not only improves the speed and security of your website but also reduces server load and bandwidth usage.
Additionally, static websites are highly compatible with content delivery networks (CDNs), ensuring even faster loading times for visitors from different regions.
With Simply Static, you can effortlessly convert your dynamic website into a static one, reaping the benefits of improved performance and scalability. Being the most widely used static site generator for WordPress, it has more than 600.000 downloads and more than 50.000 active users.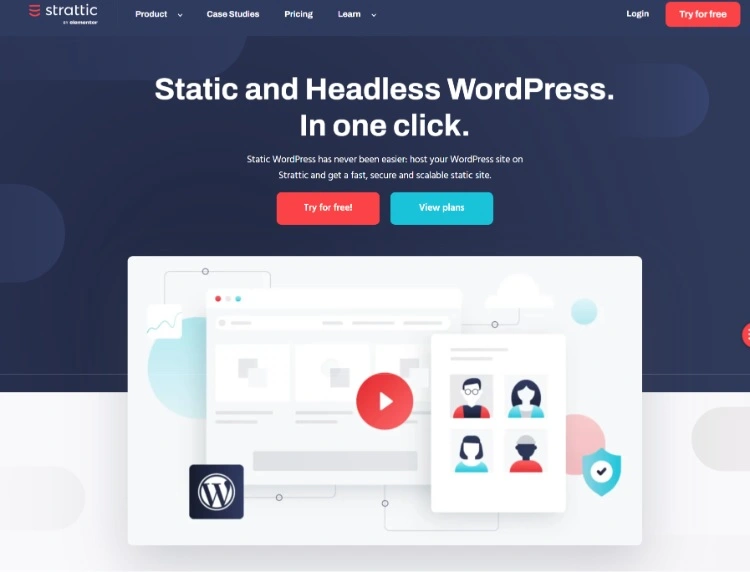 Strattic is a revolutionary platform that takes website hosting and security to a whole new level. It offers a unique approach to website management by converting dynamic WordPress sites into static sites, bringing the benefits of speed, security, and scalability.
By transforming dynamic content into static HTML, CSS, and JavaScript files, Strattic eliminates the need for server-side processing, making websites faster and more efficient. This innovative approach also enhances security, as there is no server-side code vulnerable to hacking attempts.
Additionally, Strattic offers built-in caching integration, further optimizing website performance. With Strattic, website owners can enjoy peace of mind, knowing that their sites are protected from security threats and able to handle high volumes of traffic without performance issues.
It is a game-changer for businesses and organizations that rely on their online presence to thrive and succeed in today's digital world.

Beyond simple websites, Gatsby is a platform that allows you to build incredible online experiences. However, if you decide to use it with WordPress, Gatsby will enable you to create static websites with all the ease and comfort of using WordPress as an actual content management system.
With Gatsby, you can separate your website's front end from its completely WordPress back end. In this manner, you have the main advantages of utilizing a static website, which are primarily security and speed. You may work with team members on content production and get a real-time preview of the material you are publishing using Gatsby.
The fact that Gatsby may be used for free is the best part of all. Though there may be some additional restrictions and a limit on the number of people who can edit the website, you will still be able to access a static WordPress website. You may choose the professional subscription, which begins at $42.50 per month when paid annually, after you outgrow the free package.

Do you need a website hosting company that can assist you in building or migrating a static WordPress website? Shifter is on your side. The platform offers features and tools to help you build websites, work with others in your team, and provide visitors to your website an amazing experience.
Since Shifter is a WordPress platform, its features are intended for static WordPress aficionados who wish to push the boundaries of static. The platform will handle forms, provide CDN caching, eCommerce website development, search capability, and more. All of this is included in a maintenance-free service along with access to Shifter's media CDN and site use data.
You won't have to pay an arm and a leg for any of these perks since Shifter offers a free plan that includes all of its best features. It's the ideal starting point for learning about WordPress static content. If you decide it's time to upgrade, you may choose from one of the premium plans, which have monthly prices starting at $16.

HardyPress is a game-changing platform that offers a unique and efficient solution for website hosting and management. Gone are the days of dealing with complex server configurations and constant updates. With HardyPress, users can enjoy a hassle-free experience as their websites.
Just one of the characteristics of HardyPress is the virtualized WordPress backend. The static versions of the webpages are hosted on Amazon S3 Buckets, while the service is constructed on the Amazon AWS cloud.
In addition, a free SSL encryption, a staging environment, support for contact and search forms, a year's worth of site backups, and a worldwide content delivery network are all included. Additionally, you are always free to download a duplicate of your website.
Pelican doesn't need a database or server-side logic, making it maybe a lesser-known option than the others on our list. Using Markdown and reStructuredText, this generator creates clean, well-organized static webpages that can be created rapidly.
If you choose Pelican, you can simply use the robust native plugin system to increase the functionality of your static website. Furthermore, you can use Pelican to construct dynamic pages if you want to at some point—it's not only for static websites.
It includes reusable page templates, supports many languages, generates Atom and RSS feeds, and caches material to enable rapid page reconstruction. It's an excellent option for headless setup since it interfaces with a lot of different services and allows WordPress users to import material from their website fast and easily.
8. Atlas
WP Engine's headless WordPress hosting solution is called Atlas. In addition to providing standard hosting and an enterprise platform for WordPress, Atlas provides headless WordPress hosting, which can be used to build either dynamic or static websites.
WP Engine can achieve almost static website speeds with dynamic websites thanks to it; this is far quicker than with regular WordPress. Still, the same design may be used by anybody interested in deploying a static WordPress website. In addition, WP Engine provides excellent security in a package that combines the greatest features of dynamic and static websites.
Bottom Line
One guaranteed method to provide your website's users a quicker and safer surfing experience is to create a WordPress Static Site Generators. While there are several approaches to developing and maintaining a static website, these static website builders ought to assist you in taking WordPress's typical dynamic experience and turning it into a static one.