When it comes to marketing your product or service online, it is vital that you utilize social media platforms such as Instagram for the same. With more than a billion active users, it makes sense to leverage your online web content on platforms such as Instagram.
And when picking out a theme for your website, you may want to opt for one that is compatible to third party plugins, WordPress instagram Widget and more. Check out some of the best WordPress instagram Widget and choose the right one for your website.
When it comes to WordPress instagram plugins, this particular one stands out on account of the fact that it can be integrated quite easily with the rest of your website.
It is small, and what's more, it does not pester you incessantly for login details or even your name. The pluign may look pretty basic as it happens to come without much frills but given its ease of use, it is easy to see why it gets the top billing where WordPress instagram plugins are concerned. It comes with a simple markup,
Think responsive and you would have this instagram widget in a nutshell. It is a responsive widget, one that displays your latest instagram posts. It can display up to 12 images per user and 18 from hashtag.
And what's more, thanks to this handy little plugin, you should be able to leverage your content across instagram effectively.
What's more, you do not need to create a separate user name to utilize this widget, you can use your instagram name and that should do the trick. This widget certainly manages to stand out when it comes to WordPress instagram plugins.
This instagram plugin is slightly different from the rest in the sense that it allows you to import more than one instagram feed direct to your website.
In that sense, it certainly seems to stand out when it comes to WordPress instagram plugins. You can tinker with the settings and choose to display the various images as thumbnails or in a light box, and even add a caption beneath the same.
The plugin is easy to set up but it does not come with too many customization features, which can prove to be a slight downside.
The instagram gallery has got to be one of the must have plugins to your website. If you happen to be a regular instagram user and what's more, if you also happen to have a business website, then it only makes sense to link the two.
This handy plugin should enable you to do just that. With this piugin, you can create some stunning galleries and even use sliders such as carousel for the same. Check out the demo and with it, you should have a good idea on how to install and use the same on your website
Spotlight – Social Photo Feeds is another handy plugin that will enable you to showcase the best of your instagram photos directly on your website.
This plugin is quite easy to install and once installed, it should certainly showcase the very best of your instagram account. You have three options when using this plugin – you can use your instagram user name, instagram token or image url.
You can also tinker with the settings; even add animations to help make your instagram images a lot more interesting. Incidentally, this plugin is responsive and mobile ready as well and it certainly packs in a lot.
Flow-Flow is a no-code, fast, and powerful way to embed automated social media feed into your WordPress website. It allows to customize and display a mix of feeds from 10+ sources including Facebook, Instagram, Twitter, Youtube, any RSS and WordPress feed itself.
The social media wall is a must-have section for bloggers, businesses and eCommerce websites nowadays. Engage your audience with the best content and increase website conversions!
This is one widget that truly lives up to its name. And as the name suggests, this responsive widget comes with a slider and a carousel which should enable you to display your stunning instagram images on your website.
This is a free Instagram plugin and one which you should be able to install without much hassle. It comes with device compatibility and ease of use, so you do not really have to be an expert to use this – check it out.
The one thing that you would want in a widget is that it must be easy to use and to that end, this instagram widget does exactly that.
It is quick, easy to utilize and moreover it happens to be compatible with any WordPress theme as well. With this plugin installed, you can source your Instagram images with just your username or a hashtag. It is that easy to use and one of the reasons why it also happens to be quite popular.
This widget is slightly different from others in the sense it allows you to choose from three layout options for your instagram feed.
You can pick from slider, lightbox or gallery – you can choose the one you want for your website, as per your preference.
It happens to be available for free but to make the best use of this WordPress Instagram plugins, you may want to go pro. And as you go pro, you get access to more features.
Do note that if you choose the lightbox option for displaying your images then you can review the five different light box options and select the one you'd prefer.
This widget is also easy to install and easier still to use; it displays your Instagram in a grid or carousel. You can also opt for the light box option as well.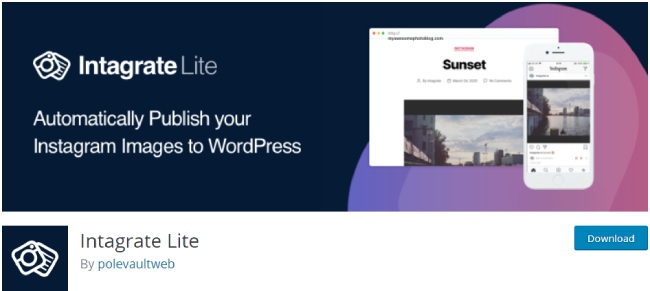 This plugin allows you to source your Instagram feed direct to your website. It enables you to display the latest Instagram images directly on your website.
It is a free plugin but it happens to come only with the most basic features WordPress Instagram widget and it can be used for only one website.
That being said it still happens to be a handy plugin that you can opt for and it should definitely help your website stand out as well.