You must have visited many websites that have been created using website builders. but do you know about the form builder?
The form builder is a plugin which helps the user to communicate easily with other webmasters.
Even if there is not mentioned contact details then also user can easily communicate with the help of form plugin. Forms work as an entrance between the clients and webmasters.
Even you have seen the contact page on the various websites where you just need to add an email address, residential address, phone number, your name, etc.
This was the old strategy to communicate with the user because the owner is unable to save a copy of each and every client. Plus spammers attack was the biggest problem to ignore this type of strategy which can badly harm your computer and website.
Thus, New strategy has taken place i.e. form builder plugin that should have at each and every website.
One of the reasons that you may want to go with WordPress as the main platform for your website is the fact that it is resilient and highly adaptable and comes with advanced functionality.
What sets WordPress apart is the fact that most of the best WordPress themes support external plugins with which you can enhance the functionality of your website and get more traction online as a result.
In fact, just to give you an example, you can check out the top 10 WordPress form builder plugins of 2019. All these plugins are designed to help you streamline your marketing strategies, to capture email leads and to get your customers to sign on the opt in form with less hassle.
Opt in forms are essential to any marketing plans as it helps you to connect directly with prospective customers and allows you to engage with them directly.
This is the reason why all form builder plugins are essential and the ones listed below, happen to be some of the best. Just check them out and you should know that these form builder plugins have proven to be quite effective, when it comes to ramping up traffic.
Top best WordPress Free Form Builder Plugins 2019 are listed below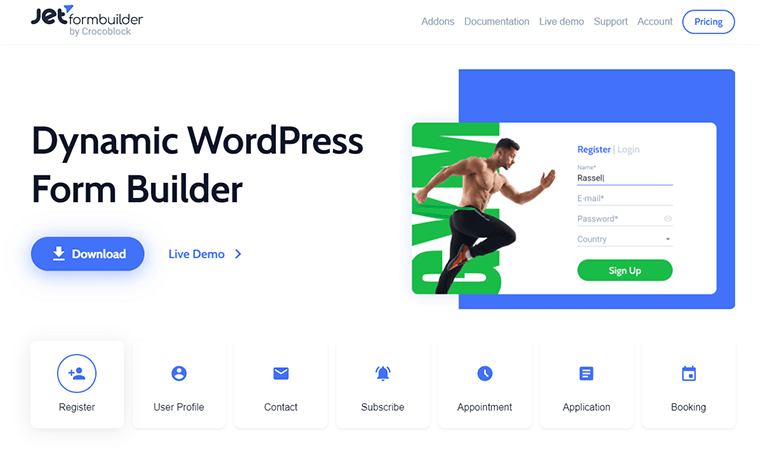 JetFormBuilder is a free Gutenberg form creation plugin that helps you create any form from the template or scratch.
The plugin has advanced features to provide complex form building, such as conditional logic, hidden fields, calculated content, etc.
If you want to arrange a form quickly for your clients and visitor you can create a form using contact form 7 plugin.
You can make use of any type of field that everyone needs for creating a complete form. you have full control of adding or deleting and rearranging field as per your choice.
This plugin is available at free of cost.

You dont need to hire any developer for creating a contact form. With the help of WPForms you can easily create WordPress form just you need to drag and drop the field you need. this is very powerful and easy plugin.
With the help of WPForms you can create forms in just a minutes forms like contact forms, feedback form, subscription forms, Payment forms, and other forms for your sites.
Ninja forms is a form creation tool which is available at free of cost. within a minute you can create a form using drag and drop form creator i.e. Ninja Form plugin.
Beginner can also build the form without writing any code. there is no limitation for creating a forms, fields, emails, actions or submission.
Pabbly Form Builder offers all the advanced functionality that you would need while creating forms. It has the largest collection of beautiful pre-built form templates that are customizable using drag and drop builder, mobile responsive, and conversion-optimized such that your visitor won't leave without filling out your forms.
The best part of this software is that it allows you to collect one time and recurring payments via PayPal or Stripe. Also, you can apply conditional logic in the forms, send autoresponder, and a lot more with this form builder.
In addition, the forms created using this form builder can be used in multiple ways. Like you can share the forms online on social media and other platforms, connect your form with multiple applications without any hassle.
The pricing of this form builder is just $15/month with all conversion rate optimization features.
User can use Formidable form builder to create a contact forms, surveys, quiz forms, payment forms, purchase forms, email marketing forms, calculator forms, etc. by just drag and drop functionality.
You can save your valuable time while using this plugin because easy as well as complex forms will also created quickly.
With the help of WordPress form maker plugin, you can easily generate different types of form hence it is fully customizable, user-friendly, and responsive.
You can make changes on your own like you can change color, themes, designs, dimensions, fonts, etc. You can add up to 7 fields while creating a form. also provided with multiple pre-installed default forms.
Ultimate Form Builder Lite is a Free WordPress plugin that permits you to create different types of contact form with just drag and drops feature. Users can create, customize, and build a website on your own. the form entries are stored in the database.
It supports dedicated email and forum support. you can get free updates for a lifetime.

The contact bank is the best as it provides more than 200 features. you can create an easy but powerfull form within a few seconds. powerfull manage panel is provided by contact financial institutions.
In simple Contact, the bank is the fastest and easiest WordPress plugin form with advanced performance. This plugin form is cross-browser compatible, responsive layout, anti-spam protection, email notification, multilingual, etc.
You can perform any type of action such as add field, delete, rearrange, duplicate, edit, preview and many more.

Caldera form is also a very simple and powerful form plugin. there is no limitation to add a field or form. it also supports anti-spam to stop those bots.
Even if you are creating a simple form or a complex form you will be able to create it very easily because you can make use of drag and drop editor.
It is the approach to acquire and control leads on your WordPress website. If you are looking to create and combine attractive forms in a second you should use vCita contact form.
All the contacts are been saved to your email and added to the vCita mobile CRM where you can manage your whole contacts and leads without any interference from any place.
Contact form builder by vCita is available in different languages. Notifications are sent via email or phone.
Smart Form is an advanced form. you can use Smart Form to create a calculator form, Quote forms, event, and booking forms, purchase forms and many more.
With the help of this form emailing is very easy you can send different types of emails to different users at the same time. you don't even need to write a single line of code. hence this form is user-friendly.
Main features of Smart form are responsive, shortcodes forms, form entry screen, custom form field, file uploader, conditional logic, etc.
Contact Form Plugin :
Contact Form plugin permits you to build contact form quickly and easily using drag and drop functionality. you don't have to write code.
This form plugin is much responsive to all other devices like mobile, desktop computers, etc. the design of contact form is so beautiful, thus this plugin is stylish and flexible to use. the best feature of this theme is that without reloading the page you can easily send the form.
The backend panel is so easy to use. with the single click of a mouse, you can create a form that provides a high level of customization, flexibility, and design.
You can make use of more than 660 icons that can be added on the form filed. and more than 1200 fonts are available to use in NEX-Forms.
Auto-spam control is the main feature to maintain the security level. one can send emails to multiple users or can send a confirmation email to a user.
FormCraft is also a drag and drop builder where you can create, embed form and can track the submissions. This form plugin is highly customizable so that it will look more stylish and beautiful same as your website.
To don't need to login into your WordPress website all the time to check the new entries, you will get entry notification by email automatically.

WPFORMS is an easy to use WordPress form builder; it comes with drag and drop functionality and moreover, it also features pre-built templates that you can use, customize for your website as per your requirements.
These are some of the key features and benefits that you are bound to get with this WordPress form builder plugin and it comes with the pro version and the lite version, which acts more as a contact form plugin.
It comes with pre-built templates to make it even easier to create contact forms.
The one great thing about this plugin is that it provides you with Multi-page forms, that's designed to improve user experience.
Smart conditional logic which allows you to hide or show form fields or sections based on user behavior
It provides you with information on Geolocation to display location information about users.
And then there are those who leave their forms unfilled; this plugin allow you to handle form abandonment so you can capture email address even if visitors don't finish.
It also comes with Surveys and polls functionality makes it easy to create and analyze user response.
The pro version currently retails at $59/year.
Opt in monster as the name suggests is yet another great opt in form that you can use to develop your customer base. This WordPress Form Builder Plugins comes with advanced functionality and can easily be installed.
It allows you to create amazing popups that entices your customers to sign up by using the opt-in pop up box. It is a drag and drop in form builder that even a novice should be able to install and use easily. This opt in form builder comes with a price tag of $9/month.
Here are some of the key benefits and features –
You can use this opt in form builder to run effective Yes/No campaigns which enables you to create high-converting multi-step opt in forms with ease.
You can use this opt in WordPress Form Builder Plugins to develop opt in pages by using Campaign triggers, like exit-intent, help you figure out the right time to show a campaign to get your visitor's attention. This should enable you to ramp up that conversion rate.
You can use this plugin to run effective campaigns that are customized based on the client's current Geo-Location. This should further boost that conversion rate.
Seamlessly connect your campaigns to your email marketing service so as to create effective marketing campaigns that targets your key demographics with better conversion rate.
You can run A/B test your ideas to figure out which campaigns better for targeting your audience and which can lead to better results.
Formidable Pro is a great drag and drop form builder that comes with all the advanced functionality that you would need. It comes with a price tag of $49/year and the following features and benefits.
It comes with a Cascading lookup fields to display available options based on the selection from the previous form field. This should help enhance the functionality of the form itself.
It also comes with Calculated form fields which should make it easy to provide online estimates, to calculate product options, or show interest/repayment calculators.
You can use these forms for any purposes and the fact that this WordPress Form Builder Plugins offers you calculated form fields is indeed a big plus.
You can tweak the forms further so that they can be filled automatically, as this should help save time and increase the conversion rate at the same time.
You can also use conditional logic to show or hide questions based on user behavior.
You can also use Conditional redirection which should help you route submission response notifications to the right people.
Contact Form 7 Database Addon – CFDB7, which comes with a price tag of $99 per year is a multipurpose basic form builder that allows you to customize and tweak the form as you see fit.
Your requirements may vary from time to time which is why you need to opt in for this form builder plugin (pun intended). Please check the various features and benefits listed below.
It is an easy-to-use form builder with basic features
It also features tons of addons to customize how the plugin works, which lets you get only the features you need
Easily connects with services like MailChimp, Campaign Monitor, and AWeber and other services, which should keep you on top of your marketing efforts.
Gravity forms is one of the more advanced form builder plugins that you are bound to come across online. For starters, it comes with multipage forms, 'save and continue' functionality as well as limited form entries which is why it is one of the most popular form builder plugins available today. It currently retails at $59/year; here are some of the main features and key benefits.
This form builder plugin comes with Visual form editor which lets you build and design your WordPress forms in real-time.
It uses conditional logic to show or hide form fields, sections, pages, or the submit button based on user selections. This should enable you to increase your conversion rate as well.
Add file uploads fields to let users submit files or photos, avoiding back-and-forth to get needed files later
This is one of the few that allows users to save forms to continue at a later time Create user-generated content with front-end forms that create WordPress posts.
Pirate forms lite:
Pirate forms lite is a free WordPress Form Builder Plugins, that comes with limited functionality. It enables you to develop contact forms for your website in a matter of seconds, and as it is a free contact form plugin, it comes without the usual analytics, geo tagging that you may get with others. It is free to use and comes with the following features and key benefits.
All you need to do is to include the short code and with it, you should be able to easily place the form on your website.
The forms in question are completely customizable where you can change field labels and display messages to create the perfect user interface But the best thing is that you can add a reCAPTCHA which should help you to minimize spam.
Form Maker by WD is one of the WordPress Form Builder Plugins that comes with a user friendly interface. It currently retails at $30/year and also comes with the free version, where the functionality can be somewhat limited. It also comes with the following features and benefits.
It comes with unlimited field types that make it easy for you to source the information that you need.
It also comes with 4 display options (embedded, pop-up, scrollbox, and top bar) to place the form where it works best for your site. You can also customize it as you see fit.
Use the custom CSS editor to give additional styling features to forms and match them exactly to your brand
You can also register users on your WordPress site easily using the User Registration addon.
WP Mail SMTP by WPForms is a drag and drop form builder that also comes with both free and pro version. The pro version currently retails at $14.99 per month and comes with the following features and benefits.
It comes with incredibly rich features, both the pro and free version.
It also comes with Various field types including calculation, dropdown, radio buttons, and file upload to help you get the info you need.
You can use this plugin to create a custom WordPress search form to search posts, users, categories, tags, custom post types, and custom fields.
Visual form builder is an advanced form builder plugin that allows you to drag and drop fields, to create the form as you see fit. It comes with a price tag of $29, which is more than reasonable, along with features and benefits.
This plugin comes with automatic updates that keep your forms running through each WordPress upgrade
Form submissions are saved in your WordPress database which makes it easy to view, edit, export, search, or anything else you need to do.
Redirect to a WordPress page or URL after form submission to keep visitors engaged and on your site Moreover, you can also duplicate forms with one click to save time.
We forms provides you with the perfect solution as far as form builders go; it is an all in one form builder and comes with a minimalistic design with which you should be able to create the forms you need. It comes with a price tag of $39 per year.
This WordPress Form Builder Plugins is essentially a single page operation means that everything happens quickly, and you would not even be required to reload the page
You can use this plugin to develop extremely responsive forms that can work on any portable device.
Create exclusive campaigns by controlling user access, adding start and end dates, or limiting the number of entries