We all have heard about top 5, top 10 WordPress plugins, now finally increasing the number we are today discussing the top 20 WordPress Development plugins, right here, right now, with this blog. Before starting, let me tell you about what exactly WordPress Development Plugins are.
WordPress development plugins are the key features for developers while developing the WordPress websites, these plugins play a vital role in design purpose, graphic purpose, almost in every aspect.
WordPress offers free, premium and even freemium plugins where we all know what is free, premium plugins, whereas freemium plugins are those plugins come with upgrading options and are free plugins to the premium version for advanced features.
There are plenty of hundreds of plugins available in WordPress. In this blog, we are going to discuss both free/freemium, and premium plugins.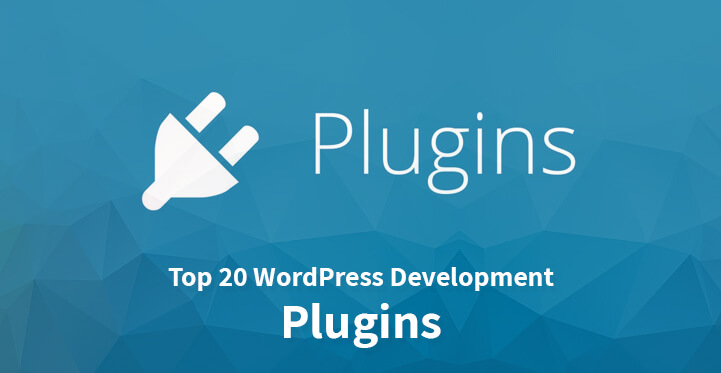 WordPress Development plugins somehow reduce our time and efforts while developing any website on WordPress, which means the plugins are the key essential factor which one wants while developing any WordPress website.
As we discussed above, we are going to see the top 20 WordPress Development plugins here in this blog such as SEO plugins, security plugins, speed optimization plugins and so on. Then why to wait, let's have a look:
1. Contact Form Plugins:
Contact form plugins are one of the tops most and widely used with amazing features WordPress plugins. With contact form 7 plugin you can have as many contact form as one want with a second, one can create the number of contact form with the help of contact form 7 plugin.
Feedback is an essential factor in any website to get in touch with viewers and to maintain communication relationship with them. To build such feedback forms, one need contact form plugins while developing or designing the WordPress website.
There are some related contact form plugins which can help you while developing a website.
WPForms – It is a drag and drop builder for WordPress.
Contact Form 7 Dynamic Text Extension – This lets you create contact forms with shortcodes.
Contact form Database – It helps to save the data filled by contact form to WordPress Database.
Contact Form 7 Modules – Helps you to add useful modules like ' hidden fields' 'Send All Field' to the contact form 7 plugin.
2. SEO and Social Plugins:
SEO and Social Media Sharing Plugins are the essential key aspects of any WordPress website development. Talking about All in One SEO, Yoast SEO, or any social media marketing, networking plugins, to get in contact with customers, clients, visitors, viewers, one need such type of plugins to make more traffic.
More traffic leads to more ranking of the websites. With these plugins, you can make a healthy relationship with your viewers and visitors. There are other SEO and Social media marketing plugins available in the market which runs well with any WordPress Development websites. Let's have a look:
Add To Any Share Buttons – This social media plugin allows the users to share the post, pages, and tweets to other social media platforms such as Facebook, Instagram, Linkedin, Twitter, Tumblr, Pinterest, Google+, Flickr, Snapchat, YouTube, etc.,
WP To Twitter – Whenever one publish a new post on WordPress website, this plugins sends an update to Twitter.
SEO Smart Links – This plugin provides smart SEO links for any WordPress websites including custom keyword lists, interlinking, keyword setup, etc.,
Social Login- social login is a free WordPress plugin that allows users to log in to any of the 30+ social media sharing such as Facebook, Twitter, Linkedin, and so forth.
SEO Data Transporter – this plugin allows one to switch the data from one theme to another theme or dropping plugins.
3. Posts and Pages Plugins:
It is recommended that having the right plugin for posts and pages is an essential part of any WordPress websites. Posts and Pages Plugins helps to display the posts you add in your site.
Having the right plugins for posts and pages helps you to display it correctly to the users and publishing aspects. Some of the least known WordPress posts and pages plugins are:
Duplicate post – it allows you to double a page or post or edit as a new draft.
Custom Permalinks – allows creating site layout with custom permalinks on every tag, category, post, and pages.
CMS Page Order – helps you change the pages order with a quick drag-and-drop option.
Table Press – this will allows you to add beautiful and feature-list tables on your post and page without technical coding.
4. Akismet:
Akismet is a default plugin comes with WordPress core installation. Akismet is an anti-spam plugin which filters all the spam comments from the comments box. This plugin helps in removing the bugs and spam from the site and gives you clean, clear coded comments on the sections.
Akismet is a useful plugin for protection of WP security. Having a secures website is a need for anybody, and having Akismet with every WordPress website is like icing on the cake.
This plugin comes for free for personal site and blogs, but for commercial sites, one needs to subscribe for monthly plans. The premium plan for Akismet provides security protection for spam comments.
5. Sliders and Widgets Plugins:
Sliders and Widgets Plugins are also one of the important plugins in WordPress development website. These plugins are useful for images, tools, widgets.
Sliders and widgets plugins are 100% responsive to mobile, desktop PCs, etc., also, to various browsers such as iPad, Android, Chrome, Safari, Opera, etc., some lesser known sliders and widgets plugins are:
Widget Logic – this plugin helps to add 'widget_content' filter and helps you to control the pages on which the widgets will appear.
Meta Slider – easy to use the slider, SEO optimized and fully responsive with Nivo slider, Flex slider, etc.,
6. User Registration:
This is a freemium plugin, user register feature is made available add default with WordPress installation. It is a free drag-and-drop user registration plugin for WordPress. The plugins include a ton of stunning features, hence one can create easily front-end user registration form within a few minutes.
User registration plugin also provides features such as unlimited registration forms, multi-column support, ReCaptcha support, email notifications and so forth., if one wants they can extend its features by having premium add-ons.
7. Google XML Sitemaps:

Google XML Sitemaps are an SEO plugin for WordPress. This plugin helps in search engines like Google, Yahoo, etc., this plugin comes for free.
Once you activate the plugin, it will automatically create an XML sitemap for your site making index easy. A sitemap empowers the web index bots to see the total structure of your site and recover the outcomes all the more effective.
8. WooCommerce:
WooCommerce is one of the most powerful WordPress plugins. Almost every WordPress themes come with their compatibility.
WooCommerce enables to an eCommerce platform for online store retailers, shops to sell their services and products online easily. With WooCommerce, one can provide multiple options to their customers through the online store as well.
There are extendable transportation alternatives accessible with WooCommerce. It incorporates free delivering, neighborhood pickups, level rates, and some more. You can move anything with it.
From physical items to occasion tickets, programming, and service designs, you will probably sell anything with it. It additionally has a lot of installment alternatives for your clients.
They can checkout utilizing check, money down, charge cards or even PayPal. This is an exceptionally helpful element for a plugin to have. It is valued by the clients too.
9. W3 Total Cache:
Cache is a term which means storing some data at a temporary period of time in the computer environment. Storing data at a temporary period of time through cache helps in faster data load when used next time.
W3 Total cache plugins help in reducing the page loading speed forceful. Cache plugins will cache your posts and plugins as static HTML files. Also, this plugin enhances the site-speed with impact on your SEO.
W3 Total Cache plugins features page cache, database caching, object caching, browser caching and so forth.
10. Jetpack:
Jetpack plugins are freemium plugins is one of the most powerful WordPress Development plugins for WordPress websites. As the name suggests, Jetpack helps in taking your site at a high level for a great success.
Jetpack plugins take care of website security, website performance, traffic growth, image optimization, and so forth. It highlights improved dissemination which consequently shares your distributed content to third-party services like web crawlers and expands your range and traffic.
Moreover, it makes sitemaps with the goal that web crawlers can without much of a stretch record your webpage.
The majority of all, it ensures your site security by counteracting cryptography. It likewise screens your site at regular intervals for downtime and in a flash informs you for any issues found.
11. WP-Optimized:

WP-Optimized is a free WordPress plugin help in removing the unwanted data from your WordPress websites. This WordPress Development plugins helps in providing clean, clear data and removes the useless data from your websites which causes weighing down to which you might be not aware of.
Spam comments, trash posts, trackbacks, etc., all unnecessary, unwanted, useless data is being removed automatically with the help of WP-Optimized WordPress plugin.
12. iThemes Security:
This plugin help in the protection of your WordPress websites and the data of the sites. Fights with bugs, errors, unwanted spam comments, etc., iThemes security plugin help to remove vulnerable data from your websites.
13. Google Analytics for WordPress:
Google Analytics is an incredible free to utilize measurable apparatus for understanding site traffic. Understanding your gathering of people and obliging them is an extraordinary method to improve your client traffic.
Along these lines, it's an undeniable decision to utilize Google Analytics plugins for your WordPress site. Other extra highlights of the plugin enable you to follow download numbers, outbound connection following, events and execution following, client disclosure reports and that's only the tip of the iceberg.
14. All in One Schema.org Rich Snippets:
Rich Snippets are the most ideal approach to improve the presence of your page/post on web index result pages. The bits give the fundamental data about the item/page quickly, for example, feature the attractions of the item. This is the reason they help you get more navigate rates through a search engine.
Hence to create the Rich snippets, one needs to use the handy plugin All in One Schema.org Rich Snippets. This plugin helps your site get more ratings and rankings on search engine.
15. Broken Link Checker:
Broken line checker is another interesting plugin for WordPress website also a free plugin to install. This plugin does it work automatically.
This plugin checks all the posts, comments and if any broken link found than informs you immediately. The plugin helps search engine from broken links, one can get the resulted notification through email or on the dashboard.
16. MailChimp:
MailChimp is simple but most widely free WordPress Development plugin. It helps in adding the more subscriber to the email list.
MailChimp is one of the most popular email marketing plugins which manages the subscribers, send emails, track results in a bulk and many more. For commercial purpose, one can try the premium version of MailChimp.
17. Disable Comments:

As the name proposes, Disable Comments is valuable to all around impair remarks on your whole site or certain post types.
Taking into account that every one of the posts/pages is not likely to acknowledge client remarks, the plugin gives a simple answer for incapacitating remarks on post types, pages, and connections.
18. Wordfence Security:
A free WordPress plugin, Wordfence security is also another WordPress development plugin. Being a web owner to keep your site secure from hackers, unauthorized access is a crucial task. There are many plugins available related to security purpose in the WordPress world.
Among them, Wordfence is the one that helps to protect a site from hackers, third party, unauthorized users. This plugin helps in blocking, login security, malware scan, firewall protection, and a lot more.
19. BJ Lazy Load:
When you have a lot of images in your WordPress websites then there is a problem of loading arises. However, there is a solution to this problem which can help reducing loading time and that is having a BJ Lazy Load WordPress plugin. This plugin helps in slow image lading problems.
The plugin works well with embedded videos, text widgets, etc., helps to load the images faster in your WordPress websites.
20. WP Smush:
Pictures are the extraordinary resources for your post/page which effectively catch the clients' eye. Transferring pictures encourages you to convey the message ordinarily better than just the writings can.
They make your page look appealing, infectious and locks in. You can pack and advance the pictures without diminishing the nature of the pictures utilizing WP Smush plugin. It enhances the majority of your picture records in JPEG, GIF and PNG designs utilizing propelled pressure procedures and save a lot of storage room.
It auto-smushes every one of your connections on transfer while you can likewise smush your connections physically in the media library.
Summary!
Having these top 20 WordPress Development Plugins helps you to get a better website and helps your website to touch high rankings in search engines. All the above mentioned and listed plugins are useful and helpful in every aspect. I hope this blog will help you and provide you with the data you required.