Some useful plugins for your WordPress website have been discussed here.
WordPress as an outstanding open source web publishing platform has already been chosen and adopted by millions of people all around the world.
It would be fair to point, that the popularity of this website creation tool is well-deserved, as it comes with easy to use template convenient even for those who are distinctly far away from programming and IT.
As well suitable management and customization options to optimize any WordPress website for search engines and perfect user experience.
In addition to that, a wide range of well-supported plugins, widgets and other tools have been processed and launched to enhance the site functionality and potentials.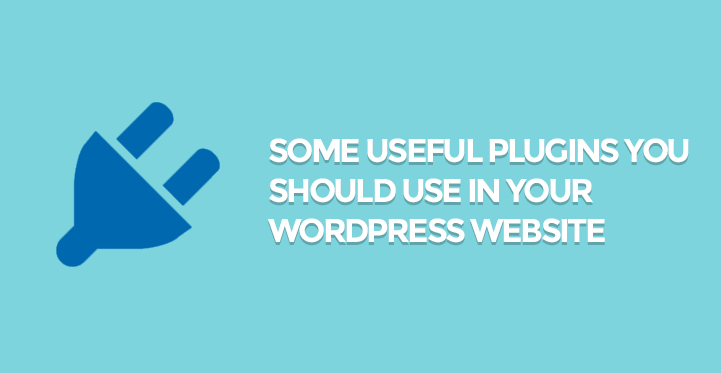 To make modifications by disabling or enabling this or that certain function or element, adding new connects and controls, keep the site clean or secure or undertake other relevant procedures for the best perspective of the target online performance.
In this article, you may find and make use of some useful plugins that you should use in your WordPress supported website and configure it to match all the required requirements, characteristics and extents.
There is a lot you can do with those suggested plugin solutions to make your website function perfectly.
1. Disable Comments

While the function of leaving comments and ensuring interaction between the website visitors is of vital importance to some websites, others do not necessarily need to be stuck in comments.
For such sites, there is a convenient tool for disabling superfluous function of commenting in the name of Disable Comments WordPress compatible plugin.
Its application will allow you to specify certain options in relation to your website commenting, that is to turn off or disable comments everywhere on the website, or on post types, posts, pages, media, attachments, etc.
This can be a professional and secure way to prevent some content from getting out of control. You can also use the plugin persistent mode for persistent changes to the database so that the comments will remain closed even after disabling the plugin in the future.
2. Updraft WordPress Backup

Updraft WordPress Backup is a must have extension to provide backups and restoration of premium quality for any WordPrss powered website, thus keeping a copy of your site safe and sound in any unpredictable situations.
The plugin can be boasted for its extra popularity among a wide range of competitive plugins, by taking advantage of them with its considerable number of more than 800.000 active installs and top quality performance.
Using this plugin has on its basis a fairly easy foundation and comes with automatic or scheduled backup services to back up the site to the cloud, Dropbox, Rackspace Cloud, DreamObjects, Google Drive, FTP and e-mail. Those storages are available in free version of the plugin.
As far as the premium format is concerned, this offers extra possibilities to back up the website database into Microsoft One Drive, Microsoft Azure, Google Cloud Storage, SFTP, SCP, and WebDAV.
3. Google Analytics
Here is entirely functional and flexible Google analytic solution at your disposal to cooperate stunningly with any suggested website of WordPress community and bring splendid outcomes, contributing to the enhancement to your website popularity, user engagement and its overall successful performance in the relevant online sphere.
This conveniently crafted tool will provide you with all the necessary insights and data collection and management possibilities in relation to your website, its visitors in diverse possible ways, resulting in a compact general view of your website operation.
You will be able to exercise other useful and dynamic features of this reliable plugin, including event tracking to measure downloads, video plays, mobile ad clicks, as well as user permissions to limit the users' access to your Google Analytics account.
4. Clef Two Factor Authentication

Clef Two Factor Authentication enables strong and secure password-free authentication solution. It's extremely fitting and entertaining way of logging into the website without turning to passwords or tokens.
All you need to undertake is to assure thus plugin synchronization with the website so that your website visitors and potential clients will have a super flexible possibility at their command to get logged into the website with the waving movements of their mobiles.
This highly intuitive and user-directed authentication and protection system integrates dozens of handy login features without any need of additional devices and elements or passwords integration into the process.
Security features to replace passwords with extensively dependable RSA system, as well as versatile login protection against password security attacks.
5. Duplicate Post

Duplicate Post is another highly recommendable plugin to deal with, in case you need super functionality of duplicating post types, posts, pages, portfolio item or save it as a new draft.
Being installed and successfully run on more than million websites, using this plugin incorporates a duplicator role of your website relevant content for endless reasons.
Luckily enough, this clone product proposes extremely user friendly layout to duplicate whatever needed as fast and easy, as it may be imagined, ranging from copying any page post.
Even field or setting to manipulating with diverse page layouts, settings and content, including duplicating of the original post or page date, status, excerpt and attachments.
6. WP Fastest Cache

Irrespective of the size or operational direction of your WordPress marked website, you will inevitably need a caching plugin to keep your website speed and ensuring its higher ranking on search engines.
Here is WP Fastest Cache with its simple and clean, yet super functional and highly customizable layout to implement a professional caching management of your website.
Along with the creation of static HTML files from your online performance areas and support of multisite networks, this fast operating plugin features lots of dynamic elements and controls to delete cache files after the post or page publication or from the options page.
Delete CSS and JS files, activate or deactivate cache functioning on mobiles and devices or for website logged in users, as well as dozens of customization options to contribute to the optimal performance of the website.