WordPress skill bar plugins are considered in this article for your reference.
Whether you want to display your skills, stress out all the qualifications your team members share, showcase the completeness or this or that project or compare different attributes on a 100% scale, skill bars are irreplaceable tools at your disposal.
All in all, these are great elements to keep your virtual audience both engaged and informed, as well as to keep the track of the success of specific campaigns, donations, events, projects, etc.
Skill bars are also considered to be design technics to add a unique charm to your content. As such, they are used for personal and CV websites, design agencies and centers to showcase the level of expertise and background knowledge.
Hence, the useful information provided by skill bars and rolled up by beautiful animations is a very productive way to connect with your audience.
The simplest method you can use in your WP based website to have a powerful skill bar is via WordPress skill bar plugins available in WP current repository.
In this article, we have surfed the Internet to find the best WordPress skill bar plugins so that you can completely rely on them with the hope of receiving more with less work and stress around.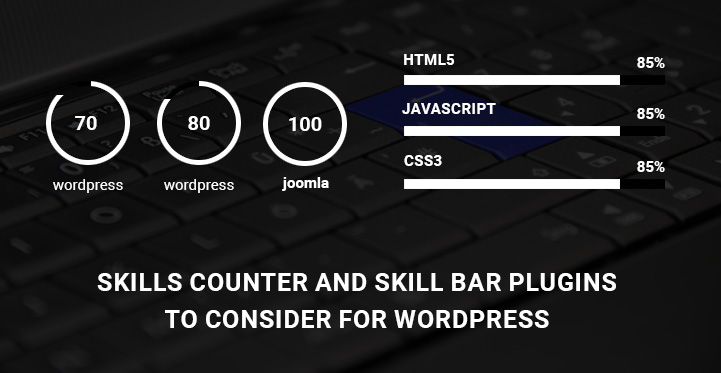 SKT Skill Bar:


SKT Skill Bar is one of the award winning and top class WordPress skill bar plugins every WP website admin can have at his fingertips.
This plugin suggests one of the simplest ways to add beautiful jquery skill bars like a progress bar, circular or half circular bar in order to display your skills on a percentage basis.
GPL2 licensed based, SKT Skill Bar is available entirely for fee. It means it can be a favorable option for individuals or small companies working on a tight budget.
Powerful shortcodes based functionality is what makes this plugin stand out with its persistency and seamless usability. Moreover, SKT Skill Bar is entirely responsive and mobile friendly.
It means that the skills bar deployed on your website will keep its unique look and feel across different platforms and mobiles.
Unlimited color controls are also at your disposal to play with the overall design and color combinations of skill bars to be added to your profile.
All in all, this plugin gives you a complete control over your site's skill bars and the way they will be available for the website visitors.
Skill Bars

Skill Bars is also among the top WordPress skill bar plugins aimed at adding beautiful and fancy skill bars on any WordPress based website or blog.
Just like the previous plugin, this one shares all the touches of responsive design so that you can result in a great mobile user experience.
This skill counter or skill bar plugin also comes with cross browser compatibility and unlimited quantity of skill bars possible.
With this plugin, you are also powered to manipulate with colors so that the skill bars added to your template will be a perfect mix and match to the latter.
Once the plugin is installed and activated, you need to use shortcode to display your skill bars either on post or on page.
Wen Skill Charts:

Add and distribute animated and eye catchy skill bar, circle or chart by the application of Wen Skill Charts. It is one of the highly customizable and user optimized WordPress skill bar plugins to add the required skill bars anywhere on your website: in a post, page or sidebar.
Wen Skill Charts is very convenient in usage and installation directly from your Admin Dashboard. Further, you can also manage customization controls from this Dashboard, including adding, removal or editing skill items.
In order to add a new skill to your bar, head over the Skills icon appearing on your Dashboard, then Add New. At this stage, a new tab will be opened for you to fill in.
You'll be required to add the title, description, percentage, select the color, etc. Once you are done with this part, hit Publish and that's it.
Custom Progress Bar:

Custom Progress Bar is simple and lightweight WP progress bar plugin coming with an intuitive and user friendly interface. If you want to add attractive and presentable progress bars and style them according to your taste, you are free to do it with Custom Progress Bar.
From custom width controls to color combinations and animations, tons of customization features are loaded with this useful plugin. This plugin is well maintained and fully documented so that you are going to have the whole process running smoothly.
Progress Bar & Skill Bar:

Progress Bar & Skill Bar is the next top option you can rely on in case you want to have awe inspiring and fully controllable progress bars. This plugin takes the responsibility of creating simple CSS3 progress bars and lets you style them with your own CSS3.
Simply use the shortcode below and add your progress bar whenever you find relevant on your website:
[wppb progress=60]

In this shortode the number 60 states that the progress bar is 60% complete.
The progress is a required parameter and can be presented in 2 different forms. It can be showcased either as a number and will indicate the percentages, or as a fraction, such as 50/100.
Alternatively, you can also use $ sign, for example, whenever you are dealing with donation, fundraising or other relevant programs and events.
WP Progress Bar:

HD and retina ready, WP Progress Bar is another simple yet dependable, lightweight yet sophisticated progress bar plugin developed for WP related folks and their sites.
This plugin empowers you to add visually stunning progress bars in your posts and customize their appearance whenever needed.
It has been tested with all the major browsers for its error free compatibility and celebrates full responsiveness when it comes to mobile usage.