These spectacular popup plugins management systems are highly optimized for integration with any website authored by WordPress and suggest a really powerful set of appropriate features and controls to be exercised in the most effective and beneficial way.
Organizing the website inner and outer structure in the most resourceful and effective way is a matter of vital importance in any case, irrespective of the size, popularity, description or type of the website under discussion.
The reason for that is to found a convenient and interesting layout for the visitors and potential clients to visit the website and check its updates over and over.
This, in its turn, will result in the growth of your relevant online presence popularity and fame and will exceedingly promote your content.
Today we are going to put forward popup plugins as of the most expressive alternative tools to make your audience focus its attention on something special, be it an offer.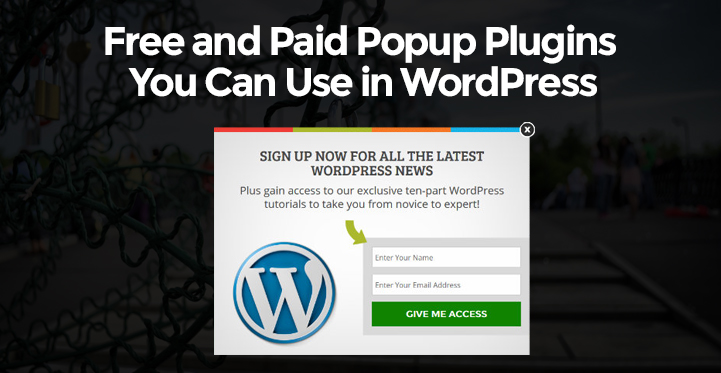 And a new product, discount, subscription forms or whatever it is, e-mail opt-in forms or just an advertisement in a popup window, appearing in the foreground of the visual interface.
Let us have a separate look on each of them and highlight their advantages and key points, which will certainly speak to your favour within the whole working process.
1. SKT Popup Plugin
If you are looking for the easiest popup plugin that is simple to understand and easy to manage then SKT Popup Plugin is the best choice for you. This tool will help you to convert your website visitors into email subscribers and gainful customers.
This plugin will surely help you to raise your website's conversion rates. SKT popup Plugin has some most essential and strong set of customizing and focusing features that is important to brand your business in the market.
Popup plugin allows you to build and run the campaign successfully. The plugin supports more than 15 mailer services including Hubspot, SendPulse, Getesponse, Emma, Elastic Email, Aweber, Sendgrid, Hubspot, iContact, ConvertKit, and more.
The biggest benefit of using SKT Popup Plugin is that due to this plugin integration you will never face any loading problem this is because it is well optimized for performance.
Different popups can be created for multi-purpose such as popup for showing an alert message, cookie notice popup, email popup, contact form popup, coronavirus update popup, and more.
2. MailOptin

The MailOptin plugin works as a WordPress pop up as well as optin form and email newsletter plugin. It is a good choice if you want lead generation, email newsletter as well as autoresponder options on your website. It works as a call to action agent and displays targeted messages across the website.
Options are namely: before/after subscription, lightbox mode, notification bar, slide-in, sidebar and or event triggered.
This is the lite version of MailOptin Premium which offers even more options like optin form types, exit intent, time on site, other triggers, advanced targeting and analytics among others.
3. Pop-Up CC

Pop-Up CC will never fail important tasks or miss target objectives of your popup marketing strategy. This plugin appears with unlimited popup forms, each with 2 available sizes- small and big, fully responsiveness of popups, lots of input areas creation for collecting visitors' details.
Such as names, e-mails, phone numbers, etc, diverse customization options, setting popup time and display, 6 stunning and well-crafted popup templates, retina ready and user oriented overall design, email notifications, enabling or disabling popups to appear on mobiles and many more coming with the free version of Pop-Up CC.
However, you may also find it reasonable to buy is paid version and receive wider functional opportunities instead.
4. WP Modal Popup with Cookie Integration
WP Modal Popup with Cookie Integration is another successful popup plugin, which can perfectly run on your WordPress website.
This template is simple, yet smart, functional product, which can be praised by its user-friendliness, letting you add jquery popup windows on your website homepage and boosting your relevant images, information, shop windows and others without getting blocked by any blocking extension.
WP Modal Popup with Cookie Integration is loaded with well developed web design to ensure suitable visibility regardless of the device used. Also, this product has been tested on different browsers and provided satisfactory results.
5. CM Pop-up
CM Pop-up makes it super easy to create popup banners and add them to your WordPress based website for showcasing any required information, upcoming events, offers or any other content.
This perfect popup system grants you with all the possibilities to highlight responsive popup banners and arrange them in the middle or in the bottom of the website, wherever you may think they fit the most.
Make certain customization procedures for better results by turning to the help of CM Pop-up Pro version and enjoying its professional foundation.
6. WPMUDev Popup
WPMUDev Popup is stable and smart, resilient and flexible all-inclusive popup and popover WordPress plugin at your full disposition and surveillance to integrate any necessary content display.
Mailing lists or other adds in a fully responsive way, guarantying flawless look on any suggested mobile or device and adaptation to its relevant screen dimensions.
It supports also multisite network and features well designed interface, as many popup displays along the website or network as you may think necessary, 3 built in intuitive and easy to use templates, allowing website users to hide the popup and enjoying professional support when needed.
Should you need more functionality and customization control over the plugin, along with the free version there is also Pro version available on the marketplace.
7. Popup by Supsystic
The next highly recommended free plugin in the face of Popup by Supsystic brings a perfect solution for affecting visual impression of the visitors and draw their attention to the requested website content, be it an exclusive offer or event, announcement or any other text and image presentation.
This feature rich popup system suitable for WordPress supported any website is built in the way to provide the website user with a wide range of customization options to display the relevant popup content.
Sselection among the accessible 7 animation design solutions, popup display options both for logged in and non logged in users and let your online undertaking function stunningly when accessed on device, tablet or mobile.
8. Brave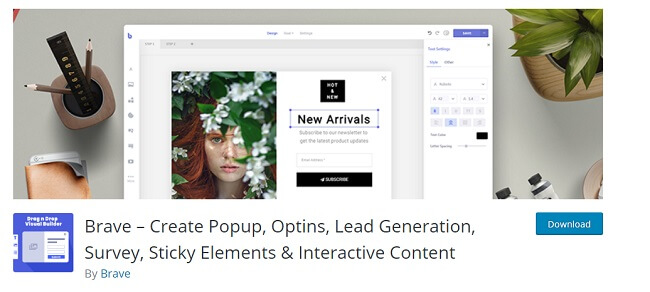 Among the diversity of proposed popup plugins at present, PopUps occupies its special place. This powerfully packed, professionally worked out and functionally saturated template can be acquired for free.
PopUps packs really substantial and advanced plugin features and elements, which are powerful, yet easy to set and control, compatibility with several social networks, Gravity Forms, Contact Form 7, Jetpack, Mailchimp for WP, Facebook login popups, etc.
And a lots of filters availability at your disposal for sorting out users from search engines, users that have come from another website, or which have never commented, displaying popups for logged or non logged users, enabling or disabling mobile or device access to popups and much more coming with free version.
You can also share the benefits of choosing Pro version.
9. Popup Builder
Popup Builder is presented with complete structure with HTML, image, shotcode, Facebook, one click, network, multisite, responsive popup types and plenty of reliable WordPress compatible plugin options, elements and controls for adding bright and comprehensive popups to the respective website.
Other basic features available for free includes unlimited number of popups to create and display, lots of customization options, including animation effect, numerous popup themes available, selection of popup arrangement on the page, change the popup background colour and many other dynamic features.
In case you need something more, there is a Pro version at your disposal as well.
10. Login/Signup Popup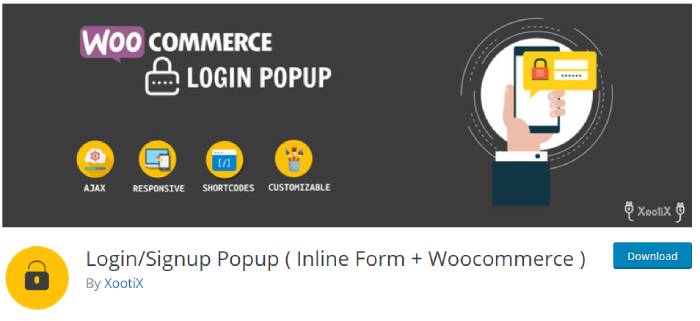 Login/Signup Popup is nicely crafted and well-supported popup management layout, which you can use in your WordPress website.
This extensive popup tool has been built to be easy in usage, but highly functional and entirely customizable, particularly coming along the WP Popup Premium version, letting you to manipulate over its suggested features, including unlimited number of popups creation and display with notification message or subscribe forms.
As well as link popups creation, Mailchimp support, popup border colour change, popup on or off in the case of mobile access, disabling or enabling the popup only on the homepage for the free version.
And lots of additional possibilities – popup exit, hiding popup on any post or page or showing popup for certain posts among them, available with Pro version of this plugin.

Getsitecontrol is a website popup builder with a dedicated WordPress plugin. It allows you for creating highly-customized and stylish call-to-action popups, surveys, email subscription and contact forms.
You can choose a pre-designed popup from a large template gallery or you can create one from scratch to fully customize it to your liking. All the popups are mobile-friendly and there is even a separate editor tab, where you can make adjust the sizing for smaller screens.
With the versatile targeting settings, you can select who exactly will see your popup, based on their on-page behavior or characteristics including locations, device, UTM, and other parameters.
Getsitecontrol is a premium plugin; the price starts at $9 monthly but you will get access to all the available features, as the subscriptions differ only in the number of popup views.
There is a 7 days trial period with no commitment required to help you taste the waters before making the purchase decision.
Getsitecontrol also offer a lot of other useful options:
Tons of design customization options, including CSS editor
Separate editor for the mobile version of a popup
Versatile multi-level audience targeting, super easy to apply
Popup A/B testing
Integration with email marketing software, Google analytics, and Zapier apps
Direct links to share forms via email or social media
WordPress started as a blogging platform which would support new and upcoming bloggers. It has managed to create a huge client base by responding to the needs of the market in time.
There is no support or product which is required by the website developers that one will not find on this platform. What makes WordPress so popular is the fact that it has evolved with time.
WordPress is a platform for all kinds of users. There are premium and free service and product both of desired qualities that ensure that a fully functional website is created with the resources present.
The online market is dynamic and with many factors affecting the market, the need for quick action is required. This is what WordPress is capable of doing.
Talking about the changing requirements what is highly popular today is the pop-up ads or messages on the websites. Now an existing website owner cannot change the whole website to include the functionality on the website. The options that he has for the same is the inclusion best free WordPress popup plugin.
This plug-in is no specific to any particular form of business or a particular website niche. What it requires is the inclusion of the same on the website when it is needed. The number best free WordPress popup plugin is many. The users are free to choose the one which will best suit the requirements of the websites.
The WordPress users are already aware that including a plug-in to an already existing site is not a difficult task. There are many support documents available that will have step by step procedure of what one must do.
The documents are available on the website itself. For the users who are still not sure which best free WordPress popup plugin they should use can take help from the online communities that have many experts who will help them in their quest.
This might sound like a lot to do but with the kind of functionality added the website owners will feel that it is very useful.
The pop-ups are a simple way of getting all the required attention on one thing. Every website has something important to offer, they make all efforts to ensure that the visitors reach that message, but amidst the rest of the content, it sometimes gets lost.
The website owners then require a great functionality which improves the website performance and allows the visitor to be welcomed with that message. This is useful in case of a sale, an introduction of new products, asking for contact information etc. They are a great way of creating awareness.
The pop-ups are presented in the foreground of the visual interface which the visitor cannot ignore. The website owners must, however, ensure that the visitors do not feel that they are being unnecessarily intruded. The content should be interesting and relevant.
There are a lot of pop-up plug-ins that are available on the platform. The best free wordpress popup plugin can be chosen from the list specially picked for the users.