Email marketing is one of the most productive ways of modern business marketing. And if you run a WordPress website and are eager to build direct communication between your brand or company, business or undertaking and potential or existing customers, increase client loyalty or sales, retain and return customers, here are some of the best email marketing plugins for WordPress website.
As one of the important tools for working with the target audience and promoting any business on the Internet, email marketing has long become an integral part of many successful online campaigns. Whether your primary goal is to establish an efficient connection between you and your audience, strengthen loyalty or increase client engagement, email marketing plugins for WordPress website is what you need to arm your marketing arsenal with a powerful tool and apply it in the right way.
With dozens of ways to personalize and make your electronic emails more targeted, with customization ready and easy to use nature, all the marketing plugins for WordPress website you are going to find below will definitely make your marketing efforts more lead and results driven.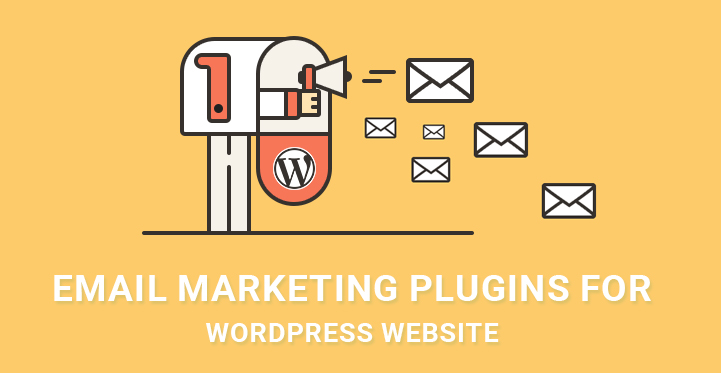 Grow your mailing list, attract new customers or enjoy repeated sales, grab your user's attention and direct them whenever needed without any coding controls or complex web solutions.
GoDaddy Email Marketing is one of the highly recommended and actively installed marketing plugins for WordPress website you can rely on when it comes to building your mailing list or sending emails to your prospective clients in an accurate and personalized way.
As soon as you are done with the plugin activation, you can use a widget, shortcode or template tag in order to create and offer an infinite number of signup forms.
Finally, you can try this fantastic tool for free and find the more relevant translation of it, since it supports dozens of practical languages.
If you are looking for an email marketing plugin that will make all the things simple and easy to manage, look no further than WP Email Capture.
Available both in free and premium versions, as well as suggesting several integrations and extensions, this plugin lets you choose the most beneficial unity option for your specific needs.
Anyway, some of the top features even the free version shares are hassle free integration with WP posts and pages, widget readiness, double opt in available and the functionality of exporting data into CSV files.
Capturing more leads and prospects, winning more clients and sales will be easier for you as a WordPress website owner if you rely on Email Subscribers and Newsletters.
It's a well packed and feature rich, yet simple to use and customize, easy to engage email and newsletter marketing plugin you can test and try with your WordPress authored site.
From embedding a subscription box into every single part of your site to send automatic notification emails whenever new post is published, this plugin lets you take full control over your email marketing campaign.
MailChimp is one of the top rated marketing plugins for WordPress website, as it is used by millions of people across the globe.
This ideal tool will seamlessly integrate with your digital profile and will take your marketing efforts to a near perfection level by enabling you to form and design impressive newsletters.
It will take you only seconds to connect this plugin with your MailChimp account and feel the whole functionality of it with responsive sign up forms, fully manageable form fields, as well as useful compatibility with a wide range of other WordPress plugins.
One more all inclusive yet intuitive in application solution you can find in repository of marketing plugins for WordPress website is launched as SendinBlue Subscribe Form and WP SMTP.
SendinBlue is a popular email marketing service provision form like MailChimp you can consider for boosting your email marketing mechanisms with customized subscription forms to be added to your posts, pages or sidebar area, make your contact list longer and segment your audience for better results and engagement, etc.
OnePress Opt In Panda ensures your website visitors are intrigued by the portion of your interesting web content you have made available and are "encouraged" to opt in or enter their email addresses to get access to the whole content hidden.
You can test the demo version of this plugin and make sure it can convert your website guests and followers into subscribers. While offering single opt in and double opt in modes, OnePress Opt in Panda also goes well with popular services such as MailChimp, GetResponse, Sendy, K-news and more.
A whole email marketing integration and management form you will certainly love is known to be offered by MailPoet Newsletters.
A new, improved and updated version of this plugin is available for you to create and send as many emails to your subscribers as you find expedient. However, the free version of plugin is intended to support up to 2000 subscribers. Once you exceed this number, you need to purchase the premium version with advanced features and better user experience, automated "Welcome" emails functionality and more.
Easy to setup and control, fully customizable and coding free, SendPress Newsletters is another high quality email marketing solution that satisfies not only the basic requirements of email marketers, but also goes beyond it.
With this plugin you are not limited to certain number of subscribers like in case of MailPoet discussed above. You can have unlimited subscribers and send them influential newsletters matching your business objectives, its style, etc.
Along with creating and styling unique and effective newsletters, you are also capable of tracking the upcoming results with clicks, opens and unsubscribes, as well as schedule your newsletters to be sent with an optimal frequency not to annoy your audience.