One of the reasons that most marketers use contact form 7 plugin on their website is so that prospective leads can contact them directly, using the same. That's one of the reasons behind the increasing popularity of this plugin.
If you have just installed this plugin on your website but you are not getting any email notifications of any message, then you just need to follow the steps listed below to get your contact form 7 working again. Just check out the steps listed below –
1. Test the contact form:
Just test the contact form, use the same to send a test message to yourself and see if it gets to your mail inbox, as it should. If it does not, then follow the steps listed below.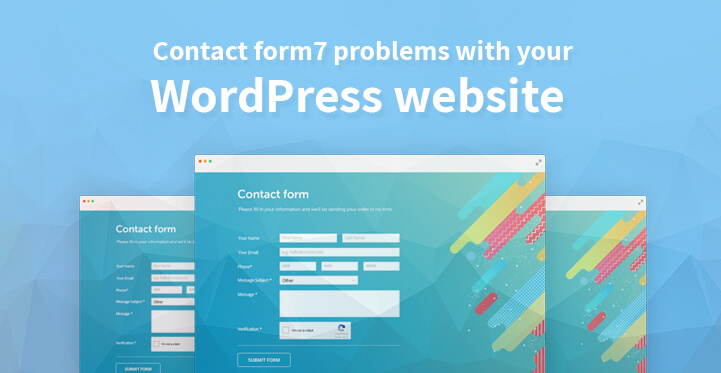 2. Update your plugin:
Make sure that your contact form 7 has been updated to the latest version. This is something that you need to do periodically; just make sure that the contact form has been updated successfully.
Test it out again and if it works, then the earlier issue has been resolved. And if the form still does not work, then you need to let the developer know regarding the issue to resolve it at the earliest.
3. Validate contact form 7 configurations:
Once you have installed the latest version of contact form 7 on your website, click on the contact form in your dashboard which should now display all your contacts.
Check your email in box for the validate configuration of contact form 7 message. Now click on the validate configuration button and that's it.
Now click on mail to see if there are any error messages. Enter the form and subject fields and see if the plugin operates smoothly.
4. Contact form 7 changes to Google RECAPTCHA from a simple CAPTCHA:
Given the state of abuse that the contact form 7's captcha had to take, this change was along the expected lines. It has now started using Google's ReCaptcha instead of their own simple captcha.
So, for your contact form 7 to work as seamlessly as it is supposed to, you need to obtain and activate Google's recaptcha on your form.
1. Just go over to Google's recaptcha site, and register with your Google ID.
2. Once you access the same, you will need to set a label for your website, something that you can remember easily.
3. The next step is where you enter the domains that you want to use the Google recaptcha key for.
5. Site and secret key:
Now that you have registered successfully on the Google recaptcha page, you would soon get a site key and a secret key. You need to copy and paste these keys to the contact form 7 integration pages for the contact form 7 to work.
6. Integration:
Now, just head over to your admin dashboard, and hover above the contact link provided there. This should open up the drop down list and the menu for contact form. Now click on the integration link and then click on "integrate with other services".
Once you have clicked on the same you may want to click on the 'configure keys' link as well. A new page should open up, where you need to enter the site key and the secret key. Just copy and paste it from earlier, and make sure that you save the same, after having entered it.
7. Contact form:
Once you have saved the keys after you had entered them in the integration page, you need to open up your contact form and decide where you would like the Google recaptcha to go.
Just open up the contact form page, and now, click exactly where want Google recaptcha to appear and click on the recaptcha short code.
Now the recaptcha short code should appear, and save it once it does. Once you have added it, now click on save it.
8. Finish:
Once you have done so, you can reboot your website and the contact form should appear with the Google recaptcha being displayed prominently across the same
What makes contact form 7 is the fact that it is highly adaptable and can be easily tweaked to adjust to the rest of your website.
Since you have just started creating your business website, it is naturally important that your customers and more importantly prospective leads are able to get in touch with you.
And equally important is that it is your responsibility to make sure that the contact form 7 page works, seamlessly as it collate valuable data and key information.
What's more, you should be able to set up contact form 7 plugin in a matter of minute.
Spam: This is yet another reason as to why you wanted to check out contact form 7. Most of the spam is often posted as replies to the previous comment.
That's why it makes sense to go in for a plugin for your website at the earliest as it can help protect both you and your customers as well. One way to tackle the menace is to integrate it with Akismet, which can help prevent spam
Once you have set it up as per the directions listed above, your users should be able to use the contact form 7 to get in touch with you. Just remember that you still need to have high grade quality content on your website with the requisite audience in two.
It is important that you realize just how useful the contact form 7 can be when it comes to marketing your products and services. Once a viable lead expresses intent with the help of contact form 7, you can then follow it up with that person.
Contact form 7 is really important especial for the success of you company. And if you had not set it up correctly, then you will not receive any notifications for the same.
With a customized contact, you can set up your plugin so that it looks like the rest of your website.